How to Build a Real Estate App?
Updated on Jun 8th, 2022
As the world grasps on developing mobility, has now become a modern standard. A successful business or an organization can not be imagined without an online presence. The real estate apps have received popularity in recent years with the numerous companies attempting into this domain. Since the real estate domain has occupied a prominent place on the web and in the app stores, today speculation is there that the real estate websites and applications soon could replace the agents and brokers from the market.  This could sound a bit disturbing to the real estate agents who haven't already gone digital. And on the contrary, real app development is something that the agents and brokers can invest in to keep pace with the items.
What is Real Estate App?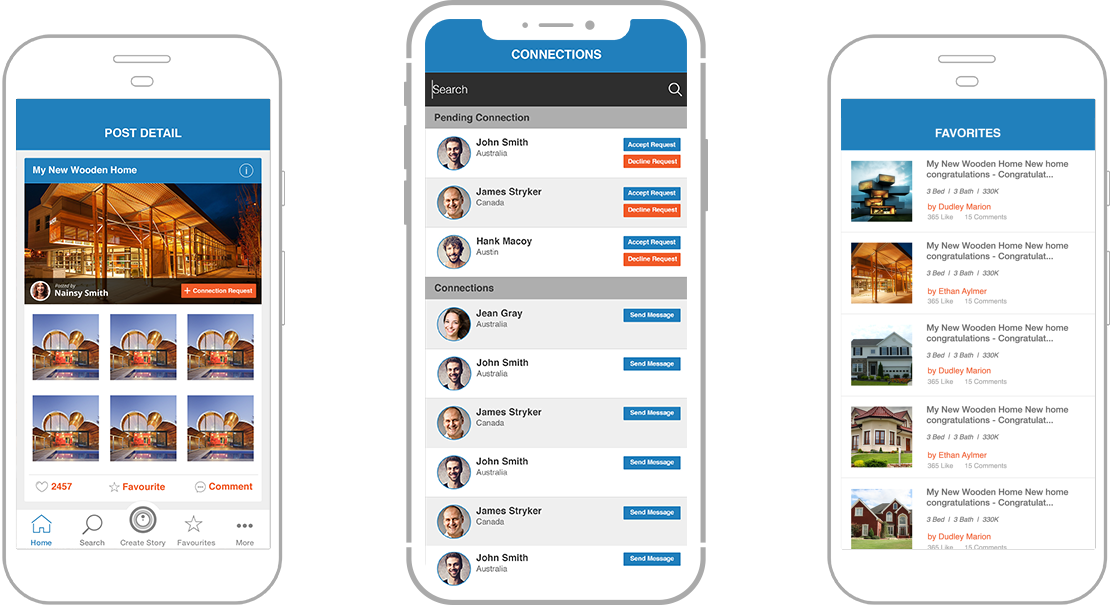 We all know exploring and buying your dream house is a challenging task. To get the best deal for the home, you roam around and contact builders and real estate agents. The real estate app comes to the rescue in these times as they give you more insights and the possible information to have you a house of your dreams. But before you open any play store or app store to download any of the real estate apps, it's better to get acquainted with your preference, as there are a lot of apps available for different purposes.
Why Do We Need A Real Estate App?
Real estate app gives striking results instantly. In case you're in real estate business, these apps can be immensely beneficial for you, as they provide you with proper listings that too in an appealing manner. The introduction of the apps has made it easy for agents and brokers to reach the customers visually all along the day. The app works locally as well as internationally; you can receive the messages and notifications instantly for quick follow up. With a professional and high-performance real estate mobile app, a lot of tasks have become easy to accomplish. For instance, the agents can control their listings, monitor transactions, show houses, finalize the deal and all these activities, just by sitting at a couch. However, even after offering all these functions, the real-estate apps can make or break your business. Nowadays, real estate is a fast-growing industry, and by developing an application like this will ensure that you are attracting more prospects and connected to them in real-time. This helps you significantly increase your audience. As the app contains all the detailed information, customers and buyers want to know about the real estate properties. 
Advantages of Real Estate Mobile Apps
1. Fast property search
Your client's property search becomes much more efficient and convenient when you choose to invest in real estate mobile app, as the app shows all the details related to, prices, property images, area, etc. These all can be retrieved via a retail app. The apps can provide instant and easy searches and offer an enhanced customer experience. Helps you increase the prospects. 
2. Enhanced customer support and communication
As a business professional or real estate app developer, you would have this idea that communication is key to everything, the real-estate app helps you maintain constant contact with your customer; you can keep them up-to-date on the latest listings and any other relevant information they should know. 
3. Increases speed of sales process
 Not to forget, we live in a world where instant gratification is at an all-time high. So it's essential to accelerate the sales process for home-buyers. Since the market is expanding, with the help of the latest technology, the mobile app has the ability to expedite the process for the users.  
4. Creates a robust business identity
The main goal of any business is to reach to a wide range of target audience, and many business owners believe that the real estate apps have the ability to create a unique business identity. And believe it or not, a brand with a powerful identity attracts more customers. 
The Best 4 Real Estate Apps in the Market
1. Trulia
Image Source
The real estate app helps you to tailor the search by property features. It includes hardwood floors, also has a great "neighbours" feature so you can have a look at the stats like crime levels, and even natural calamities information. The virtual neighbourhood tours can give you the drone footage and also the ratings from the residents. And not only this, but the apps also have 30 interactive map overlays and can check the proximity of local haunts.
2. Xome
Image Source
One of the significant benefit the Xome real estate app provides its customers is; it has access to the auction properties, perfect fit for the first time buyers, who have a tight budget. The app has the "only homes" feature that highlights, foreclosed homes, the properties owned by the financial institutions, etc. And apart from other features, this real estate app allows you to filter the search by common attributes, for instance, pool, price, location, as well as schools if there are any in the local area. 
3. Redfin
Image Source
This real estate app is suitable for the people who are looking to buy a house shortly. This particular app is the trusted house search app that can filter properties, that have upcoming open houses. This is the right way to look for the properties that are available in your desired location, and that fits your budget too. Redfin is the holistic property selling application, that includes the information on foreclosures, and properties for sale. 
4. Realtor.com
Image Source
Realtor is ideal for the people who are looking to buy or sell a home. Realtor appreciated as the best property purchase app uses the data of various kinds of websites to list as many properties as possible that too faster than the competitors. Realtor.com connects you with the realtors in the local area and acts a helping hand finding your dream house.
Must Have Features in Real Estate App
Admin Panel
1. Dashboard: It has an easy-to-use centralized dashboard to manage the complete website, and it can merely configure different services on-the-go.
2. Properties: A comprehensive system to manage all the information regarding the features like type, area, address, category, pricing, and status.
3. Profiles: Manage user and agent profiles and their account information with a click using all-inclusive CMS.
4. Leads and Sales: Leads management system that allows the admin to handle all the processes from lead capture to sale closure in the business.
5. Revenue: Track and manage taxes made from property deals, commissions, subscription packages, and other revenue sources on a timely basis.
6. Subscriptions: Admin Manages offered package subscriptions for users and agents. And admin can also add or remove them from the property list.
7. Analytics Report: Get useful insights into business performance with analytics and information about sales, leads, and customer engagement rates.
8. Marketing: In this section, the admin manages advertisements and promotions over the website to enhance sales as well as inform users about trending offers, deals & discounts.
Agent Panel
1. Listings: Manage property listings and modify them, post new properties for sale, and remove features when the deal is settled. 
2. Inquiries: At convenience, receive and accept queries from a buyer about properties from the listing.
3. Lead Notification: Get real-time notification about leads when a buyer shows interest in a property posted in their listings and manage leads through CRM.
4. Responses: The agent manages responses to queries and issues made about properties between prospective buyers or sellers.
5. Brokerage Fee: Calculate brokerage fees for a property deal depending on factors like property type, location, area, and current real estate rates.
6. Communication: Stay connected with sellers and buyers through email, phone, text, or chat and keep them updated about the progress of the deal.
7. Earnings: Keep track of their profits made from finalized deals and commission from other agents on a timely basis.
8. Subscribe Ad Packages: Subscribe and manage ad packages for property promotion for sale to improve the visibility of property in buyer search.
User Panel
1. Search: This section performs a detailed search by applying different parameters and filters to find the best results that meet their requirements.
2. Property Information: Herein, users get detailed and accurate property information like a description of the property, built-up area, carpet area, status, pricing, and 3D view, etc.
3. Sell or Rent: Put the property on rent or for sale by posting detailed property information on different verified listings.
4. Agent Information: Users get information and personal details about the agent like their email and contact number to communicate. Additionally, the users enquire about the desired property they are selling.
5. Maps: Inbuilt plans allow users to search for accurate location of the property and get the best routes to access them from their current position.
6. Comparison: Users can compare multiple properties on different parameters such as pricing, rent, size, location, layout, condition, and brokerage fee, etc.
7. Support: Instant support over the phone or chat can resolve any queries and issues.
How Much Does it Cost to Build a Real Estate App?
The cost of developing a real estate mobile application plays a crucial role, be it a startup, any mid-level industry or an innovative brand. Moreover, the cost of developing a mobile real-estate app depends on its measurement, complexity and the features to be added in the same. Also, the hours spent by the real-estate app developer, time expended in the app development or the location of the developer plays a vital role in deciding the cost. 
The aspects in which the cost of development depends
Platforms

, like iOS, Android or Hybrid

Features and API Integrations
Access to device features

like Camera, voice or media

Customization Level
On-Demand App Development for Real Estate Business 
Matellio offers cost-effective, mobile app development. Our full-stack expertise in mobile app development will help you transform your real estate business idea into new opportunities. With our highly scalable on-demand apps developed using agile methodology, you can take advantage of the digital market and extend your customer reach seamlessly. Get the best on-demand app development for your real estate business.
Get the Conversation Started!
Get the Conversation Started!
[contact-form-7 id="34486" title="Side Form"]