How to Build a Travel Planning App?
Updated on Apr 20th, 2021
A trick to better trip requires a bit of planning. But, you don't need your every schedule to be filled with a plan or with activities. But, what if you don't want to come back from your trip or find out that you missed a must-see attraction. Nor would you want to miss the flight. Right? Between the sites that make the whole itinerary for you to apps that let you plan the trip like Trello, these smart travel planning tool kits are of great help. You'll have to use them wisely, and then you'll have a whale of a time. Crafting a trip itinerary is both at times fun and overwhelming. Well, let's discuss some questions like- which places are a particular absolute must-visit, and which ones can you skip particularly, or how much time you should spend at what place, and how close is it?
What is the Travel Planning App?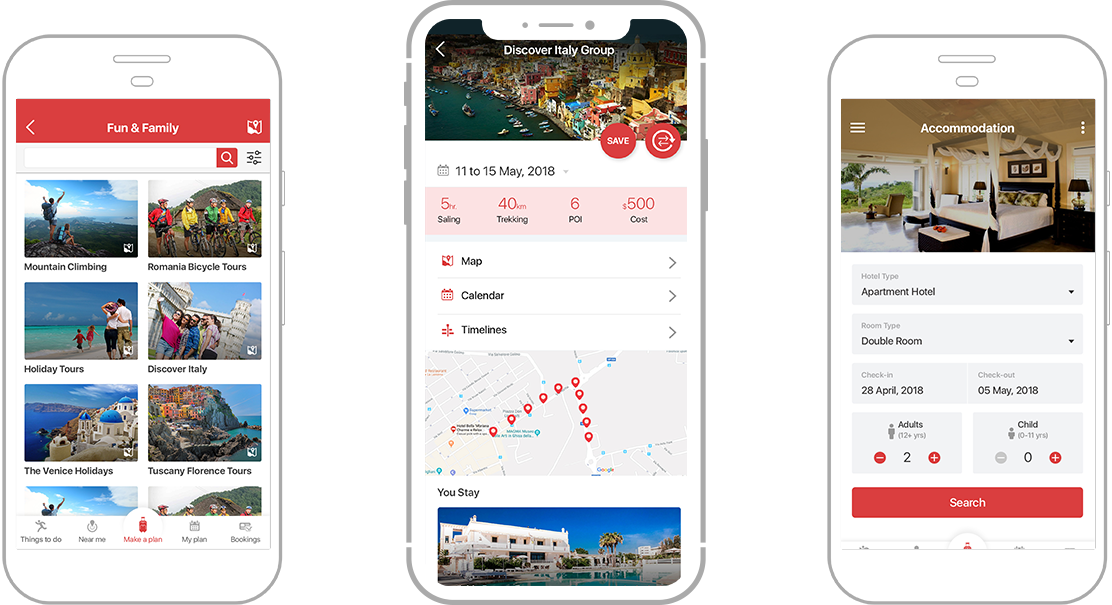 The travel planning app would search hundreds of travel sites instantly in an attempt to offer every possible deal on a flight, hotel, or rental car available in the same location. And not only the booking tool but we will help you organize everything in one place and even includes details on security wait times and the airport terminal maps. In addition to it, the app can also measure your luggage using your phone's camera, letting you know potential fees and carry-on rules for most airlines. 
Why do We Need a Travel Planning App? 
Even modern tourists today will admit that they lack confidence when it comes to the price and options when using travel and tourism apps. So, considering the travel app idea, the users are provided with the relevant idea of the best price possible, and they can compare the options at one place. This way, we can win the edge over our competitors and can attain loyalty towards our brand. In the modern lifestyle, travellers want to consolidate their journey details and services into a single place, and also want to simplify the time-consuming process of travel planning. The consumers nowadays do not want various car rental portals, ticket booking sites, insurance platforms or travel-related marketplaces. Many travel agencies have considered a mobile app as a one-stop solution for all the above problems. They have made all these options available at a single place, and it will pay. In case you're planning a business trip or holiday, the below-mentioned apps can make your trip planning easy, that also includes from tracking your flights to suggesting local sights.
Best 4 Travel Planning Apps
1. TripIT (Android/iOS, Free)
TripIT app is straight forward in its execution, but to make it happen, you need to forward all your travel-related details via e-mail to the service, the app schedule the confirmation details in one go. The app would give you a brief about when exactly you need to be at your flight gate when the car is ready for the pick-up from the rental place, and your check-in timings at the hotel. One more significant benefit it offers you is that you can sync the app with your calendar so that the events and meetings, as well as the weddings and the parties, can be included in that on that schedule too.
2. Sygic (Android/iOS, Free)
Sygic app is best suitable for holiday planning, and also works well for business users. It generally provides you information over 20 million places, including famous sights and museums, restaurants, beaches, cafes, malls, etc. The offline maps are also available within the app, for business-oriented users, it also includes advanced trip planner. The itinerary planner provides its users with travel time estimation and walking distances. Moreover, the app is free for Andriod and iOS users. 
3. Roadtrippers (Android/iOS, Free)
Roadtrippers, as the name suggests, focuses more on the journey and not just the destination. The app is eager to guide you about nearby places. If you're thinking of driving across the country, and want to stop and smell the roses, the app works best for you. You can plot out the itinerary, and the app will suggest more places, you may find perfect. This way you can find out more what's off the beaten track, cover the uncovered places. The app can turn your tedious business journey into more exciting and casual. The app functions currently in the USA, Australia, and New Zealand, for both iOS as well as Android users.  
4. Google Trips (Android/iOS, Free)
Even, Google has a travel planning app, and you know what, it's pretty useful. It automatically collects all your travel information and details and helps you by organizing them into individual trips and provides you with day to day plans, via single-tap functionality. Google, make suggestions available to you of the nearby places according to your interest and time availability. This app is a reliable option for Android and iOS, regardless. 
Must-Have Features in Travel Planning App
Admin Panel
1. Services – A powerful, simple and easy-to-use web-based system to configure services on-the-go. The admin can add or remove services depending upon the market trends and demands.
2. Sub-Admins – It also Create Sub-admins on the system to perform different tasks and grants them access rights and assign them roles as well. 
3. Bookings – The admin monitors and manages bookings in terms of hotel, ticket, cab, etc. using all-inclusive OBE(Online Booking Engine). 
4. Users – It includes a comprehensive CMS for managing user profiles, user bookings, user billing, and payment history. 
5. Agency – Also, Admin manages the travel agencies seamlessly via customized AMS (Association Management System). 
6. Billing and Payments – It generates invoices and tracks payments using an advanced billing system. 
7. Promotions and Advertising – It advertise and promote new services, and discounts offer and deal on different digital platforms. 
8. Report and Analytics – Business Intelligence(BI) driven in-built data analytics to get real-time insights and timely reports. Make informed decisions and optimize business operations as per market needs.
User Panel
1. Plan Tour – Herein, Customers can select from packages offered according to their preference or customize a box; they can build an itinerary and make bookings for them as well.
2. Compare Quotes – Users can get multiple quotes from different agents for a tour/travel package. 
3. Trips – Users can keep track of all the trips and check their upcoming, completed and cancelled flights.  
4. Ticket Booking – Users can check fares and book tickets for travel like they can book flight tickets, train and bus tickets.
5. Hotel Reservations – Comparing hotel prices and users can make a domestic or international reservation easily. 
6. Travel Guide – In this section, users can view tourist attractions of the destination and other famous places to visit during the trip. 
7. Payment – Users can make payments using highly secure in-app digital payment or using EFT(Electronic Funds Transfer) 
8. Rate and Review – Give ratings and reviews about services. Share their travel experience.
9. Customer Care – It has Dedicated 24/7 customer support during emergencies and other issues.
Agency Panel
1. Handle Booking Requests –  Get real-time notifications about booking requests. Accept or reject bookings depending on availability of services.
2. Reservations and Bookings –  Manage all bookings and reservations with an advanced booking system. Get detailed information about ticket and bookings done by the user.
3. Destination Listings – Manage destinations listing quickly with just a click. Add or remove destinations depending upon user interests. 
4. Tour Packages and Itineraries – Create tour packages and build itineraries for destinations.   
5. Package Price – The features enable you to modify package prices depending upon market demand and travel fares.
6. Campaign – Run sponsored campaigns and promote deals, discounts and packages.
7. Report and Analysis – Using advanced analytics get a detailed description of the business. Check revenues and earnings.
8. Support – Get round-the-clock customer support to resolve issues in business operations.
How Much does It Cost to Build a Travel Planning App?

 
However, adding more and advanced features affects the size of the app and the more advanced functionality you add, the more it will cost. Also, the time required to create an app is generally set by the scale and size of the mobile app, and on developers rate as well, as the price varies according to the country income level. 
Several important factors like: drive the cost of your application 
Features and their complexity 

On the platform, you would want to build your app

Integration 

Real-Time Synchronization

Conclusion
Probably, by now, your vision is clear about the travel app you want to develop, even if it's time-consuming and costly, try and undertake advantages and benefits provided by the app. Matellio is happy to serve you if you're looking for the top web and mobile application development company. We start with the navigation of the market, latest trends, target audience as well as end-user experience, and combining all these enables us to offer, state of the art and hospitality solutions. 
Get the Conversation Started!
Get the Conversation Started!
[contact-form-7 id="34486" title="Side Form"]