How to Build an App Like Youper?
Updated on May 28th, 2021
In this fast-paced world, working with emotional complications could lead to some severe issues, especially when you don't have access to mental healthcare. There is no doubt that digitization has brought ease and efficiency in our lives and work operations, but it also added a lot of burden to the employees. That's the main reason that almost 71% of the adults reported at least one symptom of the stress conditions in the past few years. Furthermore, nearly 15% of the people always report mental health issues in the workplace due to more work and improper healthcare facilities. So, you might be thinking that as a decision-maker, what could be done to mitigate these issues?
Well, well, well! It looks like the digital world again came forward this time to help its stressed employees. Yes, you heard it right! A famous mental healthcare app, Youper, has been trending these days in the global market and is gaining massive popularity amongst the working people and other users. Youper is amazingly helping the working generation to remain stress-free by tracking their mood and offering some useful mindfulness techniques and tools. The robust app uses AI technology to understand the emotion of the user and provides support one needs, anytime and anywhere. Even the tagline of the app says, "Always there to talk. Always by your side."
Let's learn more about this app and see the benefits that are driving the markets crazy and compelling them to invest in apps like Youper!
What is Youper?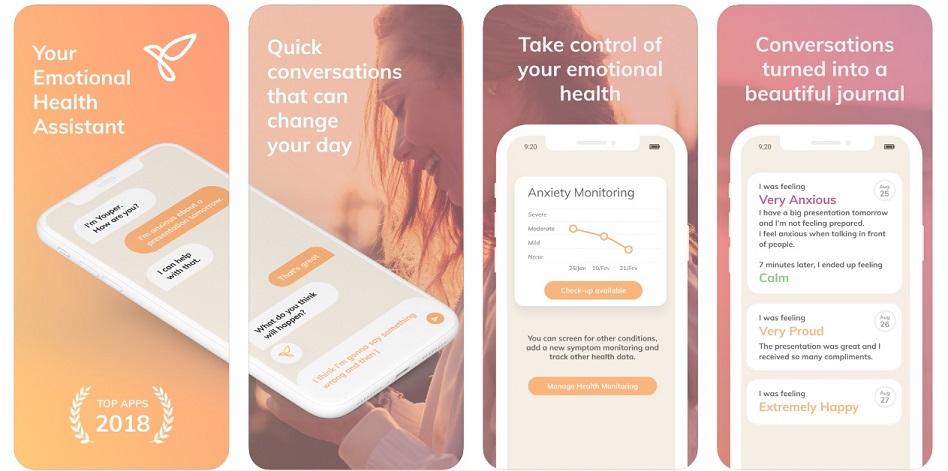 Youper is a feature-rich mental healthcare app that has been gaining momentum in recent times. It is a powerful and amazing app that has the capabilities to track our emotions and to provide the emotional support that we need to reduce the stresses of our lives. Equipped with AI-driven chatbots, Youper efficiently controls our emotional health. And what it does is quite effective! Unlike other mental healthcare apps, it engages the user in quick digital conversations with its AI-driven chatbots, just like a friend does whenever we need him/her. That way, you can not only share your problems with the chatbot but can also get relaxed by getting the answers to all your problems. The app further asks you questions and assesses your responses to lessen up your anxiety and stress.
Youper has been serving for quite a while now, and the amazing benefits have attracted a large sum of users. To be precise, the total revenue generated by the robust application last month was around $100k! And the reason behind this whooping revenue is a huge fan-base! Almost 70k people downloaded the Youper app in only last month.
The figure above shows that people are becoming more conscious about their mental well being, and thus, the time is perfect for investing in an app like Youper. Still not convinced? Let's discuss some powerful benefits of Youper!
Benefits of the Youper App
Mental health issues are the most concerning health issues in almost all parts of the world, especially in developed nations like the USA, Europe, and other vibrant parts of Asia. That's why more and more people today are seeking help from top-rated mental healthcare apps like Youper. Here are some benefits that are luring people as well as the marketers alike.
1. It has meaningful content to engage the user efficiently.
2. It has got some meaningful features like emotion tracking, meditation, gratitude journal, mood monitoring, and much more to help you relieve your anxiety.
3. The app enables the user to provide their reviews and feedback and literally works on them to make the app effective for the users.
4. Youper has got a great design and user-friendly functionalities, that makes it even more popular than any other mental healthcare apps.
5. It utilizes artificial intelligence to communicate with the users and to provide them the best answers to their problems.
6. The conversations literally feel like a therapeutic chat with a friend.
7. It is simple to register on the app, and the conversations are fluid.
8. The app also works to develop your personality and even motivates you to be mindful and keeps your emotions in check.
So, these were some of the great benefits of the Youper app that has benefitted the users and the owners alike.
Top Five Apps like Youper
After witnessing massive success for Youper in the global market, many other organizations also invested in an app like Youper. So, here are the top five apps like Youper that are playing big in the global market.
1. Huddle
Huddle is an amazing mental health app that lets a user connect to different other users, each sharing their stories and problems. That way, the app gives enough support to help users fight against anxiety and stress. For instance, it has got a community of over 10,000 people in the "depression" group. So, all these people share their stories as a friend and reduce their stress issues. Additionally, the Huddle also allows you to chat in private by blurring your video to hide your identity.
Available For: Android and iOS
2. Calm
Calm is another excellent mental healthcare app that helps you find a meaningful life through meditation and mindfulness. The app continually reminds you to practice meditation and even track the record of how many sessions you have completed. That works as an excellent therapy to remove the overall stress from your life. Furthermore, you can even initially set your time for practicing meditation like 5 min, or 10 min, etc. and can then keep on increasing the duration with time.
Available For: Android and iOS
3. Moodpath
As we all are well aware that our mood is somehow related to our mental health, and so keeping our mood in control can significantly improve our mental health. And in doing so, Moodpath is the perfect app. This powerful mental healthcare app tracks and monitors your moods over the day and checks your recovery level, as in how fast you are reducing your anxiety disorders. You can even see a visual representation of your recovery level and can also share it with your therapist.
Available For: Android and iOS   
4. Pacifica
Pacifica is another powerful mental healthcare app that has lured a lot of people in recent times. With over 1.9 million users, Pacifica helps people to manage their daily mental health by offering tools such as health tracking, mindfulness, and cognitive-behavioral therapy. Furthermore, the app even includes audio lessons and guides to mental health care that you can leverage to improve yours over health conditions.
Available For: Android and iOS      
5. TalkSpace
Last but not least is Talkspace. Talkspace is another robust mental health app that efficiently reduces the overall stress and depression of a person's life. The amazing app allows you to connect to thousands of therapists without leaving your home. You can seamlessly text or can do an audio/video call with your therapist anytime and anywhere using the TalkSpace app. Not only that but with a paid version, you can even get a counselor to discuss your issues and problems.
Available For: Android and iOS   
What to Consider Before Developing a Mental Health App?
Now that you are convinced enough and wanted to develop a mental health app like Youper, it is time to discuss the development process quickly. However, there are certain things that you need to consider before entering the development phase. What are they? Well, here is the list.
1. Custom Design and Development
The first and the foremost aspect that you need to consider before developing a mental healthcare app is to plan for a custom design and development. That means, you should always think to invest in a custom app rather than a white-label application. Reason being, it is often seen that ready-made solutions are generally made with an aim to solve general problems of the global market. Meaning, it may not include all the relevant features that are necessary for the growth of your organization. But, on the other hand, a custom app is totally built according to your business needs. You can include nearly every relevant feature that you want and can even check the feasibility of the application. That's why it is always advisable to opt for a custom development rather than a ready-made mobile application.
2. Third-Party Integrations
Another crucial thing to consider is third-party integration. It is no doubt that a custom mobile app will include all the relevant features that are needed to build success for your organization. Nut, many times, a user might need some specific functionality that is not a part of your core application. At that time, third-party integrations came into play. By integrating some powerful third-party apps, you can introduce some amazing functionalities in your app that are not a function of your core features. That's why always try to make a flexible product that can seamlessly integrate with other third-party apps.
3. UI/UX
Here comes the most vital aspect that is to be considered while developing any sort of mobile application or even a software solution. In this tech-driven world, nothing is impossible. Meaning, you can literally include any sort of functionality or can leverage any amazing technology to make a mobile app. But, making the app effective for the users is still a big challenge that many of the big firms even today fail to address. Remember, even if you have all the relevant functionalities, but it is not accessible to your users, then it is of no use. So, pay great head towards the user-friendly features to make your app a hit in the global market.
4. Latest Upgradation
Latest upgradation is very essential if you want to survive in the mobile market efficiently. Meaning, if you do not provide regular updates to the users, you may miss some most amazing customers and an increased user-base. That's because, providing regular updates signifies that you're working to the reviews and feedback provided by your user, and that will eventually add in your UX. So, provide regular updates and address the challenges of your users in accessing the app.
5. Security and Compliance
Last but not least is the security aspect. Even in today's digital world, security remains the topmost issue that has been faced by nearly all the organizations irrespective of their domains. According to sources, over 238 Mn websites were attacked by hackers in the year 2017. Hence, it becomes critical that you pay great head towards the security of your web application. So, try to include all the relevant security tools and systems in your application. Moreover, stick to all the regulatory compliances so that your app can function smoothly on a global platform.
How to Develop an App like Youper?
So, here we are at the most awaited section of our article. Now that after knowing all the related aspects of a mental healthcare app, you might be wondering to create an app like Youper. So, without wasting much time, let's quickly head towards the steps that you need to follow to develop a feature-rich mental healthcare app.
1. Analyze Your Business Goals
First and foremost aspect that you need to understand is to analyze your business goals. Meaning, you should be very clear and confident about the reason for the development of a mental health app. For that, try to analyze your customers needs, and think how your app can satisfy all those needs in an efficient manner. You can run a survey to collect all the vital information from the global market. After carefully analyzing the market needs, you can be more confident over your mental health application and you can even know what all features the users are looking for.
2. Include Relevant Features
A feature-rich mobile app is also one of the crucial factors that contributes towards the success of your mobile app. So, try to include all the relevant features in your app, that can make your stand-out of the competitive world. Now, to make your work more simplified, here we have mentioned some of the robust features that you could include in your mental health app.
A robust feature that helps the users to monitor and analyze their sleeping habits so that they can maintain productivity throughout their day.
Calendars and checklists are very beneficial for the users to help them keep a track of their meditation sessions, or other tasks that are effective in keeping their health good.
Trigger checkers to capture the responses of the users for a certain condition so that they can analyze and consult the therapist about these situations.
Real-time reminders to help the user take proper medications and on time to improve their mental health.
An effective platform where all the users of the app can share their problems or can communicate with each other efficiently.
Educational content and journals to help the users in dealing with their problems and educating them more about the issues they are facing.
The users can seamlessly share the medical reports or other relevant documents with their therapists or some other user of the app through this functionality.
Lastly, the users can seamlessly search the relevant therapists through their location filter, or through the availability, and so on.
3. Hire a Dedicated Development Team
The next big step after carefully including all the features in your mental healthcare app is to hire a dedicated development team. It is very essential to have a development team ready before the development process starts. That's because a perfect development team will have all the vital aspects that will make your app a hit in the global market. So, be sure to include a front-end developer, a back-end developer, a tester, a UI/UX engineer, and so on. You can also opt for a full-stack engineer or a mean-stack engineer to cut-down your development cost, as they both can replace the front-end and back-end developers. Now, here you have two options, either you can go for an in-house development team, or you can outsource a mobile app development company like Matellio. Although both options have their significant benefits, outsourcing an experienced mobile app development company can be profitable in many ways. For instance, the expert developers of the mobile app development firm will have solutions to all those problems that might come during the development process. Also, they can give you some out-of-the-box ideas to outgrow your competitor and to build success for your mobile app.
4. Run Quality Tests
After the development process starts, it is very critical to test every aspect of your mental health app too efficiently. Testing ensures that your product is working smoothly over your desired platform and that it is ready to benefit your organization. Now, with time, the testing process is also getting automated. So, you can leverage the automated testing process to ensure more efficiency and more effectiveness in your testing process. Automated testing significantly improves the testing procedures and can assure better growth of your mobile app in the global market.
5. Launch Your App
Last but not least is to deploy your app. After careful evaluation and testing of your app, you need to launch that in the global market to allow the users to utilize it. But, remember to market your product well before launching it. An efficient marketing strategy will ensure that your product reaches to more audience, and it can gain popularity among them. So, opt for an effective marketing strategy and launch your app at the perfect time.
What does it cost to develop a Mental Health App?
Just like all the other on-demand apps, the cost of developing an app like Youper also depends on various critical factors. To name a few, we have:
1. Development Team
The structure of your development team greatly affects the overall cost of the project. Meaning, if you opt for two different developers for front-end and back-end development, then the cost will certainly rise as compared to hiring a full-stack developer.
2. Platform Opted
The development platform you choose also adds to project costs significantly. It is no surprise that the cost of development for an Android app or an iOS app will cost much lesser when compared to a cross-app development. But, on the other hand, the cross-platform app will give you more user-base with just a higher cost.
3. Feature Included
The type of features you include in your mental health app will also impact your overall costs. Meaning, if you select all the advanced features with the basic ones, then the cost will eventually rise. So, as an experienced mobile app development company, we always suggest that you first opt for all the basic features and then introduce the advanced features with time.
4. Customizations (if any)
Last but not least, if you opt for any customizations, then that will also add to your project cost. Although the developer may not charge minor customizations, any major customization will impact your overall development cost.
Apart from all the factors mentioned above, there are still many crucial factors that affected the development cost. If you want to know more about it, you can seamlessly contact us anytime by visiting www.matellio.com/request-a-quote
Final Takeaway!
To conclude, we can say that the world has greatly evolved with time, and with that, the health problems also rose to a greater extent. According to sources, almost one out of five people today are suffering from mental health problems, and the reason is more stress and more tension. People are actively looking for solutions to reduce their mental health issues, and in such a scenario, a mental healthcare app can work as a wonder. It can be a helping friend to the patients and can significantly solve various stress-related problems of the users. So, whether you want to know more, or you want to develop a mental healthcare app, we are always there to serve you. You can contact us, experts, anytime you want, and we will be there to solve all your queries. Visit www.matellio.com today!
Disclaimer: Please note that the content of this blog including links, texts, images, and graphics is only meant for informational purposes. We do not intend to infringe any copyright policy or do not possess any third-party material. If you have issues related to any of our content or images, kindly drop your message at 

info@matellio.com

 
Get the Conversation Started!
Get the Conversation Started!
[contact-form-7 id="34486" title="Side Form"]