How to Build Custom Human Resource Software for Enterprise in 2020?
Updated on May 4th, 2021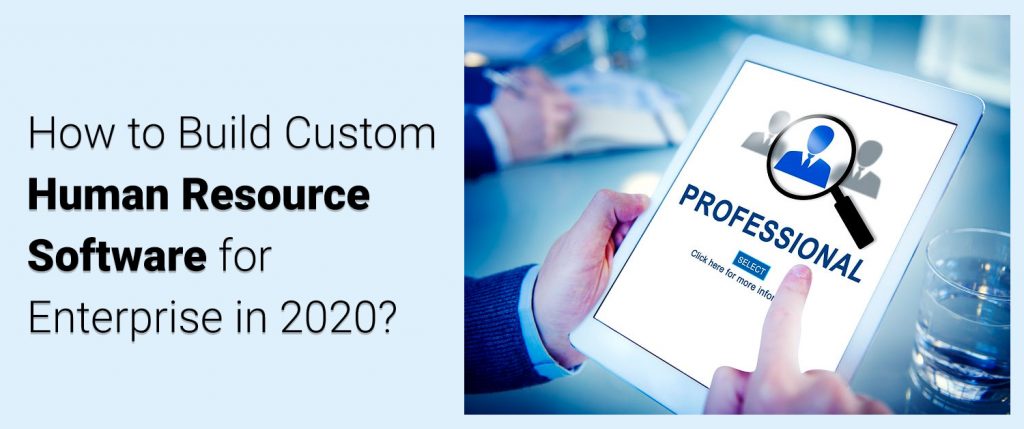 Who would argue the importance of the HR department in an organization's growth? There's hardly any who would have not passed through this hard working and ever green department during their entire working journey! The HR department plays a crucial role in making any organization perfect and efficiently be it in terms of working or in terms of the employees. Whether you want to know the performance level of an employee, or wanted to know about the comfort level of the staff, there's nothing that can match the perfectness of the HR department.
However, the grass is not that green as it looks in the HR field. In fact a simple Google search reveals us many astonishing facts of what the global audience thinks about the HR department.
Sorry HR people, that's not your fault! But, obviously there's something that is going wrong that is not letting the robust aspect prove its effectiveness. So, let's get to the crux and see how we, a pioneer in software development, can help you solve this issue in the most efficient and cost-effective way!
Here's What Keeps HRs up Late at Night
There are many reasons that contribute to the limited effectiveness of the HR department and compel them to stay late at night. Let's look at some of them here:
1. Employee engagement and retention
2. Leadership development and managing skill gaps
3. Recruitment of new and deserving employees
4. Learning and development sessions for employees to enhance their productivity
5. Collection of vital data and analytics related to holistic view of the workforce
6. HR system integrations
7. Compliance requirements
These are some of the top most reasons due to which the HR department fails to prove themselves on the global platform. So, what could be done? Well, maybe a feature-rich and scalable Human Resource Software could help! Yes, you heard it right. HR software is the most promising thing that can work wonders to transform your HR department from head to tail and eventually can increase the overall productivity of your organization as a whole.
So, what are we waiting for? Let's quickly discuss how to build a custom human resource software for enhancing the capabilities of the HR department of your organization. But first, let's give you a brief intro about HRMS.
What is HRMS and why do you need one?
HRMS or in other words, human resource management system is a fantastic tool to make your HR related tasks a piece of cake. With an interactive module and some user-friendly features, HRMS makes the work much more simpler for the HR department whether it be tax calculation, salary management, attendance, or even employee's performance analysis. Although the system is designated to manage the staff and work related tasks, the advanced functionalities could also help you in simplifying the recruitment and training process to a much larger extent.
According to trusted sources, almost 97% of the HR leaders are planning to increase their investment in recruiting technology by the year 2020. Furthermore, almost 48% of the organizations are willing to replace their traditional HRM software with updated cloud-based HRMS in the coming days. That's a significant growth in the number of businesses leveraging human resource management software to enhance their working levels.
Having talked about the HRMS, let's look at some figures to better understand the status of companies who implemented the latest HRM software into their organization. As per trusted sources, the companies, who adopted the latest cloud-based human resource management software showed a whopping 26% increase in their annual revenues. Moreover, the companies with newly implemented HRMS also saved almost 22% of the costs associated with the employees.
As it is certain from the facts mentioned above, that HRMS is quickly gaining huge popularity among businesses of all kinds available in the global market. So, why don't you implement one in your organization and feel the effectiveness of this robust solution in transforming the way your business works. Still not convinced? Here are some more benefits of a custom HRM software that will surely make your mind in investing one of those.
Top 7 Benefits of HR Software
1. Cost Savings
It is often seen that labour costs are the most critical cost time while evaluating the total business expenditure. HRM software is designed in such a manner that it automatically optimizes the cost management process and even helps you to plan a perfect strategy that involves minimal errors while evaluating the business costs.
2. Legal Compliance
HRM software can be actively used to settle all the complicated issues related to compliance and regulations and can even regulate the relationships between the executives and the employees. Moreover, HRM software can also be used to implement flexible payroll schemes to make HR tasks simple and effective.
3. Efficient Business Processes
HRM is an excellent tool for all the businesses looking to enhance their management and business processes. You can handle all your critical documents very effectively and can even store the records related to employees like payroll slips, tax-related data, and attendance at one place securely. Additionally, you can also give access to your employees so that they can handle and view their vital information seamlessly anytime they want.
4. Human Capital Improvement 
It is no surprise that training sessions and development programs are very critical in the growth of both the employees and the organization. But, managing all those programs may be a tedious task for some of the HR executives. That's where HRM software comes into play! With HRM software, you can seamlessly manage all the training programs that are vital for your employees. Moreover, you can even plan some motivational sessions and incentive programs by leveraging the HRM software.
5. High-Quality Recruiting
HRM Software can be of great help if you want to post the vacancies on different platforms to fill the seats with desirable candidates. With HR software, you can seamlessly connect with a wide range of suitable candidates and can even store their crucial information securely in your software solution. For if you don't have any relevant job for any candidate right now, you can seamlessly contact them in the future by fetching their contact details from the HR software.
6. Progress Monitoring
Suppose you work in an organization having over 100 employees, and you want to track their performance. Now, it is for sure that you cannot keep an eye on everybody's work day in and out just to see who is performing better. Hence, to solve that issue, HR software is the best option. It accurately provides you with vital metrics over the performance of each of your employees so that you can decide who all are performing good and who need improvements. Furthermore, even your employees can leverage HR software to update you about the problems that they are facing during work.
7. Multi Purpose Solution 
Last but not least is the versatile nature of the HR software. You can literally automate any task related to your HR dept using the HR software solution. Be it tax calculations, labour laws management, payroll management, leave management, or even birthday reminders, HR software can do it all, and with more efficiency.
Due to all those amazing benefits mentioned above, almost 63% of them agreed that HR software offered improved value addition from HR to their business. But, the main question that may arise in the minds of some people is, whether to go for a custom software solution, or a ready-made HR software solution? If you're one of those, then don't worry! We will help you clear your confusion in an effective way.
Why Custom HR Software?
There's no doubt that HR software is equally beneficial for all the organizations irrespective of their domains, sometimes the selection of a particular kind can affect your organization. Now, both the models, viz., ready-made and custom have their significant perks, choosing a custom HR software is always considered a wise decision. Why? That's because the ready-made HR software is designed to fulfil the common needs of nearly all the organizations, but a custom HR software is specifically designed to satisfy the exclusive needs of your business.besides that, there are a lot more reasons to choose the custom HR software for your organization. Let's have a look at them:
1. More Economical
The first and the foremost benefit of choosing custom HR software over ready-made solutions is the price. The ready-made solutions are a bit overpriced as compared to the feature they provide to the user. On the other hand, in custom solutions, you can decide what features to keep and what to remove and eventually can decide the price of your HR software.
2. User-friendly Features
User-friendly features are a much-needed thing to survive in today's competitive world. Even if you have included all the excellent features and if they are not accessible by your users, it's of no use. And that's the main concern in read-made solutions. However, in custom HR software, there's no such issue. You can decide what features to keep in your system and can even check the effectiveness of all those features when you opt for a custom software development.
3. Better Results
If you are planning to implement any software application in your organization, then IoT is obvious that you want results from it. Same scenario is with HR software. When you opt a custom HR software development, the features and the modules will be specifically designed to satisfy your business needs. Meaning, it will focus more on your organizational needs and will have all the capabilities to solve the issues prevalent in your business. All in all, your organization will drive in more results in a short span of time.
4. Out-of-the-box Ideas
Last but probably not least is out-of-the-box ideas. As discussed that a custom software development enables you top plan the things as per your business needs. So, you can include any feasible idea in your HR software to enhance its capabilities of solving your company-related issues. That way, you will have more benefits as compared to your competitors and your HR software will be a hit in the global market.
How to Build Custom HR Software for your Enterprise?
Now that you are well aware of all the things that you should adopt to make your HR software successful in the global market, let's quickly jump to the most awaited segment of our article – how to develop a custom HR software. Now, the development of a custom HR software is not that tedious task, it's just that you need to pay attention to small things that can make a huge impact on the overall performance of your HR software.
1. Determine your Development Goal
The first and foremost aspect that you need to consider is to have a clear idea of why you are developing a particular software application. Meaning, you need to have a clear idea of your development objectives like, what all problems your staff is facing? How can HR software solve all those issues? Will it be feasible to develop an HR software? And so on. Once you get answers to all the questions mentioned above, you will have a wide understanding of the HR software that you are developing.
2. Include the Relevant Features
The next big step is to include all the relevant features that will make your HR software a hit on the global platform. Now, to make your task simpler, we have listed some crucial features that you can include in your custom software solution.
Attendance Tracking
Recruitment
Payroll Management
Training Sessions
Employee Recognition
Time and Expense Tracking
Course Authoring
Shift Management
Progress Tracking
Push Notifications
Applicant Tracking
Issues and Feedbacks
Performance Appraisal
Click here to know more features of HR Software and the work of every feature in detail.
3. Consider both the Web and the Mobile App
After including all the relevant features in your HR software, it's now time to pay attention to the platform of your HR software, viz. Web App, or Mobile App. Now some of the users may find web apps to be more feasible for the enterprises and some may choose mobile app because of their mobility and benefit of seamless access from anywhere. But, if you seriously want to make your HR software more beneficial for your employees, then it is better to choose both the web app and mobile app. Reason being, while the web app is much more convenient to use in the offices, mobile apps are perfect when you want to increase the accessibility of your HR software for your employees. So, try to opt for both. Though, you may choose a mobile app once you have tried your hands on web app.
4. Hire Dedicated Development Team
Once you are done with the selection of the features and the platform, it is high time to hire a perfect development team. Here, you have two options, either opt for an in-house development team or go for outsourcing an experienced software development company. Although both have their specific benefits, outsourcing an experienced firm is always considered a better option. Why? That's because of their effectiveness in solving all the problems that might come during the development process, and their out-of-the-box ideas. Furthermore, an experienced development company will also help you to identify and include all the necessary features that will make your product successful while reducing the development cost upto an extent. Want more reasons to outsource the development team? Read this amazing article here.
5. Envision your Final Result 
The final step in the development process is to envision your results. Meaning, check your product in and out to see whether all the features and functionalities are working well or not. Also, go for automated testing as it is trending these days in the market. With automated testing, you will automatically know all the faults in your HR software and that too with accuracy. So, either ask for your development partner whether they offer automated testing service or you can even hire testers for that. And yes, don't forget to train your HR employees before implementing HR software in your organization. Eventually, they will be the ones who will have to work on that software, so it's better to train them in advance so that they can efficiently operate the software and can bring better results for your company.
How much does it cost to develop a custom HR software?
Now after knowing the development process, many of you would be interested to know the costs involved in building a feature-rich and flexible HRM software for your organization. So, if you are also interested to know the cost, here's something for you! The cost involved in developing a feature-rich software is not fixed and depends on many crucial factors. Although there are many big and small factors associated with the development cost, we have tried to name the topmost factors that affect the cost in the most significant manner. To name them, we have:
1. Managerial Cost
When you plan to develop an HR software, you will surely be needing an experienced project manager that can handle your development process and your development team very effectively. Also, the PM will have all the ideas related to how the development process will begin and what all steps need to be followed.
2. Development Cost
Development cost is the most crucial factor that affects the overall cost of the project. The cost of developers whether it be front-end or back-end or even UI/UX will charge for their services. Also, if you hire a development team from a well-developed area like the USA, or UK, then they will probably charge you more as compared to a development team from India for the same services. So, choose wisely!
3. Platform Cost
Whether you are opting for a web app, or a mobile app, or both will also affect your overall HR software development cost.so, it's better that in the initial phase you opt for a web app, and then after some time, with the expansion of your business, you can go for a mobile app. That way you will save a lot of time and cost of the development.
4. Testing Cost
Testing cost also contributed to the overall cost associated with the development of your HR software. Meaning, the approach you use for the testing of your product plays a significant role. For instance, normal testing will not give you that accurate results and so costs you less as compared to automated testing that can give you accurate faults in your HR software.
5. Customization Cost
Lastly, if you have opted for any customizations, then also you will add a bit in your development cost. Although, if your customizations are not that big and out-of- scope, then you may not get charged, the cost significantly increases if the changes are far from the main functionality of the software.
Let's build an HR Software for Your Enterprise!
Time is money in today's highly competitive and digital era. Hence, if you wait any further to plan the implementation of HR software in your organization, you may miss some great opportunities. That's why Matellio is here to help you. We have 20 years of experience in making HR solutions for various industries and businesses. Our expert software developers and experienced testers promise all our customers to deliver a high-quality and error free software application that matches their business standards. Apart from that, we can also help you integrate robust security tools in your HR software to ensure the integrity and security of your system and your business data. So, what are you waiting for? Book a free 30-min consultation today! Visit www.matellio.com/request-a-quote
Get the Conversation Started!
Get the Conversation Started!
[contact-form-7 id="34486" title="Side Form"]