How To Develop An AI-based Shopping List App?
Updated on May 23rd, 2023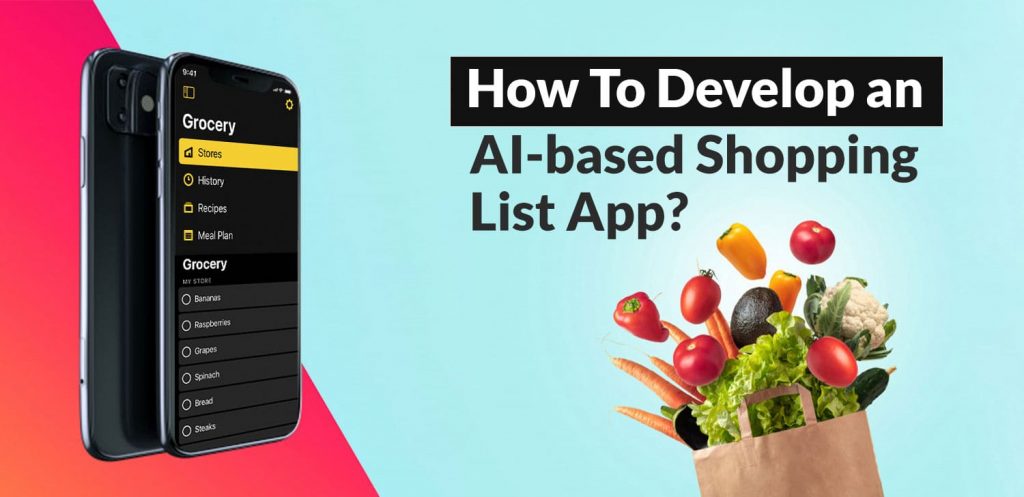 Have you ever gone shopping without a good list? If yes, you might have experienced that you ended up buying stuff that may not be of much use to you! That's where a proper shopping list comes to play! But carrying a paper-based shopping list has today become out-of-the-trend. Why? 
That's because, in today's tech-driven world, people use mobile apps more than ever. We have dedicated mobile apps for all our needs, from education to entertainment or even ordering favorite food. And in such a scenario, an AI-based shopping list app has become a necessity rather than a luxury.
What is an AI-based Shopping List App?
AI-based shopping list app is a dedicated mobile application that helps users to create a shopping list as per their convenience and needs. Besides enabling you to create a list directly on your smartphone, the AI-based shopping list app even reminds you of suitable items that you may have missed adding to your list. Whenever you pass through a supermarket or specific store, the app sends you notifications with the details of the items you need to purchase from that store.
Apart from all of that, the app even syncs with your family member's apps. That means, if they have already purchased a specific item from your shopping list, then the app notifies you to make last-minute changes. AI-based shopping list apps make use of smart algorithms that learn effectively with every usage. Hence, you could turn your smartphone into a shopping assistant with each usage. The AI-based shopping app even sends notifications directly on your smartwatches while enhancing your shopping experience.
With a wonderful user interface and smart AI capabilities, today's shopping list apps are becoming a huge global trend for 2021!
What are the Types of AI-based Shopping List Apps?
As shopping apps are quickly gaining huge momentum in the retail sector, many different types of AI-based shopping lists apps have been launched in the market till now. Here are some of the most popular types that have become prominent in the global market.
These are the most basic types of shopping list apps that are [revailing in the market. With a simple user interface and accessible functionalities, these types of shopping list apps provide a similar environment as a paper-based list. The users can add the items and then access the list on their mobile phones with a single tap.
Additional features of this type of AI-based shopping list app include an in-built dictionary with scanning functionality and digital payment options. 
How about if you get some awesome recipes with the items that you have purchased. Well, the AI recipe apps are a perfect example of that! This AI-based shopping list app enables the user to make a shopping list and even offers some amazing recipes with the items they have purchased. 
The users can access personalized meal plans with some healthy recipe options from the items they have purchased. Plus, the categorization of the items per the stores is also available in such types of shopping list apps.
Intelligent Shopping Apps
Here are the most popular and in-trend shopping list apps of the digital market. Smart shopping apps like Listonic and Capitan today are present on almost every third person's mobile phone. Why? That's because these intelligent shopping apps offer some amazing functionalities to the users. From offering tips, and real-time notifications, to synching with your store items as per their availability, the smart shopping list apps are all you need for a personal virtual assistant.
Besides that, making a shopping list, predicting the most popular brand of specific items, and getting amazing deals on certain products are also some of the popular features of these types of AI-based shopping apps.
Gone are the days when people used to go to supermarkets and stand in long queues for purchasing the items. The advent of shopping mobile apps and pandemic situations have today eliminated the need to visit physical stores for grocery shopping. Many big supermarkets like Walmart or Whole Foods have launched their shopping list apps that help users purchase various items while sitting remotely. 
The users can access the different brands of the items, their quantity, offers, availability, etc. Not just that, the payments could also be made digitally, eliminating the requirement to visit the store. These types of shopping list apps even offer loyalty rewards to the users based on their purchases. 
Who knows, the use of drones in the delivery might be the next add-on to these types of AI-based shopping apps!  
Is it Profitable to Develop an AI-based Shopping List App?
With a popular and huge customer-base, AI-based shopping list apps quickly become a great source of profit for investors and startups. In 2016 only, almost 32% of the people confirmed the usage of shopping list apps for grocery shopping, and the number has surely increased. Moreover, a trusted source reveals that around 69% of people today use mobile apps to create their shopping lists. 
68% of them used the shopping lists app to discover the best brands, and 86% of the people used it to create a shopping list more smartly. 69% even accessed AI-based shopping list apps due to the amazing rewards and coupons they offer to the users. 
Out of this data, around 56% were millennials that used the AI-based shopping list app to access the final list during shopping. In comparison, 54% of the household women used these apps to compare the competitor's price of specific stores/products. 
Hence, it is certain that people today are readily using shopping list apps, and the involvement of AI will further increase this number exponentially. Thus, today, it is no doubt that if you are an investor or a startup, then developing a custom AI-based shopping list app could be your most profitable venture. You could seamlessly target any global location as shopping is a basic and most essential amenity for everyone. 
AI-based Shopping List App – Features and Cost
Now that you have finally made up your mind to develop an AI-based shopping list app, here are some features that you might want to consider to make your AI application a hit in the market. 
| | |
| --- | --- |
| Features | Description |
| Social Login | The users could register on the AI-based shopping list app using their social accounts or using their email and a unique password. |
| Voice-based Searches | This feature enables the users to search specific items or stores using their voice-commands for a better, faster, and more efficient shopping experience.  |
| Items Category | The AI application categorizes different products under various categories for easy access to the users. |
| Shopping List | The main feature of our AI application where users could add, delete, change, edit, or move items from their shopping list using one tap. |
| Past Orders | The users could access their past shopping lists to get an idea of the past orders, or to reuse the same list.  |
| Digital Payments | A much-needed module that enables the users to pay for the products using any suitable digital payment platform.  |
| Order Tracking | The users can track the orders right from the time of order confirmation to final delivery. They can even communicate with the delivery person for any changes in the final delivery.  |
| Push Notifications | The most useful mode of communication channel for the admin to send any updates or offers to the users in a personalized and effective manner.  |
| Automated Suggestions | The smart AI algorithms suggest the most suitable items or brands to the customers based on their past shopping patterns.  |
| List Sharing | The users could share the list or could synch the entire family's shopping list to get a real-time update on the purchase of items.  |
| Loyalty and Rewards | The most promising and engaging feature that helps the admins to allot loyalty and reward points to users based on their past orders.  |
| Conversational Assistant | A virtual human-independent assistant for the users that could mimic and understand human behavior and could solve all your customer queries in real-time.  |
Besides all those features, there are many others that you could include in your AI-based shopping list app. However, as an experienced AI development firm, we would only suggest adding the basic features first, with two to three advanced features. That's because it is always seen that people prefer to have an easy user-interface with basic functionalities during the initial use of any application. 
However, you can always scale yur AI-based shopping list app after some time of deployment. Hence, the best way is to consult with an AI expert and then decide the most promising feature for your AI shopping app. 
The first and foremost factor that impacts the overall cost of app development is expert consultation. Now, you might have a complete idea of your business requirement and your aim to develop an AI-based shopping list app. However, there are certain things that only an expert could know better.
For instance, the latest and most reliable AI trends that could enhance your shopping list app or the use of tech tools and features could make your app a hit in the market. Hence, make sure to partner with a technology firm that offers consultation services. 
The best would be to partner with an experienced software engineering firm that offers free consultation services!
Hiring Professional Developers
The next big factor that influences your project cost is the cost of hiring developers. It is often seen that many of the firms often hire freelancers to cut the cost of development. However, that might not be the best decision. Why? 
That's because a freelancer has less experience on a particular technology than a professional engineer of an experienced firm has. Moreover, a freelancer even does not have access to the best tech tools, which is again present with an experienced firm. 
Hence, it would be best to opt for an experienced technology partner that offers flexible hiring models and best-in-class developers. Also, ensure that your technology partner has sufficient knowledge and portfolios of AI software development. 
Besides features, if anything that strongly impacts your custom software development's cost and future is UI/UX. They are simple terms that denote the interface and overall experience of your app. Even if you have the most amazing features and are not accessible by your users, they are of no use. 
Hence, the best way is to make sure that you invest in your app's design actively. Moreover, opt for experienced and reliable UI/UX engineers that could offer you the most aesthetic design. Partnering with an experienced software engineering firm could also do the work!
Project Management

To efficiently manage your project and development team, you will need a project manager. An experienced and reliable project manager will ensure that all your business requirements are fulfilled, and you get the latest updates at every step of app development. Hence, that hiring cost will also impact your overall cost of an AI-based shopping list app development. 

Testing Services

Finally, we have testing services as our most crucial aspect of AI app development. With testing, you can detect all the bugs that were left unidentified during the development process. However, the cost of testing may differ based on your choice. 

For instance, with automated testing, you could get instant results without any human assistance, and hence it costs more than manual testing. Thus, you could decide what suits your project needs and could then take a proper decision!
So, what is the actual cost of development?
Besides all the factors mentioned above, there are many more like upgradation, maintenance, etc., that further impact the overall development cost. As an experienced and reputed technology firm, we make use of agile development methodology that helps deliver cost-effective solutions. Moreover, using the latest tech-tools and certified developers also reduces the overall cost of development without compromising the quality.
Hence, if you want to get an accurate estimation of your project, consulting with our experts is the best way! 

How Can Matellio Help?
With years-long experience in custom software development, we are a leading business choice for AI software development. Whether you are from the education, retail, supply chain, entertainment, or even transportation industry, we have perfect AI solutions for your brand. Our certified developers and testers have always delivered the most efficient and cost-effective digital solutions to our clients. That's why leading platforms like Clutch have time and again recognized us as leaders in enterprise software development.
Hence, leave all your queries behind, and start your AI-based shopping list app development with our experts. Enjoy our free consultation services and leverage our certified and tech-savvy engineers to make your app a hit in the market. We ensure to transform your ideas into a successful reality!
So, keep discussing, and, 
Till then, Happy Reading!
Get the Conversation Started!
Get the Conversation Started!
[contact-form-7 id="34486" title="Side Form"]