How to Develop an NFT Wallet for Your Business?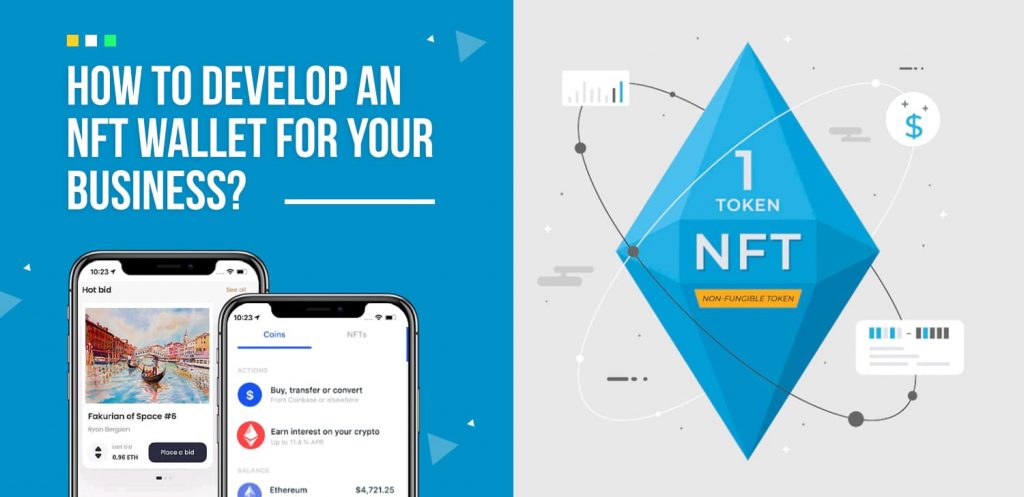 Cryptocurrencies have taken the world by storm of their decentralized process and high returns. Despite the risks, investors all around the world are fascinated by this concept. The world of cryptocurrencies has made great advancements since its creation. NFT is a new concept that has been introduced in the crypto universe, and its popularity has skyrocketed since then.
NFT (non-fungible tokens) are data sets attached to a blockchain. Since the first NFT sale of more than 40 million USD in 2021, people are looking at it as the new commodity for trading. The thing with NFTs is that you have to have a wallet to manage your inventory in order to take the transactions further.
Entrepreneurs are more than interested in investing in building a new NFT wallet as the competition is slowly heating up. If you are a business dealing with either cryptocurrencies or NFTs, you must start your NFT wallet development. The market conditions are more than favorable, and the technologies are available in abundance.
In this blog, we will learn about the development of an NFT wallet development.
The global market of NFT will cross the valuation of 80 billion US dollars by the year 2025.

 

The NFT wallet keeps track of one-of-a-kind enhanced passwords that permit users to transact on the Blockchain.

 

NFT wallets are made with the sole purpose of delivering ease to the users to carry out their transactions.

 

When you exchange digital currencies or NFTs, the location of that particular resource does not change on the Blockchain, but the entrance address does.

NFT wallets can be developed on technologies like

jQuery, NGINX, Bootstrap, Modernizr, and more.

 
About NFT & NFT Wallet
NFT wallets are electronic wallets that combine NFT and crypto support in one place. Also, the wallets enable you to acquire new tokens by purchasing items with your available resources. The vast influx of NFT industries has also inspired the creation of functions in NFT wallets for storing NFT craftsmanship after printing or purchasing.
Surprisingly, an NFT wallet lacks the resources of a more advanced version of a large ledger. However, the wallet keeps track of your resources' location on the Blockchain. As a result, you are now faced with the task of locating an NFT wallet that best meets your requirements. Secondly, each NFT wallet has its own set of features. In any event, you must be aware of the critical factors in order to avoid any confusion.
You use your NFT wallet to access your crypto on the public ledger in the same way that you use your credit card to access cash at an ATM. Instead of real objects, the NFT wallet keeps track of one-of-a-kind enhanced passwords that permit users to transact on the Blockchain. NFT wallets are devices, media, or mobile phone applications that allow you to access blockchain-based trade history records. You'll need an NFT wallet if you want to use any of your claimed NFTs.
Why Invest in an NFT Wallet Development?
The market conditions of NFT wallets and NFTs are more than successful. The global market of NFT will cross the valuation of 80 billion US dollars by the year 2025. The Crypto market is fragile in nature, which makes it a better place for hardcore investors.
Apart from the market scenario, NFT wallet app development delivers many benefits and feasibility to the users and your business. Here are some of the top benefits of NFT wallet app development.

1. Easy to Use
To make your signup and usage of a modified NFT wallet easier and simpler, the NFT wallet delivers you with a feature that acts as an alternate method. You can efficiently manage and handle the multiple NFTs in this wallet based on your preference. The whole setup, which is tailored to your specific company needs, demonstrates the significance of projecting the articulations and diagrams in a different way than others. This wallet customization sets you apart from the competition, causing clients to be more aware of you and drawn to use your own customized NFT wallet.
2. Extreme Security
Many people are still hesitant to use digital forms of money because they are unfamiliar with the conventions. They should be dependent and trust the supplier to be assured of the efforts to make these for their insurance. As a result, it is the responsibility of the wallet-offering app or website to separate it for them. Aside from being uninformed, people are also afraid of being hacked by well-informed people. This is a compelling reason to be afraid of misrepresentation, as history indicates that people's imprudence has led them there.
3. Low Transaction Cost
NFT wallets are made with the sole purpose of delivering ease to the users to carry out their transactions. Since every project is done with the mindset of earning some kind of revenue, NFT wallets are no different. Hence, there is a transaction cost involved, but to market the idea a little better, the NFT wallet development has a lower transaction cost as compared to any other types of cryptocurrency wallets.

How Do NFT Wallets Work?
When you exchange digital currencies or NFTs, the location of that particular resource does not change on the Blockchain, but the entrance address does. The private key you receive for accessing your electronic resources is used to facilitate transactions and provide access to your personal assets. Some of the equipment wallets are more likely to be misplaced or broken. Regardless, your record is rarely lost with the help of private keys.
Keeping your private key safe takes priority over making your wallet more secure in order to gain access to your crypto assets or NFTs. To make an exchange, you must give the wallet your private key and wait a few seconds for the transaction to complete. It makes transactions more secure and safe than other internet-based installation doors. Furthermore, you have nothing to be concerned about if you can recollect your login details.
Many wallets are also well-known because they provide a high level of security through the use of two-factor authentication. Several prominent businesses provide an in-built console, ensuring that the service providers on your phone do not intercept your login information.
NFT Wallet App Development Process
NFTs or cryptocurrencies, in general, are not easily understandable by the majority of people. Hence, solutions like NFT wallets are a boon to the society that is interested in dealing with NFTs. In reality, the development process for these projects isn't as complicated as they might think. You can carry out the conversation with great efficiency if you have an outcome-oriented plan. Aside from a good plan, you'll need a reputable programming Blockchain development company with experienced resources and proven experience to guide you through the process.

1. Knowing the Market
Just a thought isn't enough to develop a platform for experienced crypto and NFT traders all over the world. To figure out the most recent developments and projections for your NFT wallet development process, you'll need to conduct an in-depth market analysis. Great market research should cover all of the major points you'll need to know during your development time. Begin by listing the competitors, their methods, their marketable approach, and so on.
Investigate their entire process and the reason for their popularity. Try to come up with something that will benefit your business and offer you an advantage over your competitors. Then get to know your audience and their expectations. Research as much as you can about your possible customer base, including any elements they might require in a later stage to make their experience go more smoothly or anything else that would be relevant.
Read More: A Complete Guide on Developing an NFT Marketplace Website
2. Figure Out the Process
After you've identified the data needed, continue on to the next stage, where you'll precisely design each of the phases. This plan will serve as a roadmap for improving your NFT wallet. Make sure to include everything in the layout, from the features to the budget. Consistently planning provides you an advantage in the development process. You can add new potential outcomes that aren't mentioned in the layout during the development cycle.
3. Features to be Considered
In the decentralized finance sector, clients are drawn to powerful and multifunctional features. They don't require anything spectacular; rather, they require anything that facilitates their full understanding of the NFTs. Plan useful and appropriate features with your Blockchain development team, and ask for their input on how to improve the same. Here are some of the features that should be considered when developing an NFT wallet.
Two-Factor Authentication
When dealing with NFTs, security is the most important parameter. It allows your users to build an extreme level of trust in your brand and the product.
Automated Logout
Any financial subject is extremely sensitive; hence, this feature protects users from any unauthenticated use and logs out their account from the wallet after a certain period.
Insurance
NFTs are way too expensive, and any costly thing should have a backup strategy. This feature allows users to get insurance against their NFTs.
Decentralized Apps
Allow users to access some of the decentralized apps from their wallets as a part of third-party integrations.
Search
Allow users to effectively search for NFTs they have owned or the other NFTs on the market.
Auctions
Allows users to purchase or sell any NFTs by putting up an auction on the app and getting a decent profit in return.
Filters
Allow users to apply filters in the search or the feed of their NFT wallet to get the exact item in the search results.

Ratings
High-rated NFTs are often the most secured and reliable. This feature allows users to get an idea about any NFT by reading the reviews and ratings of the same.
Bank Integration
NFT wallets deal in cryptocurrencies but adding a bank into your wallet for easier transactions will simplify the process for your users.
4.
Technology Stack to be Considered
Without a solid tech stack, any feature or component of your NFT wallet developmental process will be useless. Use your research to figure out what tech stack your competitors are using for a particular segment, or ask your development partner's design teams to create one if the demand arises. Here is a typical tech stack used by the best NFT wallet phases in the market.
Application and Data
jQuery

 

NGINX

Bootstrap

Modernizr
Utilities
Business Tools
5. Design & Development
Consider a moderate approach while designing your NFT wallet; clients don't want a fancy UI design. Use a limited number of variations and light tones to highlight key elements of the app. Ask about ideas from your UI/UX designer, who has a lot of experience in the sector. Keep it as simple as possible, focusing on the features and utility for general use.
The next step comprises repeated testing of your NFT wallet app. Remember that removing any errors before putting the wallet on the market is essential. Request your testing engineers to analyze the project from every angle and, if possible, eliminate every single issue or mistake. A reputable Blockchain development firm, such as Matellio, will provide you with incredibly talented developers to develop the ideal NFT wallet.

Ready to Develop Your NFT Wallet with Matellio?
The cryptocurrency industry is solely based on Blockchain technology, and being a digital solution provider, we have decent experience in developing blockchain-based apps and software for various industries. Our team of engineers remains updated with every market trend and update of the crypto market to deliver powerful solutions that fit perfectly with your business needs.
Matellio is referred to as the leading blockchain application development firm. We have a team of exceptionally competent designers and specialists with a wide range of experience. We've developed a few blockchain projects related to cryptocurrencies that have gained much attention. Our hiring models are extremely realistic and tailored to your specific business requirements. To learn more, schedule a free 30-minute consultation call with one of our experts.
Get the Conversation Started!
Get the Conversation Started!
[contact-form-7 id="34486" title="Side Form"]