How to Develop Fitness App Like Soosee?
Updated on Dec 7th, 2021
With the variety of app options available, using your phone for shopping has become more and more advanced. The world of mobile is single-handedly going to change the way we study and purchase goods, from online shopping to fast payments and beyond. Label scanners, which enable your device to scan an item's label, have climbed to the foreground of app functionality in recent years. This basically gives consumers access to previously unavailable information, allowing them to purchase wisely by understanding more about products.  
Presently, there are many applications available in the market that help individuals to gain comprehensive knowledge about what they are going to consume. 
Today, in this blog, we'll discuss one such app. Yes, we'll talk about "Soosee". How to develop an app like Soosee. 
Apps like Soosee uses the camera on the smartphone to scan ingredient labels, check for allergies, sensitivities, and non-vegan substances in less than a second
In the United States, 68.7 million mobile phone users used at least one health or fitness app at least once each month in 2019. In the United States, 86.3 million people will use health or fitness applications in 2022, according to estimates.
The application uses Augmented Reality to bring the contents of your meal and drink to life right in front of your eyes.
The blog covers all you need to know for developing an app like Soosee along with stand-out features in the category.
What is Soosee App? Quick overview!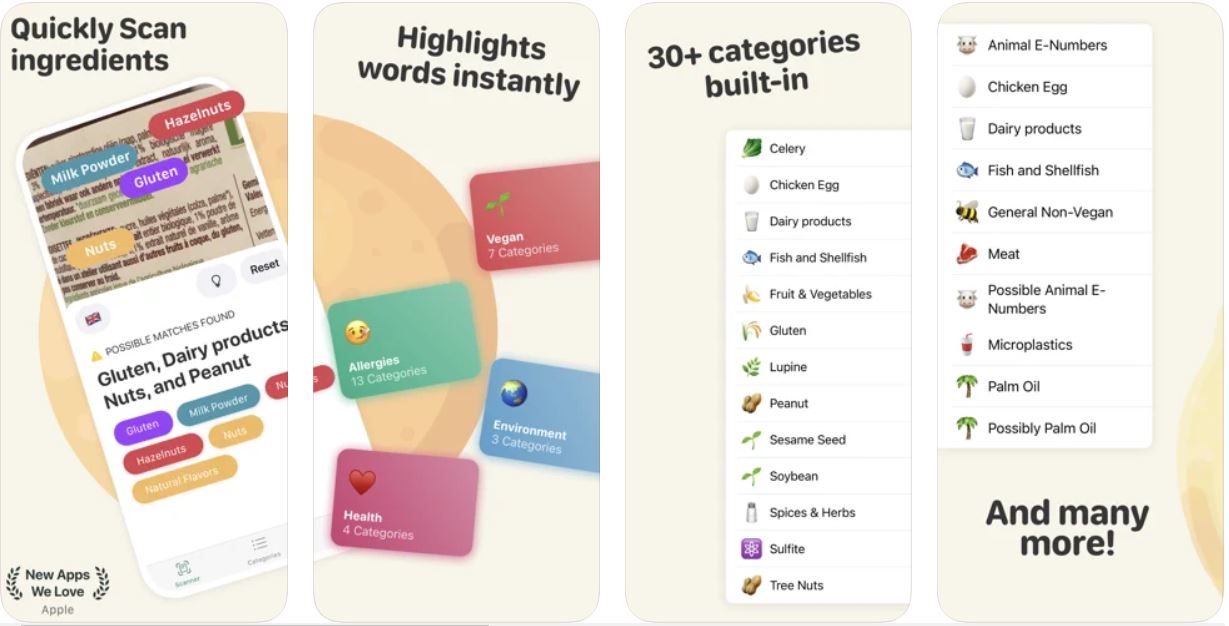 Image Source
Soosee reads products ingredient labels and checks for allergies and just about every other dietary limitation that users may have. Users can choose from pre-set food allergen groups such as gluten, nuts, lactose, and more after installing the application. Users can also write their ingredient list to be evaluated when a label is scanned. Soosee is also useful for vegans and vegetarians because it can scan labels for foods that may contain animal-based ingredients.
What does it offer?
Here are some things that Soosee can do:
Soosee scans ingredient labels with your device's camera. In a little over a second, check for allergens, sensitivities, and non-vegan ingredients.

 

Soosee scans your food and flags any components you should avoid

 

Make wordlists to emphasize ingredients that are specific to your dietary restrictions.

 

Multilingual support

 
As you've seen the information about an app like Soosee along with its offerings. Now, let's move forward and check,
Key Features that you Need to Include While Developing an App Like Soosee! 
As you already know or have heard that features are the most important element of any application. You need to take extensive care while selecting the right functionalities for the development of your app.  
Hence, as the top mobile app development company, we will help you choose the right functionality. Below we've mentioned some of the features you can consider in your app, like Soosee. So, have a look!
Food Info
With a massive food database, label scanner, recipe translator, dining log, food insights, calorie counter, and much more This functionality makes it simple to keep track of your nutrition, whether you're trying to lose weight, break bad habits, gain muscle, or simply hold yourself accountable for what you consume.  

Water Consumption
Adequate water consumption is crucial for losing weight and proper nutrition. As a result, you'll need to create a food and nutrition dashboard that includes a water consumption function. This feature's logic might include a calculator that would suggest daily water quantities for each user based on supplied data inputs. 
Food Scanner
Food Scanner is the best feature that can help you and your companions make healthier food and beverage choices. The app employs Augmented Reality to help put what's inside your food and drink to live right before your sight!  

Push Notifications
Your users can monitor their calorie intake by entering food items into the appropriate field, which allows the system to determine if they consumed the necessary daily calorie intake. If your product is an android application, you could use notifications and alerts to ensure that users don't skip their meals and consume the recommended foods.  
Social Sharing
Of course, a customer should be able to share his accomplishments with his social media contacts. It boosts motivation significantly because most people tend to watch out for one another. Motivation leads to achievement and encourages people to use your app more frequently.  
Dashboard
An app panel that calculates food calories and displays important information about the user's performance as well as nutrition suggestions. We advocate using a ready-made API with access to many types of recipes, components, and even menus items with complete nutritional information to create a database with comprehensive information about products.  
Feedback
Users must be able to submit feedback through the app, which application developers could use to enhance the app further. Users of the app should be able to submit feedback on any flaws as well as suggestions for new functionality.  
Analytics
There are many metrics to track, but to avoid an overload of information, applications should highlight only the ones that are most relevant to their app. A graphical representation of the metrics would also be a nice choice, allowing the user to see a summary of their exercise regimen at a glance.  
How to Develop an App Like Soosee? Key Points to Consider!
Here are the points that you need to take! 
1. Define an Idea
The first step in learning how to design an app is to figure out what your app's main concept is. Consider what goals you would like to achieve and how the mobile application can help you achieve them. This will help to define the project's vision and determine the functions and design required to achieve your business objectives. If you stumble across applications that appear to solve the problem that yours does, think about how you can set your application apart from the competition while also still targeting the audience that your rivals have demonstrated to exist. Instead of fretting about being too late with your concept, consider the advantages of being the later runner. That is, the early movers in the sector you want to dominate have already done a lot of the legwork in identifying the problem and the market. By expanding on their offerings, you can profit from their efforts. To alter your own app based on your results, learn from their triumphs and mistakes.  
2. Build MVP 
An MVP is a stripped-down version of an application or product that has only the most basic features. The aim is to test your hypothesis and then iteratively expand on the offerings. Generally, the application will be created with a full set of functionality after user input is gathered.    
3. Consider building Wireframes 
A wireframe is a blueprint or basic framework for the screens that will appear in your program. Using simple steps like pen and paper is the simplest and quickest technique to design a mobile app wireframe. You can now start thinking about the physical characteristics of your app. Try to sketch out each panel of your application from beginning to end, and consider the user experience you want them to have. Remember to keep your focus on your stated product and avoid getting carried away with superfluous aspects as you go through this exercise of designing a simple wireframe.  
4. Define App's UI 
An app developer will design the interface after the wireframe and user journey have been approved, adding images, colors, designs, and many more to build an engaging and well-branded experience. 
To put it another way, the designer will build a mockup (a mid- or high-fidelity depiction of the product) in order to assess the design's appearance and feel. Mockups can also aid in analyzing the design's usability and visual consistency, allowing organizations to improve the design's look not only in terms of appearance but also in terms of usefulness.  
5. Test the App 
A dedicated quality assurance specialist should conduct comprehensive QA tests to ensure that every functionality functions as intended. If they find a bug in the testing environment, developers will be able to address it before the app is released so that customers will be unaffected.  
6. Hire the Best Mobile App Development Company 
This is the most essential point among others; you need to hire the best possible mobile app development team in order to build a competitive app. To build an app like Soosee, following individuals you need to have in your development team! 
Backend developers

 

Frontend developers

 

Android app developers

 

iOS app developers

 

Business analyst

 

Project manager

 

QA Engineers

 
How Much does Developing an App Like Soosee will Cost? 
Overall, estimating how much it will cost to develop an app can be tough. 
After all, the pricing is heavily influenced by the timeframe for the deliverables, the number of features and functions you may require, the actions users will be permitted to conduct within the smartphone application, and the level of long-term support you require from an application development company.  
If you have in-depth details about the development cost of an app like Soosee, then contact us.  

Conclusion 
Developing an app like Soosee is not an easy task. But if you take the points listed above and incorporate the above-mentioned features, it can be easy but make sure to hire the right mobile app development company. If you're looking for the best mobile app development company, then contact us; we would love to assist you.
Get the Conversation Started!
Get the Conversation Started!
[contact-form-7 id="34486" title="Side Form"]