How to Develop a Lesson Planning App?
Are you planning to automate your school and classroom management processes? Do you want pre-planned lesson plans and schedules that can be customized as per your choice and can be easily used by your students and learners remotely? Well, that's where a lesson planning app comes into play!
With interactive and user-friendly designs and next-gen features for everyone, lesson planning apps have gained immense popularity in the e-learning sector. Whether large e-learning brands or small institutes, everyone actively seeks professional e-learning app developers to develop a lesson planning app. At least, that's what the market scenarios predict!
Statista predicts that the e-learning market will surpass $243 million by the end of 2022. The same study even reveals that almost 65% of the faculties support open educational resources, including lesson planning apps. Another source reveals that e-learning apps have increased the income of leading US organizations up to 42%. Hence, it is evident that investing in e-learning applications is the most beneficial thing for investors. A lesson planning app is a less competitive and trending aspect of the e-learning market.
But, what exactly is this lesson planning app, and how can you develop a lesson planning app that outgrows all your competitors? Let's find that out!      
What is a Lesson Planning App?
A lesson planning app is a robust e-learning application that enables faculties to create and deliver their lessons digitally. With a dedicated lesson planning app, the users can not just create and deliver their lessons remotely to the students, but they can even manage other aspects of their classrooms. Basically, a lesson planning app is a shorter version of the classroom management application that facilitates remote learning and monitoring activities. 
With a lesson planning app, the teachers can determine their everyday activities. They can include videos, images, graphics, or even voice-based tutorials to make their lesson more interactive and user-friendly for the learners. The students can access all the notes or schedule their lesson plans as per their pace of learning, making these custom e-learning apps more comfortable for both parties involved. Here are some things that a lesson planning app does:
Create interactive lessons

Plan schedules of the teachers

Enable them to take online tests

Shares the curriculum with the parents along with the reports

It helps students to access the course materials remotely

The users can submit assignments and can grade the tests 
All in all, lesson planning app development is one such investment that can make any institution a global and profitable brand in its niche. And not to forget, the current pandemic situation also calls for such a remote learning management system that can manage the needs of students and schools in a remote manner!
What are the Best Lesson Planning Apps?
Now, due to such robust benefits, many of the leading marketers have already launched their own lesson planning apps that are today generating whopping profits and have become popular. Let's discuss some of them and analyze their strong points for a successful lesson planning app!
1. Better Lesson
Better Lesson is one of the most popular and feature-rich lesson planning platforms used by educators. With a myriad of professional teaching features and interactive classroom sessions, Better Lesson has gained immense popularity since its inception. The platform offers a fully customized and personalized learning space to the educators and helps them track their progress in real-time.
The educators can create learning modules and can even conduct tests at their own pace. The reports can be shared with the students and their parents in real-time. Anybody can upload the comprehensive guides or other valuable resources with access-based rights, and the students can access them all with a simple tap. 
2. Common Curriculum
Another robust lesson planning app that educators and students have used is Common Curriculum. This interactive application offers impressive features for everyone, including teachers, administrators, students, and parents. Right from integrating the classroom sessions with Google to offering customized modules to the teachers, Common Curriculum does it all!
There are many other features like assignment creation and distribution, lesson tracking, drag and drop for lesson planning, and school-wide templates and groups that the users can leverage with Common Curriculum. 
3. Planboard
With an intuitive and easy-to-use interface, Planboard is also one of the fantastic lesson planning platforms used by the global audience. Almost 500,000+ teachers use the app to get real-time analytics and a centralized dashboard for their classroom management. Planboard is an excellent lesson planning app that not just offers the teachers to create and distribute the lessons but even offers more than that!
Digital planbook, past lessons, notes, progress tracking, lesson sharing, assignment tracking, grading, scheduling your day, and much more; you get many features with this innovative e-learning application. Not to mention, the app also offers video recording and graphic sharing options along with complete mobile access for all users. 
4. Teachers.io
Finally, we have Teachers.io as our last amazing lesson planning app. This robust platform is an extension of a student planner app called myHomework. With Teachers.io, the tutors can easily schedule their classes and send invites to the students publicly or privately as per their choice.
Besides, sharing the assignments, creating videos, taking classroom sessions, announcements, tracking progress, defining syllabus, and a complete timetable formation; are just some other basic functionalities that you can enjoy with the Teachers.io application. 

Getting Started with Lesson Planning App Development
So now that you are aware of the fantastic benefits and market scenario of the lesson planning apps, let us quickly discuss how to develop a lesson planning app for your brand! 
Step 1: Choosing the Right Features
As per Statista, about 600k e-learning apps are present on both the Play Store and the App Store. Hence, to make your app more competitive and successful, you will need to invest in next-gen features that could attract users from all over the world. Here are some of the prominent features that can work wonders on making your custom lesson planning app development a hit.
a. Lesson Planning
Enable seamless lesson planning capabilities for your teachers. Make their lessons more interactive by helping them to add videos, graphics, and special texts in their lessons with a simple feature. 
b. Google Classroom Integration
Help your teachers keep accurate track of their lessons and notes shared with the students by integrating Google classroom in your custom lesson planning app. Enable your students to access the notes anytime they want and simply your classroom management functions. 
c. Standard Search
Include an intelligent and feasible search functionality to help your end-users search for any specific lesson on the app. Include an image and voice-search features to make your custom lesson planning app more interactive and future-proof. 
d. School-Wide Templates
The admins can keep track of all their teacher's lessons in one place. The teachers can also make sure that they adhere to the planned schedule and are on the right track. 
e. Collaborative Groups
Invite all your teachers to a group and make sure they interact effectively. Plan virtual meetings and easily share your plans in the groups with everyone in real-time. 
f. Sharing Lessons
Enable your tutors to share their lessons with the students in real-time at a centralized location. Keep track of all the changes and offer access-based rights to the students easily. 
g. Push Notifications
Notify all your users about recent policy changes or any feature addition in your custom Lesson planning app easily in real-time. Make them aware of your new deals and subscription models quickly in a personalized manner. 
h. Social Sharing
Enable your users to share the lessons socially and facilitate group learning while making your lesson planning app more interactive and user-friendly. Offer social media login and make the user onboarding process simpler and time-saving.  
i. Curriculum Sharing
Enable the teachers to share the complete curriculum with the parents of their students and help them smoothly communicate with them. Include text-based or audio-based communication features to make your lesson planning app more effective for the parents and teachers. 
Besides all those features, there are unlimited e-learning app development functionalities that you can include in your custom lesson planning app to make it more effective and advanced.  
Step 2: Hiring Experienced eLearning App Developers.
After finalizing the crucial features for your lesson planning app, you need to look for certified and reliable resources that can turn your idea into a profitable reality. For that, you have many options.
a. Setting Your Team
The first option that might come to your mind would be to set up your own development team. You can hire e-learning app developers for your in-house app development to develop lesson planning apps as per your pace. However, the main concern in such an approach would be hiring. You would need excellent knowledge to hire such remarkable developers that can turn your idea into a reality. 
Besides that, you may not need every resource like UX/UX designer, tester, or developer at the same time. The need for a fully advanced development team would further be eliminated after the completion of the project. Hence, if you are ready to invest your time and cost in hiring the resources, then going for this model would be perfect. 
b. Hiring Freelance Developers
The next hiring model that can be used is the freelance model. You can look for freelancers to complete your lesson planning app development. Many freelance sites offer such an option. However, there are some disadvantages to this model as well. 
Firstly, a freelance developer would not have sufficient knowledge and experience in developing robust e-learning applications. Secondly, they can anytime shift to a whole new technology depending on the market trends, and in such a case, app maintenance will be a big question. Finally, a freelance developer would not analyze the current market trends that could further elevate your e-learning app development project.  
c. Hiring an Experienced eLearning App Development Company
The final hiring model that you can leverage for your custom lesson planning app is the outsourcing model. This is the most common and successful model used by companies so far for any sort of app development project. You can find an experienced and cost-effective e-learning app development company that can help you develop a lesson planning app within your budget.
A reliable e-learning app development company will offer all sorts of professional services, including idea consultation, MVP creation, flexible hiring models, quality assurance that can make your lesson planning app a hit. Besides that, a reliable company would also offer excellent post-launch services that can help you stand out from the crowd.
Step 3: Developing Your App
The next big step to develop a lesson planning app for your institute or startup would be to define the development stage. You need to carefully examine all the market trends and hire the best resources to make your lesson planning app a hit. For instance, there are many technologies and platforms available in the market. So, you need to select the most reliable and advanced technologies that could enhance your product and help you earn better revenues and customer engagement. 
Here are a few things you need to consider:
1. Type of Platform
The first and foremost thing you need to plan to develop a lesson planning app is to analyze the development platform. There are basically three major platforms in the global market, viz., Android, iOS, and Windows. Now, you can either target all three through a single version (cross-platform app) or make different versions for different platforms (native apps).
a. Native Applications
With native apps, you need to create different applications for different platforms. In the native app development approach, all your versions would work seamlessly on their specific platforms while catering to the needs of all your users. The only cons are more development cost and more time to develop a lesson planning app. 
b. Cross-Platform Apps
Another type of app development model is cross-platform app development. Under this approach, you will need only one app to cater to the different needs of all your users. A cross-platform app benefits all the development platforms, and the cost is also not a significant issue.  
The type of development platform you need will depend on what platform your target audiences are using. You can conduct surveys to analyze all that data, or you can ask for expert consultation. Remember, the technology stack and resources needed for different platforms are all different.
2. Technology Stack
Another major and most crucial factor for developing a lesson planning app is knowing the tech stack. It is evident that there are many options available today, but knowing the most reliable tech stack that can ensure a long-run is needed. Also, the technologies would differ as per your choice of the development platform. 
Hence, to give you a clear picture of the most reliable and latest tech stack for your lesson planning app, we have listed some technologies our e-learning developers use. 
a. Android App
Front-end development: Java, Kotlin

Backend development: Python, Laravel, C++, JavaScript

UI: Android UI, Jetpack Compose

Development Tools: Android Studio
b. iOS App
Front-end development: Swift, Objective C

Backend development: Python, C#

UI: UIKit, Swift UI

Development Tools: XCode, AppCode
c. Cross-Platform App
Front-end development: React Native, Flutter

Backend development: C#, JavaScript, Python

UI: Ionic APIs

Development Tools: Appcelerator, PhoneGap
d. Database
Aerospike  

MongoDB  

Cassandra  

MySQL  

Postgre
d. Cloud
3. UI/UX of the App
Besides features, if there is any aspect that can decide the future and scope of your lesson planning app, that is, UI/UX of your app. UI (user interface) and UX (user experience) play a significant role in defining the success of your custom application, and the lesson planning app is no exception. 
For exceptional designs and interface of your app, you need to focus on some critical aspects like: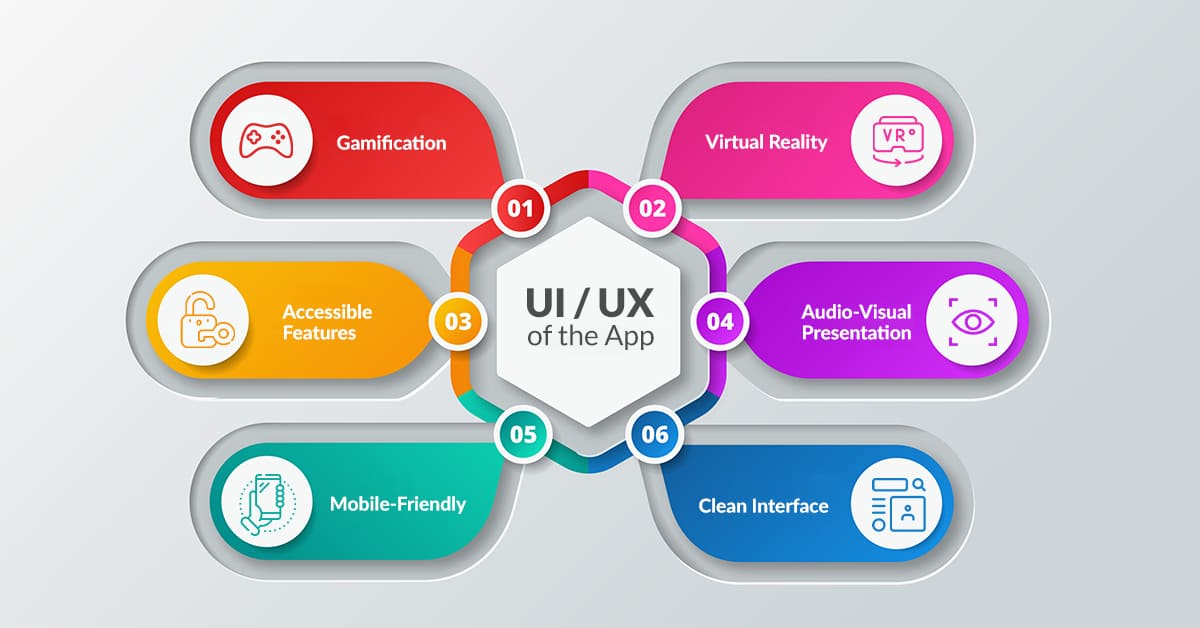 a. Gamification
Initially used in the children's app, gamification is now a broader concept that enhances the UI of every app in the market. 
b. Virtual Reality
Whether to study history or medicine, virtual reality could be a great help to engage your users and make learning more effective. 
c. Mobile-Friendly
A mobile-friendly app is not just a luxury but a necessity to make your lesson planning app a hit in the market. 
d. Clean Interface
A clean interface helps your users access the complete app and make your onboarding and exploring process easier. 
e. Accessible Features
What to click next and where this tab opens further elevates your user experience and eventually your profits. 
f. Audio-Visual Presentation
Primarily everyone seeks visual-tich content, and that trend also overtook the e-learning app development market. 
4. Agile Development Methodology
Finally, we have an agile development methodology as our final step during the lesson planning app development. There are many app development approaches, and amongst all of those, the agile app development methodology is one of the finest and trendy options to avail. 
With agile methodology, you get updates at every stage of app development. Whether selecting the features or finalizing your quality assurance method, you decide everything about your lesson planning app. Not just that, the cost of testing also minimizes as the app is checked after every stage or sprint. That means, no need to go back to stage one when a fault is detected at stage 3. 
Hence, always go for an app development firm that follows an agile methodology for app development. 
Step 4: Quality Assurance
Last but not least, we have quality assurance as our final step to develop a lesson planning app. Testing your lesson planning app is crucial as it detects every small and large error left unidentified by the e-learning app developers. With testing, you can ensure the smooth and glitch-free functioning of your app all across the globe on any device.
However, many of the investors often skip this step to save time and money, and as a result, they face glitches and eventually a failure in their brand reputation. We are sure you do not want that for your lesson planning app. Hence, you should choose an appropriate model for testing your lesson planning app.
For testing your app, you could either choose a manual testing method or an automated testing method. Although both these methods are proven to detect errors, manual testing calls for slope and human-dependent methods, whereas automated testing is human-independent, time-saving, and more accurate. You can learn more about automated testing in our blog below!
Other Points to Consider for a Successful Lesson Planning App Development
Besides the primary development approach, other crucial aspects can elevate your lesson planning app development if handled carefully. 
a. Idea Validation
So, you have an idea in your mind, and you start the development process. You hire a perfect app development team, and you select all the features and designs you thought of. But, wait, you suddenly were told that these ideas were not feasible, or you noticed that your app has suddenly become so complex. That's because of a lack of expert consultation!
Expert consultation is a much-needed aspect of any sort of app development process. With that, you can check the feasibility of your ideas and can also know about the latest app development trends. Besides that, an expert would also help you to pick the most trending and reliable tech stack, features, and design needed to make your app a hit. Hence, opt for a firm that offers technology consulting services for your lesson planning app!
b. MVP Creation
Another crucial thing that must be kept in mind before starting your e-learning app development is MVP creation. Now, to those new to the development field, MVP stands for a minimum viable product. That means you get a prototype of your app and all the features and designs you selected. 
That prototype shows you how your lesson planning app will look and what all features will be displayed to the end-user. You can check the app and make changes to it simultaneously without impacting your actual development process. MVP creation saves time and helps you save a large chunk of the cost, and ensures an expected app development. 
c. Monetization Model
Last but least, we have a monetization model as our most important aspect of lesson planning app development. Everyone needs money to run their business, and so is the case with your custom lesson planning app. Now, there are no questions on the revenues and profits you will make with a lesson planning app, but you will need some extra revenues in the initial days to smoothly run your business. That's where a monetization model comes to play!
With a suitable and effective monetization model, you can quickly generate extra revenues for your app with less effort. For instance, you can run third-party ads not related to your field on your app in exchange for a certain amount. You can even offer subscription-based models to your students and teachers to generate revenues for your app. Whatever be the choice, an effective monetization model is always needed. So, make sure to discuss that requirement with your development partner.  
How Much Does it Cost to Create a Lesson Planning App?
Developing any e-learning application requires careful examination of market trends and analysis of your business requirements. You must consider many things before accurately calculating the exact cost of your custom lesson planning app. Type of features, the app's complexity, development platform, testing method, data migration, scalability of the app, app submission services, and idea consultation; there are many factors that one must analyze before offering the final price.
Hence, to deal with such a situation, consulting with an expert is the best way! You can discuss all your requirements and ideas with the experts and get an exact quote and time estimations for your app to make the final call. So, find an app development company that can offer you a free consultation service to help you estimate your lesson planning app accurately.   

That's Where Matellio Comes In!
With years-long experience and certified e-learning developers, we promise to develop and deliver an efficient next-gen lesson planning app that matches your brand and customer expectations. Our proficient experts offer you free consultation services and even help you figure out the latest and most reliable tech stack that can make your lesson planning app a hit in the market. Our certified resources also help you save a considerable chunk of cost and time while offering assistance at every stage of your e-learning app development through an agile methodology. 
So, why wait for your competitors to win when you can start today? Fill in our form and leverage our free consultation service for your lesson planning app development. Also, get a free no-obligation custom quote for your lesson planning app.
Till then, Happy Reading! 
Get the Conversation Started!
Get the Conversation Started!
[contact-form-7 id="34486" title="Side Form"]