Must-Have Features in the AI-based Shopping Assistant App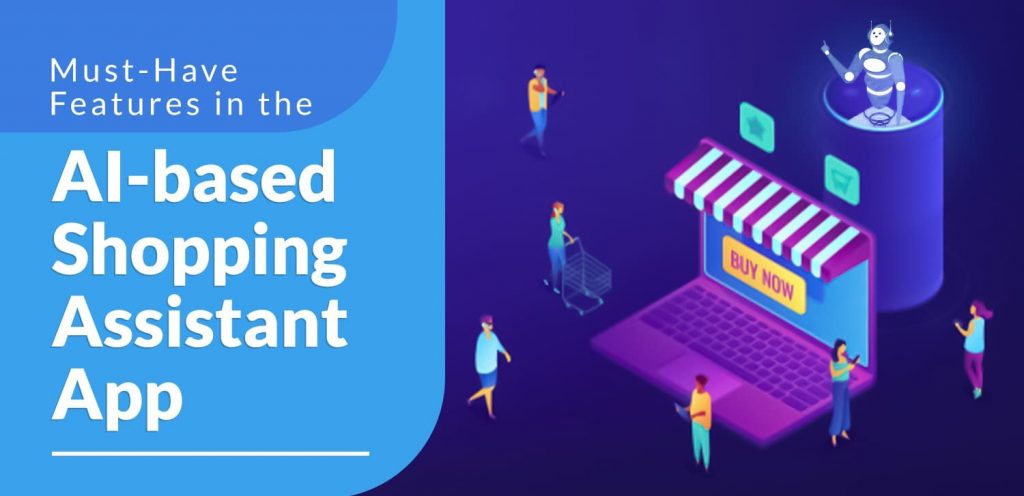 Until the last decade, there was no option available to purchase something online at the comfort of your home and get it delivered to your doorstep. The only option available in shopping was to wait in a queue at your local stores or malls. Thanks to modern technology like Artificial Intelligence, now you can shop online at your ease with the help of a shopping assistant app and avoid those stressful queues. 

These online marketplaces like Amazon and eBay have shown tremendous growth in the last eight years. With growing product categories, shopping assistants need to increase to make shopping as convenient as possible. 
While browsing for products online, a single spends most of his time searching for the right product that suits his/her requirements. To tackle this problem, mobile app development firms shifted their focus to shopping assistant app development. 
Whether you want a bag for your distinctive choice or any dress of your particular style, these intelligent apps assist you in finding the best prices, comparing various products to find the best for you. 

Why Do You Need To Develop A Shopping Assistant App?
Getting involved in a shopping assistant app development is always a great idea, and there are numerous reasons to support this claim. These applications save time and money for you by delivering excellent products, price comparison, and that too within seconds.
As per a Google survey, 88% of the shoppers use smartphones while looking for the information to lead to their favorite product.
These apps not only save you a big chunk of time, but they also advise you when to buy a particular product to save maximum money on the purchase. Having these apps makes your shopping a soothing experience.
If you look at the shopping pattern between 10 years earlier and now, you'll find that the decision-making process has been changed from asking brands about their product to asking your social circle, comparing reviews and ratings. Finding a product that meets your requirements would be a nightmare without a shopping assistant app.
Instead of running store to store, users can now compare hundreds of their domain products with artificial intelligence.
How Artificial Intelligence Takes Shopping To A Whole New Level
In the eCommerce industry, every brand is taking the assistance of Artificial Intelligence in their shopping assistant apps to ensure an extraordinary shopping experience for their customers. Sometimes, multiple options confuse a customer in choosing the right product. That's where AI comes into the picture; it helps the customer by analyzing their various preferences and likes and delivering them choices that are a perfect match. Not only the customer, but the retailers also gain from AI as it helps them to retain a customer by delivering them the perfect product by analyzing a customer's shopping history, their browsing patterns, and what they share on social media through their shopping assistant app.
Customers benefit a lot from the visual searches designed with the help of AI. These visual searches assist the user in narrowing down the preferred choices in a matter of seconds. Many apps, such as Pinterest lens, use machine vision to identify a product on the internet and curate a list of related or similar products. Google lens is another feature that uses the user's phone camera to capture the image of a product and generate a list of similar products from numerous websites and redirects the user towards their perfect fit.

The E-Commerce industry is widely benefitting from Artificial Intelligence and its large pool of capabilities. With the combination of human touch and AI, you can generate high revenue. Some applications are not limited to only suggestions solely based on AI; they have added some human touches; apart from the customer's previous shopping history, these apps offer their customers customized filters based on their patterns to help them find their desired product quickly.

Along with shopping, AI has now become your stylist when it comes to fashion. This process is called AI-generated feed. The applications learn the behaviour of the customers on the app and their likes. Then it processes the data in real-time and analyzes the current fashion trends and suggests popular and trendy dresses based on its calculations and the likes of the users.

Apart from learning the customer's behaviour AI is helping the retailers sell their product online. Everyone uses social media and shares almost every detail of their life on these platforms, like what they purchased and what they like. There are various sponsored posts related to a particular product online. AI identifies the pinned sponsored product's posts and suggests these products to the users based on their behaviour on social media platforms. In simple terms, it helps retailers to match their products with the right customers.

AI helps in identifying the trending products with AI bots. These AI bots crawl through various platforms online and study the latest trends about various products. This helps the retailers to always display the latest trending products on their shopping assistant app or websites. With the help of machine learning, it recognizes various images and curates a data list related to the trending products in real-time.
Understand The Mechanism Of These Shopping Assistant Apps
Any shopping assistant app development is based mainly on artificial intelligence or a combination of AI and human analysis. These apps are divided into two classes: Human-based and AI-based.
As the name indicated, first class is based on human insights in addition to data intelligence. A real-life person is merged behind the interface that does the work of sorting your particulars to find a perfect product.
The second type is AI-based shopping assistant apps. Major work of Artificial Intelligence includes driving these applications for data analysis, and specially designed algorithms create suggestions based on User's behavior. These suggestions generally don't need any human consultation or approval, ultimately simplifying a user's shopping spree.
AI downloads data from numerous online catalogs and websites and processes a big bowl of data to search for the right product to fit the User's requirement at lightning speed.
The crucial factor of the shopping assistant app development process is various machine learning algorithms that search User's data to study their habits and individual preferences. This collected data is then used to personalize the offers and list of specifically tailored products for him/her.
Must-have Features For A Shopping Assistant App
The popularity of these heavily depends upon their number of features and their quality search outputs. With increasing popularity, there is tremendous scope for various innovative features and unique solutions that you can put to work in your project's development process.
Although, there are several features that a modern shopping assistant app must-have.
1. Price Comparison
Price comparison is a mandatory feature for such projects. This feature helps the users find the right product with the best price and saves some money on that deal. These price comparisons are based on the User's previous shopping experience and needs. 
This feature can fetch data with the help of Artificial Intelligence from digital stores or retail stores that are willing to deliver the data with additional discounts. You can partner with brands to get the data or use open-source data.
2. History Of Purchase
Purchase history allows users to access their past purchase, previous and current price, and the coupons or discount available on those products. In some apps, this feature assists in repeating a previous purchase or plan for a new one.
3. Coupons
Coupons are the need of the hour in terms of shopping assistant app development. These coupons help users in getting a discount on a particular product or store. Users can know the final discounted price for a product just by applying the available coupon. 
4. Shipment Tracking
After purchasing a product, users should know their product's location at a given instance of time. Every retail application is obliged to display the order's status for the convenience of the users. Updating a user about their product can be done by displaying the information on the shipment tracking page or using SMS and push notifications. There must be an option for the User to opt-out from these updates on your app.
5. Amount Prediction
Price prediction done with the help of AI conveys updates to the User about a product's price fluctuations. This feature runs on a price prediction algorithm that will work towards your shopping assistant app's advantage. This feature notifies the users about the price of their favorite products every time there is a change. 
6. Custom Recommendations
Custom recommendations are based on machine learning and Artificial Intelligence. These recommendations will be about various other products that will be relevant to the purchased product. For example, if a user purchases a shirt, this feature will recommend the perfect sneakers or jeans that will match the purchased shirt.
The personal recommendation feature will learn more about you every time you use the app and deliver accurate recommendations. Brands are a fan of this feature as they offer more products tailored to the User's preferences.

Building A Shopping Assistant App Is Easy.
A shopping Assistant app development process is similar to the development of traditional mCommerce applications in various ways. These applications include a user account, a shopping cart, payment gateway, shipment tracking, and purchase history. The number of hours in developing these projects takes a similar amount of time. Let's look at an estimate of the number of hours needed in the development process:
a. Front-end
The front-end part will include developing a simple chat window that takes around 40-45 hours, a user's profile or account that takes somewhere around 30-32 hours. Where a shopping cart and the payment gateway will take around 30-32 hours, purchase history will take somewhere around 12-17 hours, and purchase history will take around 14-16 hours.
b. Back-end
The back-end part of these types of apps takes somewhere around 75-150 hours in development. You have various features that you want to include in your back-end part of the application.
Alternatively, some options are affordable in terms of budget. If you have an existing website or app that you want to integrate, then a chatbot might be your answer.
Conclusion
Shopping assistant app development is the current trend of the industry. These types of applications help the enterprises as well as the users in various terms. Everyone wants a quick answer, and these shopping assistant apps are the perfect solution. You can develop these apps with the assistance of a diligent mobile app development firm. 
If you are looking to develop a customized mobile app, Matellio can help you fulfil your dream—our team of efficient app developers that have delivered numerous mobile apps. For more details about your project or know more about customized mobile apps, contact us!
Know App Development Cost