Streamline Your Retail Operations with Store Management Software Development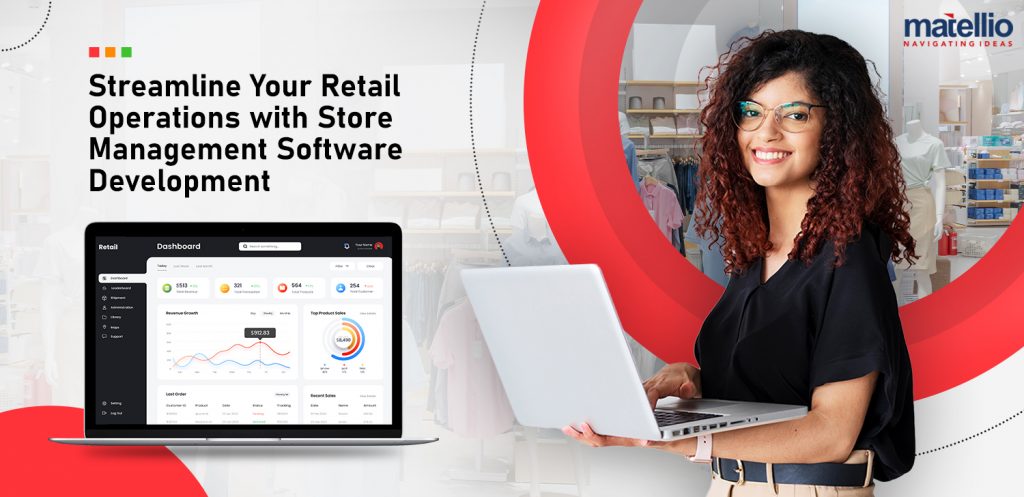 Store management software to keep track of stock levels, shipments, sales, and access to customer information. All in one place!
This is the 21st century, where retailers are all set to hit hard to the third gear, which begins with using technology to its full potential to alter the way the business operates.
With a duffle of products, variety in stock levels, and multiple sales channels (like brick-and-mortar stores, e-commerce platforms, and mobile apps), there is always a need for robust software solutions to effectively track and manage their inventory in real-time.
When will a product run out? The ideal for replenishing your best-selling items? How much does it cost to keep unsold goods in storage? These all matter for the success of any business!
That's where comes the need for inventory management software development.
Cloud-based inventory management software can do all of this for you, leaving you free to concentrate on growing and marketing your business. Automated store inventory management software will leave you free to do what you're best at building your business and delighting your customers.
The overall inventory management software market is expected to reach ~US$ 3,291.1 Mn by 2028, growing at a CAGR of around 11.2% for 2022-28.
The stats above clearly show that the graph of the management software market is certainly going to rise with time. So, if you are thinking of starting your business in the same, this is the right time! This blog will delve into the world of store management software, exploring its key functionalities, benefits, and some enterprise solutions.
The need for operational efficiency, the rise of e-commerce and omnichannel retailing, the importance of data-driven decision-making, and the complexity of compliance requirements is increasing the demand for store management software.

With store management software you can optimize your business operations, improve customer experiences, leverage data insights, and navigate the evolving retail landscape with confidence.
Store management software is a comprehensive solution to streamline operations, improve inventory management, optimize sales tracking, boost efficiency, and adapt to the demands of omnichannel retailing.

 
Let's start with the basics first.
What is Store Management Software?
It is software designed to streamline and automate all aspects of retail store operations.
Store management software will help you in operating, monitoring, and managing several elements of your store, like inventory management, sales tracking, employee scheduling, customer relationship management (CRM), and financial transactions.
Store management software will provide you with a range of benefits. It manages all the inventories efficiently, tracks stock levels, generates automated alerts for low stock, and facilitates reorder processes.
Its sales tracking feature will allow you to monitor sales performance, identify trends, and make informed decisions to optimize product offerings.
Additionally, the software also enables seamless employee scheduling, simplifies the customer checkout process through integrated point-of-sale (POS) systems, and facilitates customer data management for targeted marketing campaigns. Overall, store management software streamlines store operations, enhances productivity and helps businesses deliver an improved shopping experience to their customers.
Store Management System Software includes:
Easy Identification of all materials stored

Receipt of incoming goods and their Inspection

Storage and Preservation and easy to Handle Materials

Issue by FIFO

Maintenance of stock records

Stores accounting

Controlled Inventory
If you are interested in inclining the graph of your retail store towards success, we – the custom software development company, will help you provide the best store management software solution which suits perfectly for your company, making it a standout.
Store Management Software: Stats and Figures
Inventory management software is currently gaining significant traction due to the growing popularity of online shopping and rental services. Let's see the figures:
Why Your Retail Business Should Use Cloud Inventory Management Software?
Using cloud inventory management software offers numerous benefits for retail businesses. Here are some compelling reasons why retailers should consider adopting this:
Real-Time Access and Visibility
Cloud inventory management software will provide you with real-time access to your inventory data from anywhere, at any time. This level of visibility will let you monitor stock levels, track sales, and make informed decisions instantly. Whether on-site or off-site, you can access critical inventory information, such as product availability and stock levels, ensuring accurate and up-to-date data across all locations.
Seamless Multi-Channel Integration
You can integrate and further operate across multiple channels like physical stores, eCommerce platforms, or different marketplaces through store management software, ensuring accurate inventory synchronization. By this, there will be no risk of your products being oversold or undersold, which will improve customer satisfaction and also prevent revenue loss. You will have centralized inventory control with less complexity and better operational efficiency.
Enhanced Efficiency and Automation
Cloud-based inventory management software will automate all your manual tasks, like order processing, stock tracking, and reporting, thereby saving time and reducing human errors. With automatic reorder points and low-stock alerts, you can optimize inventory levels, prevent stockouts, and ensure timely replenishment. This ultimately leads to improving your inventory accuracy, increased efficiency, and reduced costs.
Scalability and Flexibility
Cloud inventory management software is scalable, i.e., it will allow you to adjust your inventory needs with a growing business. You can simply extend your inventory management capabilities without making major infrastructure investments, no matter whether your firm is growing into new markets, adding more items, or adjusting for seasonal variances.
Also, cloud-based solutions are flexible, and you can customize them as per your business requirements.
Data Security and Backup
Obviously, security is always its priority. The software will provide you with robust data security measures, with encryption and secure backups. You can have peace of mind knowing that your critical inventory data is safe from potential hardware failures, theft, or any natural disasters. It also provides automated backups and data redundancy, making sure that your data is streamlined and minimizing the risk of data loss.
Also, with cloud-based store management software, you will be able to optimize your inventory management processes, reduce costs, and deliver exceptional customer experiences, ultimately reaching a competitive edge in the retail industry.
Now that you know how effective inventory management software is and the benefit it can provide to your business, it's time to opt for digital transformation services to get the most out of your business.
Features of Store Management Software Development
Store management software has a variety of features that will help you to fulfill your specific needs and streamline the process of your retail businesses. Here are some of the prime features commonly found in store management software:
Inventory Management
Store management software will help you with managing and tracking your stock levels efficiently. You can monitor all your information related to inventory in real-time, automate stock replacements, set reorder points, or generate reports while stock is on the move or during valuation with store management software.
Also, barcode scanning, serial number tracking, and managing batches are some others that you can do with this software to streamline your inventory operations.
Point-of-Sale (POS) System
The store management software has a POS system that will let your customers have seamless and efficient transactions. You can process sales, accept multiple payment methods, generate receipts, and manage returns or exchanges (if any) by integrating this store management software into your retail business.
Sales and Performance Tracking
You will also be able to get insights into your sales performance through this store inventory management software. Also, get the analytics and reporting of every sale coming in, analyze customer behavior, and act for marketing campaigns accordingly.
Employee Management and Scheduling
With store management software, you can also manage your employees and their schedules, staff profiles, assign roles and permissions and track their attendance. This will streamline your workforce management and simplify communication within the team.
Customer Relationship Management (CRM)
You can also add CRM to your store management software, with which you will be able to build and maintain customer relationships. Get all your customer information in hand, track their purchase history, and analyze the behavior of your customer, which can be further used to personalize customer interactions, offer targeted promotions, and thereby enhance customer satisfaction and loyalty.
Integration and Scalability
You can also connect your other business systems, like accounting software, e-commerce platforms, and payment gateways, with store management software. This will enable seamless data flow between different systems, remove the hassles of manual data entry, and get accurate and up-to-date information across the business.
These are just a few of the many features that the store management software will provide. It may vary depending on the software provider and the requirements you have.

Store Management Software Development – Process
The process of store management software development is not as easy as you might think. It involves lots of effort and years of experience; one wrong step can lead to loads of errors, therefore, consuming plenty of time. And who wants that? So, it's better to partner with any leading software development company like us if you want to skip the hush and get the desired product on the spot.
Rest you can follow these steps for your store management software to take your business to the next level:
Identify Requirements
Before you start with your store management software development, know who your target audience is and list down their requirements, the purpose behind developing store management software, and what challenges you need to fulfill that are faced during the store management.
Conduct deep market research and know your competitors, what they are up to, and what difference you can make. Identify their strengths, weaknesses, and unique features to ensure your software stands out.
Designing
Now that you are aware of the motive behind the development, you can start with the design and architecture of your store management software. Define the database structure, user interface design, and data flow to provide an optimal user experience and performance.
To make it simpler for your consumers to use the software, hire dedicated developer who can create an appealing yet user-friendly interface.
Development
Now comes the major part! Your developer should be aware of choosing the exact technologies perfect for creating your store management software.
While developing store management software, it is important that you select the right tech stack to get a robust and efficient solution for your business. While the specific tech stack can vary based on the requirements and preferences of the development team you choose, below is the list of common tech stacks used for store management software development:
Category

 

Technology Options

Front-end Development

HTML5, CSS3, JavaScript.

Back-end Development

Python, Java, or C#

Database

 

Relational Database Management System (RDBMS)

API Development and Integration

RESTful APIs, Tools like Swagger or Postman

Cloud Computing and Deployment

 

Amazon Web Services (AWS), Microsoft Azure, or Google Cloud Platform (GCP)

Testing and Quality Assurance

Testing Frameworks like Selenium or Jest, CI/CD with tools like Jenkins or GitLab CI
Prefer hiring a dedicated developer for this as this step is crucial.
Integration
Then comes the integration part. Consider integrating the software with other systems that the store might already be using, such as accounting software, payment gateways, or eCommerce platforms. This integration will streamline workflows and ensure seamless data exchange.
Testing and Deployment
Now that the store management software development is done conduct thorough testing to find and fix issues in your program, if any. To make sure your software complies with the necessary standards, employ a tester who can perform functional testing, security testing, and user acceptance testing.
When your software has successfully completed all of the testing procedures, you can start the deployment process. Launch the app on the specified devices, whether they are local or remote.
Continuously monitor and maintain the software for optimum performance and update it frequently to keep up with changing requirements or security issues.
Keep in mind that creating reliable and feature-rich store management software necessitates working with domain experts, feedback from potential users, and an agile development approach to adapt to changing industry requirements.

Why Choose Matellio?
We are experienced in delivering high-quality software solutions fulfilling the unique needs of businesses. Our team of experienced developers and industry experts use the latest technologies and industry best practices to design and develop software precisely focusing on the specific challenges faced by retailers, giving them the most efficient and effective store management system.
Our approach to inventory management software development is customer-centric, not just meeting but exceeding their expectations. By considering our client's requirements, goals, and workflows, we ensure that the software we develop aligns perfectly with their business objectives. This ensures that the final product not only meets their expectations but also exceeds them.
Connect with us today for your store management software development and get the best of the services on the spot.
Get the Conversation Started!
Get the Conversation Started!
[contact-form-7 id="34486" title="Side Form"]