The Covid Chaos Apps to Help You as You Practice Social Distancing
Updated on May 7th, 2021
Most of us are reaching that point in our self isolations where we can no longer tell what day of the week it is. Let's face it, the worst part of being locked in our houses is stagnancy. Every day, it's the same as the previous one and that can get to a person if it is practiced for too long like we all are doing right now. And as the probability of lockdowns across the world being extended increases, we are looking for ways to mix-up things and make them a little less depressing. So in an attempt to make social distancing a little more fun, we have created a list of smartphone apps that are sure you keep you from going down the anxiety spiral and feel isolated.
Video Chatting Apps
The first category of apps in our guide is video chatting apps. The biggest advantage that these apps have over the usual video calling feature in most chatting apps is that they allow a greater number of people to be involved in a call and support extended periods of calls.
1. Skype
2. Zoom
3. Houseparty
1. Skype

While some of you might think that it is a strictly business-oriented app, the fact is that you can use Skype for personal uses as well. Developed by Microsoft, Skype is a freemium app that is available on a large number of platforms including iOS and Android and allows you to add up 50 people in a single call.
2. Zoom
Another freemium video conferencing app that is considered very corporate-savvy but is actually really useful for personal uses. What makes it different from apps like Google Hangouts is its ability to allow you to connect with people even without a Zoom account and a handful of features like breakout rooms.
3. Houseparty
Perhaps the most fun video calling app out in the market currently. It is something of a freemium social media app. Houseparty takes the concept of putting together a party at your house and puts it into a virtual space. The best part about it is that you never know which friend you will be chatting with next. Any friend can join in your video call and other than being able to chat, you can play games with them as well.
Social Media Apps
In these times, we are spending more time on our social media accounts than ever before and some of these apps outshine others.
1. Instagram
2. Snapchat
3. TikTok
1. Instagram
Instagram is not only a fun way to interact with people and share what you are up to lately but a great way to get quick information and find useful articles. It is also a great business tool now. And even though we are all on a lockdown can't create new content to put up on Instagram, Instagram is still a very useful tool in such conditions to get quick information by following the accounts of credible media outlets where they post latest news, unbiased.
2. Snapchat
Snapchat is very much like Instagram in the way it operates apart from having a slew of filters and camera modes. It is a fun way to share moments with friends online who literally have nothing better to do than to sit back and watch your stories.
3. TikTok
Perhaps the most popular app among a certain age group is TikTok, now more than ever before. The reason behind this is the fact that now that we are all confined to our houses, we have nothing better to do but to make silly videos of our pets, siblings and even ourselves and put them up on the internet. In the age of social distancing, TikTok has proved itself to be the most in-demand platform to create new content that will interest people.
Fitness Apps
With gyms and yoga studios closing their gates and authorities curbing us from leaving our houses even for our morning runs and jogs, we have no choice but to find ways to exercise at home and to help you in adjusting in the home-workout environment, there are a couple of apps that you can download.
1. Fitbit Coach
2. Peloton
3. Daily Burn
1. Fitbit Coach
It is Fitbit's own video-training app that uses the data from your previous workouts to make a personalized training plan for you. With just $10 per month, Fitbit Coach helps you with strength exercises, intensity training, etc.
2. Peloton
Peloton offers a slew of in-app exercise classes that you can either get on demand or join in on during live sessions. Available in both audio and video formats, Peloton provides running, strength training, biking, yoga, and other such classes free for the first 90 days after which you will have to pay $13 a month.
3. Daily Burn
Daily Burn is one of the best substitues for personal trainers. It provides expert-guided video and audio workouts and you can take classes based on your needs and ease. These guided workouts are free for the first 60 days after which you will have to pay $10 per month.
Remote Working
With all of us working from home, for the time being, one of the biggest problems that we are facing is maintaining communication with our team members and working in a collaborative work environment. But there are some apps that can help you fix this issue. 
1. Slack
2. Microsoft Teams
3. Discord
1. Slack
Slack has always been popular in trendy workplaces. It is a gorgeous looking platform that allows you to work from home and join in on different project groups and share ideas and get targets. Slack is jam-packed with third-party integrations and features file sharing, video calling, etc. It is a freemium platform with its own smartphone app.
2. Microsoft Teams
Microsoft has improved its work-place tools drastically in recent years and Microsoft Teams is one of its newer initiatives which is an extremely useful tool if you have a lot of other Microsoft apps. You will have to pay $10 per month for Microsoft Teams but it comes free with an office 365 subscription.
3. Discord
A freemium app, Discord feels a lot like Slack and while it is aimed at gamers, others can find it very useful as well. It puts features like chat, video chat, voice chat, etc. together and gives a platform that is, for a lot of people, almost as good as being in front of each other.
Delivery Apps
Restaurants have taken a bad hit in the current state of things but food delivery apps are saving them from having to closing their shops completely.  
1. UberEats
2. DoorDash
3. Seamless
1. UberEats 
UberEats is an offering from the on-demand cab booking and ride-sharing giant Uber and works very similarly to the original Uber app as far as tracking goes. A free to use app, UberEats allows you to see the menus of restaurants near you and order food and then track your delivery all the way to your doorsteps.
2. DoorDash
A free to use app, the biggest USP of DoorDash is that it offers the option of Contact-Free delivery which is vital during the coronavirus epidemic. It offers a list of all the restaurants nearby and allows you to order food to be delivered to you without even making contact with delivery people. 
3. Seamless
Seamless is an online food delivery service that accepts orders from both its website and its app. Seamless app is one of the best-looking apps in the food delivery app industry; it is a free to use app that allows you to choose from a plethora of restaurants and order the food of your choice.
Smartphone Games
Gamers around the world are keeping busy lately; self-isolation is something they have been practicing long before the Covid-19 crisis started so they are pretty much doing the same thing that they used to before. But even if you are not an ardent gamer, you can still enjoy playing games. You don't have to pick a game that is incredibly taxing, you can just pick something light and easy to play. 
1. Minecraft
2. Scrabble
3. Hearthstone
1. Minecraft 
With its groundbreaking, retro, box-like graphics, Minecraft is an online worldbuilding game in which you can create anything, from waterfalls to magma pits. It is a game with no particular aim and you can play it online with other gamers around the world or just play it offline and on your own. All you have to do in Minecraft is build things and that can be a great experience, allowing your imagination to run wild like that. It is a freemium game that is available on multiple platforms.
2. Scrabble
A freemium game, Scrabble is the digital adaptation of the globally loved board game. If you enjoyed playing scrabble with your friends on game nights, you can still do it with this colorful and entertaining smartphone adaptation of it. You can play solo or you can play in multiplayer mode and give your friends a challenge. 
3. Hearthstone
It is tough to master this card game from the makers of the Warcraft game franchise. It is entertaining and demands some serious gaming hours but if you enjoy magic card games, then you will have no regrets that you gave this game a chance.
Entertainment Apps
There has been a surge in the already massive popularity of video streaming apps, so much so that in many nations they had to lower the quality of their content so that the internet doesn't collapse under the load of massive streaming. Some of the top streaming apps at the moment are, 
1. Netflix
Netflix, with a long line of original and bought shows, stands as one of the most popular video streaming services. From award-winning and critically acclaimed shows like Breaking Bad and Crown to big-budget movies like 6 Underground and the Irishmen, Netflix has something for everyone. 
Netflix also recently released Netflix Party, a chrome extension that allows people at different locations to watch shows together and an option to chat in the plugin itself. It is particularly popular nowadays since most of us are separated from our friends.
2. Amazon Prime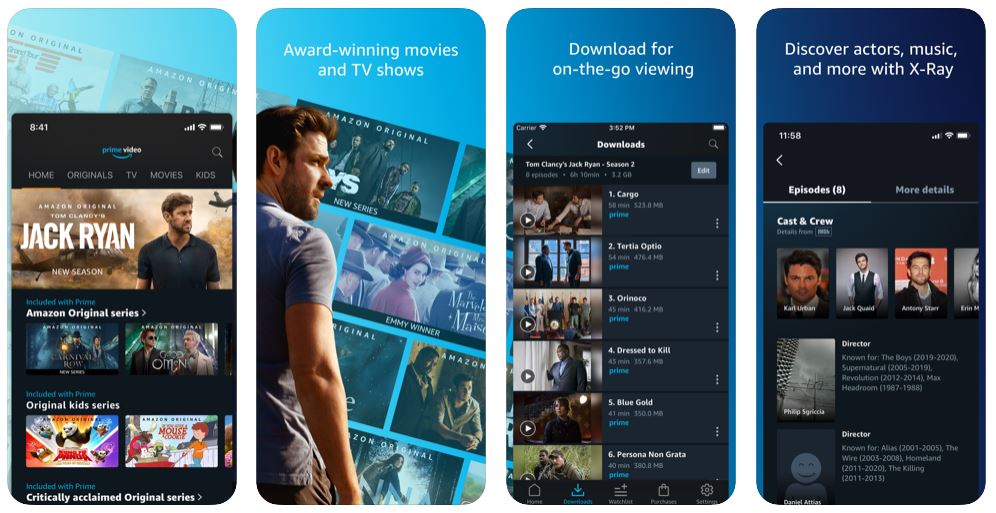 Amazon Prime has a lot of good shows, original and bought, but it doesn't get much attention which is sad. So now that you have nothing better to do, you might as well give it a chance because there are shows and movies on Amazon, old classics and new hits, that are worth watching.
3. Disney Plus
One of the newest entries in the video streaming industry, Disney Plus, is a slick platform with an astonishingly large amount of shows and movies. Its biggest power is Disney's long line of shows that it has created over decades which is now going to be available on Disney Plus exclusively. From Marvel movies to latest hit shows like Mandalorian, there is a lot on Disney Plus to keep you entertained.
Other Apps that You might Like during Self Quarantine

Aside from the above-mentioned apps, there are a couple of other apps that you can look into. For instance, YouTube never gets old and its seemingly infinite bank of video content can keep you busy for days. Twitch is a streaming platform for gamers. You can download the app and watch your favorite gamers play. Bandsintown was a popular concert and event ticket booking app but since there are no concerts happening any time soon, it is telling you when artists are hosting live streams from the confines of their home. It might not exactly be like being at a concert, but it is as close to getting that experience as we are going to get during these hard times.
So download these apps and keep busy and keep entertained. Communicate with your loved ones, and share your dog's video in a pirate costume. Do whatever you want, just don't feel like you're alone and miserable. Because we are all in this together and we will get through this ordeal.
Get the Conversation Started!
Get the Conversation Started!
[contact-form-7 id="34486" title="Side Form"]