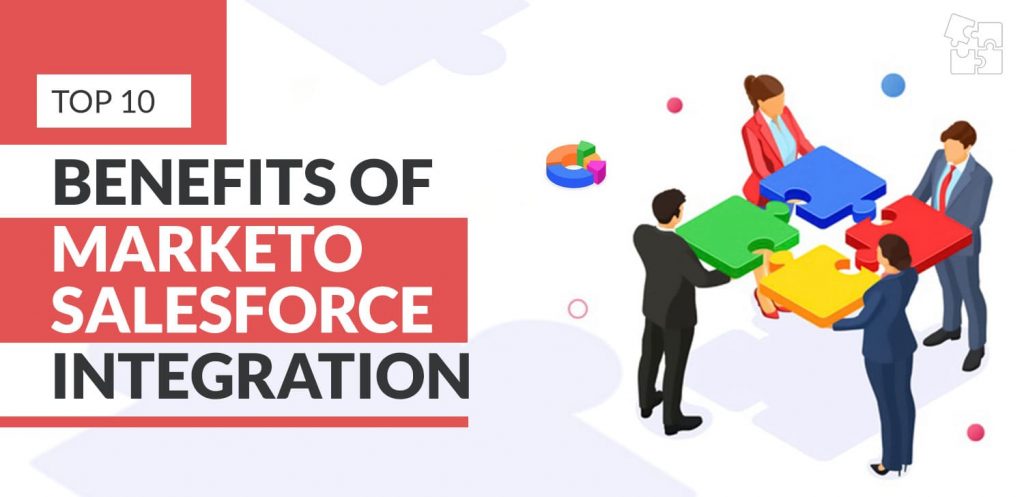 Marketing automation is becoming more competitive as more businesses adopt digital strategies. Currently, businesses and enterprises are looking for top marketing automation tools to standardize their daily marketing operations and activities. Marketo and Salesforce are effective tools for generating further leads and, therefore, can revenues. While Salesforce and market both are effective business marketing tools, what if you were to get access to both software's high-quality functionality in one system? Yes, marketo salesforce integration helps businesses and enterprises streamline their business processes and drive success.
Market salesforce integration can easily create competitive advantages, optimize marketing strategies, improve ROI by streamlining repetitive activities, deliver results, boost revenue, reinforce customer relationships, anticipate and change user behavior, and far more. If you wouldn't want to fall behind other similarly reputable businesses and companies in the industry, marketo salesforce integration might be a smart step.
But wait, what is Marketo and Salesforce? How integrating Marketo with Salesforce CRM is beneficial for businesses and companies.
In this blog, we're going to address these questions and the top benefits of Marketo Salesforce Integration. So without taking much of your time, let's get started.

What is Marketo?
Marketo is marketing automation software that offers it simple for businesses to develop, optimize, monitor, and update digital campaigns through various channels. Marketo could be useful in areas including campaign management, customer engagement, and marketing automation. Marketo enables extensive user personalization. Its overall product is divided into four parts, each with its collection of packages and premium services.
Marketo enables businesses to boost marketing and sales efficiency by streamlining, automating, monitoring and evaluating marketing activities and workflows. As a result, they increase cost efficiency and resource and communication efficiency, resulting in more leads being turned into sales and stronger profitability.
Moving on, let's discuss the advantages Marketo offers:
Advantages of Marketo:
Marketo provides the ability to tailor each prospect or lead's experience with a business. Read on to see how Marketo will help you to have the highest levels of customer satisfaction. Take a look!
Easy to Use – The functionality of Marketo's system has earned a lot of attention. Although the user interface isn't the most appealing, it is clearly labeled and simple to use, rendering adoption simpler than with certain other software.
Easy to Setup – It's pretty simple to set up and use compared to a few of Marketo's rivals.
Easy communication – Marketo's ability to combine with Salesforce and other pioneering CRM systems improves advertising and sales teamwork.
Easy & Better Analytics – Marketo's analytics allow you to track initiatives and produce reports and gain access to information at any time. Besides, it provides specific insights into the business, which you can use to improve it.
Easy customization – Marketo specializes in presenting customers with personalized solutions, and then you can establish specifically what you want with a customized marketing campaign.
Since as we discussed the marketo and its advantages, now let's move forward and quickly discuss,

What is Salesforce CRM?
Salesforce CRM is the world's best customer relationship management software. Salesforce CRM makes it simple for sales representatives to track, monitor, and evaluate customer interactions in one location. You can also keep track of everything from sales reports to customer service tickets, as well as channel marketing and web analytics. With Salesforce CRM, sales representatives can improve the efficiency of their sales, operation, and marketing.
Besides, there are many other salesforce services that you can use to streamline your marketing campaigns and daily business operations. Below we've mentioned a few of them. Take a look!
Salesforce Marketing Cloud.
Salesforce Service Cloud.
Salesforce Sales Cloud.
Salesforce Commerce Cloud.
Salesforce Community Cloud.
Salesforce Financial Cloud.
Advantages of Salesforce CRM:
More Secure – Data protection is among the most important elements of CRM for companies. From the start, data protection has been a top priority for Salesforce CRM. This is crucial because many CRMs ignore security concerns about a company's data. On the other hand, salesforce CRM comes with built-in safety options that enable businesses to monitor the information, rendering it a very dependable and safe piece of data.
Easy Contract Management – Salesforce CRM stores information about contracts with different clients, such as payment terms of service, enforcement requirements, and modifications. Salesforce CRM allows users to generate a quotation that includes a product name, description, volume, and any related discounts given to a consumer.
Advanced analytics and reporting – Predictive analytics using Salesforce Analytics is supported by statistical information, consumer surveys, and patterns. This is beneficial when measuring project revenue and calculating return on investment. Salesforce also can generate a variety of reports based on the data stored in the database. This allows a business's top management to make informed operational and organizational decisions.
Lead Management – Lead Tracking is the ability to monitor data regarding your prospects, like automated lead scoring, to ensure you don't lose out on prospective consumers due to system flaws.
As of now, we've discussed both the software, now let's move forward and discuss the core part of this blog, which is,
Why Marketo Salesforce Integration? How is integration beneficial for your business? Top Benefits!

Salesforce Marketo integration can result in a highly effective CRM and marketing automation tool, allowing the company and marketing teams to more easily meet more targeted markets and consumers. In marketo salesforce integration, lead scoring allows you to identify clients who are ready to buy, determine if or when to involve them more, and allocate positive and negative ratings to existing clients based on behavior, place, and several other aspects.
The benefits of Marketo Salesforce integration are:
1. Customer Behavior 
You can monitor consumer behavior during the purchasing cycle with Marketo Salesforce Integration by learning how customers access your platform, what they see, how often they remain on a site, whenever they move in, and so on. It can also give you lots of updated information, including a consumer's phone number, profession, postal address, email, contact details, and so forth.
2. Create Custom Campaigns
You can create your email promotions and follow up with far more clients using automated but customized responses thanks to marketo salesforce integration. Templates for a variety of purposes can be created ahead of time. Lead-specific information, such as name and company, can also be instantly retrieved from your custom CRM system and inserted into these templates. Sales reps may also create and implement regulations that enable them to deliver these emails at the most suitable times and schedules.
3. Boosts engagement 
Sales and Marketing could provide a higher quality experience by timely, appropriate, and personalized touches with easily identifiable insights accessible in both systems. The marketing department will see what the Sales department has been doing and, conversely, allow targeted messages centered on the lead's exact location in the channel. When the Sales department completes a transaction, for instance, the transaction record is updated in Salesforce, which then feeds into Marketo, notifying the action's marketing. After that, marketing will start an on-boarding nurturing campaign to welcome the new customer.
4. Provides Real-Time insights 
Aside from gathering and analyzing, the two systems' data transmission presents the sales and marketing department with valuable real-time information. When the platforms are integrated, Marketo initiative outcomes are automatically fed into Salesforce CRM, giving sales representatives insight into which resources and promotions resonate with leads. Sales would be better prepared to deliver the best response at the right moment for optimal effect with this real-time intelligence about how leads are interacting with ad campaigns.

5. Makes Content Management Easy
The performance of your advertising campaigns depends on the quality of your advertising. You ought to easily develop, manage, and customize your content with good CRM software. salesforce marketo integration allows you to make fast changes to your content, create special components, and customize it to meet your unique requirements.
6. Effective Data Management 
Marketing Automation is a statistics process at its base. Data from different sources must be fed into the marketing automation tool both automatically and manually. Marketo salesforce integration makes it simple to manage data across various digital platforms like websites, applications, social media, ticket machines, and so forth.
7. Ensures Effective Lead Management 
Marketo Salesforce Integration aids marketers in attracting customers, empowering them with tailored promotions, and generating sales-ready leads. You can communicate with prospective clients at scale everywhere in their lifespan with structured and personalized promotions using the lead management solution.
8. Ensures Effective Email Marketing  
Salesforce Marketo Integration aids in developing deep customer relationships by allowing for customized communications and an appreciation of the return on investment for each email delivered. You could construct meaningful interactions with every one of your current and potential customers based on their interests, individual habits, and statistics, thanks to your clients' rich databases in one location.
9. Enables Account-driven marketing 
With marketo salesforce integration, you can determine which accounts have the most sales potential and target them. Communicate them so they can pass via the sales funnel more efficiently. Furthermore, you can easily determine the effectiveness of your initiatives in terms of revenue generated. You can get account tracking and identification in a unified platform, customized cross-channel interaction, revenue-based account monitoring, and validated lead management capabilities. You have the potential to identify not only profiles but also the people who make decisions within them.
10. Boosts your business's efficiency 
As the two systems work together, each system will benefit from the other's capabilities in terms of monitoring, evaluation, and performance tuning. Marketo thrives at data cleansing and differentiation. Salesforce is excellent for determining control and monitoring the valuation of opportunities. Here are a few of the countless instances:
In Marketo, use Salesforce potential values to calculate ROI.
Develop a market standardization campaign in Marketo and use communities in Salesforce for lead assignment.

Closing Words 
Marketo Salesforce Integration is the way to go as it can boost business productivity, increase marketing Return on investment, and develop specialized campaigns to gain new consumers. Salesforce Marketo Integration is being used by many businesses to standardize their advertising campaigns. You have a preference, so choose the right marketo salesforce integration partner responsibly.
At Matellio, We assist companies and businesses in salesforce marketo integration in optimizing marketing activities, running predictive marketing strategies, and provide customized experiences to their customers.
We'd be happy to address any queries you have or include a custom quote for marketo salesforce integration. Please email us, and we will get back to you as soon as possible to set up a meeting with experts.
To know more, visit- www.matellio.com.
Thanks for reading. See you soon!
Know App Development Cost