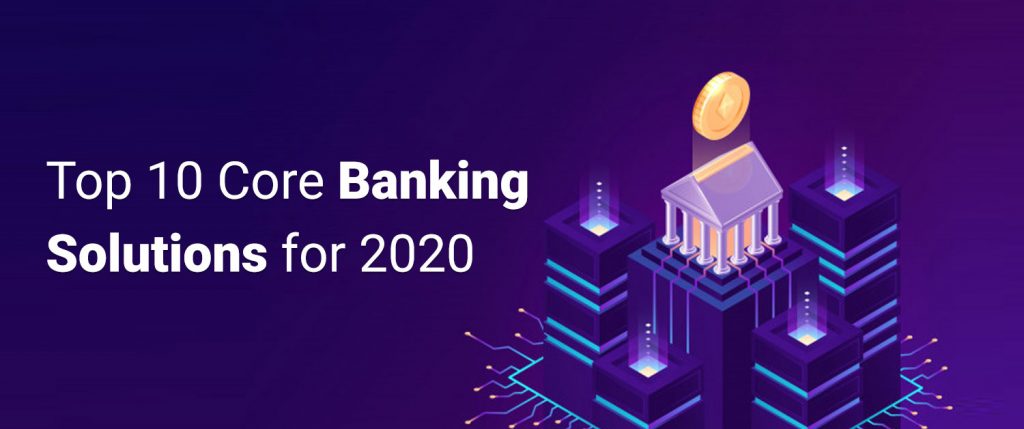 Are you still utilizing traditional core banking solutions? Maybe, you are missing some great opportunities to grow your bank and improve your customer services. With the introduction of digital services in the global market, banks and other financial institutions have transformed the way they used to work. Today, a majority of the institutions are leveraging powerful and advanced fintech solutions to optimize their profits and enhance their customer experience.
According to Statista, the market capitalization of the global digital banking sector was around 7.2 trillion Euros in the third quarter of 2019. Hence, it is clear that the contemporary banks are fastly transforming their core banking systems, and are widely adopting the modern-day technological banking solutions. So, if you are also planning to digitize your bank and financial institutions, then you are in the right place! In this article, we will be discussing the top ten digital banking solutions that are trending in the global market these days.
But before we dive in further, it is essential to discuss something about digital banking solutions.
So, Let's get started!
What is Digital Banking?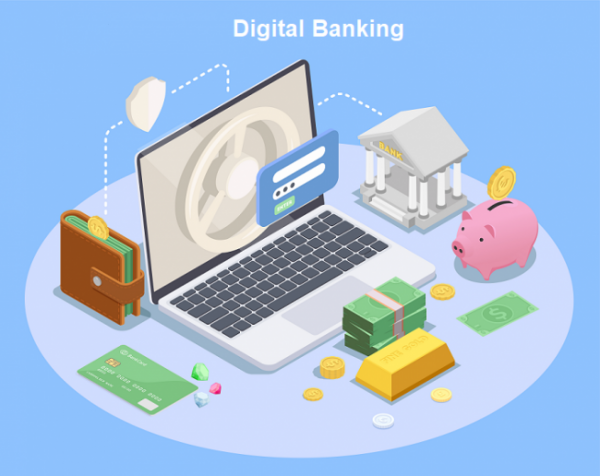 With a significant change in the competitive market of the banking sector, and due to the fast-changing needs of the customer, the banks felt the need for a more modern and efficient banking system. That's where the digital banking solutions came into play! The involvement of online services, and the introduction of more digital platforms, encouraged the banking customers to engage with their banks efficiently and enabled the banks to deliver a more personalized experience.
Digital banking, a modern-day banking approach, has enabled many banks and other financial institutions to upgrade their services more efficiently continually. Not only that, but digital banking also offers promising banking operations, and even helps the managers to make effective banking decisions. Additionally, the latest trends of digital banking, like that of anytime banking has brought a wave of transformation in the core banking sector. All in all, we can say that digital banking is a customer-centric approach that helps marketers to save costs and efficiently meets the changing needs of the modern banking environment.
Here are some of the significant features that make digital banking a hit in the global environment.
Real-time Accounting
Mobile Banking
Digital Coupons and Cash Backs
Dedicated Customer Portal
Investment Banking
Multi-Currency Support
Funds Management
Personal Finance Planning
Secured Database
Risk Management
Loan Management
Online Retail Banking
Compliance Tracking
What are the benefits of Digital Banking?
To get a more clear idea of what digital banking is and how it is benefiting the global banking sector, let's take a glance at some of its benefits.
1. Ease of Transactions
The first and foremost benefit of leveraging digital banking solutions is the ease of transactions. The digital banking software has made it seamless for the customers to access their bank accounts and carry out transactions efficiently, sitting anywhere in the world. That has, in turn, reduced much of the tasks of the bank workers.
2. Regulatory Compliance
Often it is seen that banks are frequently asked by their finance ministry to submit various documents relating to their transactions, customer details, and other liquidity information. And most of the information is needed on an urgent basis. However, due to inefficient systems, the banks could not fulfill those requests. But, with an efficient digital banking solution, the banks do not have to worry anymore. They only need to filter the relevant information and download it using a few clicks to send it to the concerned person.
3. Improved Banking Operations
With automated banking software solutions, the banks can seamlessly improve their working operations and can enhance their customer services. The digital banking solutions have the capabilities to simplify the complex banking processes and to provide a hassle-free working environment. Not only that, but the digital solutions can even help to mitigate various risks associated with the banking operations, and can ensure that banks work efficiently.
4. Secured Banking Data
Almost 25% of the people in the Italy region say that digital banking solutions are very trustworthy. Apart from providing ease and efficiency, digital banking solutions also offer a secure working environment for the banking personnel. Stringent adherence to security features is one of the most critical and beneficial aspects of digital banking solutions.
5. Hassle-free Back Office Tasks
With robust features and automated functionalities of digital banking solutions, the banks can efficiently simplify their back-office tasks like cheques clearance, drafts, customer applications, etc. Not only that, but the digital banking software also enables the banks to analyze various critical information of the customers to carry out different financial processes and accounting operations.
6. Enhanced Customer Satisfaction
According to a survey run by Statista, almost 56% of the users confirmed that digital banking solutions are easy-to-use and straightforward. Enhanced customer service is one of the crucial and most beneficial aspects of digital banking solutions. The modern-day banking solution offers nearly all the vital tools and information to your bank employees so that they can handle all the client's issues with efficiency. Furthermore, the customers can get all the details of his account, and past transactions even sitting remotely using the mobile banking applications. All that results in enhanced customer service and a happy customer.
7. Centralized Management
Last but not least, digital banking solutions also help to centralize all the crucial information of the bank. Whether it is documents related to the bank's accounts or that of customers, the digital solution helps the banks to store them safely and efficiently. You can share the documents in one click across various departments of your bank, or even to a third-party with controlled access options. All that results in streamlined banking operations and reduced workflow.
What are the different types of Banking Solutions?
While talking about digital banking solutions, it is vital to know that there are majorly three types of banking solutions.
1. On-Premise
On-premise or desktop-based banking solutions are designed in such a manner that banks can install them within their existing infrastructure. These types of banking solutions are highly customizable and run on local servers of the banks. That means all the information is stored on the local server that is handled by the bank.
2. Web-Based
Next is the web-based banking solutions. A third-party banking solution service provider offers these types of digital software. The customers and the bank employees can seamlessly operate these types of banking solutions from anywhere around the world using a username and a unique password.
3. Cloud-Based
Cloud-based software solutions are the most popular in today's digital world. In these types of banking solutions, the data is stored in a secure cloud to ensure maximum safety and security. Almost all the trusted software development companies offer cloud-based software solutions to all their clients. The banking solutions are offered as Saas (Software as a Service) to various banks.
4. Open Source
The last type of core banking solution is open-source software. In these types of banking solutions, the user can alter the codes of the solution to match their business needs. They can modify and can add extra plugins to enhance the performance of the core banking solution. The banks can leverage this type of banking solution when they are looking for specific features that are not provided by any third-party service provider.
Which factors should you keep in mind while selecting a suitable banking solution?
Finding a cost-effective and scalable banking solution is not a piece of cake for everyone. If you are lucky enough, you can seamlessly find the perfect banking solution service provider as your strategic partner. However, if you are finding it difficult to search for an ideal banking solution, then do not worry, we are here to help you! Below listed are some of the questions that you can ask yourself to get completely assured of your selected banking solution.
1. Does it include all the relevant features required by your financial institution?
2. Does it have a customization facility?
3. Are the features of the banking software user-friendly?
4. Is there a robust security system integrated within the software?
5. Is the software offering a great ROI?
6. Does the software provider have any experience in building banking solutions?
7. Will you get a customer support service post-launch?
8. Does the software run smoothly over desired platforms?
9. Can the service provider help you in developing a mobile app for your solution?
10. Is it cost-effective and flexible?

If the answers to all the questions mentioned above are yes, then there you go! you have the best banking software for satisfying your business needs.
Top Ten Core Digital Banking Solutions for 2020
So, here we are at the most awaited section of our article, the top ten most trending banking software applications for 2020. Now, without wasting any further, let's quickly dive into the list of top banking solutions that you can leverage in 2020 to optimize profits for your bank.
1. EBANQ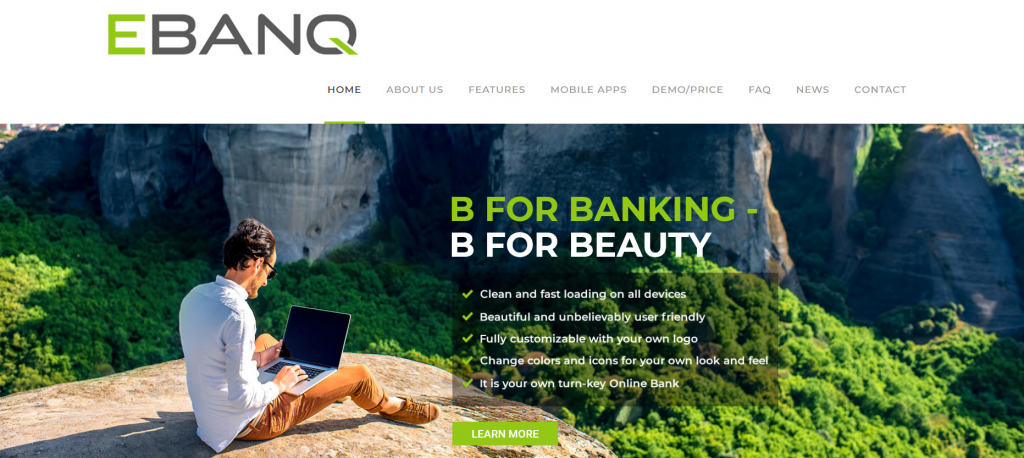 EBANQ tops our list of the most trending banking solutions for 2020. It has user-friendly functionalities not only for the customers but also for the admins and other bank employees. Ideal for small and medium-sized banks, it offers all the features needed to build success for your bank in the global market. From digital payments and funds management to loan processing and customer support, it offers all the vital features and functionalities. The mobile apps for this software are available for both the Android and iOS users.
2. Finacle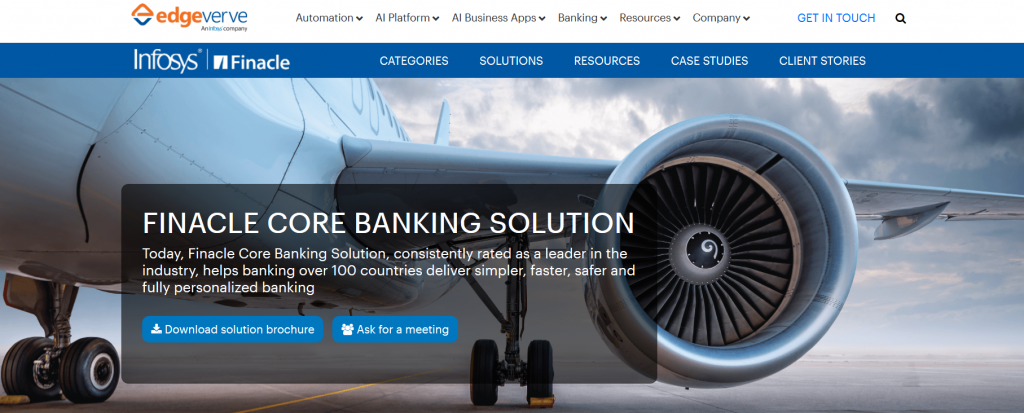 Finacle is yet again a powerful banking solution that efficiently addresses the core problems of the core banking, retail sector, and corporate sector of the global world. It offers an extensive range of comprehensive tools and web solutions to efficiently cater to every need of the users and power digital transformation strategies. You can seamlessly choose any dedicated banking solutions from its extensive range that best fits your business needs.
3. CorePlus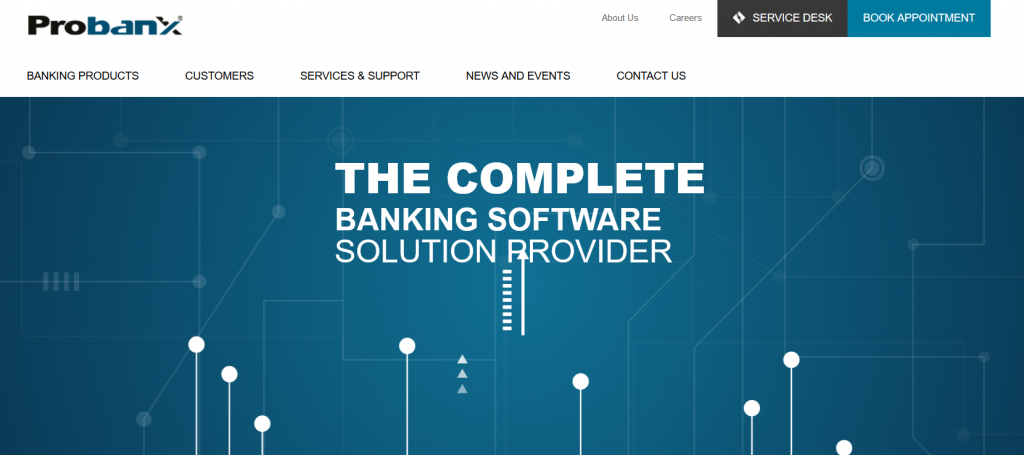 CorePlus can be considered as a complete banking solution that is available in the global market. It is one of the most affordable banking solutions designed especially for large banks and other critical financial institutions. Core plus encompasses all the critical features that your bank can leverage to optimize the customer service and streamline your banking operations.
4. Mambu

Mambu is a Saas banking solution, meaning, it is offered as software as a Service to all the banks and other financial institutes. It is a helping financial tool that readily delivers business values in a constantly changing environment. It is a cloud-based banking software that scales efficiently with the growth of the banks and other financial organizations.
5. Moneyspire

If you want to control your financial operations completely, then Moneyspire is the perfect solution for doing it. Moneyspire is an efficient and cost-effective personal finance software and accounting tool that can be seamlessly used by small and medium scale organizations. It is available in two versions, viz. Windows and macOS and efficiently tracks all your dues, bills, accounts, and budgets to help your organization grow seamlessly. Moreover, it also helps to streamline your investment process to help you in the decision making process.
6. Holvi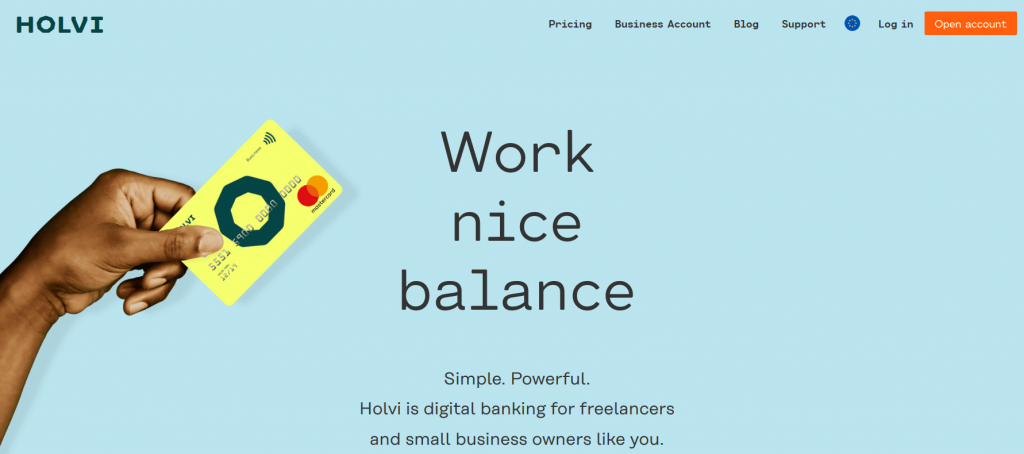 Holvi is a modern digital banking solution specially designed for freelancers and entrepreneurs. It is a robust banking solution that offers tools like invoicing, bookkeeping, auto-expensing, etc. to help your bank to grow efficiently. You can manage all your expenses, access your current account, invest your money in online business, and can even collect money from your customers using this software. What's more? you can store all your documents in a centralized position!
7. Mifos X

Mifos is an extended banking platform that helps banks and other financial institutions to deliver the complete range of financial services. It is a robust banking solution that includes a client portal, a customer portal, and a centralized platform to carry out all the financial operations. The best part, it is flexible enough to support any type of organization, and any sort of product, service, or methodology. It is available as a mobile app, on-premise solution, and as a cloud-based solution too!
8. MyBanco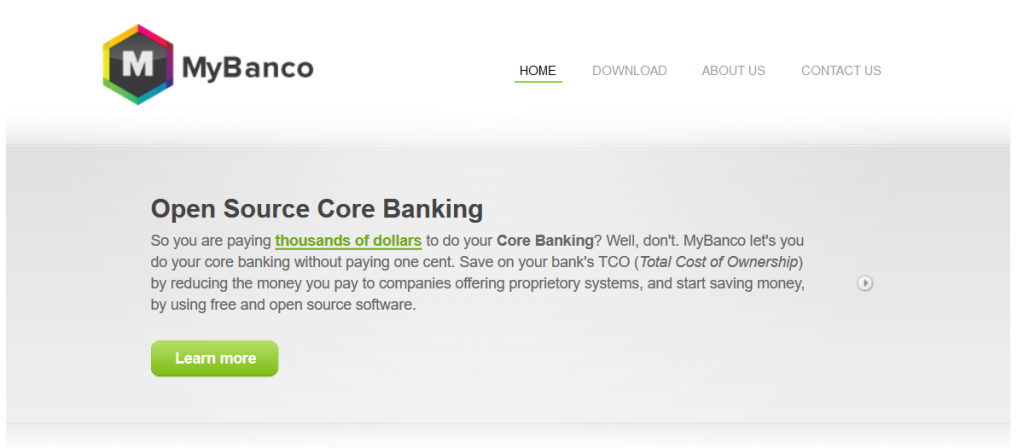 If you are someone who is looking for an open-source banking software solution, then MyBanco is a perfect software for you. Having open-source software implies that you can change the codes of MyBanco seamlessly to make it apt for your business. Not only that, but the code is of high quality and is secure enough to pass through all the regulations of ASIC and FDIC. However, you need to be sure that you efficiently change the code to eliminate all the loopholes and errors from it, possibly.
9. OpenCBS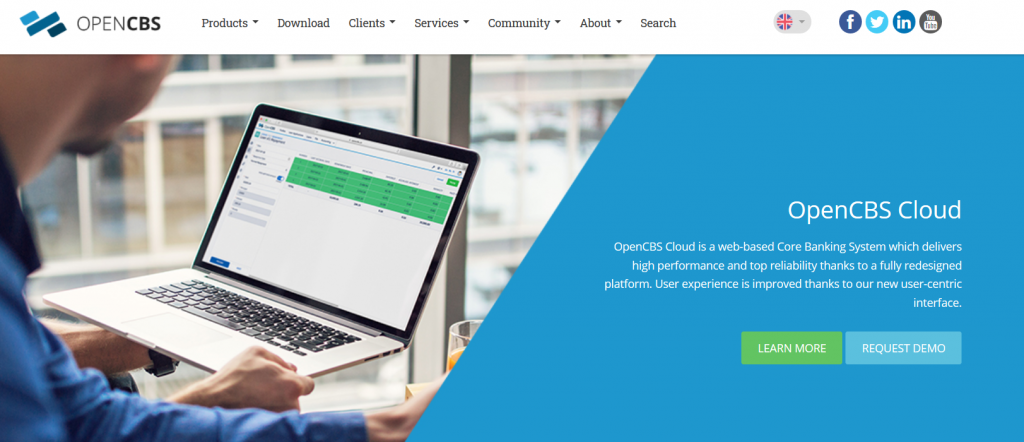 OpenCBS is a web-based banking software solution that enables your clients to seamlessly access the banking services while sitting in a remote location. It not only delivers high performance, but it's PostgreSQL database also makes it faster and more responsive. The interface of this software is user-friendly, and its cloud-based version incorporates all the essential features that are required by a user. In addition to that, the tablet version is also available that encompasses risk management and loan processing functionalities.
10. Cobis

Last but not least is Cobis. Cobis is a tech-friendly banking software solution that seamlessly meets all the changing needs of your customers by quickly analyzing the latest market trends. It considers current market realities and helps you prepare efficient plans to help you effectively grow business with time. Online payments, remittances, withdrawals, and seamless digital transactions are some of the robust features of the Cobis software.

Final Takeaway!
To conclude, we can say that automated finance is the future of industries. Things are changing dramatically, and so are the needs of the global customer. Hence, if you want to outgrow your competitor and want to survive in this competitive world, then you need to satisfy all the changing needs of the customer. And the best way to do that is to integrate digital banking solutions into your existing system. With digital banking solutions, you can not only enhance your customer service but can easily outgrow your competitor by providing beneficial features to your customers. Hence, if you want to expand your organization, and want to optimize the profits for your banks, then you can contact us seamlessly.
We, at Matellio, have years-long experience in delivering cost-effective and scalable custom financial and banking solutions to the industries in need. Our expert software developers ensure that nothing hinders the growth of your organization by efficiently testing your software on every possible platform. So, what are you waiting for? Get a free 30-min consultation today!
Need Help With Development?