Top 10 KPIs Every Fleet Manager Should Track
Updated on Apr 20th, 2021
Telematics systems, or more precisely, fleet management software, are playing a vital role in defining the transportation industry's scope and future. Many large and small organizations that are engaged in fleet management and usage of commercial vehicles are actively leveraging the vehicle tracking solutions for the past few years now.
Though we have many different fleet management software available in the global market, they all have one thing in common, their way of working. All those telematics systems help businesses to track their fleets and also provide some vital key metrics. These fleet management KPIs or performance metrics help you make the best decision for your fleets and drivers and ensure success and security to your business.
However, fleet solutions provide many different crucial parameters that make fleet management operations easier. So, segregating the most critical performance metrics amongst all can be a tedious task for the fleet managers. Also, to add to the confusion, different businesses have different needs, and so they have different opinions on which parameters are crucial for them.
But, some of the key metrics are crucial to almost all the businesses irrespective of their size and requirements. And that's what our today's article is all about. In this post, we have compiled a list of top ten KPIs that every fleet manager should track to increase their business productivity. Let's have a look at each of them!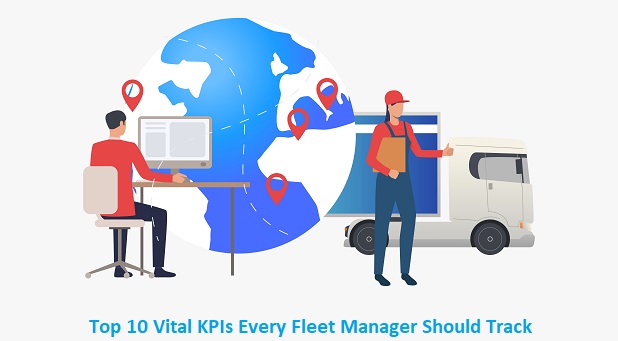 1. Safety Metrics
When it comes to the most crucial metrics to track, safety always tops the list. In fact, accidents and security are the two most vital aspects that every fleet manager is concerned about. So, as a responsible fleet owner or fleet manager, you should always ensure the maximum safety of your employees and your fleets.
With a perfect fleet management software, you can get real-time alerts and location of your fleets. Not only that, but a fleet management software even enables you to track the driver's behavior and provides vital reports to mitigate the accidents and costly fines. So, keep an eye on these safety metrics, because after all, you must safeguard your business and employees.
2. Fuel Efficiency
Fuel is the most crucial aspect of fleet managers. Improving the fuel economy and cutting down fuel wastages are one of the most vital things that are necessary for the active growth of transportation businesses. That's why it becomes critical for you to track the fuel economy metrics.
Having a system that can provide you the right key metrics to track and monitor the fuel spend can help you a lot to grow your business. Fleet management software does the exact thing. It enables you to control the fuel usage and provides optimized routes to your drivers so that they can save time and fuel as well.
3. Inspection Results
Daily inspection reports and real-time vehicle alerts are crucial to understanding your fleets' health and performance deeply. Daily Vehicle Inspection Reports (DVIR) provided by fleet management software keeps you in sync with your fleets.
With fleet management software, you can seamlessly track your vehicles' real-time condition and can even monitor the failure conditions and the reason behind that. Additionally, seeing the patterns of your vehicle's issues can help you plan successful maintenance strategies and may even help you lower your fleets' downtime.
Custom reports like DVIR failure, harsh braking, speed variation, and engine ignition period are further add-ons you get with an effective fleet management software.
4. Preventive Maintenance 
Preventive maintenance is one of the most vital key metrics for your fleets' long lifespan and other valuable assets. A perfect maintenance strategy can help you lengthen your fleets' lifetime and its included parts and ensure cost and time savings.
While implementing a preventive maintenance strategy, you can seamlessly track and analyze all the maintenance routines. Furthermore, you can even view the services' status to ensure that the maintenance is completed on time. So, to improve the fleet's conditions and save on costly repairs, you need to track the maintenance metrics provided by your fleet management software.
5. Asset Utilization
Starting a fleet business isn't a piece of cake; you need to invest a lot while starting the transportation business. Therefore, tracking your valuable assets becomes crucial to get better ROI and increased lifetime value. You need to accurately track and monitor all your valuable assets to get the most from them and that too for a long time.
Tracking service hours, usage hours, and non-working hours helps you frame a better preventive maintenance strategy and helps you maintain your fleet effectively. With these particular key metrics, you can get to know each of your vehicles' utilization during a specific time.
Additionally, you can even discover the type and number of fleets you need to efficiently satisfy the present demands. Tracking the asset utilization metrics also helps you frame better strategies and ensure cost-cutting.

6. The Total Cost of Ownership
Often, the fleet managers don't pay heed to the most concerning aspect of their vehicles, i.e., the total cost of ownership. The total cost of ownership is the most challenging thing to tackle, but it can help you make the best data-driven decisions for your business if done correctly.
So, as a responsible fleet manager, you should track your fleets' true value using the data provided by your fleet management system. Tracking down the expenses and service costs will significantly help you to understand the returns you will get if you sell that fleet.
Not only that, but while tracking the TCO, you can even get an idea of whether to replace the vehicle or purchase a new one based on its present value.
7. Driver Assignments
While many fleet managers focus only on their fleets and other valuable assets, one should also track and manage the drivers for better productivity. Following the key metrics that provide the complete information of the driver's activities can significantly help you ensure your drivers' safety and productivity during the working hours. It not only gives you peace of mind but also ensures that your assets are in safe hands.
So, with fleet management software, you can seamlessly track and manage your drivers while sitting remotely. There are several ways through which you can check the real-time behavior and activity of your drivers.
Assigning GPS enabled vehicles and leveraging reports on distance traveled, stoppages, and fuel spend are ways to track the driver's behavior.
8. Vehicle Replacement
Vehicle replacement is, without a doubt, the most daunting task for fleet managers. Sometimes, the fleet managers overlook a certain vehicle, and as a result, its operational cost increases with the decrease in its market cost. If you track the right metrics, then vehicle replacement can become a seamless task.
Although replacing the assets can be a bit costly, tracking and managing the aging vehicles at the right time can nullify the impact. Following the right metrics like odometer reading, service history, and TCO can help decide whether a vehicle should be replaced or not.
You can even get the right time for your vehicle replacement if you pay heed to the right metrics discussed above.
9. Diagnostic Trouble Codes
Who doesn't want to get alerts as soon as something happens to their valuable assets? Well, that's what a fleet management software does. You can seamlessly obtain all the real-time alerts as soon as something happens to your fleets.
But, what effect does it have on your fleet management operations?
Being alerted to real-time issues ensures that you start your maintenance process quickly and resolve all the faults of your fleets to mitigate the downtime and monetary losses. You can even access the most common mistakes your fleets face to plan the maintenance strategies accordingly. Additionally, you can check all the vehicles that experienced faults more as compared to other vehicles.
All in all, tracking the diagnostic troubles in real-time can help you frame better maintenance strategies, and even supports your vehicle replacement decision more effectively.
10. Available Hours of Service (HOS)
Last but not least is tracking the Hours of Working for the drivers. HOS is the most crucial performance metric that ensures the productivity and safety of your drivers. Now to all those who don't know what HOS is, here's a small brief for you!
What are Hours of Service?
Hours of service are the total number of hours that a fleet driver can drive the vehicle. It is the optimum number of hours in which the driver can effectively drive the vehicle. If any driver or any fleet organization violates these hours, then it is punishable under law.
That's because, as per the government laws, it is punishable to drive the vehicle after a certain number of hours as it may increase the chances of accidents. So, as a responsible fleet manager, you should pay great heed to the available HOS of your drivers, and should strictly forbid them to drive the vehicle after those specified hours.
Tracking the available HOS in real-time will help you safeguard the lives of your drivers and ensure better productivity as they will get enough rest and sleep.
To Conclude
To conclude, we can say that logistics and transportation is one of the most actively rising global market sectors. Things are digitizing, and people engaged in fleet business are readily adopting the fleet management software to grow their businesses. Hence, it can be a challenge to outgrow your competitors and build success for your business on the global platform in such a scenario.
Tracking and managing the right performance metrics provided by the fleet management solutions can be a perfect way to raise your business's value. You can get all the vital reports and analytics before others and make desired changes. It not only ensures better productivity but also results in cost savings.
Are you planning to start a telematics business? If yes, you are in the right place!
We provide a fully-featured white label fleet management software with all the features needed to satisfy your customer needs. Name any device, and our software will be compatible with it. You can select your theme, logo, and support language, and we will provide you all the customizations.
Want to know more? Reach us today!
Till then, Happy Reading!   
Get the Conversation Started!
Get the Conversation Started!
[contact-form-7 id="34486" title="Side Form"]