What is Fleet Management Software and Why opt for it?
Have you ever wondered how big enterprises and e-commerce giants like Amazon, Flipkart, and Uber manage their deliveries and shipments? How do they effectively deliver all the purchases at the correct place and in the prescribed time? Well, the answer to all those questions is the same – Fleet Management Software.
Fleet management is a general term that is used to describe the operations related to the management of a group of commercial vehicles over a large geographical area. Functions like vehicle tracking, routing, navigation, replacement, financing, etc. are some of the characteristic features of fleet management software. And the person who efficiently manages all those functions is called a fleet manager.
According to sources, the global market size of the fleet management market is expected to reach $30 billion by 2022. That's an amazing growth considering the year 2017, where the market size was only $13.8 billion! It is a remarkable growth as compared to the other core sectors of the global market.
Although the growing number of fleets significantly implies the expansion of business, there are times when fleet management becomes the most tedious task for the fleet managers. In such a scenario, fleet management software comes to play. It efficiently manages all the commercial vehicles of your logistic and transportation business while freeing your crucial time and increasing your business productivity. Still not convinced? We will give you more reasons!
Today's article will discuss all the benefits of a fleet management software that will compel you to adopt one for your business. So, let's get started!
5 Compelling Reasons to Use Fleet Management Software in your Organization
So far, we gave you a brief on what a fleet management software is and what problems it solves. Let us get to know more about fleet management software. Any organization that incorporates the use of commercial vehicles for their business requires some kind of management solution. Fleet management software is one of the perfect custom software solutions that evenly caters to every need of the business related to commercial vehicles.
Whether it is to enhance the entire lifecycle of your fleet or to track it for better safety and security, fleet management software does it all. Not only that, but improved vehicle efficiency, risk alerts, increased productivity, and compliance with legislation are some of the added perks that one can get from a fleet management software.
So, that was a brief about fleet management software. Besides providing safety and security to your fleets, it ensures timely delivery of the products and provides real-time alerts over your fleet conditions and fuel usage. Need more reasons to invest in a custom fleet management software? Don't worry, we have got you covered!
Here are the top 5 compelling reasons why you need a fleet management software. Read on to know more!
1. To Gain Greater Visibility
The first and foremost reason that will compel you to invest in a custom fleet management software is its ability to provide greater visibility. ?Now, it is no surprise that being unaware of your vehicle location and its real-time condition can be a bit disastrous. That further creates a severe problem for the fleet managers as they become incapable of tracking the vehicle and know about the shipment of products.
The only solution that helped the fleet managers in earlier days was to call the vehicle driver and get the latest updates over a phone call. However, there may be times when calling isn't a feasible option, and in such a scenario, fleet management software comes into play! With fleet management software, you can track the vehicle in real-time and can get live updates about the vehicle's activities and current location. That eventually helps you gain better insight over driver's actions and help you deliver your products timely.
2. Manage Fuel Expenditure
Fuel wastage has been amongst the first challenges in the transportation business for quite some time now. Despite a lot of efforts, the fleet managers still find it challenging to eliminate the fuel wastage to save a lot of business expenditure. However, with the recent advancements in fleet management software, you can cut the fuel expenditure wastage to a more significant extent.
The fleet management software provides optimized routes to the drivers and also offers vital reports over harsh-driving, the leading cause of fuel wastage to the fleet managers. All that can help your company to take preventive measures over fuel wastage and to save a lot of monetary resources over fuel management.
3. For Maximize Fleet Utilization
Gaining maximum value from fleets is one of the most crucial aspects of a business associated with the logistics and transportation industry. Leveraging fleet management systems not only improves the overall working of the fleet management process but also provides meaningful reports over commercial vehicles.
Be it reports over vehicle's performance, fuel usage, the route followed, engine condition, or anything else; the fleet managers can get real-time updates about that. Moreover, the fleet management system allows you to create the geofences to trace every moment of your fleet and ensure the complete safety of your valuable assets.
4. For Enhanced Vehicle Safety
Protecting your valuable assets is the first and foremost duty of every business irrespective of its niche. Whether you are from the manufacturing industry or the retail segment, you need to ensure the complete safety of your assets and inventories. The logistics and transportation industry is no exception!
If your business is associated with the use of commercial vehicles, then the security concerns increase even further. With traditional methods, securing your fleets over the complete route is something impossible. However, with useful fleet management software, you can create geofences and even get alerts over critical vehicle conditions. Additionally, by tracking the fleet at every step also gives you the power to have complete control and visibility over your valuable company assets.
5. To Obtain Maximum ROI 
Last but not least is better ROI. fleet management software enables the managers to overcome all the complexities associated with fleet management. Be it the elimination of fuel wastage, or getting vital reports over vehicle's performance, fleet management software takes care of all of those things.
Fleet management software also speeds up the processes, and as it is entirely automated, it eliminates the errors arising from human interactions. Hence, all in all, fleet management software reduces the wastage and risks and increases the overall efficiency of the business effectively.
How does a Fleet Management Software work?
Now that you all are convinced to invest in fleet management software, it becomes critical to know how a fleet management software works.
To put it simply, fleet management software is a fantastic combination of various disruptive technologies beneficial for the transportation business. Precisely speaking, fleet management software is a full-packed solution derived from Big Data analytics and GPS that tracks, analyzes, and stores vital information of your fleets.
With further advancements in the technologies, fleet management software is becoming more active and user-friendly. For instance, the latest advancements in the fleet management software made it available for mobile users. That means you can leverage all the benefits of an amazing fleet management software while using your smartphone.
Here are some tasks that are efficiently performed by an effective fleet management software:
1. It ensures the complete safety of the vehicle and employees.
2. Offers optimized routes for eliminating fuel wastage.
3. provides real-time reports over the fleet's performance and engine conditions.
4. Monitors vehicle's operations and helps the fleet managers track the vehicle to ensure the safety of assets.
5. Enables the dispatchers and delivery person to record data on vehicle conditions in real-time.
What are the features of Best Fleet Management Software?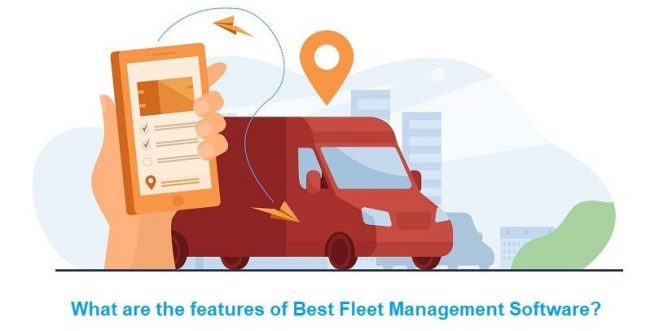 While talking about the working of a fleet management software, one most critical thing is features. The features of a fleet management system define its capabilities. Meaning, by seeing the features, you can predict how efficient that particular fleet management software is.
We provide the following features in our custom and scalable fleet management software to make it effective for your business.
1. Asset Tracking
Asset tracking includes accurately tracking of assets, monitoring the real-time movement of assets, and storing critical information of your valuable assets in a centralized location. Fleet management software incorporates Google maps, GPS tools, and asset tracking systems to provide clustered information over both the fleets and the drivers alike.
2. Preventive Maintenance
Fleet management software allows the user to track real-time updates about the performance of the fleet. The software also provides various critical reports on vital aspects of the fleet, such as engine condition, fuel monitoring, ignition mode, etc. so that you could get an idea of the overall usage of the vehicle.
3. Route Optimization
Now, to eliminate the extra wastage of the fuel, our custom fleet management software is equipped with a GPS, and sensors to predict the best route for your delivery. That means you can get real-time updates over the traffic and road conditions of a particular route, which eventually saves your time and fuel.
4. Warranty Tracking
As the name suggests, warranty tracking tracks the warranty period of the vehicle and the associated parts so that at the time of return or replacement, a lot of time could be saved. The feature is particularly useful in big vehicles as they have many aspects of managing during their whole lifetime.
5. Hours of Service (HoS) Compliance
If you are associated with the fleet management operations, you might be aware of various regulations that your fleets need to follow. Hours of Service or HoS is one such compliance that mentions the maximum hours your drivers can drive. That's to make sure that no accidents occur because of drowsy drivers. Hence, our custom fleet management software is HoS compliant and fully regulated.
6. Timely Replacement
Timely replacement is again an amazing feature that we can include in your fleet management software. Like preventive maintenance, a convenient alternative monitors the life of a part of the vehicle at which you can sell or replace them to eliminate the loss conditions. That helps you to gain better returns over your investment and maintain the quality of your fleets.
7. Safety Controls
Our custom fleet management software gives you real-time reports over harsh driving and road conditions. That can eventually help you to maintain the safety of your vehicles and your valuable drivers alike.
8. Real-time Reports
You can seamlessly get all the reports over your fleet management operations, like engine performance, vehicle location, driver speed, and condition of parts with this feature. You can even customize the reports or add more aspects to get reports on them.
9. Fuel Management
Managing large vehicles requires a lot of fuel consumption. In such a scenario, eliminating wastage can help you save a lot of expenditure on fuel. Therefore, to help you achieve that, our custom fleet management software comes with an in-built route optimization capability that can help your drivers to get the shortest route of a particular destination. That not only helps to save the fuel wastage but also saves a lot of crucial time that can be used to focus on other vital things.
10. Vehicle Acquisition and Management
Last but not least, we can help you include the vehicle acquisition feature that includes your vehicles' insurance-related elements. With vehicle acquisition, you can seamlessly evaluate the changes and stability of your vehicle and associated parts.
Those were some of the features that we can help you include in your custom fleet management software. Want more information? Check out our page over fleet management software to discover a lot more surprises and benefits for your organization.
What are the benefits of Fleet Management Software?
By far, we discussed how a fleet management software effectively enhances your fleet management operations and provides ease to the fleet managers. Indeed, if you are looking for more reasons to invest in a custom fleet management software, then here are some of them.
In this section of our article, we will be providing you the top benefits of a fleet management software that can upscale your business processes.
1. Fleet management software makes it easy for the fleet managers to calculate the fuel efficiency, and the optimized fuel consumption ratio to help you save a lot of money.
2. With the help of a fleet management system, you can get accurate reports of idle time and fuel optimization. You can also adjust your driving to get maximum efficiency from the vehicle.
3. The right fleet management software can help you reduce your fleet maintenance expenses by tracking the relevant aspects of all the parts and their lifecycle.
4. Fleet management software also enables you to make changes to your vehicles before it gets affected by any severe fault or breakage.
5. With fleet management software, you can also ensure complete safety and security of your drivers by tracking their location in real-time.
6. Complete insurance of your vehicles and drivers can also be achieved with a fleet management software
7. Fleet management software gives you an accurate picture of your entire business. You can leverage that information to expand your business effectively and to gain more profits and revenues.
8. With a fleet management system, you can check whether a river is working overtime, or if he is following the regulations of Hours of Service.
9. Fleet management software also gives your drivers the most feasible routes to save their time and fuel cost significantly.
10. Fleet management software also offers you an integration facility to get a clear picture of your business operations and expenses, including those of your driver's information. That can help you decide which drivers are working well, and who needs improvements.
Conclusion
Those were some of the benefits and features of a fleet management software that can help you overcome all the barriers of your fleet management process. To conclude, we can say that, to survive in today's competitive world is not an easy task. Things are changing very rapidly in today's digital world, and so are business values. In such a situation, generating more revenues and profits is the first and foremost aim of every business.
Hence, if you are still in thought over whether to invest in a custom fleet management software or not, then we are here to help you. Consult with our experts and get a better knowledge of your business needs and wants. For booking a free 30-min consultation, visit www.matellio.com/request-a-quote.
Get the Conversation Started!