Top Benefits of Business Intelligence in Transportation and Logistics
Updated on May 25th, 2023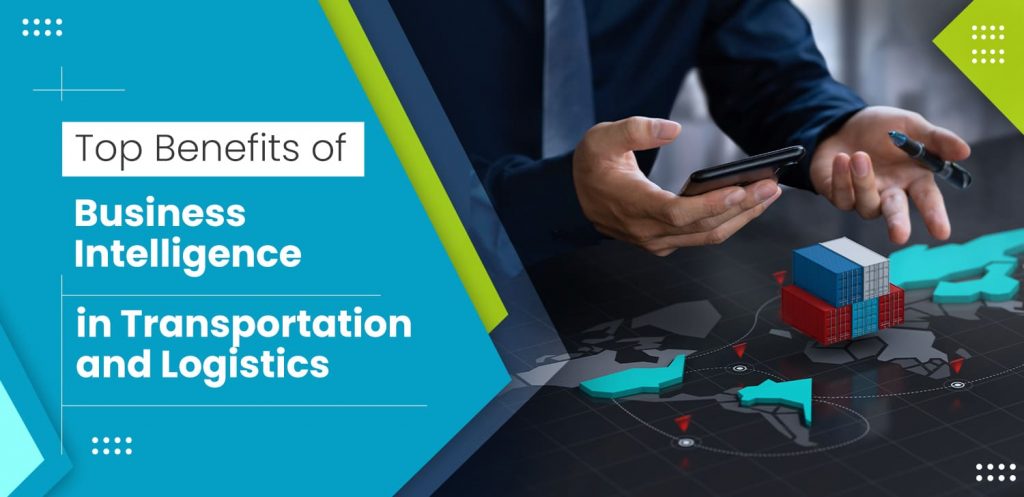 With the global transport and logistics market on the rise and modern business models parading in the quest for transformative shifts, the digital revolution is a wake-up alarm for entrepreneurs to employ creative brains. The competition in transport and logistics is burgeoning every day, and the industry is meeting several challenges like volatile fuel costs, manual labor, and inefficiency, to name a few. Companies are implementing business intelligence software development and establishing a new route to attract gains in the transport and logistics business.   
The global business intelligence market reached US $22.26 billion in 2020. The market is expected to grow from US $24.05 billion in 2021 to US $43.03 billion in 2028, with a CAGR of 8.7%. The importance is business intelligence in transport and logistics is evident in the number of benefits it reaps for the industry. In this article, we will discuss the role and benefits of business intelligence in logistics and transport.
Business intelligence software solutions help transport and logistics businesses overcome challenges like delays in reporting, human errors, repetitive tasks, and roof-hitting costs.  
BI software development services help transportation and logistics businesses unlock data management, effective decision making, forecasting ability, reduced labor costs, and efficiency.
The global business intelligence market was valued at US $22.26 billion in 2020.  
Business Intelligence in Logistics  
Logistics businesses navigate through a massive volume of data regularly. Several operations perform simultaneously, including several roles like logistics operators, transportation, warehousing, administrations, clients, customs, etc. The information gathered from different segments must be organized and accessible to prevent loss. Since data plays a decisive role in determining the profitability of a business operation, business intelligence offers great help in bringing order to its management.  
Challenges like gathering the data, information hosted on multiple platforms, the complexity of reporting, and manual updating of each piece of information are common in logistics. Moreover, the difficulty in generating updated, reliable reports can lead to a lack of awareness about the costs of a particular operation. Business intelligence helps overcome these challenges by giving a precise and easy overview of the company's progress.
Read More: Guide to Business Intelligence Implementation 2022
Business Intelligence in Transportation  
The transportation industry, as we know it, has only grown to be more competitive with time. Many factors invite tough competition in the transportation industry, and the cost is the most critical. Transport businesses must focus on strategically combating cost-centric challenges to succeed.   
Companies must create strategies and marketing campaigns to ensure their desired spot in this fierce competition. Apart from that, companies also have to address other factors such as travel safety, driver safety, and not to forget, security without a miss.  
Being well-armed all the time has become a necessity for transportation companies. It is where business intelligence proves to be useful for them. By helping companies with forecasting and decision-making, business intelligence saves time and costs and improves the ROI.

Benefits of Business Intelligence in Logistics and Transportation  
Many factors are driving business intelligence software development for transport and logistics companies. By investing in BI enterprise solutions, a company can attract different rewards to boost its business's overall growth. Let's look at the most important benefits of BI in transport and logistics that make it worthwhile.  
Business Intelligence Software Helps Minimize Labor Costs  
 The cost factor is one of the most eminent advantages of business intelligence software solutions. With BI software development, you are creating the scope for less human effort and saving time that is spent producing separate reports daily, weekly, and monthly. The software helps you minimize the hours your team devotes to extracting data from spreadsheets.   
With business intelligence and analytics software development, you enjoy perks like automated data collection, drop-in training time given that reports are not required to be done in excel, and quick report designs using an automatic generation of reports. It ultimately helps lower labor costs.   
Business Intelligence Solutions Boosts Data Management  
Data management is one of the most impotent benefits of business intelligence solutions. It helps businesses minimize the requirement to rely on human efforts for extracting data and preparing reports. It also reduces the complexities of information that arise in many ways.  
As you invest in business intelligence software development services, you remove the barriers in the guise of information. The software helps your staff build individual operation-specific dashboards related to their operational area. It provides KPI and autonomous reports along with other information. Moreover, it makes it possible to analyze the data without relying on the IT team.  
Business Intelligence Solutions Offer Actionable Data
In the transport and logistics business, the role of human resources is beyond what we can fathom. Companies rely on many human resources to combine different reports in various formats. Not to mention, it sometimes takes more than a couple of resources to wrap up one piece.  
By the time these reports come to hand, they are deemed irrelevant. The volume of information is often overwhelming for human resources, which often contributes to the delay in preparing reports. One of the most significant benefits of business intelligence solutions is that they make data reliable and useful. BI tools provide actionable data by offering real-time updates and information to show the business's status at the moment.  
The software provides information through a single data model to enable the prevention of conflicts and incomparable report data. Additionally, users can create reports based on how they need to view them. In BI software, you can ensure that the data appears in context. For instance, achievements are displayed against desired benchmarks. The software delivers relevant data to a specific user based on their role, and users can spot the challenges and drill down to the data easily using Trends.  
Improved Decision Making  
Businesses must plan the next move, make informed decisions, and create daily strategies. One of the most common advantages of a business intelligence system is that it allows businesses to develop better decision-making.  
 The fact that the business intelligence software helps businesses remain up-to-date with real-time information allows them to react in real-time. Besides that, companies can scrutinize thoroughly using the drilling down functionality, making information quickly accessible. Moreover, the software offers faster decision-making by bringing together different data sources to one dashboard, which saves time and effort.
Improved Inventory Management  
When planning to develop a business intelligence software solution for the transport and logistics business, you might have the idea of seamless inventory management in mind. The inventory in a warehouse has a cost associated with it. Overstocking can result in recurring fees and demands the budget you could have spent on other operations. A poor supply chain management leads to a deficit of inventory of the required materials, and thus, you fail to meet customer demands.   
These events conclude with the arrival of roadblocks in the manufacturing production journey, such as backorders and loss of sales. BI software solutions help businesses improve their storage flow and meet demands, creating efficiency in the overall process. The tool allows you to monitor inventory with which you can easily predict markets and optimize your operations. It turns out to be a cost-effective solution in the long run.  
Data Visibility  
Data visibility is one of the greatest perks of using a BI system in transport and logistics. It makes tapping into external data sources easy. Assets, real-time updates, IoT sensors, and other such components are impactful in increased demand for a product. Apart from that, the data collected from e-commerce platforms give insights into shoppers' preferences and provide information about their responses to promotional campaigns.  
Business Intelligence software development is a great way to check up on the responses that can shape your supply chain and logistics optimization. Since end-to-end visibility through external and internal data helps translate the impact on a business, it offers a competitive opportunity for improvement in services, cost reduction, and identification of risks.  
Supply chain and logistics businesses have witnessed notable disruptions in the pandemic period. It turned out to be a challenging sphere for both companies and consumers. Using business intelligence software in your operations and decision-making will work by providing quick access to useful insights. You will also be able to approach disruptions with resilience by forecasting demand, inventory, and distribution.
Know More: What is Cloud Business Intelligence and How It Helps Businesses Grow.

How to Implement Business Intelligence Software in Business  
Business Intelligence systems can help your transport and logistics business stay on the top of the game. While looking for a BI software development company to start the work, you must keep a few important things about the process.   
When you develop business intelligence software for the logistics and transportation business, you invite a breakthrough in all the operations. Below-mentioned is the aspects you need to have covered on your way to BI software development:
Research
When you are approaching implementing a BI system in your logistics and transport business, you have to create different strategies and gauge the future potential of this system. Since you're investing in business intelligence software developers and putting in your time and effort, you should consider the long-term standing of your tool. To do that, you must perform thorough research and read between the lines about how your competitors are doing about this implementation. Proper research will give you a direction to go.
Understanding the Focus of BI Tools
Today, business intelligence works in most industries. Each sector has something to gain from the implementation of business intelligence tools. However, how it contributes to the real estate industry differs from how it helps a transportation and logistics business. Thus, it is important to plan your business intelligence software development in a way that aligns with your goals and works per your business's requirements.
Pay Attention to User Experience  
When developing a BI tool, you should not miss out on the opportunity to design a user experience that is simple and intuitive. User experience is going to be an integral part of your system. Thus, it would be best if you collaborated with the right business intelligence software company to develop a robust plan to make it count.
Check Up on Reliability
Business intelligence software solutions provide valuable information that helps businesses make informed decisions. However, the logistics and transportation operations decisions cannot wholly rely on the software. It takes collaboration with different people and investors to reach a reliable conclusion. You should ensure that the software you're building is accurate in its information to avoid misreading.  
Build a Robust BI Solution for Your Transport and Logistics Business with Matellio  
We are in the digital age, and technology has become necessary for businesses to successfully perform transport and logistics operations. Companies are becoming aware of the power of data in today's competitive world. And to make the most of this power, business intelligence proves helpful. The smart and calculated approach toward implementing BI software development can lead to more and more rewards.   
Are you planning to develop a business intelligence solution for your business? If you have an idea, let us help you give it life. At Matellio, we work with experts in the domain and cutting-edge technologies to extract the most innovative solution.  
As a business intelligence consulting company, we can help you understand the potential your business can gain with the software and ideate the plan with research, planning, and road mapping. From scratch to the extent of post-development services, we have got it covered.  
Contact us to discuss your plan.
Get the Conversation Started!
Get the Conversation Started!
[contact-form-7 id="34486" title="Side Form"]