5 Examples of Successful Hybrid App Development
Updated on Apr 20th, 2021
It is predicted by the end of 2019, the total mobile phone users will reach 4.6 billion, and mobile app development has been now prioritized. The current trend and technological advancement and increase of affordable smartphones with short replacement cycles, the mobile industry showed a skyrocket increment in the number of digital users. Moreover, digital users expect more than miniaturized access to websites with exciting and unique engaging experiences. Furthermore, Mobile web applications need to be designed to deliver quick access to provide direct access to related information, real-time updates, and direct inputs to the resources of enterprises for their clientele. The capable mobile application solution gives the business a kudos growth and a quick platform to serve the customers. Once you have decided to develop a mobile app choosing the right ground is necessary, which entirely depends on the nature of the business. But choosing the perfect mobile development platform before finding hybrid app development company is never remain easy due to conflicting priorities and user expectations, So the decision to consider the right platform before executing the app development is one chance to hit the spot. The Increasingly popular Hybrid mobile app development platform falls in the center of the spectrum of web apps and native apps, which gives ionic app development to a definite advantage.
Hybrid Mobile App Development
Hybrid development combines native code with an independent code to create cross-platform mobile applications for multiple platforms. It is coded in HTML, CSS, and JavaScript like intermediate programming languages and to write single code once.
There is no need of a specific skill set of programming languages like Xcode, Swift, and Apple's Objective-C or separate IDE (Integrated development environments) and Software Development kits which makes hybrid apps exceptionally efficient for app users.
Reasons behind Success of Hybrid Mobile App development
There is waging war among different mobile app development platforms, but the selection of best platforms will entirely depend on the nature of business. So, it is imperative to explore and identify the fundamental reason behind the great success of a Hybrid Mobile App Development Company. Developing a hybrid app like skype is cost-effective due to a series of ready-made modules, components, and available framework, and it encapsulates less development time, same code base, and development process. Adaptable and flexible development of UX/UI Design allows app users to predict navigation on various devices and recognize application elements.
Which are the best Hybrid Mobile App Examples?
Today, there are numerous mobile applications available with a high level of performance and immediate response. Usually, you use a hybrid app every day with their excellent interface, performance, and functionality, so let's consider the widely used and familiar hybrid examples.
1. Evernote
2. Remote POS
3. Gmail
4. Twitter
5. Instagram
1. Evernote
Evernote, as a prime example, depicts that hybrid apps encapsulated with high performance, intuitive design flawless functionality with optimum productivity and responsiveness apart from being just a beautifully designed app. It's a hybrid app that supports popular platforms like iOS,macOS, Windows, Chrome OS, Android, etc. There is a substantial variation in all supported features on different platforms like the possibility of editing Rich Text Format and sketches on Windows or edit rich text on Mac. The possible consequent updates, make it able to work and collaborate seamlessly with various devices and applications solidify the significance of Hybrid app development company.
Features
Leverage camera for capturing and scanning,

Automatically synchronize all the important notes, notebooks

Discuss and share your notes/memos with the ones who helped in work completion. 

Organize your thoughts with the help of a personal to-do-list

Interactive Home screen widget for the quick access of the app. 
2. Remote POS
Another example of the hybrid apps is the Remote POS, use to handle and manage day-to-day functions like managing inventory across offline and online channels, an adjustment in pricing and processing transactions of a restaurant through a single mobile application. Furthermore, it has cloud storage as well as local data storage, and due to the hybrid platform, it offers an intuitive user interface and efficient functioning of the mobile application.
Features
Remote POS is a Cloud-based app

Has a customer mobile app

Users get notifications for promotional deals and offers regularly.

Helps the businesses in creating customer loyalty.

The mobile application facilitates easy and fast transactions.
3. Gmail
Google has preferred HTML for its internet mail service for a long time. But Since It has transformed into a perfect example of a harmoniously developed new version for Gmail mobile application using both HTML and Native elements. It introduced a revolutionized route for mobile app developers with better app performance, smooth animations, and much-improved user interface.
Features
Include an organized inbox for categorizing promotional and social messages.

It can block spam messages before they arrive in your inbox.

Inclide 15 GB of free data storage for storing a large number of messages.

Users enjoy the support of multiple accounts.
4. Twitter
Twitter, with a user base of more than 330 million, is one of the best examples of open source reliable hybrid platform. Its exceptional performance without any kind functional glitches handle a high level of user's traffic. It witnessed a crucial architectural change that it has its API and fetches data from the similar endpoints used by mobile sites, apps for Android iPhone,iPad, and the third-party application.
Features
Enjoy live video streaming right from your mobile phone

Easily discover interesting news.

Express your thoughts with a tweet.

Notifications about various things like a new follower

Have an eye on interesting and viral stories.
5. Instagram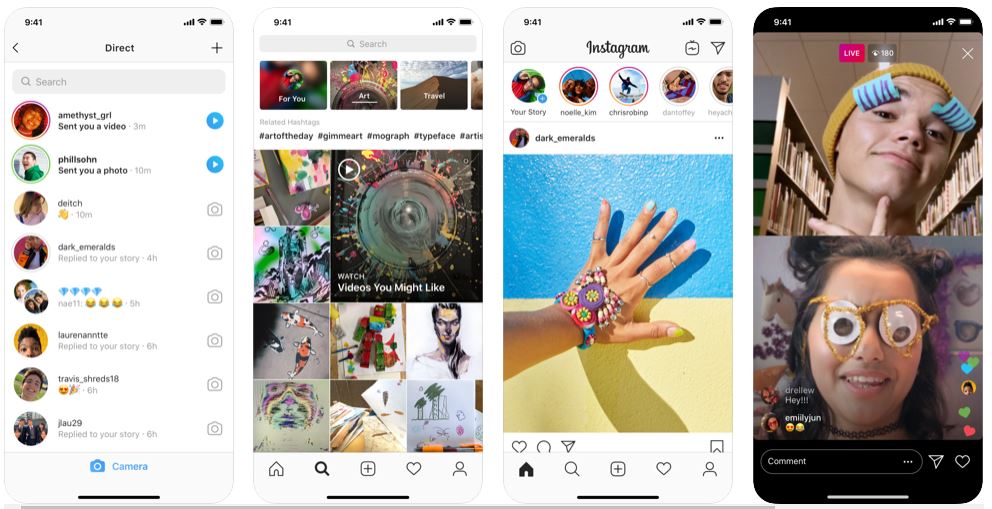 The adoption of the hybrid app development platform enables the developers to build a mobile app that supports offline data and rich media. The User interface of the hybrid app helps in loading graphics and content immediately. The platform offers faster data display to screen sizes o various devices and seamless data. The User experience is enriched by leveraging it with impressive and interactive graphics, color combination, and iconography. It allows the user to access the media or at least shows an error message even when they are not online and process enormous data.
Features
Go closer to things and people you like by joining their vast community

Add images and videos for creating an interesting story with the creative tools.

The app allows messaging your friends directly.

Post content on your feed that you wish to display on your profile.

Access IGTV for watching long videos that spark your interests.
Why should you hire a Hybrid app developer from Matellio?
Hybrid apps like Skype is the future, and the steps for effort must always be much calculative and logical. Till now, the hybrid app development is considered to be the time consuming and slow product, whereas the businesses are making a considerable amount of investment over the development of an application for varied users. The ionic app development has empowered hybrid development and has caught the attention of stakeholders. Additionally, the futuristic approach also entitles for the scalability of the app for future changes. The changes are imperative for the growth of the business, and the real-world business logic must reflect over the functioning. This is where most of the app fails because they fail at the most basic operation and cannot handle the complicated situation. Matellio has a team of developers who can convert the real world business logic to the app logic and make a scalable application. App development in right hands can give the bang of your buck.
Get the Conversation Started!
Get the Conversation Started!
[contact-form-7 id="34486" title="Side Form"]