What is a Mobile App?
Commonly referred to as an app, Mobile apps are nothing but the application software designed to function on mobile devices like smartphones and tablets. In other words, anything that you do on your smartphone, right from finding the contacts and making a phone call, to setting up an alarm and playing highly-engaging games, is through a mobile app.
While initial years of mobile app development were marked by productivity mobile apps only, we now have mobile apps for almost everything ranging from games, factory automation, GPS and location-based services, order-tracking, and ticket purchases. Probably this is why there are over 2 Million mobile apps in the App Store.
What is Mobile App Development?
As the name suggests, mobile application development is the process of building mobile apps. It takes care of everything related to the mobile application ecosystem including the creation of designs, assets, and writing the code. Not only this, the development process also ensures that the mobile app offers a seamless experience to the users across a variety of devices and provides supports via the network connection.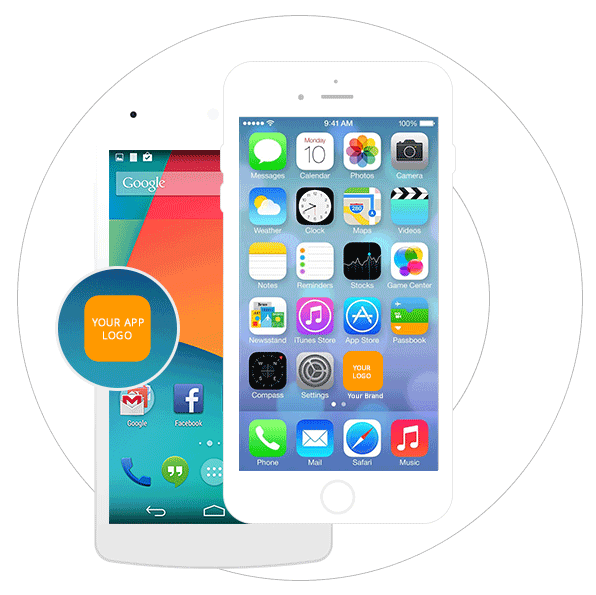 Why Should I have a Mobile App?
In the tech-savvy world of today, digital media happens to be one of the major players of the business world. For the generation that simply loves to be online on their smartphones, offering your absence there is simply not right.
As a business owner, you are generally torn between the decision to get a website developed or to opt for enterprise mobile app development. While websites have their own advantages, they cannot be considered too reliable for a future that expects a great surge in the number of smartphone users.
"If your plans don't include mobile, your plans are not finished."- Wendy Clark, Coca-Cola
No matter what's holding you back, the importance of a mobile app cannot be neglected. To curb your confusion with reason, here are some of the perks offered by mobile apps.
1. Strengthen Brand Image
A stunning brand image is critical to the success of a business. And when it comes to the tech-savvy consumers of today, a technically outdated brand is a big turn off. A mobile app is now more of expectations for the consumers, rather than just a tool. Streamlined experience provided by mobile apps is one of the coolest things. Moreover, it helps the customers to get in touch with the team on-the-go. The blend of these offerings work in favor of your brand and establishes it as one of the promising ones.           
2. Sales Growth
Well, mobile apps help you make the most out of your reach. It enables you to relish a new channel to get in touch with your customer and enhance the user engagement rate. Don't you think we really love the brands who go an extra mile to maintain the connection? Get your desperation to stay connected. Speak up through push notifications, special offers, and discounts, all sent to them with easy access to mobile apps.
Haven't we ourselves checked certain mobile apps because of the lucrative deals we received via push notifications? Don't say otherwise, we know it. We all do, after all.
3. Audience Building
Well, mobile apps aren't something that you can only access within some geographical regions. We mean, they can be limited, but then they also have scope to expand your reach. Accept it, we all hate the idea of launching the search engine and then typing in the web address that we probably don't even remember. On the other hand, with mobile apps, you simply have to download them once, and you enter an information space without any hassle.
What else? They also enable you to sweep in more customers. How? Think about offering your customers with referral perks they can't deny and then see in getting more friends and gradually bigger audience. So exciting it is, isn't it?
Remember the time when you downloaded an app because it offered bonuses to you and your friend.
4. Marketing and Communication Channel
Well, yeah… Getting connected to your clients is easier with mobile apps as compared to the websites. Who literally checks the websites of an enterprise just to know about the press releases, new products, or whatsoever, unless of course they are paid for it. But don't you want your customers to know that? Mobile apps are the most convenient option here. You can simply send a notification about your achievements and say, "hey we did it.". Notify them for your new products so that they know where to head to when they or one of their friends need the product. Let them speak out to you with feedbacks, surveys, and error reporting. Not only will all this ensure that your customers are just a click away, but also establish you as a brand that truly cares for its customers. And trust us, it means to us (the customers) a lot.
5. Business Process Optimization
Consider a simple example of two organizations that provide logistics solution. There, it is needed to monitor thousands of vehicles on the fleet, along with the order status, of course. One relies on the manual resources, taking into account manual check of vehicles and the order they are carrying, updates of the order details into the system, tracking the routes, and almost every such thing. Moreover, customers can either access this information on the website or by calling the customer care executives.
On the other hand, the second organization does not only implement more tech-savvy solutions but also makes this information available for the users in a few clicks, thanks to their dedicated mobile apps. Users just need to launch the application and navigate through the interface to get the required information at their fingertips. Moreover, since the information is centrally updated, chances of inconsistencies or miscommunication significantly reduce.
Not only to the logistics solution providers, but mobile apps also make it easier for enterprises operating under other verticals as well to manage their business process and various departments on-the-go.
6. Customer Loyalty Growth
Imagine two restaurants, one that allows you to book tables, check out the menu, and what else, make all the arrangements at the discounted price, using restaurant mobile app. Not only this, you can check the availability on your mobile phones in case of immediate plans. On the other hand, the second one only takes the order via phones, or even worse you get to try your luck after reaching there.
Which one will be your first choice? Of course the first one, and probably for most of the times. That's how mobile apps earn you some brownie points with customer loyalty. What else? You'll get references as well.  
7. Valuable Analytics
Understanding customers is one of the most vital things for a business, and trickiest too. Well, not with mobile apps. They allow you to get valuable insights into customer behavior by helping you analyze popular products, sections that your users love, and the ones which they hate the most.
This not only helps you provide them more engaging experience but also improve your services. You can also segregate these findings on the basis of demographics, information, interests, and use them to implement tailor-made marketing strategies.
8. Competitive Advantage
Have mobile apps just because your competitors have them? Yes. And, we are serious. If you wonder why? Re-read our restaurant example above. You cannot just miss out some customers because of this. And to add to it, you can also beat the ones who don't have. It's win-win you see.
What should I do Before Starting Mobile App Development?
The demand for mobile apps is constantly exploding. And with that comes the much-needed homework that you should do before venturing into mobile app development for your business. After all, you cannot simply decide one day and enter the battlefield. Here are some tips for you:
Deep Market Research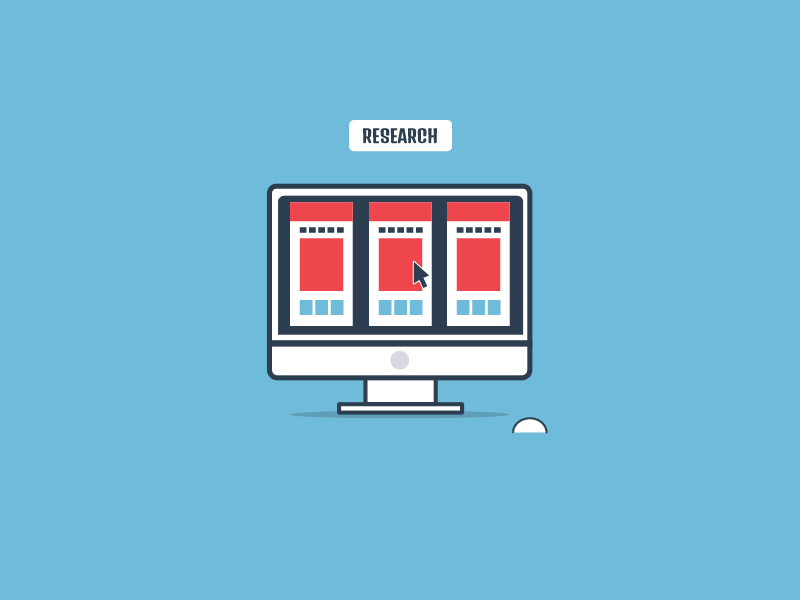 Conduct proper market research before stepping your foot into the mobile app realm. Get deep insights about your competitors, decode their strategy and jot down the notable points, and not to forget, analyze your audience and their likes and dislikes well. Not only will it help you avoid mistakes of your competitors, but also guide you on planning up a mobile app that is loved by your audience.
Try using the mobile apps yourself and checking their customer reviews to get the details of pain areas that you can solve with your application. Answering these simple questions with great analysis will solve your problem big time:
Is there any market for my app or not?
Who are my target customers?
What are the traits of my target market?
Is the app capable of solving the customer's problem?
Who are my competitors and what are their strategies?
How existing apps fall behind to solve the problem you are trying to address?
What sets your app apart from the others?
Efficiency
We do not really like the slow loading applications or the ones that do not take us to the desired location easily, do we? Lack of great experience has been a reason for many apps to simply land up occupying space in user's smartphone and then get uninstalled one fine day.
You don't want that to happen to your application. And so, give your application the edge of speed coupled with the convenience. Know what your customers need before they want it, and with the technologies like built-in GPS, or call-to-action buttons, that's not even difficult.
Moreover, "40% of the shoppers won't wait for more than 3 seconds if the UI loads slow." Hence, invest time in not only providing the most thoughtful UI, but also on making it speedier.
Be YouNique
Human beings have the tendency to get bored with things very easily. They do not like being served the same dish in every place they go. They demand uniqueness. And so is the case with mobile apps. While there are millions of apps available for download, serve your users with something new. Create something that engages them for long and raises their bar of expectations high enough for your competitors.
Don't Keep the Users Waiting
Even if it gets unavoidable to keep them waiting, do it in style. Don't feed user's mind with negativity while loading the page changes or updates. You can try loading with indicators and animation instead. Look for those progressive indicators to boost up the user experience.
One Platform at a Time
Platforms happen to be one of the most crucial aspects of your application. The questions like which platform to choose, which one to opt for at the initial stage, or which platform will earn you highest revenue, and many more really give businesses sleepless nights.
The strategy that works best involves taking care of one platform at a time and master it before leaping to the other.
Marketing Strategy
Well, mobile app is a tough battlefield. And jumping in without an Armour of great marketing strategy is a big NO-NO. So, gear in well-in-advance to plan your app promotions. Plan and implement the best ASO strategy for your app. Logically speaking, business owners should start with marketing plan execution at least 2-3 weeks before the launch. Imagine setting the ground for an amazing launch and receiving a great response.
What is the process of mobile app development?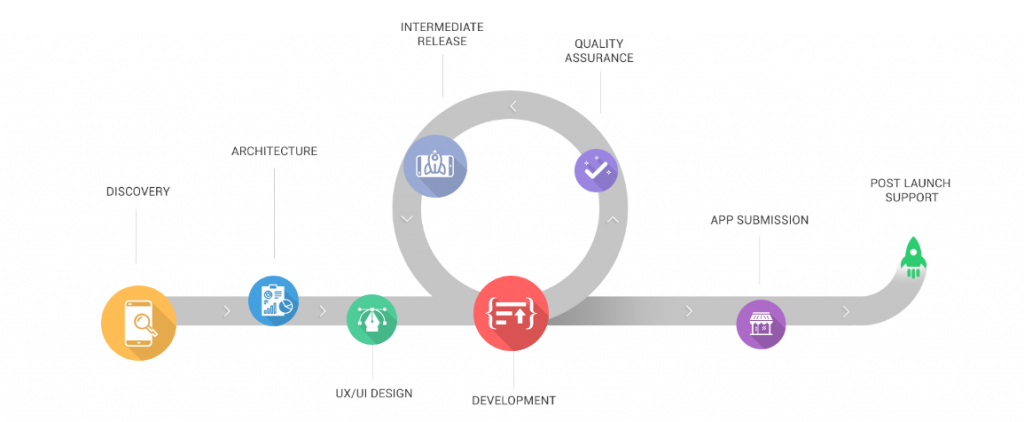 Research and Planning
The first phase of mobile app development is research and planning. This phase basically directs to find answers to some of the crucial questions like:
Why the app is needed?
Which problem does the app intend to solve?
Who will use the app?
Why will people use the app?
Who are my competitors?
How can I beat my competitors?
What value-added features does my app offer?
This step requires you to conduct extensive market research to find out apt answers to these question and prepare a plan that best suits your business goals.
Functions and Features
After gathering enough information from the ideal customers and market demands, it's time for you to decide on the features of the app. This basically is about deciding how your app will function or operate.
What capabilities do you want to give to your app?
What tasks, functions, and operations will it be able to perform?
How will it handle the data and user security?
Answering this question will help you create a storyboard, that is, "a visual representation of the user interface of the mobile app". This will also help you establish a clear view of the user and content flow.
Besides this, you need to have a clear view of the platforms you are targeting. While there will be multiple factors that will decide this, it is recommended to take care of one platform at a time.
Technical Feasibility, Design, and Development
Once you have decided upon the features and functionality that would be added to the mobile app, it's time for you t finally get the plan in action. Find out the technical team and work with them to finally determine what your users will receive in terms of the hand-on. This also requires you to establish seamless compatibility between various systems including front-end and back-end. This stage also takes care of the wireframing. Wireframes are the gray scale are useful for combining the app's information architecture with the visual appearance. It also helps to have a clearer view of the interface and functionality.
Testing and Bug Fixing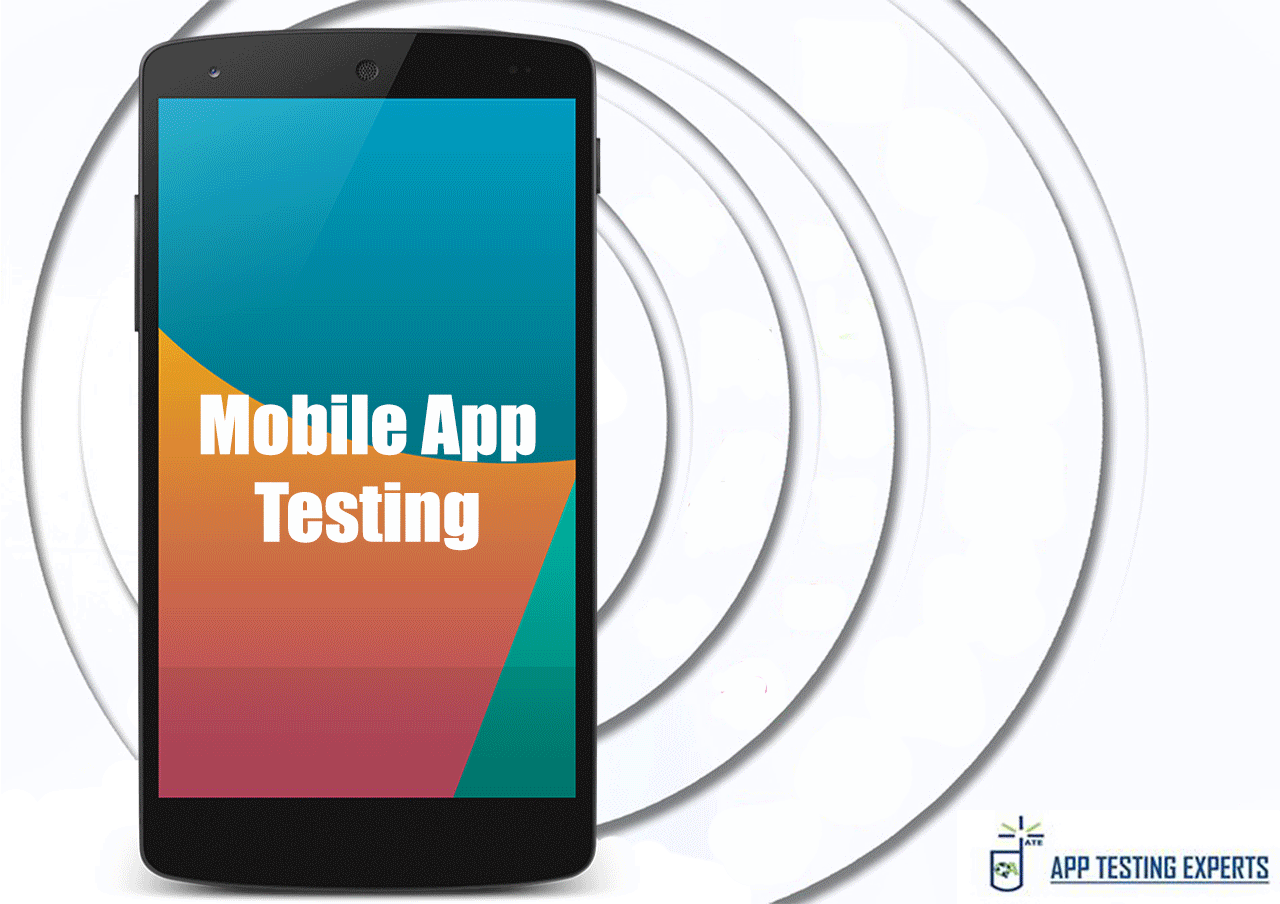 Testing and bug fixing happens to be the final stage of mobile app development. It is also the most vital part of the development lifecycle. With the help of expert testing teams, this step ensures that the app offers flawless experience to the users regardless of the devices, browsers, etc.
How do I Choose a Platform for my Mobile App?
Making a choice in terms of a platform for the mobile app is truly mind-boggling. And there is no other option than making a correct choice to match up with the pace of mobile app market's exponential growth. While every platform has its own advantages and disadvantages, there are other factors too that affect the choice of platform. Let's explore some of them to reach the best choice.
Target Audience: Geography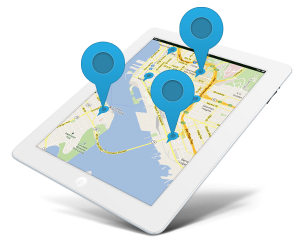 While iOS is the popular choice of the users residing in the United States, Canada, Australia, Japan, and Western Europe, Android is at the dominant end at Central and South America, India, Africa, China, the Middle East, Russia, E. Europe, and others.
This simply implies, "choose the platform that the audience in your target market". In other words, targeting the USA market with the Android app will serve you no purpose.
Technical details
Once you are done sorting the geographical barriers, it's time to pay attention to the technical details like designs. While Android is completely based on Material Design Guidelines, iOS developers have to follow Human Interface Guidelines. These guidelines do not dictate details but offer recommendations for achieving highly intuitive designs. Here is the basic difference between these design guidelines can be summarized as follows:
Depth and Perceptions:

Material design is all about sheets of paper stacked one over another. On the other hand, Apple favors deep designs with thin lines and blurred margins floating over their spaces.
Animation:

Apple advocates simple and discrete designs. On the other hand, Google sees upon the animations as something that adds life to designs while leveling up the user experience.
Navigations:

Google takes into account the convenience of the designers, thus giving a boost to their creativity. While this really leads to great designs, it also undoubtedly decreases the ease-of-use. Talking about Apple, it limits the navigation options. That's why designers need to apply their careful thinking and the result is usually a more comfortable and intuitive design.
Device and Platform Fragmentation
Being an open platform, Android provides the developers with liberty to customize the OS as per the requirements. They alter Android to fit their requirements or the devices needs. Some of these devices offer a poor user experience that takes a toll on the app's performance.
Whereas, iOS does not have the fragmentation problem. Being centrally organized, the majority of the Apple Smartphones run on same iOS version.
App Store Submission
App Store submissions are one of the things to keep in mind, specifically when you have deadlines to meet.
iOS Apps need to pass through the combination of manual quality testing where the app is used by users in real time and reviewed along with the automated tests. It might take up to two days to see your app live on the store if it passes all the quality standards. In case, your apps fail to do so, you can simply contact the review test team for a detailed explanation.
In the case of Android Apps, the apps are only quality checked via automated tests. While it speeds up the process manifolds, there are chances of minor issues as well. Your app will be available for download within three days. Another drawback here is that in case the app is rejected, you have no one you can question.
The key takeaway is, while App Store is very meticulous about the reviews, Google Play Store does not pay enough attention and thus poses lesser hurdles.
Return-on-investment
There are multiple revenue generation models when it comes to mobile apps. However, trends highlight that an iOS user is more likely to spend on in-app features a compared to the Android users. Additionally, it is worth noting that App Store tends to generate great revenues from the App purchase itself while Android users don't really like to buy the apps.
Having so many pointers to consider, it is really difficult to make a choice for the platform. Despite that both the platforms have significant differences, there is no clear winner. You need to take a close look at the users, features of your application, problems you are trying to solve and how each platform will add value to them.
In case of confusion, you can always launch an MVP of your app and fine tune it as the things start making sense.
What is MVP of a mobile app? Why Should I go for MVP Development?
Simply put, Minimum Viable Product or MVP of a mobile app is the product with just the basic set of features, enough to grab early adopters' attention. You can also address MVP development as a smart way to:
Launch your product in a short span of time.

Decrease the implementation cost.

Test the product's status in the market. That is, to determine the possibilities without investing in a full-fledged product.

Avoid over-expenses.

Decrease the chances of failures.

Gain valuable insights into the features that work and the ones that need to be improved.

Operate directly with the users and analyze the behavior closely.

Attract a strong user base and work to increase it.
Why is Mobile App Development Better than Web App Development?
While digitally transforming your business, you might come across the dilemma to decide between the mobile apps and web apps. Here are some of the reasons that might help you make a better choice:
Number of mobile users is high as compared to the desktop users.

Studies show that users prefer mobile apps over web apps or websites.

Mobile apps offer better personalisation exweb perience.

Mobile apps pave ways for better user engagement via in-app or push notifications. According to a

survey

, push notifications show up to 40% Click through Rates.

Take advantage of device's native features like camera, contact list, GPS, phone calls, accelerometer, compass. etc. to augment growth and enhance user experience.

Mobile apps allow the ability to go offline. Though mobile websites also offer the effective use of caching, it is not equally effective.

Mobile apps offer a wider creative space for designing. You can make use of the functions and advanced gestures like 'Tap', 'Swipe', 'Drag', 'Pinch', 'Hold', and a lot more.

Mobile apps can give a more distinguished touch to your brand for the product or service.

Mobile apps allow users to customize the appearance as per the requirement.

Mobile users spend 86% of their time on the apps, while only 14% on the mobile-friendly websites.

Mobile apps offer targeted content and utility that can be used to tap the users of both the categories, i.e., top-of-the-funnel (ToFu) and bottom-of-the-funnel (BoFu).

Mobile apps offer better branding opportunity to the businesses. The icons themselves work as innovative ad-banners.

Apps offer higher efficiency as compared to the mobile-friendly websites.
What are Native Apps, Hybrid Apps, and Cross-platform apps?
Native Mobile Apps
Native mobile apps are developed using a programming language native to a particular kind of device and operating system. That is, one app works only for a specific platform.
Pros of Native Apps
Mobile apps are free to access all the native feature of the device and operating system.

Allows the use of advanced features like Access USB input, complex networking, memory management, etc.

Delivers great performance and speed. Results are highly visible when developing the graphic intensive apps like game.

Developed as per the tools and technology standards of the device's manufacturer.

Apps are rendered the native user interface. That is, when implemented correctly, an interface will offer automated updations with operating system upgrades over time.

Offers no limitations in terms of advanced user interface customization.
Cons of Native Apps
Support for multiple platforms is missing thus increasing the development cost. A new app has to be built for each platform.

Code sharing between various versions is absent.

Development time is slow.

Testing time is significantly affected if more than one app is to be developed.
Cross-platform Mobile Apps
Cross-platform app development is implemented using an intermediate language like Javascript. This language is not native to a particular device and hence, apps once created offer seamless experience even on various platforms.
Cross-platform apps can be easily developed using frameworks like Xamarin, Appcelerator, React Native, and Native Script.
Pros of Cross-platform apps
They offer seamless code sharing between various platforms. Upto 80% of the code can be shared.
User Interface is rendered using 'native' controls, thus, UI performance is as fast as what we can expect from the native apps.
Cons of Cross-platform apps
100% code sharing is not possible. Hence, some native code may be needed to re-written.
As part of the intermediate code is interpreted during execution, speed may be affected.
Access to the device and operating system features depend upon the framework or plugin support.
User interface customization is dependent on the framework support.
HTML 5 Hybrid Mobile Apps
HTML5 hybrid mobile apps are a kind of cross-platform mobile apps. However, they render user interface using an embedded web browser, using HTML, CSS, and Javascript.
Pros of HTML5 Hybrid Mobile Apps
Code sharing up to 80% is possible.

Since development is done using web technologies, time-to-market is significantly less.

Libraries like Emberm AngularJS, React, PaperJS, etc. can be leveraged for web development.

Hot code push can be used to push updates to the App Store.
Cons of HTML5 Hybrid Apps
100% code sharing is not possible. Hence, some native code may be needed to re-written.
Interaction via embedded web-browser control can affect the speed.
Access to device or operating system features relies on the framework or plugin support.
How long does it take to build a mobile app?
There is no precise rule to determine the time taken to build a particular app. It mainly depends upon various factors like the type of application (hybrid or native), the number of platforms being targeted, features to the included, complexity of the implementation, and a lot more. However, a rough estimate taken after consulting experts suggests that the minimum time period required is almost three to four months.
What are the must-app features in Successful mobile apps?
With such a tough competition, it is really a great task to win the battle in the field of mobile apps. Mere giving competition in terms of promotions is not just enough, because after all, ending up as another downloaded app and forgotten is not our aim. You also need to work on the features of your mobile app. Here are some tips and tricks that you can consider:
User Experience is Important
The key here is to reduce the navigations to as low as possible. Take the users directly to the content they are looking for. Go with the defaults rather than trying to make stuff complex. A CRM application will be more valued if a user directly gets through the contact list rather than making them wade through the tasks.
It is easy to offer this rich experience to the users by simply ensuring that you do not overload them with information or user interactions.
Take care of the Memory and Bandwidth Constraints Well-in-time.
Users really don't give in for the applications that take up too much of the memory space or bandwidth. Moreover, developers and businesses need to keep in mind that shift from desktop to mobile also associates to itself the decrease in memory space. Moreover, the connectivity on smartphones and tablets incurs limits on downloading. Thus, you must ensure that you do not saturate the network connection with hundreds and thousands of image requests.
Simplicity to the end Users.
As mentioned, apps with complex navigations or the ones that are not too convenient to use are generally avoided by the end-users. Nowadays, users are more attracted towards the simple and explicit user interface that navigates them to the desired output in the least possible steps.
Performance is a crucial factor.
Well, this is something that you must be surely expecting here. Slow loading mobile apps or the ones that keep on lagging are something that we all hate, as users. That's why ensuring that the mobile apps are continually optimized. This adds up to its performance quotient, thus enabling it to launch faster and deliver a seamless experience.
Security.
This is the most vital element of mobile apps, especially the ones that are made for healthcare and mobile device management, where data security is backed by strong legal regulations. Therefore, ensure that the mobile app development team you work with takes care of this feature strictly.
Offline Support.
Well, this is one of the perks of working with mobile apps and you cannot really snatch that away from your users. While smartphone apps majorly rely on the internet to function, you can also opt for providing some features and content in the offline mode as well.
Regular Updates.
Continuous development and updates ensure long-lasting app popularity. Check the server, and ensure that the content is in sync with the latest information. Give your app new features and fix the bugs or solve the issues that users generally encounter. Keep in mind that only the apps that are regularly updated thrive.
Personalization.
Let the users give a personal touch to the mobile app. And so, provide them with flexible settings like changing fonts, colors, sizes, etc. Allow the apps to look and work as the users would want to. This associate to the positive emotions that can easily tip the scales in your favor.
Which industries can get the maximum benefit of the mobile app development?
While mobile app development has a plethora of benefits to offer to various industries, there are some sectors that it can transform in a revolutionary way. Let's take a look at them:
Hospitality

Food services

Entertainment and media

Healthcare

Banking and finance

Travel and tourism

Social networking

Manufacturing industry

Real estate

Logistics and transportation

Education

Telecommunication
What is the cost of mobile app development?
Determining the cost of mobile app development is one if the most bewildering questions for the businesses as well as the mobile app development companies. Giving accurate costs is simply impossible. This is because there are several factors that influence the cost of app development. These are:
App functionality and purpose-

The capabilities of mobile apps

Range of supported mobile platforms and devices-

The platform for which app is developed. It can be iOS or Android, or both. This also takes into the account the supported devices, for example, iPhone 6S, iPhone 6S+, Galaxy S6, etc.

Integration points-

Third-party integrations and the sources from where content will be derived.

Use of visual objects-

complex visual objects will augment the costs.

Hardware integration and compatibility-

Apps that use hardware's features like GPS and navigation, NFC technology, motion coprocessor, etc. eventually add up to the cost of mobile app development.

Maintenance plan-

Mere app development is not enough and so you need to ensure technical support and maintenance. This too adds up to the cost.
However, there are some typical benchmarks for the cost of mobile app development. Here is what it is:
What will happen to my app with new OS releases in both iOS and Android?
Generally, the apps are forward compatible. So even when a new OS is released, the apps continue to function for a few OS releases. Though any new features released in OS remain unavailable to the existing app, it still does not cease to function.
Though this is only true till a few OS updates. Each OS update includes changes to the underlying frameworks which an app can use. These changes can cause app code to break.
Also with the new UI conventions being introduced with each update, older apps start looking classic and user interface & experience gets different than the other native apps available in the new OS so it is always recommended to update the apps with the major releases of the OS.
How can I market/ promote my apps?
Though creating an app is a spectacular achievement, it is just the first half of the entire process. After the development process, comes a set of other processes which are equally important for your app if you want it to succeed in the market.  With an ever increasing number of apps on major app stores, the competition is fierce. Statistics show that as of the third quarter of 2018, there are 2.1 million apps on Google Play Store and 2 million apps on the Apple App Store.
These figures are enough to shake even the greatest maestros in the app development game off their game. The reason being, most of these apps can be separated into several broad pools, based on their functionalities. Music, video streaming, games, education, social media, etc. And each of these genres has so many apps listed under its banner that it is easy for an app to get lost, no matter how great it might be.
This is where App Store SEO comes in. App Store SEO or App Store Optimization (ASO) as it also called, is quite similar to Search engine Optimization for websites. It is basically the process by which we try to improve the ranking of our app in search results so that we can appear on top of the list.
App Store Optimization is very crucial to an app's success because if not done properly, the most flawlessly created apps can end up in the app store graveyard where ghosts of forgotten apps skulk about. Here are some crucial things about effective ASO:
App Name & Keywords
need to keep in mind that the name of your app shouldn't be too big or too hard to pronounce. you don't want to come off as a pretentious snob. Your app name must be short, catchy, and imaginative.
The two common nomenclature schemas followed by most apps on app stores are as follows:
Brand Name- Keyword
Brand Name: Keyword
For example- Amazon- Shopping made easy, Google Maps- GPS Navigations
Adding keywords to your app name can boost your ranking substantially. Both Play Store and the Apple App Store use algorithms which scan app names for keywords when a user types in a search string in the search bar. And if your app name has a keyword in it, then both apps stores will give your app priorities over other apps.
But relying on keywords alone is suicide. You need to seem creative as well. So find a balance between a creative brand name and technical keywords.
Another place to introduce some keywords on your app's Apple App Store page is the subtitle section. It is the text that appears below the title of your app and is allowed to be 30 characters long. It is a great place to put in some crucial keywords, and Apple App Store will consider them while ranking your app in a search list.
Also, make sure that you use URL-friendly characters in your title and avoid using any special characters as well because it will create a hindrance in your ranking.  
App Description & Keywords
On an app store, Description is the field where developers put in a brief introduction for their apps. The Apple App Store doesn't search the description field for any keywords, but still, you need to make sure that you write a concise and to the point description because your users will go over it before hitting that download button.
In the case of Google Play Store though, the description field holds much importance since it traverses through it in search of keywords before creating a search result. So developers need to write a precise keyword-laced description for their apps.
But keep in mind that you make the most of the first few lines of the description, the section which comes before the "Read More" button because the Play Store gives them priority over rest of the description.
The importance of the first few lines, however, goes beyond just the ASO motive. Studies show that only 5% of users on Google Play Store hit the Read More button. And this figure is only 2% in the case of the Apple App Store. So you need to write on-point sentences which do not feel generic or read like a marketing campaign line in the first 2-3 lines. You need to convey the app's values rather than functionality in these few lines. Remember that most app stores give up to 252 characters before the Read More button. So make sure that you make every character count.
After the short description, comes the part which falls inside the Read More portion. Here you will need to go in a little depth about the app's functionalities and tell your users about its unique features. It is a good idea if you make use of pointers and numbered lists here to increase the readability of the material. Furthermore, don't make the description too elaborate, try to keep it as short as you can with a moderate level of vocabulary.
3. App Icon
Even before the name of your app, your users will see your app store logo when listed in a search result. So naturally, you need to have an eye-catching logo which is capable of forcing your users to tap on it.
Choose your colors very carefully, make sure that you find the perfect balance. You can't go too cold or too vibrant here. Also, try not to cram too many items in a small space. Your logo needs to look clean and must be eye-soothing, and too many elements will prevent that from happening. You need your users to remember your icon, so try to come up with an icon which conveys your app's believes.
4. Keywords- how to use them right
If you've ever known some SEO guy then you might have noticed how often he talks about the importance of keywords; he literally can't shut up about them! And he has a reason for that. Keywords are one of the primary tools which search engines use to find appropriate websites from the plethora of sites on the internet which contain the information a user is looking for. Think of them as flags which mark your website and without them, it will get buried deep on the internet.
The first thing you should do is come up with a directory of 50 or so keywords related to your app. If you are confused which keywords would work for your app, then there are many online tools like Übersuggest which can help you with that.
Tip
The key thing to remember is that you choose only those keywords which are relevant to your app. Don't just blatantly put whatever keywords you find to be popular at the moment even if they don't fit with your app.
Now, after making the initial pool of keywords, you need to filter out 25 best ones. Your selection criteria will be affected by two metrics- a keyword's popularity and its difficulty. The popularity of a keyword is the number of times it has been searched, and its difficulty is the chances of getting a hit, or in other words how difficult it is to find that keyword.
If you are just starting, then it is a good idea that you begin with keywords with low difficulty and reasonable popularity. This will start bringing traffic to your app page and give you your initial boost. Now as the popularity of your app increases, you will gradually have to play around with both metrics of your keywords. When your app is moderately popular, you should choose higher popularity keywords with reasonable difficulty levels.
Tip
Another thing you need to keep in mind is that long tail keywords work well in ranking your app above your competitors who share the same keywords and genre with you.
Optimization of Keywords
Then finally comes the optimization of the keywords. The approach is different for Play Store and App Store. For Apple App Store, you need to add the selected keywords into the metadata section so that the algorithm can get to your app page. Some common thumb rules to doing that efficiently are as follows:
Don't repeat any keyword

Use all 100 characters

Separate every keyword with a comma

Use singular or plural

Use numbers instead of spelled out words

Avoid spaces, articles, and prepositions
Google Play Store doesn't have any metadata section, so you will need to provide strategically selected keywords in the description itself, and the algorithm will pick them up from there.
5. Get rated and reply to customer reviews and feedbacks, even if they are bad; especially if they are bad
Once you have uploaded your app and have inserted all the keywords, you need to make sure that your app page seems active. Users like to be heard and responded to. They will always have inputs, they will always have reviews and suggestions, and they will post them on your app page and give your app ratings. Some will be stupendous five-star ratings, and some will be disheartening one star. Some reviews will be encouraging and productive, giving you vital suggestions and some will be brash and not at all helpful. And some will be just queries and questions or issues that the user might be having with your app, and your job is to target those users.
You need to reply to these users and help them in any way you can. Either you can provide the answer to their queries in the comments section itself, or you can ask them to drop a query to you on your official email id. The idea is that it will create the sentiment among your users that you listen to them and that will ultimately work in your favor.
6. Conversion Rates- What is it and how to use it to your advantage?
There are two types of Conversion Rates for any app.
Page View CR- It is the percentage of the number of people who see your app in a search list or a featured app list and then tap on it to check your app out.
Download CR- It is the percentage of people who tapped on your app to visit your app page and then downloaded it as well.
Now before carrying on with this topic, first we need to discuss some analytics data which most app stores show to app owners.
Impressions-

It shows the number of times your app was shown in a search result.

Product Page Views-

It shows the number of time your product page was opened.

App Units-

It shows the total number of downloads your app has.
  Using the data mentioned above, we can put Page View CR and Download CR in a mathematical equation format as follows:
PageView CR-  Product Page Views / Impressions x 100%
Download CR- App Units / Product Page Views x 100%
Why are Conversion Rates Essential?
Now the reason why most app owners take these CR metrics so seriously is that firstly, they cannot be influenced by any external factor. Other parameters like keywords and number of downloads depend greatly on foreign issues like trends and current market sentiment. But not CRs, they simple paint for you the unfiltered picture of how your app is doing.
Secondly, high CRs show app stores that people like your app. If people are searching a keyword and are continually being shown the same list of apps and they are constantly tapping on your app and then downloading it, that means that your app is doing well with the customers and the app stores try to give you top spots in search lists.
Tip
For Page View CR, the acceptable number is 3%. If your app has 3% Page View CR, then it is doing well with the users, but if you have a low CR, then you can follow the tips mentioned in this article to bring that percentage up.
Traditionally, your app should have a Download CR of around 60%. Anything lower than that and you will need to boost it up and if it is higher than that, well then kudos to you my friend!  
7. App Localization Strategy
App localization can have incredibly positive implications on your app and its popularity. Because people from different regions search for apps in different languages, it is a good idea to localize your app according to the countries you want to target.
Now there are two aspects to localization and two trains of action you can climb on. First one is getting your app translated into various languages, thus localizing your entire app according to the country you're targeting. But it is a scary and challenging task. Another thing that you can do is, you can only localize your app listing first. This includes translating your app name, keywords, description, and screenshots.
When you curb your app to one specific language, that means you are curbing its international growth because only the people speaking that language will download it. And by doing so, you are not harvesting other lucrative markets like China, India, and parts Europe which can boost your revenue monumentally. So choose the perfect countries for your app and localize it according to their language preferences.
8. App Pricing
There three types of revenue generating models which are usually adopted by apps on all major app stores.
Free with in-app purchase
This means that you let your users download your app for free and do not put a curb on any of its functionalities. But at the same time, you allow them to make some in-app purchase, like extra health boosts in many games. This model is responsible for 79% of app store revenue.
Free with Ads
In this second approach, you don't generate revenue from your users, but via users by those who advertise with you. Strategically aimed in-app-advertisements can do wonders for those who advertise with you and earn you a lot of money.
Paid
The third model is naturally the paid model. In it, users have to pay to download your app. Also, many apps let their users download their app but keep many of their features locked only for premium users. If you do follow this model, make sure you don't get too greedy. Keep your rates reasonable.
9. App Size
As a thumb rule, you should always aim to make apps which are smaller than 150 MB for iOS and 100 MB for Android. The reason being, if your app is larger than that, then your users will not be able to download it using their mobile networks and will need to access a WiFi connection.
10. App Updates
After developing the app, comes the updating part. You cannot just develop once and be done with it. You need to keep adding new features, make adjustments, and tweak things in your app. Updates are a great way of making some structural changes or fixing up bugs or the look of your app.
Apart from that, regular updates are crucial from a marketing point of view as well. Regular updates increase user loyalties and always keep you in your users' mind. Furthermore, statistics show that apps which release regular updates have higher ratings on app stores as well.
How frequently should you update the app?
You can schedule your app updates on how you develop your mobile app.
For example, you may only have the core features in your first version. However, you can have multiple features added in the future.
Matter of factly, studies and surveys have proven that the apps which are generally updated generally rank higher in less time. Not only this, but such apps also outshine the rankings of apps which are not updated frequently.
The benefits of updating the apps include:
Improvement in app performance

Bug fixing

Enhancement in the app's user experience

Foster a loyal user base

Promotes the apps
What are the Mobile App Development Challenges?
According to Zenith's Mobile Advertising Forecasts 2018, 66% of individuals in 52 key counties will own a smartphone by the end of 2018. The rapid expansion of smartphone ownership across the globe has transformed the way businesses connect with their consumers. The massive success of consumer mobile apps has resulted into the trend that many companies now want to go for enterprise-grade mobile app development to expand their business applications, improve customer services, and enhance the efficiency of workforce.
Garter emphasizes that through 2021, "market demand for app development will grow at least five times faster than the IT capacity to deliver it." This growing demand has an equal number of challenges to offer in the path of mobile app development. This article covers significant challenges faced by the developers and companies along with the ways that can be used to deal with them.
Mobile App Development Approach
Mobile app development starts with the selection of the best approach from a plethora of available choices. After all, it is essential for a business to commence on the right foot. You are offered a wide array of development frameworks and platforms, which is an equally challenging decision. It is vital for you to ensure the correct development approach right from the beginning.
In addition to this, you also need to pay attention to the nature and goals of your business to decide whether to go for hybrid app development, a native app development, or just the web-based mobile app development. The next goal, after this, will be to strategize the UI/UX requirements, besides others. Hence, begin with proper research, analysis, and implementation of the ideas to proceed in the right direction.
Variety of Platforms and Devices
Every business wants to deliver an impressive experience to its users. Device compatibility is one of the most crucial issues in this respect. A user has a wide array of options to consider when it comes to the platforms and devices over which they access the mobile apps. These choices include iPhones, Android Smartphones, Windows devices, tablets like iPads, and desktops that again might run on Windows, Linux, or Apple OS. For a business app to gain popularity and drive results, it must work seamlessly across the platforms and devices regardless of their size, screen resolutions, and pixel densities. This is one of the critical development challenges that need to be addressed with great care.
App Marketing
According to Statista's research to find out the number of published apps in the leading app stores in the first quarter of 2018, Google Play store offered close to 3.8 billion apps to the users while Apple users could choose from 2 million apps. This is what makes the competition more stringent for the businesses who now need to work harder and smarter to beat the competitors. Every quarter introduces many useful apps that soon lose their hold in the market. Hence, it is not sufficient for an app to be just good, they need to be successful and should have the potential to create a long-lasting impression to generate revenue.
Hence, while strategizing, ensure that you make an app that has the potential to win the trust of its users. Follow this by implementing a tailor-made marketing plan including PRs and media planning, social and viral marketing, and of course the effective App Store Optimization.
Customer Reviews and Experience
App reviews are one of the potential sources of promoting your mobile apps. It is a comprehensive way that targets new users by introducing your app's potential to them, the developers by introducing the pros and cons, as well as the current users by allowing them to express their views about your app openly. Reviews also establish your credibility. A negative review can influence another user's decision to download.
The key to getting maximum positive reviews is to make your app as simple and user-friendly as possible. While you are developing a mobile app for your business, understand that the app is intended to be used by the users and not by your team or by yourself. Hence, you should have an in-depth knowledge of your target market and types of the users. Do not introduce complex processes and navigation to your apps unnecessarily. That would only lead to a rise in negative customer reviews which will, in turn, affect the number of downloads and lead to a loss of users. Keep the app as simple as possible. Include helpful resources in the app store introduction such as videos, images, doc files, thumbnails, and icons that emphasize more on the user experience to increase downloads.
App Performance
Besides other challenges, app developers also face challenges in terms of ensuring bug-free or crash-free mobile app operation. Also, the app should consume less space in the device without affecting its battery life. In other words, the app should not compromise on any aspect of the performance. These aspects of an app should be taken care of in the initial phase of development through expert designing and compatibility checklist. This can be followed by intensive testing of the mobile app and then once it satisfies all the criteria of performance, only then you should proceed to deployment.
Integration Challenges
Developers are the ones who often face integration challenges. It is an essential part of the successful mobile apps to integrate and synchronize with multiple types of SQL databases and back-end databases. This challenge can easily be addressed by using advanced development tools.
Comprehensive Method to Handle Development Challenges
Brands in the mobile app development industry are overcoming the challenges through the practical use of rapid app development tools. These tools foster the development of sophisticated, full-fledged web, hybrid, and native business apps in less time as compared to the traditional methods. They also significantly reduce the efforts by decreasing the amount of coding. Some of the platforms also offer WYSIWYG design architecture to enable quicker and precise development with a great user interface. This mode of the application further automates a significant portion of the process such as default information and files.
Matellio's mobile app development experts emphasize that apps should be primarily developed through the implementation of multi-level selection processes instead of coding. In addition, development should be concocted by an extensive range of actions and routines to foster more convenient and swift development.
Take Away
The challenges in the mobile app development ecosystem are as widespread as the number of competitors you have to beat. As a business decision maker, you, along with the expert team of mobile app developers need to ensure that you challenge every obstacle while working according to a perfect game plan. There have been businesses that failed because they couldn't meet these challenges, or did not offer the audience with the perfect combination of features they wanted. Hence, address these obstacles carefully through proper planning and implementation to make a long-lasting impression and monetize your efforts in an effective way.