5 Ways AI Is Changing The Real Estate Market
Updated on Oct 6th, 2022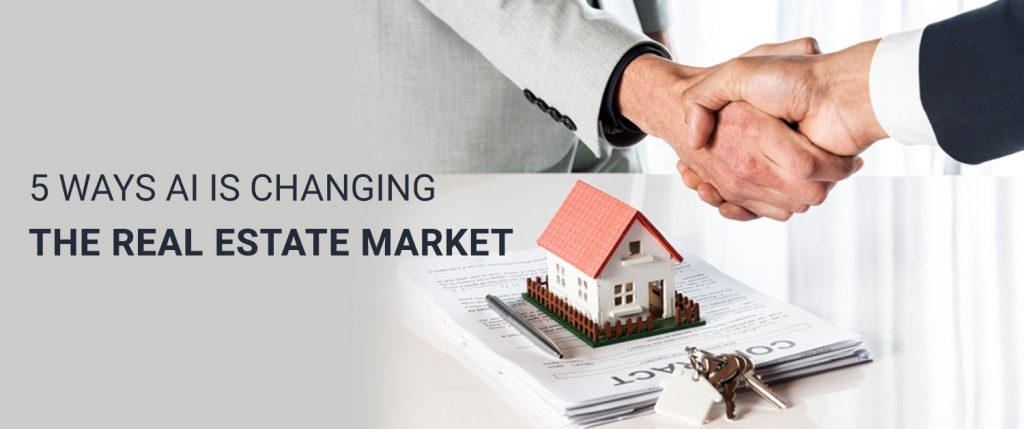 Things are changing at a much higher pace in this tech-driven world. From mobile phones and computer screens to applications and user needs, everything has changed drastically due to digitalization and evolving technologies. AI is one such disruptive technology that has developed in modern times, and the real estate sector is utilizing this powerful technology to its fullest. The real estate sector, like other industries, is slowly but surely adapting to the digital world and making significant progress in defining use cases for artificial intelligence utilization. According to sources, almost 93% of people visit websites when searching for homes.
Many tech-savvy CEOs and managers are learning the application of data analytics and AI to gain a competitive edge. Indeed, with AI infiltrating every industry, it makes perfect sense to explore what technology like machine learning can do for your real estate business. Already, several use cases have emerged, showing promise in multiple areas that can improve a company's position in the market.
In this article, we're going to discuss how AI is transforming the real estate industry. So, let's get started!
How is AI Transforming the Real Estate Market?
Here are a few ways in which AI in real estate has already transformed or is on its way to changing the real estate industry.
1. Improved Marketing Campaigns
The first and foremost benefit of using AI in the real estate industry is successful in marketing campaigns and improved lead generation. With AI-enabled mobile apps, chatbots, and machine learning interfaces are already benefiting the realtors a lot with lead generation and content generation. According to a content marketing specialist, Melanie Sovann, "a chatbot can become an amazing virtual assistant for your clients and a great way to deliver personalized content directly to leads."
With AI-enabled software solutions, the realtors and the real estate brokers could seamlessly capture the customer's data and could modify their services to enhance customer services. Also, according to sources, almost 74% of millennials prefer to buy new homes. Now, if you run a Facebook post and link it with an AI-driven chatbot, then the lead conversion rate automatically increases. That's because an AI-chatbot helps you to answer all the questions of the customer very quickly and efficiently. On top of that, an AI-driven chatbot could help you to qualify leads by asking them specific questions and making them fill out forms.
2. Automated Property Management
No surprise, managing a rented property is not an easy task as it seems; complaints and burdens are always a constant problem related to rented buildings. There are high chances that many things work great between 9-6 hours and might stop functioning after that. So, waiting for things to get fixed until morning might not be a good idea. In such a scenario, AI comes into play.
Real estate brokers and managers could seamlessly track and manage the complaints and maintenance requests while utilizing AI in their businesses. In fact, many companies like Pi Labs are already leveraging AI to help their residents and tenants in solving their problems and issues quickly and efficiently. The residents have to log their reports using virtual assistant sand then track its progress until the issue is resolved.
3. Virtual Assistants
As discussed in the points mentioned above that the property managers could seamlessly manage and resolve various property related matters with the help of virtual assistants. Not only that, but the further advancements in the field of artificial intelligence have also enabled the realtors to make the property search experience more efficient and seamless.
New advanced AI programs like Apartment Ocean are offering smart chatbots to the real estate businesses to assist the potential clients with the property search. Besides that, the users can get answers to several problems, and all thanks to the deep learning technology. Moreover, the realtors could use the data obtained from the chatbot to optimize future interactions with the clients.
4. Advanced-Data Analysis
AI could serve as a great tool in improving the ability of real estate businesses to provide accurate and comprehensive property related information. AI is being used in the real estate and construction industry to analyze the crucial data correctly. Many software companies like BuildingIQ, and Airbnb leverage the AI, and ML to understand what people need and which areas of building need improvements.
Moreover, much other software, such as Localize, has been designed to generate crucial information about a specific property. For instance, with Localize, the user could seamlessly know the ratings and reviews, the sunlight received annually, stats on local transportation, etc. also, the realtors and managers could seamlessly manage the maintenance reports and the pre-emptying issues very conveniently.
5. Enhanced Security
Last but not least, artificial intelligence is a great platform when a person is looking for security as a significant aspect. AI, along with the flexible and amazing features, also provides enhanced protection to all its users. In fact, many companies are already leveraging this smart and scalable technology to provide their tenants and residents with ultimate protection.
The recent AI advancements not only offers enhanced security aspects but also saves a lot of valuable resources of the property managers. For instance, Gateguard, a US-based firm, uses facial recognition systems in its apartments, as a replacement for the doorman. Also, office space providers, LABS, uses intelligent recognition software that has enabled all of its employees to utilize mobile apps for seamless access in the building without the needs of card or keys. That's wonderful!
What are the main difficulties in Implementing AI for the Real Estate Industry?
So far, we discussed the various applications through which AI has brought significant changes in the real estate industry. But, we all know that everything in its initial phase faces a lot of challenges and problems; the same is the case with AI too! The biggest challenge lies in the software system that allows automatic evaluation and reading of data. Artificial intelligence tools will be able to evaluate real estate contracts and other necessary contracts that are useful for buyers and sellers. However, the challenge here is data security and confidentiality.
The real estate owner needs to find ways to balance the need for growth and functionality while protecting sensitive information. The real estate sector requires effective interaction between human decision making and artificial intelligence.
Top Real Estate Apps Using AI
Despite the challenges and problems faced in implementing AI in the real estate market, some real estate apps are leveraging AI to enhance its services and customer experiences. To name a few, we have
1. PropertyNest
PropertyNest is a powerful real estate app that is perfect for the people of New York. With its smart property algorithm, the mobile app helps to find the ideal home for buying or renting. The mobile app uses a credit score, income, vetting process, and savings to suggest the property to the user.
2. Nobbas
Nobbas is one of the most useful real estate search platforms for tenants and buyers. Collaborative tools distinguish it. The best thing about this software is that it offers an interface like Tinder that lets you drag properties that you don't like and click on properties that you want.
3. HomLuv
The HomLuv website uses AI to help people find new homes based on design features throughout the country. Customers can view photos, floor plans, and videos of new homes to add whatever they want to their collection. Buyers can then work together to find out if there are overlaps.
4. Zillow
Zillow is another real estate company that uses AI effectively. The technology here is based on neural networks that are trained in a large number of images and output values for reading images in the main list for relevant information. The resulting estimate is also made through the property value prediction metric.
5. RedFin
RedFin automates the process of recommending properties with excellent AI tools. The data even showed that he knew the user's tastes fully. It seems that users clicked more on this match offer than on their search criteria.
Future of Artificial Intelligence In The Real Estate Market
To conclude, we can say that the future of AI in the real estate market is very bright. According to sources, the market value of the industrial real estate of America reached $85 billion in the year 2018, and the commercial real estate market was $16 trillion. That clearly shows that AI is making some considerable changes to increase the market value of the real estate sector. Mortgage providers, appraisers, and developers are undergoing this change. AI makes brokers more efficient. AI algorithms can produce exclusive recommendations that are tailored to the specific needs of each customer.
Transparency in standardizing and analyzing data is essential in the real estate industry to ensure good results for everyone involved in the process, buyers, sellers, and representatives. AI succeeded in this process and increased profits throughout the industry.
Further transformative and disruptive changes will occur in 2020 and beyond, with AI fully implemented in the real estate sector. Want to leverage robust AI-powered real estate software solutions? Reach us now to experience the magic of AI-based software solutions and build success for your real estate business.
Get the Conversation Started!
Get the Conversation Started!
[contact-form-7 id="34486" title="Side Form"]