AI In Real Estate
Redefine your real estate operations while dominating your market and making great profits through AI-based real estate software solutions. Offer next-gen customer experience and get detailed insights for better decision-making with AI in real estate.
Get Future-Ready with AI in Real Estate
Become a pioneer in your field and generate remarkable revenues through AI development services. Here's how the leading real estate brands use AI in real estate!
%
Real estate companies experienced better leads and revenues by adopting AI real estate solutions.
%
Commercial real estate companies agreed that AI in real estate results in better efficiency and reduced cost.
%
Realtors said that AI development services helped them to stay competitive during pandemic time.
%
Realtors stated that the use of AI/ML in real estate helped them to enhance customer experience.
Get Business-Specific AI Real Estate Solutions
Leverage our decade-long expertise in AI development services and real estate software development to cater to your business needs.
Commercial
Accelerate your growth by automating follow-up tasks & getting real-time business data with AI solutions.
Industrial
Mitigate the risks, understand the user needs, and enhance your workforce with custom AI real estate solutions.
Residential
Simplify your real estate tasks while embracing automation for enhancing your business with AI development services.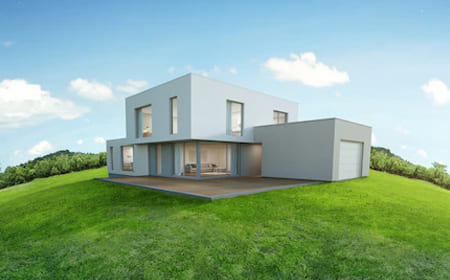 Raw Land
Win new deals by getting perfect insights and numbers of the market in real time with an AI-based real estate solution.
Get Custom Real Estate Solutions
Top-Notch Features for Your AI Real Estate Solution
Upscale your business operations and build better brand value with our state-of-the-art solutions and AI development services.
How Much Does an AI Real Estate Solution Cost?
Why Matellio for AI Real Estate Software Development?
Our Real Estate Development Services
Explore the best-in-class services that we offer to help your company handle the modern-day business challenges.
AI App Development
Get top-notch custom AI real estate applications equipped with the best features and tools and tailored to your business requirements. You choose everything for your app, from design and development team to features.
App Development Consulting

 

AI App Development

 

API Development and Integration

 

UI/UX Services
Data Analytics Services
Leverage our AI-driven data analytics services to enhance your existing processes and make informed and profitable business decisions. We can integrate intelligence tools, computer vision, RPA services, and self-learning ML tools.
Data Consulting Services

 

Data Management Solutions

 

Data Analysis Services

 

Modern Data Architectures
Next-Gen Tech Integration
Uncover your true digital power by implementing various other next-gen technologies in your AI-based solutions. Discover meaningful business insights, get real-time data from various touchpoints, and redefine your customer experience with next-gen tech integration.
AR/VR Software Development

 

IoT App Development

 

Cloud Integration Services

 

ML Application Development
Legacy Software Modernization
Update your existing real estate software with best-in-class features and modern architecture through our software modernization services. Implement cutting-edge technology and handle new business challenges with ease by leveraging our expertise.
Platform Migration Services

 

Features Addition

 

Testing and UI/UX

 

Technology Updates
Other AI Real Estate Solutions that We Can Build for You
Frequently Asked Questions
1. How is AI in real estate beneficial?
AI in real estate has today become an important trend for running a successful business. From automated customer support and real-time customer analytics to personal property recommendations for your customers, AI real estate solutions can offer various things to your business. Moreover, you can even win more deals and enhance your customer experience with smart AI bots. Other benefits of AI in real estate are reduced operational costs and smart analytics.
2. Will you provide me with the source code for my AI real estate solution?
Definitely, once our AI developers create your AI real estate solution, they will deliver the complete solution along with the source code to you. You can then use that code to make further customizations to your AI real estate solution in the future.
3. How can I monitor my AI real estate software development?
Our expert AI developers follow the agile development methodology that allows you to monitor your real estate software development constantly. That means you get updates on your product after every development cycle. You can make changes or add new functionalities to your digital AI solution without affecting the previous development stage. That means real-time monitoring with faster development. You can connect with your project manager through email, Skype, Microsoft Teams, or any other video conferencing platform.
4. What AI development services do you offer?
We offer a wide array of business-specific AI development services, including (but not limited to):  
Predictive analytics 

 

Building automation system development 

 

NLP services 

 

RPA services 

 

ML-based real estate app development 

 

Linguistic annotation services 

 

And more
5. What process do you follow to develop AI real estate solutions?
At Matellio, we usually follow a very streamlined process to develop your custom enterprise solutions. Here's what our real estate software development process looks like:  
Analyzing your business needs 

 

Creating several mock-ups and an MVP using your preferred features and designs 

 

Developing your custom AI solution 

 

Integrating third-party tools and systems 

 

Testing and deploying your AI real estate solution
6. Which other next-gen tech can you integrate into my real estate solution?
We can integrate various next-gen technologies into your custom real estate solutions, including AR/VR, IoT, Big Data, Blockchain, Cloud Computing, etc.