The global IoT market is expected to reach USD 94.44 billion by 2025, exhibiting a CAGR of 21.5% during the forecast period. Increased demand for improved flexibility, multiple distribution channels, better service, and enhanced customer experience are some of the key driving factors to this worldwide adoption. The growth can be also attributed to the merging of digital and in-store operations in retail stores.
Some of the innovative retailers are already integrating cutting edge IoT technology to change how their business functions. According to Oracle's report The Impact of Emerging Technology on CX Excellence,
66% of surveyed retail executives state that IoT has already positively impacted their CX.
88% of the study's respondents state that using IoT in retail will provide better customer insight than any other data gathering method.
Therefore, retails continue its shift toward IoT to revolutionize its processes. Here we are discussing some of these key areas where IoT has impacted retail significantly.
1. Automated Cashier-Less Checkouts Deliver True, Unified Shopping Experience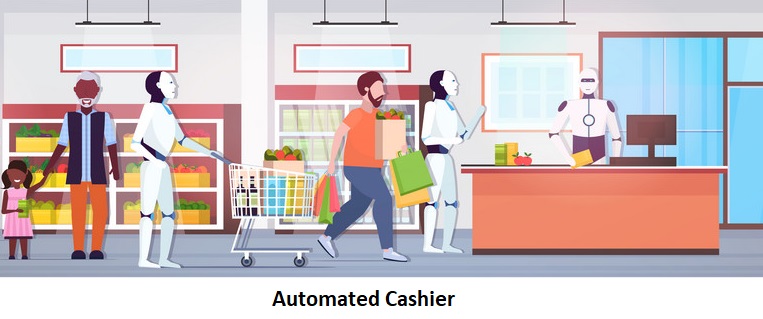 Self-checkout stores are increasingly gaining popularity among retailers and consumers. In one of the surveys, at least 75% of shoppers accepted that self-checkouts help saves time and boost the shopping experience.
While the customer is ready to leave with their essential items shopped already, no one would want to spend hours standing in the queue waiting for the people who are doing the weekly shopping. Self-checkout machines can help considerably reduce this queuing time by serving both the category of shoppers. And the best part is customers can pay via their preferred mode with the ability of self-checkout kiosks to accept payments in multiple forms.
Apart from this, for locations that serve customers who may speak various languages like airports and tourist shops, self-checkouts can easily be configured to multi-lingual options.
A self-checkout system can do more than just accepting payments from the customers. Retailers worldwide can integrate this system into their other functions such as endless aisle, a Wayfinder, or digital signage.
By placing fully-featured interactive units at various locations, you can provide customers a better shopping experience where they can access the units to get more product information. They can scan the product barcode for ingredients, browse products unavailable in-store, and of course, pay for the order.
Apart from this, with traditional stores, much of the cost goes on providing staff to run checkouts or assist the customers. Self-service checkouts transfer this workload to customers, freeing up your staff for other assistance in the store.
2. Detailed Store Analytics to Implement Better Policies
Even if you have large data sets, IoT and associated systems can provide valuable information and patterns from your real-time/ historical data. You can easily get this data from the videos and sensors to garners insights into trends and habits. With Analytical IoT, you can:
Identify your store's hot spots.
Gauge the effectiveness of different product displays.
Determine the most profitable store layout.
Customize inventory to meet shoppers' needs.
Provide unparalleled customer service through real-time monitoring.
This not just enables you to connect with and satisfy your customers, but also ensure that you make informed store decisions.
3. Create a Cohesive In-store and Online Shopping Experience with Beacons
Beacons are a great source of customer service and help retailers deliver in delivering interactive shopping experience. There are three ways beacons majorly benefit the retailers:
Stores can share location-specific information to customers in real-time.
This basically creates a better approach for retailers to market their products. When customers walk down the aisle in the supermarket and come across the coupon dispenser, beacons deliver this information to the devices to augment the conversion.
Retailers can also collect consumers' personal data.
In the digital world where consumers are constantly connected to the internet, retailers have a vast opportunity to collect data and leverage it to boost conversions. Moreover, this data can be connected to the loyalty information or utilized to deliver specific messages that display better product suggestions to the customers based on their shopping habits.
Lastly, beacons can help retail employees to provide top-of-the-line customer services. Beacons have the potential to tell service representatives whether the shopper is a first-timer or a loyal customer. Sales staff on the floor can attend to their needs accordingly. Consolidate online shopping history with in-store movement and previous purchases to get a clear understanding of products that would likely be of interest to those who frequent the brick and mortar store.

4. Smart Shelves for Real-time Inventory Tracking and Analytics
Smart Shelves use RFID technology to automatically track inventory in retail stores. The technology uses weight sensors installed within the shelves to analyze the inventory on shelves and extend real-time tracking capabilities. Here's how smart shelves help retailers manage the store better:
The first benefit of smart shelves is inventory management. Retailers claim that current inventory systems are only 52% accurate, creating opportunities for smart systems like smart shelves to take over. RFID tags can attach to various items in the stock, making it easier to view and track with results available in real-time.
This can easily be used to overcome out-of-stock situations that amount to billions of dollars of losses. with automated stock replenishment alerts. This would also promote more appropriate orders and reduce wastage.
Providing insights into consumer behavior. Smart shelves provide for real-time analytics of the way consumers behave, how they move in a store, in which spots they spend more time and how they engage with a certain product on sale. All in all, this results in a more consumer-focused approach of brick-and-mortar retailers.
Providing for dynamic and personalized shopping. Monitoring consumer response in real-time leads to other advantages: with the data collected, retailers can modify their pricing strategy, make promotions customers are truly interested in, increase brand awareness, and improve new product introduction, thus optimizing revenue per square foot. Not bad for the times, when 74% of retailers think that pricing errors lead to increased costs and complexity.
Shrinkage reduction. This problem can be successfully tackled by the smart retail shelving system capacity to provide real-time information about immediate items or asset status. By identifying the last item position, retailers would better identify the potential source of the shrinkage and take necessary precautions.
5. In-store Layout Optimization for Optimal Profitability
In-store layout optimization strikes a balance between the customer's shopping experience and profitability.
Planning your store layout can be tricky. You need to ensure that all the products are right placed and well-aligned with the customer's shopping needs. It may be a case that the most in-demand products are placed at the back while the least popular ones occupy the important front shelves. Alongside this, it is easier to get confused between your idea of important products with what's actually important for customers.
Using IoT aisle analytics software with infrared sensors can help improve the retail outlet's layout. This technology provides further insights into a customer's behavior and their shopping preferences.
6. Supply Chain Optimization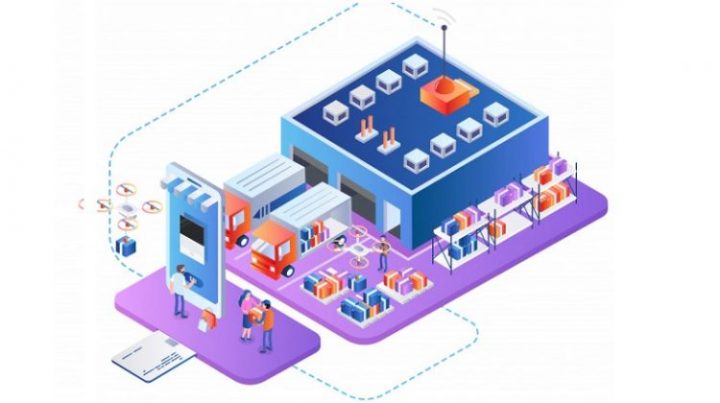 Inventory is the lifeblood of the retail.
However, customers' expectations and changes in business models are challenging the retailers to innovate and operate streamlined inventory supply chains. IoT, with its ability to deliver visibility across shelves, transit, and warehouses, can help businesses achieve high efficiency, cost efficiency, and prime customer experience.
According to reports, the remote asset management market will be worth USD 26.99 Billion by 2021,growing at a Compound Annual Growth Rate (CAGR) of 25.1 percent. The adoption of IoT will be a key contributor to this momentum. By 2021, 70 percent of retailers are planning significant investments in IoT.
Various ways IoT can help retailers streamline their supply chain operations include:
Improved asset-condition monitoring. With smart sensors deployed, retailers can get detailed insights into the inventory conditions including spoilage or damaged packaging, and environmental conditions, including humidity, temperature, and acidity. Not just this, businesses can easily see the cargo state in the warehouse and after deployment. Additional problems can be detected in transit, such as spills, unusual motions, and even the state of the transport medium. This level of visibility directly addresses one of the biggest challenges of the supply chain: ensuring that goods arrive intact and usable.
Improved asset-location tracking. Besides condition monitoring, IoT systems can seamlessly track location at all times. Giving a detailed view of every step of the logistics journey, these systems help to solve problems such as misplaces inventory and lost shipments. IoT systems can also make it possible to track fleet in real-time, enabling a tighter grip on product movement. This enables companies to keep problems like traffic jams and bad weather, unplanned routes and transit modes, and product delay at bay.
Advanced analytics. The unprecedented volume of data that IoT systems generate provides companies with the opportunity to gain specific insights into operations using advanced analytics. Real-time performance monitoring is accompanied by opportunities for predictive analytics. Not only does it empower companies to make more informed decisions than with manual methods, but information can be accessed more rapidly, significantly cutting down supply-chain cycles.
7. Better Inventory Management Enabled with Efficient IoT Systems
Inventory management is a baffling issue for retailers. Inaccurate inventory can lead to great havocs including overstocking, stockouts, and shrinkage, leading to retailers estimating that their current inventories are only 66% accurate. But IoT in retail can automate inventory visibility, thereby solving these problems for good.
Implementing smart inventory management systems based on RFID tags, store shelf sensors, beacons, digital price tags, and video monitoring coupled with image analysis can enhance procurement planning at every level of the supply chain. When the product starts to run out, the system can automatically reorder the necessary items based on IoT data analytics.

Are you retailer who wants to deploy in-store IoT systems?
Matellio can you!
With innovative software products on our portfolio, we are the choice of enterprises of various sizes who want to bring digital transformation to their business. Celebrated as a top software engineering company by our clients, we excel in delivering quality products including web solutions, mobile apps, custom enterprise software, and much more. Experience smooth, agile digital transformation with us. Contact us now!