Cloud Transition Services: A Comprehensive Guide to Key Considerations for Smooth Migration!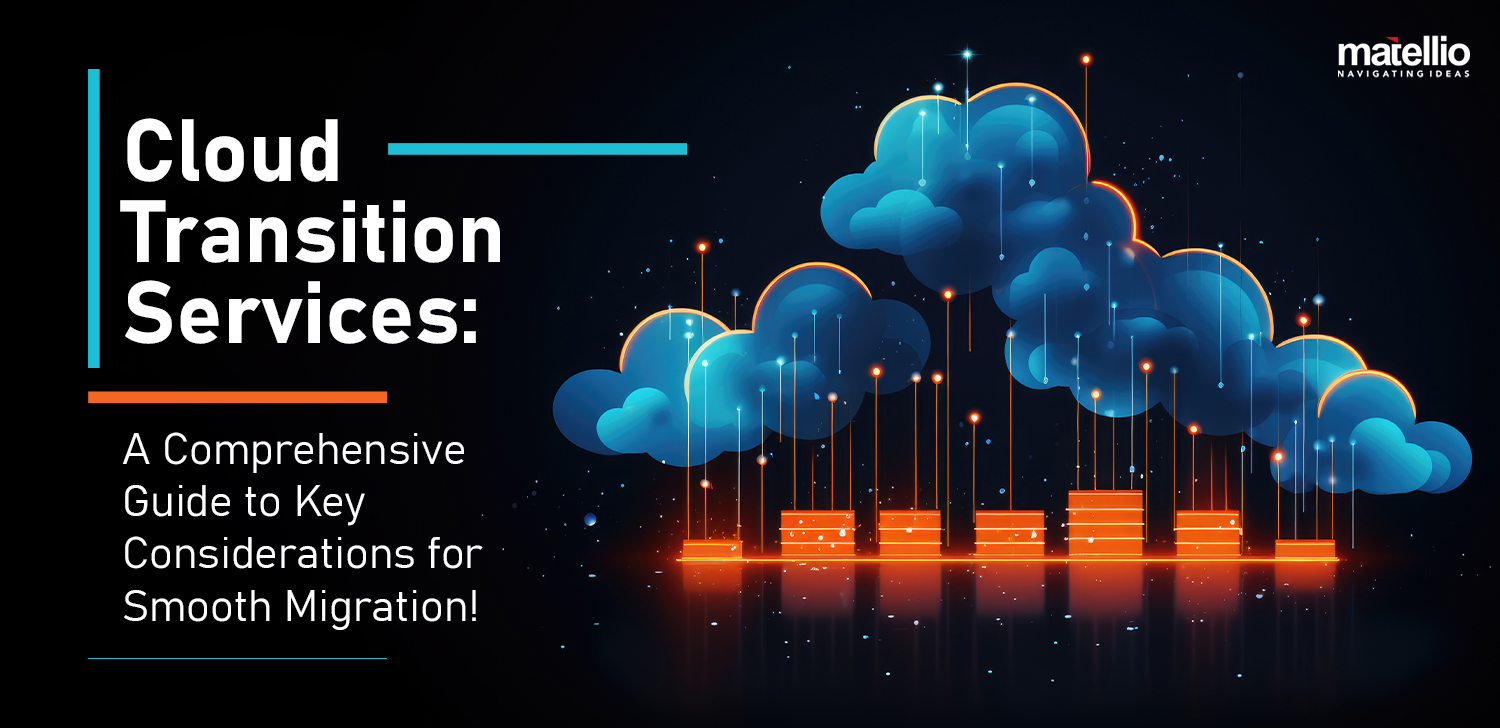 Businesses are continuously looking for methods to simplify processes and boost efficiency in today's fast-changing digital world. One of the most significant developments that has altered business operations is the move to cloud transition services. Any organization wishing to make use of cloud technologies must first develop a cloud migration strategy.
This blog will go in-depth on the crucial challenges and reasons you should think about before starting your cloud integration services.
So, let's get started!
A thorough assessment of existing infrastructure and applications is crucial to

determine

what should be migrated, which cloud model to adopt.

Address security concerns by implementing

appropriate measures

, such as encryption, access controls, and compliance with industry standards (e.g., GDPR, HIPAA) based on the nature of the data being migrated.

Select a cloud consulting partner that aligns with your organization's goals, services, and pricing structures.

Rigorous testing is essential to ensure performance, security, and

compa

the

ility

with cloud infrastructure.
Why Businesses Need to Plan for Cloud Transition?
In today's dynamic business landscape, the adoption of cloud integration has revolutionized the way companies operate. Here are six compelling reasons why businesses are rapidly embracing cloud technology:
Organizations may reduce their operational expenses by more than 35% by implementing cloud services.
In 2022, the North American market's revenue share was 42%.
Cloud Transition Services: The Pathway to Enhanced Business Benefits
1. Unmatched Adaptability and Scalability
Gone are the days of rigid and costly internal IT systems. Transition to cloud services offers unparalleled flexibility, allowing businesses to swiftly adjust their resource allocation based on demand. Whether it's handling unexpected spikes in traffic or planning for growth, the cloud empowers you to respond promptly, saving both time and money. 
2. Cost Efficiency and Reduced Overhead
Managing expenses effectively is a cornerstone of corporate success. Cloud services provide a cost-effective alternative to traditional IT setups. By migrating to the cloud, you can cut down on expensive hardware and maintenance costs of enterprise solutions while also reducing energy consumption. This financial agility enables you to optimize resource utilization, fuel innovation, and redirect funds to critical areas of your business. 
3. Seamless Collaboration and Remote
Work In the linked world of today, businesses has no geographic boundaries. No matter where a team member is physically located, cloud migration services provide simple team communication and cooperation. Employees can collaborate in real-time using cloud-based enterprise solutions, which increases productivity. Additionally, the cloud allows for remote work, guaranteeing continuous corporate operations even in trying circumstances. 
4. Robust Data Security and Protection
It is crucial to protect private company information. Data security is a top priority for cloud service providers, who have made enormous investments in cutting-edge safeguards. Your data is protected from possible attacks via encryption, two-factor authentication, and routine security upgrades. Furthermore, dependable data backup and disaster recovery mechanisms are frequently included in cloud integration services, reducing any unanticipated downtime.
Read More: A Short Guide to Cloud Data Integration Services
5. Access to Cutting-Edge Technologies
A new age of technical innovation is being ushered in by the remarkable rate at which the digital transformation services is changing. Transition to cloud services gives you access to a variety of cutting-edge capabilities, like artificial intelligence, machine learning, and data analytics. Utilizing these technologies can improve productivity, strengthen your competitive advantage, and streamline company processes. Additionally, you learn a lot about how consumers behave. 
6. Championing Environmental Sustainability
Cloud transition services provide an environmentally sustainable alternative in a time when environmental concern is increasing in popularity. You can dramatically lower your carbon footprint by switching to the cloud by doing away with on-site data centers and physical infrastructure. This fits with the expanding client demand for sustainable business practices and positions your organization as a responsible and forward-thinking operator in the industry. 
Moving ahead, let's discuss,
Key Considerations for Cloud Transition Planning!
Businesses nowadays are becoming more aware of the potential advantages of moving to the cloud as technology advances at an unparalleled rate. The promise of increased scalability, digital transformation services, increased effectiveness, and cost savings are made by cloud computing. But starting a cloud migration journey calls for thorough planning and calculated action.  
Let's dive into the main aspects of successful cloud transition services preparation to ensure a seamless and successful transfer while avoiding typical errors. 
1. Evaluate Business's Needs
Assessing your specific company requirements before diving headfirst into the cloud is essential. Think about the difficulties and objectives you hope to accomplish. 
Start by asking yourself the following questions: 
How will the cloud fit with the current company objectives?

 

What specific issues are we attempting to resolve with this transition?

 

What are the demands we have for performance and scalability?

 
Clarifying these issues will help you provide the groundwork for a targeted and successful cloud migration plan.
Read More: How Cloud Services Can Accelerate Your Digital Transformation Journey?
2. Selecting the Right Cloud Model
Three main types are available in cloud integration services: public, private, and hybrid. Everyone has advantages and things to think about. A private cloud gives improved security and control, whereas a public cloud offers cost-effective scalability, like Amazon Web Services or Microsoft Azure. The benefits of both worlds are combined in hybrid clouds. Your budget, budgetary constraints, and data sensitivity will influence your decision. 
3. Evaluating Cloud Technology Consulting Services Provider
Making the best choice for your cloud migration services is crucial and can significantly influence its success. Although there are many trustworthy technology consulting services providers in the market, it's essential to: 
Evaluate the provider's reputation and dependability.

 

Check to see if they provide the documentation for compliance required by your industry.

 

Consider their alternatives for scalability and price structure.

 
As a top provider of technology consulting services, Matellio can assist you in this evaluation process and help you select the cloud provider that most closely matches your requirements.
Read More: What is Cloud Business Intelligence and How It Helps Businesses Grow?
4. Evaluating Security Measures
When transition to cloud services, security is of the utmost importance. You must ensure strong security measures are in place since sensitive data and crucial applications are at risk. You can protect your digital transformation services by using encryption, multi-factor authentication, and regular security audits, among other measures. You can get the know-how you need for a secure transfer by working with a reputable cloud integration service provider like Matellio. 
5. Migration Strategy: Making the Move
A carefully thought-out approach is necessary for cloud migration. Will you choose to "lift and shift" your current apps in their current state? Or will you use this chance to redesign and improve your apps for the cloud? 
Consider: 
What information must be moved, and in what sequence?

 

How will data security and integrity be preserved throughout the migration?

 

Do any older systems require integration with the cloud?
A carefully planned migration strategy is crucial for minimizing disruptions and downtime.
Read More: The Cloud Migration Process: Essentials A Business Should Know
6. Ensuring Data Compliance
You should follow particular data legislation and compliance requirements depending on your sector. 
Implement robust security procedures to safeguard sensitive data.

 

Ensure adherence to data protection laws and industry norms.

 

Create procedures for data governance and access management.

 
7. Managing Costs Effectively
Although the cloud integration services allow for scalability, cost management must be done well. If cloud costs are not controlled, they can escalate. Keep track of your utilization, use your resources the most, and pick affordable pricing options. You can keep track of your expenditure and use cloud cost management solutions to inform your selections. 
8. Ensuring Seamless Integration
Integration of current apps and systems is necessary for seamless cloud migration. Problems with compatibility can cause delays and inefficiency. To ensure a successful integration procedure, use the knowledge of cloud integration service providers like Matellio. 
9. Employee Training and Change Management
Your company's foundation is its workforce. Their preparedness to embrace the cloud is essential for the shift to be successful. Provide thorough training to aid in their acclimatization to new equipment and procedures. Encourage their active involvement in the change by fostering a culture of receptivity to it. 
10. Continuous Monitoring and Optimization
Continuous monitoring and improvement are necessary to maintain your cloud environment's security, effectiveness, and alignment with your company objectives. Review performance indicators often, pinpoint areas for development, and adapt your cloud approach as necessary.

Seamless Integration with Matellio: Your Trusted Technology Partner
A reliable technology consulting services partner might make all the difference as you start your cloud journey. Here, Matellio enters the picture. As a top provider of technology consulting services, Matellio provides expert advice and services to guarantee a smooth and successful move to the cloud. Given their abundance of knowledge and commitment to client success, you can rely on Matellio to be your ally on this transforming journey. 
Matellio excels at cloud integration services in addition to technological consulting. Our specialty is seamlessly integrating different systems and apps, ensuring that your move to the cloud is easy and optimized for optimum effectiveness. 
1. Unmatched Speed and Efficiency
The cloud integration services from Matellio provide your company/business access to unmatched agility and productivity. By seamlessly integrating cloud solutions into your current ecosystem, Experts at Matellio guarantees a seamless transition that causes the slightest disturbance and yields the most benefit. Your business becomes more responsive, simplified, and aligned with your strategic goals. 
2. Comprehensive Data Management
Data is the foundation of every wise business choice. You are given complete data management solutions thanks to Matellio's experts competence in cloud integration services. You receive a single perspective of your data environment by effortlessly linking various systems and databases, allowing informed decision-making and fostering corporate growth. 
3. Improved customer experiences
Customer expectations are rising in the digital era, and individualized experiences are crucial. You can combine customer data and insights with Matellio's cloud integration services, making it easier to provide personalized experiences that can indeed increase customer loyalty and boost revenue. You create enduring relationships with your consumers by utilizing the cloud's capabilities.
Conclusion
Transition to cloud services is no longer simply an option for businesses looking to maintain their competitive advantage and flexibility in the contemporary digital world; it is now a strategic imperative. You can ensure a smooth move to the cloud by understanding your company's goals, assessing service models, choosing the best provider, planning data transfer, and assuring top-notch security. 
Being a premier supplier of technology consulting services is something we at Matellio take great pleasure in. We provide knowledgeable advice and support through your cloud migration. Your move will be quick, efficient, and specifically catered to your needs, thanks to our significant experience as a respected provider of cloud integration services. Let's work together to maximize cloud computing's potential and advance your company.
Get the Conversation Started!
Get the Conversation Started!
[contact-form-7 id="34486" title="Side Form"]