Migrate Your Applications to Cloud With Reduced Risk and Minimal Downtime
Get enhanced security, and qualitative outputs for your business with our professional Cloud Migration Services. Move to a secure and advanced platform with a right roadmap, and workflow model and optimize your cloud migration process with our experts.
Why Your Business Needs Cloud Migration Services?
Having a real-time and secure platform has become a need for the companies in today's digital market, and that's where cloud migration steps in. With our professional cloud migration services you can quickly migrate all your critical apps and servers to a new and advanced environment.
Moving heavy workloads with agility, flexibility, and scalability without affecting your process workflows is one of the primary benefits of our Cloud Migration Services. Minimize the impact of any disaster and step into a completely automated and secure environment with cloud migration services.

GET FREE CONSULTATION
Accelerate Your Cloud Migration With Our Top Services
Enjoy our extensive range of automated services that smoothen your Cloud Migration.
Ready to Migrate Your Data to Cloud?
A Perfect and Cost-Effective Cloud Migration Service is Just a Click Away From You.
Get Started
Why Choose Matellio for Cloud Migration Service?
Discover some amazing benefits that makes us stand out from the competition when it comes to cloud migration services.
Years-Long Experience
We have decades of experience in offering various enterprise services to a multitude of businesses ranging from startups to Fortune 500 companies.
Detailed Reporting
Stay on the top of your cloud migration progress with our advanced tools and technologies along with in-depth reporting methodology.
Migration Experts
We provide users with our seasoned and reliable migration experts that are all experienced in their respective domains.
Data Security
We are completely comfortable with your requirement of an NDA, just let us know in the email and we will help you out with the procedures.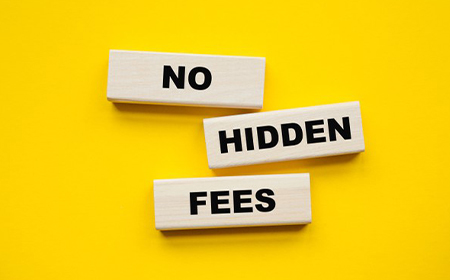 No Hidden Costs
The prices we have our deal with and in the contract are final; you don't need to worry about paying anything more than what we mutually agreed.
Cost Reduction
All our clients have experienced a 60% reduction in their business operational cost after implementing our enterprise services.
Our Portfolio
For every real-world problem, we have delivered software solutions which reflect our expertise in diverse verticals.
Our Flexible Hiring Models
Choose the best pricing models that best fit your business.
Frequently asked questions
We now have an FAQ list that we hope will help you answer some of the more common ones.
1. What are cloud migration services?
Cloud migration services is a robust way of shifting all your applications and data to a secure and advanced cloud platform. Whether it be AWS, Azure, or Google, every cloud migration platform offers some unique and powerful migration tools that smoothens and simplifies the cloud migration process. With cloud migration services, you can safeguard your enterprise applications, and can upgrade them to a more powerful version for better profits and revenues.
2. What are the cloud migration types?
There are basically 6 types of cloud hosting strategies that can be seen during cloud migration. Those are:
Rehosting

Replatforming

Repurchasing

Refactoring

Retiring

Retaining
These six types are also known as the six 'R' of the cloud migration services. 
3. What are cloud migration tools?
Although there are many cloud migration platforms that facilitate transfer of data to cloud, Amazon offers many different types of tools that facilitate smooth cloud migration. These tools are:
AWS Migration Hub

AWS Application Discovery Services

AWS Cloud Adoption Readiness Tool (CART)

AWS Migration Acceleration Program (MAP)

AWS Server Migration Service.

AWS Marketplace.

AWS Database Migration Service.

CloudEndure Migration.

TSO Logic

VMware Cloud on AWS
4. How long does cloud migration take?
Cloud migration service is not time-consuming and often transfers the data in a few clicks. However, the type of service partner you chose impacts your cloud migration process. Hence, it is always best to choose a reliable and experienced cloud migration service provider to make your cloud transfer faster, efficient, and cost-effective. You can consult with our experts to know more.
5. What are the benefits of moving to the cloud?
Real-time access, data security, disaster security, and so on. The list for benefits of cloud migration services does not end with these two or three benefits. Here are some more that you can get by adopting cloud migration services for your business.
Faster Deployment Times

Enhanced Security Features

Less Infrastructure Complexity

Built-in Status Monitoring

Automatic Backup and Logging of Key Metrics

Greater Flexibility and Collaboration
6. I need cloud migration services for my current project. Can you help?
Sure, we can help you with the cloud migration for your current project. For that, your firstly need to fill our form below, and then our experts will analyze your business needs. Once you have consulted with our cloud migration experts, our team will begin your cloud migration process in no time. For further information you can connect with our business analyst.
7. How much does Cloud Migration Services cost?
The cost of cloud migration services depends largely on the technique you are using. In addition to that, the cost of cloud migration also depends on your business requirements. For instance, if you only want to migrate your existing software data to a new system, then the cost will be minimal depending on the type of your data. However, if you also want to upgrade your technology stack, and server, then the cost will vary depending on your needs. Hence, the best way is to consult with our experts and get an accurate estimation for your cloud migration service.
8. What are Cloud migration tools that you use at Matellio?
We at Matellio have access to the best cloud migration tools that ensures an efficient and faster migration of your data to cloud platforms. With these robust migration tools, you can seamlessly transfer all your data and other software components in an advanced and secure environment that is suitable for your business. Tasks like upgrading the technology, server, hostings, and analyzing the data for target location can all be achieved with migration tools.
9. What other data migration services do you offer?
Besides cloud migration services, we offer many other types of data migration services like:
AWS Database Migration Services

Microsoft Azure Database Migration

Salesforce Data Migration

Website Migration Services

Software Migration Services

Application Migration Services

Website Migration Services

Enterprise Migration Services
You can contact our experts to know more about our data migration or any other type of services for your enterprise.
10. Can you help me in developing a custom enterprise application?
Yes, at Matellio, you can migrate or can create any type of custom enterprise application as per your business needs at cost-effective prices. With our certified and professional experts, we make the software development a piece of cake for all our clients. Right from mobile applications, to ERP solutions, and even on-demand applications, we have a complete suite of custom services that can upgrade your existing business to a more advanced platform. You only need to fill our consultation form below, and our business analyst will handle everything thereafter.