How Conversational AI is Revolutionizing Retail for the Future?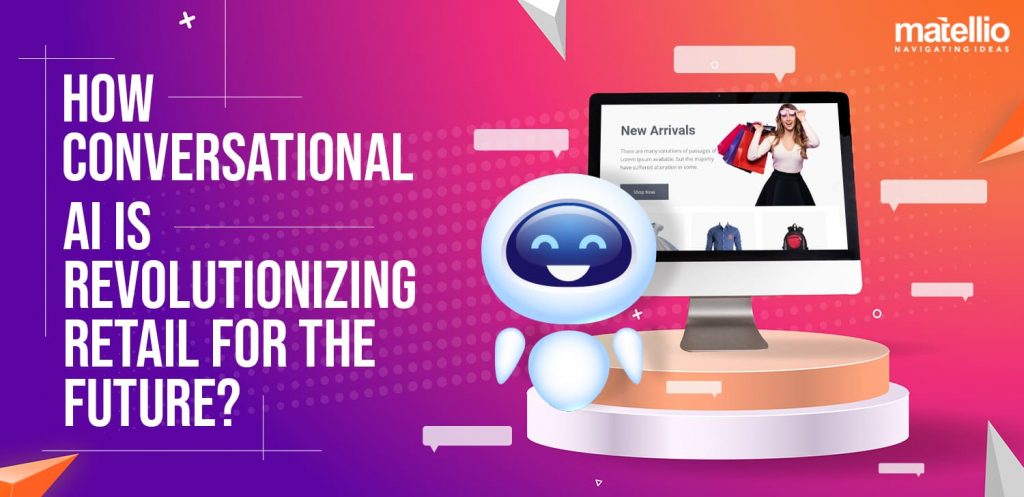 Conversational AI is revolutionizing the way people interact with machines. In retail, especially, it is completely transforming the shopping and support experiences for customers. As per Juniper research, the retail sector has the most to gain with the implementation of conversational AI, with as much as 70% of AI-based chatbots functioning in the only retail sector. By enabling machines to understand and respond to natural language, conversational AI has made it easier for people to interact with retail brands. But before we dive deep into how it is doing so, let's learn a little more about the technology itself.
By 2023, up to 70% of conversation AI chatbots will be functioning in the retail sector.

 

AI-based chatbots are estimated to save retail businesses more than 8 billion USD annually.

 

To implement conversational, retailers can utilize develop applications like virtual shopping assistants, delivery tracking in natural language, and automated product description generators.

 

With 24/7 support and personalized experience, retailers can improve their customer acquisition and retention by up to 80%.
What is Conversational AI?
In simple terms, conversational AI is a sub-domain of Artificial Intelligence that enables machines to simulate human conversations. It uses natural language processing or NLP to enable machines to understand, interpret, and respond to user queries and conversations. By leveraging AI and NLP, conversational AI helps organizations automate customer service, personalize user experiences, and enhance other operations that requires conversations in natural language.
How Retailers are Implementing Conversational AI?
Owing to its ability to imitate human conversations, conversational AI in retail has the potential to help businesses in the industry in a variety of ways. Here are some of the more popular ways AI is assisting retail businesses in enhancing their services-

AI-Enabled Chatbots
AI-enabled chatbots provide retail customers with an easy and efficient way to interact with the company. They can use it to have their questions answered, receive personalized suggestions on products and services, and even directly make purchases. By leveraging AI technology, chatbots can be trained to become more conversational, providing customers with a more natural and engaging experience. With time, these AI-enabled chatbots will become capable of engaging in more complex conversations as well. For example, they may ask complicated questions about their order, and the chatbot would be able to gather the context just by adding references to the historical conversation and the type of question asked by the customer.
Holiday Promotions
A conversational AI in the retail application can simply pop up a season greeting to the customer. Upon clicking the message, the customer can be presented with a personalized greeting, products, services, and discounts. Since greetings are such a safe way to get the customer be interactive on the website, it can improve engagement rates effectively. Plus, since the chatbot is already empowered with AI, creating product and service recommendations would be no additional task for the bot. It can pick out the references on the holiday shopping lists of similar customers and present the suggestion to the customer seamlessly.
Virtual Shopping Assistants
Virtual Shopping Assistants are the digital version of conventional shopping assistants who help customers shop online. They provide personalized advice, product recommendations, and help customers complete purchases by showing them the navigation around the online store. Powered by NLP, they are machines or computer programs that simulate human assistants and respond to customer queries and requests in natural language. They can be integrated with voice technology as well, such as Amazon Alexa and Google Home, to make shopping even more convenient.
Also Read: An Ultimate Guide on Virtual Shopping Platform
Promote New Products
Often new products need too much of a marketing budget to even get discovered by the targeted audience. However, with conversational AI in retail, an established brand can easily promote their new products and services, without seemingly looking at all promotional about it. In fact, by simply entering the product launch in the conversation while helping customers with a relevant issue, can help businesses improve the conversion rates and sales for newly-launched offerings.
Demand Prediction
Conversational AI, in combination with behavioral analytics on website, can be used to predict demand in retail. The chatbots on the website can analyze customer conversations. They can also be used to collect customer feedback, which can then be analyzed to identify areas where demand is likely to increase. In addition, conversational AI can be used to analyze the behavior of customers on social media platforms to uncover upcoming trends and potential demands. Insights from review platforms, product launch comments, etc., can also be used to track customer sentiment and predict the demand rates of a newly launched product or service.
Empowered Customer Support
Typically, the more customers a retail store has, the more representatives and agents they will need to support them. But this model isn't very scalable. One option is to narrow down the path to actual customer representatives through the FAQ menu via chatbots and telecommunication channels. However, this takes away few points from customer satisfaction. By using retail software development services to implement human-centered and customer-focused conversational AI, companies can maintain superior customer experience and yet scale their offerings seamlessly. These AI-enabled chatbots can solve common issues like password resets, payment questions, and shipping concerns in natural language. This allows your customer support agents to focus their time on more complicated tickets instead, of taking care of the customers who need their help the most.

Personalized and Targeted Marketing
With every query to an AI-enabled chatbot, the retail business gets the opportunity to gather more data about the customer. By analyzing this data, companies can gain invaluable insights into customer behavior and devise more targeted marketing strategies. They can also use this information to tailor their content as per customers' tastes and make product recommendations more relevant. Sentiment analysis on these conversational AI in retail toolkits can also help retailers formulate their intent and messages towards the customers, to help them retain more customers, increase average order value, and earn more referrals through targeted messaging.
Simplified Delivery Tracking
Conversational AI in retail can be used by customers as a simplified approach for tracking their delivery. By using natural language processing, customers can ask questions about their deliveries and receive accurate and up-to-date information in response. They no longer have to pick right options from the chatbot menu, navigate through the website, or fill up a form with a tracking ID. They can simply ask the conversational AI tool about the delivery status oof their order, and the tool will pick context from the conversation itself to fetch the appropriate information from CRMs and other third-party tools.
Automated Content Generation
With conversational AI, retailers cannot only improve their customer services, but they can also improve the content on their respective websites as well. ChatGPT, a popular conversational AI tool can be used to generate unique and effective content. If you can find a conversational AI developer who can build such a similar tool trained just on your niche, you can easily use it to generate grammatically and technically accurate product and service descriptions. You can have your custom tool trained on high-quality content to improve your conversion and engagement rates as well.
Order Processing
Retail business can leverage conversational AI tools to accept orders in natural lanuage. Customers can simply chat with the bot to input their personal information such as name, phone number, billing address, and payment method, and the product or service they want to purchase. These bots can then fill up the customer checkout form to place the order successfully. In future, this will enable brands to move their services and offerings to smart virtual assistants to further simplify the shopping experience for its new-age customers.
Also Read: Enterprise AI: Driving the Business in Future
Benefits of Conversational AI in Retail
Using conversational AI in retail has numerous benefits for both businesses and customers. It enables businesses to reduce costs, improve customer service, and increase sales. Customers benefit from quick, accurate responses and personalized experiences. Here's a more detailed description on how conversational AI is benefitting retails businesses of all scales.

24/7 Support
Chatbots and voice assistants can provide round-the-clock assistance to customers, unlike human agents who need occasional rest. This enhances customers experience by getting them immediate and accurate help. Retailers, too, benefit by reducing the need for customer service staff for every little query, saving the human employees to focus solely on more complex tasks.
Reduced Costs
Conversational AI in retail can be a great asset to the businesses, as it can save them a tremendous amount of money and time. Chatbots alone are estimated to save businesses more than 8 billion USD annually. Furthermore, providing support teams with the necessary tools to do their job properly and give customers a satisfactory experience will result in happy customers and decreased cost per acquisition.
Increased Loyalty
With enhanced and quick services through conversational AI, brands can easily establish the fact that they value their customers. Customers too can see that they are being valued and heard by the company. This is the cornerstone for fostering consumer trust for the organization. This ultimately results in improved brand awareness and customer loyalty and eventually improved average revenue per customer.
Improved Data Analytics
It's a well-known fact that as much as 80% of customers would buy from a company that provides them a tailored experience. To leverage this insight, many businesses have been trying to utilize personalization in their marketing strategies. They would track consumer behavior by pulling data from their websites and the landing pages. However, most of them leave one stone unturned in their efforts for achieving utmost personalization. They do not collect unstructured data like reviews, social media posts, comments, and chatbot interaction, leaving huge dataset with huge potential. With conversational AI and NLP, they can easily translate this data to uncover more insights and offer truly personalized experience to their customers.

Conclusion
Conversational AI in retail is among the most exciting technologies that are revolutionizing the industry's future at a great pace. It allows retail businesses to provide automated personalized offerings, real-time customer service, and humanistic shopping experiences to their customer, helping them earn customer trust effortlessly. Similarly, by reducing the load on customer support services, conversational AI offers huge cost savings for retailers.
If you're interested in implementing conversational AI for your retail establishment as well, to reap all its benefits, all you need to do is book a free consultation with our experts. Matellio is a leading AI development services provider, with proven specialization in retail solutions. We understand the cryptic details of the industry and know how competitive the market has become. Our cost-effective and futuristic solutions with conversational AI will help you uncover many growth opportunities for you retail business, making it future-ready with an edge in competitiveness. 
Get the Conversation Started!
Get the Conversation Started!
[contact-form-7 id="34486" title="Side Form"]