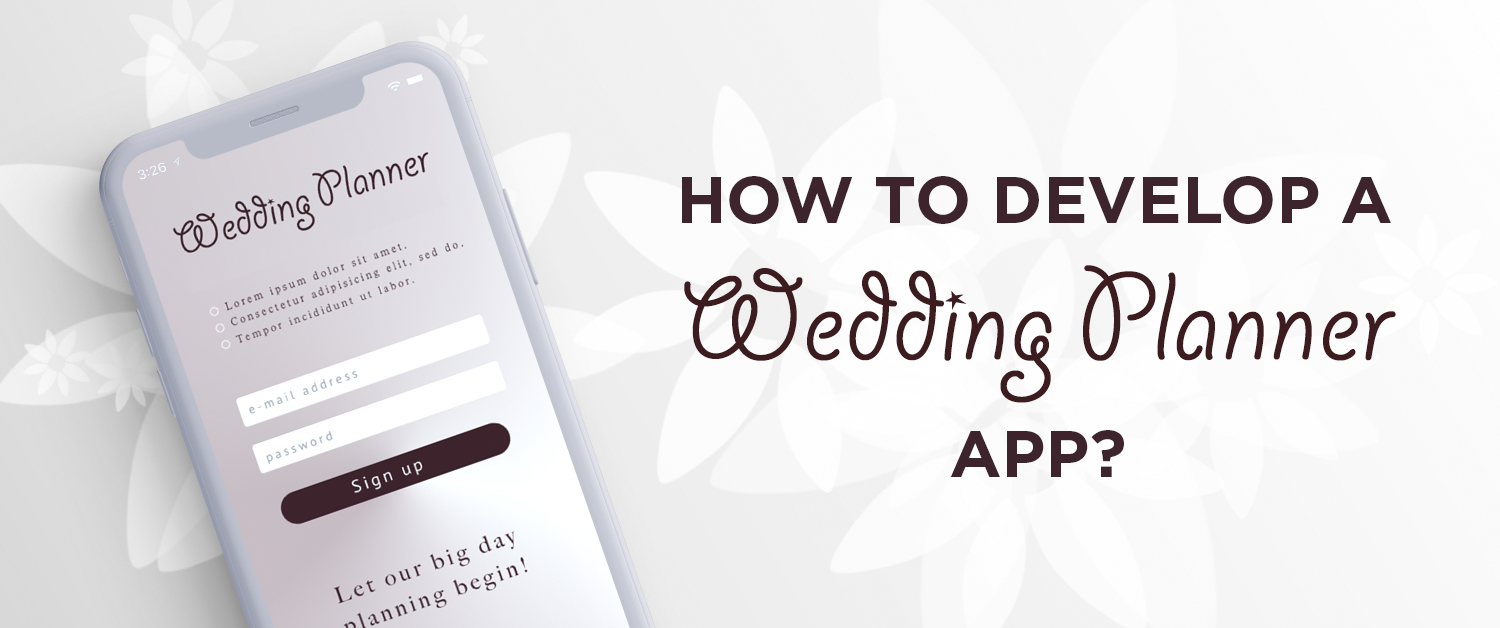 Weddings can be amazing!!! But planning them can be exhausting. After all, there are a plethora of things to take care of, lots and lots of planning to take care of. This makes the entire process way too chaotic. Of course, unless you are into event and wedding planning business.
With more and more things that keep adding themselves up for the chaos, we are only left with an option to take care of the basic preparation during the lunch hours, weekends, and the mini-breaks we hardly manage sneaking from our schedules. But how about having an ally by your side? Someone who is present with you 24/7 and helps you keep track of all the stuff. Priceless, ain't it?  
And that's where our appreneurs got an idea of developing a wedding planner mobile app. If you are one of those who look forward to venturing into the era of mobile app development with wedding apps, congratulations, you have landed up on the right page.
In our comprehensive guide on how to develop a wedding planning mobile app, we'll help you figure out what makes the marketing promising for your growth, how can you pursue with the idea, what options can you choose from and how, and a lot more.
Let's dive in to know better!!!
What Makes Wedding Planning App Development A Better Choice?
Talking in terms of users, of course, the power of mobility is incredible. Helping you reach out to the required with the ease and convenience without even having to leave the comfort zones of your home, is something no one can ever hate. And when it comes to the tedious job panning the weddings, mobile apps simply act as the cherry to the cake.
According to TripSavvy, every year an average of 2.4 million weddings are held in the USA. Well, this whopping number is not just the thing where the rewards come from. It is also in the fact that taking up help from digital solutions, brides and grooms now prefer to do 83% of the planning online. Of these, the majority share happens to be that of smartphone/tablet users (42%).
Additionally, couples are more inclined to using technology throughout the wedding journey, be it sending invites, create custom designs, communicate with vendors, sending calendar invites, and a lot more. 
Not only this, wedding planner apps and website happen to be the topmost source for vendor discovery.
Entrepreneurs looking to develop a wedding planning mobile app basically are now brainstorming more than ever to offer lucrative planning solutions to help users plan their weddings. These features mainly include setting budgets, finding vendors, and keeping track of the solutions.
With an increase in the number of tech-savvy users, this industry offers profits not only to  the couples but also to the ones looking to invest in wedding planner app development.
What are Popular Wedding Planner Apps to Take Inspiration From?
#1. Wedding Wire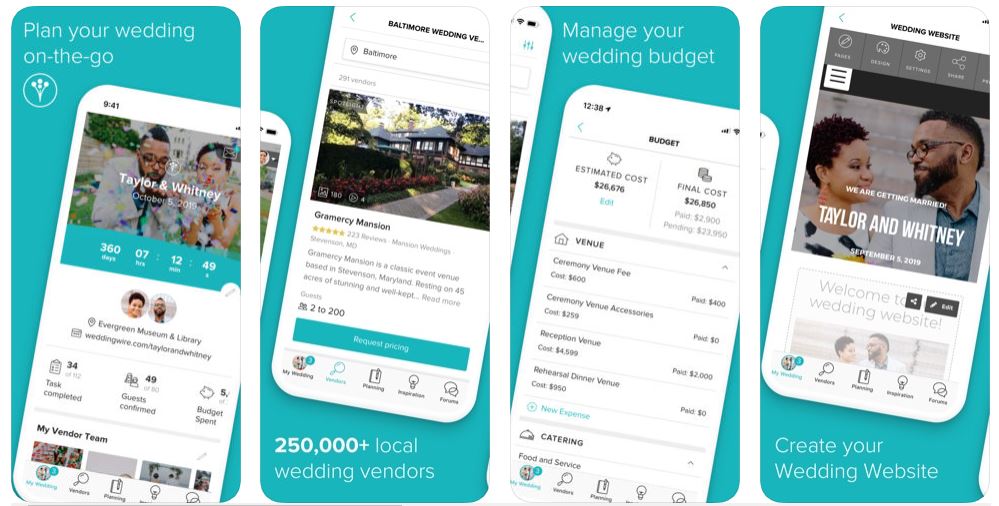 The first one on the list of popular wedding planner apps is Wedding Planner. All you need is a few minutes and your personalized wedding website will be up and live. Once you are done setting up an account, the website offers you with awesome deals based on your location and wedding venue.
With the extensive range of planning options, Wedding Wire also offers you with the features like comprehensive schedule, post-nupital reminders, wedding photo updated, useful articles and how-to(s). Additionally, you can relish the features of registry management as a perk.
#2. The Knot Wedding Planner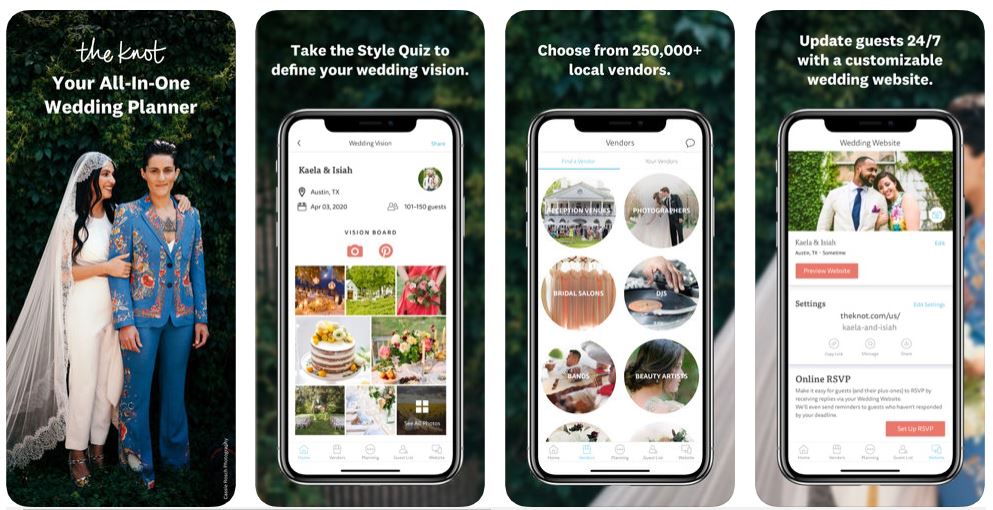 The app takes you through a series of questions that requires you to answer your engagement date, wedding date, budget, number of guests, etc. to get you curated deals from nearby vendors.
With The Knot, you can have your wedding website ready for yourself in just a few clicks. It also lets you choose great aesthetic themes for your website to make it great all the more. It also features some ever in demand functionalities like registry management, guest list management, sharing wedding stories, besides many others.
#3. Wedding Happy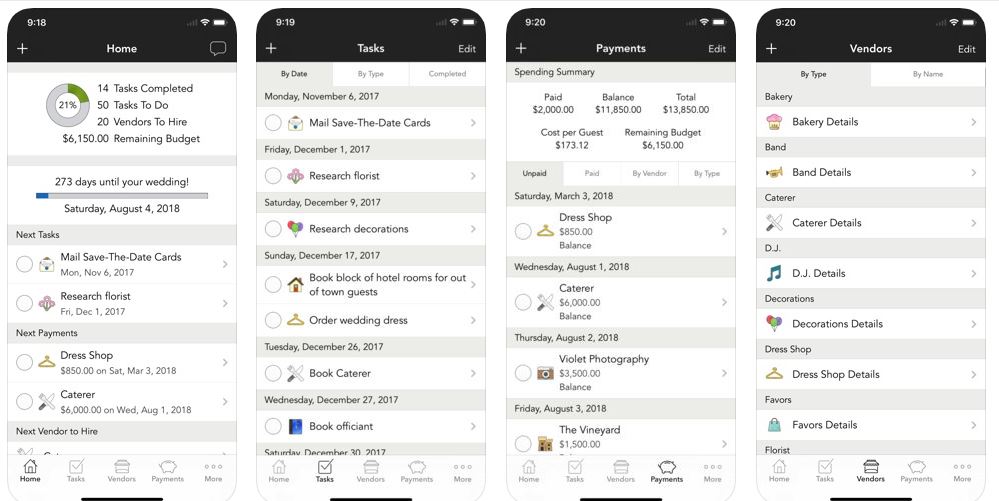 A free mobile app available across AppStore and Google PlayStore, Wedding Happy is aimed at making wedding planning easier than ever for you. You can also set and send reminders to other users using the easy to use mobile application. Serving as a great schedule and to-do list, the app offers calendar function as well. The range of features also extends to vendor tracking, payments, etc. The biggest benefit of using Wedding Happy is its offline availability.
#4. Appy Couple
Appy Couple boasts itself as a wedding hub for your guests as well as you. It is a dynamic app that takes into account comprehensive wedding sharing needs.
The app includes features like:
View details about the events you've been invited to and RSVP

Stay updated on any changes in schedule or accommodations

Make travel arrangements and coordinate transportation

Find out where the couple are registered or what to gift

Share pictures before, during and after the big day

Socialize with the bridal party and other guests (hey, you never know!)

Toast the couple with virtual champagne or leave a message in the guestbook
What are the Types of Wedding Planner Apps?
Shoot up your query to look for best wedding apps across the region and you'll realize that the world is already full of various types of mobile apps to choose from. Starting from the games, checklists, invitation makers, planning and countdown widgets, lookbooks. Makeup, party themes, and lots and lots of other options, you can simply download an app for EVERY thing. If you are looking for inspiration, here we have listed popular wedding planner app categories to help you out:
#1. Planning Apps
Planning, well almost everything can be pursued only with a strong plan. These apps help you plan your special day with smartness with an array of features like to-do lists, schedule management. Checklists, budget planning, discovering and hiring vendors, preparing guest lists, and a lot more at the tip of fingers.
#2. Countdown Apps
Journey to your wedding day is as exciting as living it. You can make this transition exciting than ever with the help of countdown mobile apps. With effective use of fancy frames, breathtaking backgrounds, and many more add-ons, these help you keep the fun alive through widgets.
#3. Checklist Apps
As we said earlier, wedding planning is chaotic and with chaos come the chances of being forgetful about petty things. Not only this, sometimes we tend to miss out critical aspects. Imagine having prepared a list of guests and the messing it all up by losing a few pages. Painful it is. But no worries anymore. Thanks to Checklist mobile applications that let you keep a track of big as well as small things while ensuring that you don't miss the fun.
#4. Guest List Apps
Well, yeah checklist apps were doing pretty amazing that way but then we thought probably users would love dedicated apps as well. And that's why mobile app development teams came up with the amazing concept of the guest list apps. WIth intuitive applications serving in their realm, some of them also let you create customized ecards online on the go.
What Basic Features Make it to the Must-haves for Wedding Planner App Development?
Features of User-Facing Mobile App
Registration and Social Sign Up

Log In

Vendor Discovery


Venue Discovery

Intuitive Search for Specific Vendors/ Venues/ etc.

Shortlist preferred options

Smart filters with parameters like wedding dates, service type,

View Supplier profile

Review suppliers

Check their reviews and ratings

Checklist management

Custom suggestions in terms of checklists

Budget management

Guest list management

Online RSVP for guests

Wedding albums

Vendor/ Profile Sharing options

Email functionality

Wedding countdown
Features of Vendor-facing Mobile App
Registration and Social Sign Up

Log In

Manage details

Set availability

Set booking goals

Manage bookings

Manage inquiries

Set availability preferences

Membership plans

Receive customer reviews

Reply to customer reviews

Export various analytics reports

Alerts and notifications
Features of Admin-facing Mobile App
Login

Manage customers

Manage vendors

Manage category/ subcategory

Manage checklist

Manage customer reviews and ratings

Manage membership packages

Manage CRM

Manage wedding styles

Manage locations

Manage albums

Manage notifications

Content management system
What Advanced Features will Make Your Wedding Planner App More Amazing?
Here is the range of advanced features that will add value to your wedding planner app.
#1. Social Media Integration
In the age of social zombies, do you think you can really avoid social media and still excel? We doubt you can. And so, the first one in our list is social media integration. From enabling social sign up options to helping the vendors get insights into potential leads, this integration can be rewarding for you. Besides, you can also let your users relish great features like sharing images and wedding schedule directly on social media platforms.
#2. Payment Gateway Integration
Digital era calls for significant aspects being digitalized and payment happens to be one of them. Don't forget to include convenient payment options including all the possible combinations like net banking, credit cards, debit cards, etc. Alternatively, you can get develop payment solution or opt for ewallet app development to make it easier all together.
#3. AR/ VR Features
Visiting venues before making decisions is superb, but what if you really can't opt for it given the time and availability restrictions? Bothersome on a whole. That's what the target users would feel. And that's why the third one our list is to include AR/ VR features. Kick of the latest technology with the innovative mobile app development expertise can help your users enjoy a virtual tour to the venues and do a lot more.
#4. In-app Chat Conversations
Imagine having to browse through the list of vendors and service providers, and then all you get is their contact details making it all the more effortful. On the other hand, imagine being a vendor and while you look for prospects all you get is contact details or in case the user has hidden it, not even that. Can you really think of conversion chances here? We know you don't want to make your users suffer through this and so in-app conversation features like integrated chat dashboards, etc. is a superb thing to look up to.
Bonus Read: How Much Does it Cost to Develop An App like Whatsapp?
#5. Calendar Integration
Yes, when you have events scheduled, you would definitely want all the invitees to be a part of it and make it to your dream day. That's how calendar integration will help you. You can mark the schedule in the calendar and also send the users digital invites. Not only does it make your job easier, but also help you keeps the excitement quotient up.
#6. Push Notifications
A user browses through the list of vendors via the wedding planner app while shortlisting the promising choices. Due to time availability or other challenges, he missed out the bookings. Now that one of the stores is nearly occupied, the user receives a push notification informing him of the same. Users love this idea and so will you when you see the engagement rate increase and popularity of the app multiplying. This is why we recommend adding push notifications to your app.
#7. Automated Guest List with Contact Synchronization
Yes, creating a guest list is fun but not when you need to invite over 1000s of guests. Here is where automated options come handy. Giving your user liberty to synchronize contacts with the app will help the users amazingly.
#8. eCommerce, coz It's Everywhere
Weddings and shopping is an inseparable combination. With so much to do ranging from wedding trousseu, footwear, and multiple things from the bride and groom's wardrobe, this can be a truly tedious thing to do. With the integration of eCommerce to the wedding planning will help you take the burden off the user's shoulder.
Bonus Read: The Ultimate Guide to Taking Your Business Online with eCommerce Website
#9. Stories
Living stories of a great experience is incredible and so is sharing them. Enabling your users to talk about their collaboration with you or with various vendors will not only keep you connected with them but also increase the popularity. And who knows, you just earn another business relationship from someone who read the story. Word of mouth marketing works indeed.
#10. Nearby Options
Nothing can be as demanded as a list of nearby vendors when you are looking to give your shopping spree a break as soon as possible. That's why how about helping users get to the nearest places at ease. Locate these places will give them a quick relief and you, their love.
How to Develop a Wedding Planner App?
Now that you are done planning up the features of your mobile app, you need to partner with an expert like Matellio who can fine-tune your idea to exploit its maximum potential. This would need a great combination of business analysts who have been into the industry and understand what users would love mobile app designers and developers and of course resources skilled at ASO. On that note, how about partnering with us? Request a quote now and get your journey started.