Top 7 Technology Trends for Healthcare App Development
Updated on Feb 14th, 2022
Ever since the number of smartphones spiked, mobile applications have made their way through our lives phenomenally. One of the industries that have been affected is that of healthcare.
According to one of the reports, there are over 165,000 mobile health apps on the market. The number is clearly double to that of over past two years. While almost two-thirds of the apps focus on general issues like fitness, lifestyle & stress, and diet, the rest of them are custom made for specific health conditions. Statistics reveal that global market which valued about 2.4 billion US dollars in 2017 is expected to reach 11 billion dollars by 2025. Inspired by terrific growth, many startups have taken up to make it big in the healthcare app development. If you are one of them, here are some of the trends for you to consider.
Top 7 Technology Trends for Healthcare App Development
1. Mobile and Cloud-based Healthcare Support
2. Improved Telemedicine
3. Internet of Things
4. Artificial Intelligence
5. Augmented Reality
6. Blockchain
7. Electronic Health Record System
1. Mobile and Cloud-based Healthcare Support
Mobile health has the potential to improve overall healthcare ecosystem by enhancing efficiency, communication, costs, and quality of service. There are more than thousands of mobile applications available to be used by the end users and healthcare professionals. While some provide you with fitness tracking, lifestyle monitoring, and diet & nutrition analysis, others help you follow fitness goals. The remote accessibility of the services and access to cloud-based services is one of the most amazing uses of technology. It makes the information accessible for users regardless of the time and location. Healthcare industry also leverages cloud-computing to offer some of the most significant benefits to the users. Healthcare mobile apps make it easier for users to monitor their health and keep track of related issues. Tech giants are continually striving to integrate the mobile app technology with healthcare ecosystem to make the services conveniently accessible.
For example, healthcare service addition in upcoming iOS update will help patients to get reports, prescriptions, and assistance via apps. Not only does this help patients, but also enable the doctors to access the patient records and locate their resources on-the-go. The growing mobile health is expected to reach a total market size of almost 60 billion dollars by the year 2020 (Source).
2. Improved Telemedicine
Telemedicine is the application of telecommunication technology like phones and computers to provide clinical services to patients over long distance. It enables the medical practitioners to provide services without traveling miles through phone calls, emails, mobile app, and video chats. It smartly addresses problems like medical professionals' shortage and healthcare facilities. With telemedicine, smaller hospitals in rural areas can now provide intensive care services via remote patient monitoring systems. Homebound patients or ones suffering chronic ailments can use telemedicine to share realtime medical information with physicians under emergency conditions. It also helps the patients, service providers, and insurers to save on the costs. Moreover, the patients do not have to travel a long distance to gain access to best-in-class healthcare services.
Despite certain challenges, the critical elements of the healthcare ecosystem are turning towards telemedicine with more than 60% millennials supporting it. While enabling the right solutions to different issues faced by healthcare providers, it is expected to inspire great healthcare innovations in years to come.
3. Internet of Things
Healthcare industry has been one of the earliest adopters of the internet of things (IoT). Integration has served as a great way to improve the quality and effectiveness of the service. This is, in turn, driven high value for the patients who are elderly, affected by chronic conditions, and those requiring constant supervision.
Statistics suggest that expenses in the healthcare IoT solutions will touch $1 trillion by 2025. Internet of things (IoT) does not only has the potential to keep the patients safe and healthy, but also improve the service delivery standards. Real-time monitoring through connected devices can help medical practitioners to save lives in the event of a medical emergency like diabetes, heart failure, asthma attacks, etc. IoT devices collect real-time data enabling reports and alerts to give an idea about the patient's conditions regardless of the time and place. With IoT-enabled mobility solutions in healthcare, remote or rural patients can access medical assistance without traveling far. IoT, thus, changes the way facilities are delivered to the healthcare industry. It is expected to see a continuous rise in the trend.
4. Artificial Intelligence
Increased availability of the healthcare data and big data analytic methods made it possible for the AI techniques to integrate with the healthcare industry successfully. AI techniques have inspired great discussions with its integration with the healthcare ecosystem. It is also believed that AI doctors will soon assist medical practitioners. AI empowers the physician to make better clinical decisions and help with better judgment in the healthcare. Using advanced AI algorithms to access relevant data from the large volume of healthcare data, it enables efficient application of that data to provide adequate healthcare services. An AI system helps physicians to access the latest medical information from journals, textbooks, and clinical practices to ensure proper patient care. Moreover, AI-powered systems can help reduce the chances of diagnostic and curative issues. Additionally, the AI system extracts relevant information from the patient repository to assist in making real-time inferences for health risk alert and health outcome prediction. In a nutshell, AI tools can support the medics to provide faster service, diagnose issues efficiently and analyze data to identify health problems accurately.
5. Augmented Reality
Emerging names in the technology realm such as AR and VR have been inspiring significant changes in the pharma industry for a few years now. Both the technologies have been showcasing tremendous potential to help the patients suffering from anxiety to allowing trainee doctors to practice critical procedures. They let the pharma companies enhance the patient's health by visualizing the complex products. This, in turn, creates a scope for the patients of any age to engage and educate themselves. Besides, augmented reality in the area of healthcare can bridge the education gap thus eliminating the safety issues. Integration of augmented reality in the education of healthcare professionals is also one of the breakthroughs. Medical students are now able to interact with the 3D representations of the body more intuitively. They are now able to access the data and education information without compromising with the critical tasks they are pursuing. Practitioners can leverage the integration by understanding the administration of specific treatment more effectively. Augmented reality does not only prove beneficial for the patients and medical practitioners but also aids the sales in the healthcare industry. They help the sales representatives to demonstrate the effects of a drug on a particular organ. Application of augmented reality in the pharma industry is making lives easier for the professionals as well as the patients. As AR continues to strive for excellence with the help of right innovative partners, the industry is expected to transform for better soon.
6. Blockchain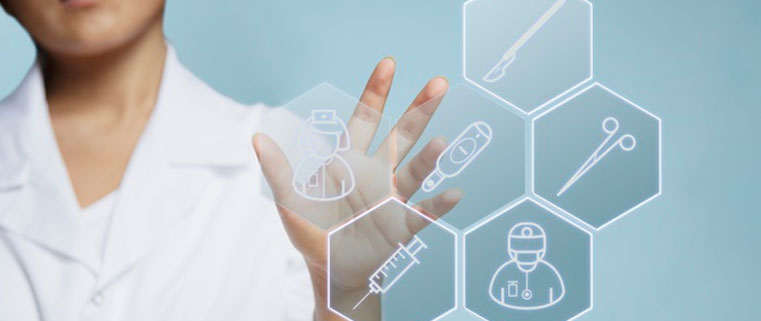 Despite the high cost of implementation, blockchain technology has taken the healthcare ecosystem by storm over the past few years. It has huge potential to transform the healthcare industry for better. While keeping the patient at the centers, it enhances their experience through high-end security, privacy, and interoperability of health data. It provides a new model for health information exchange by making eMedical records more efficient, disintermediated, and secure. Also, it helps to maintain the integrity of medical records, wherever it is pivotal. Medical records and clinical trials can be written to blockchain, when generated and signed, to ensure records cannot be manipulated. Moreover, the integration of blockchain technology can also help healthcare organizations to maintain patient loyalty. It enables them to offer rewards on specific criteria like contributing to the clinical trials and clinical research. Blockchain technology can also help with the streamlining of medical records and enable secure data sharing.
7. Electronic Health Record System
An EHR or electronic health record can be referred to as the digital version of the patient's paper chart. They are real-time patient records that enable authorized users to access the information instantly and securely. Such charts contain the patient's standard data that helps the practitioners to provide immediate help when required. It includes an extensive range of patient's data starting from health history and diagnosis data to laboratory test results. Thanks to all the offering, EHR has been gaining great popularity and will be booming for upcoming years as well.
Conclusion
Medical science and the healthcare industry has been progressing with every day. Patients can now access the advanced treatments for most of the ailments and recover faster. Healthcare applications make it easier for users to leverage these benefits and improve the quality of living. The apps that stay updated to trends will no doubt make it big in the market and win the trust of tech-savvy users.
Get the Conversation Started!
Get the Conversation Started!
[contact-form-7 id="34486" title="Side Form"]