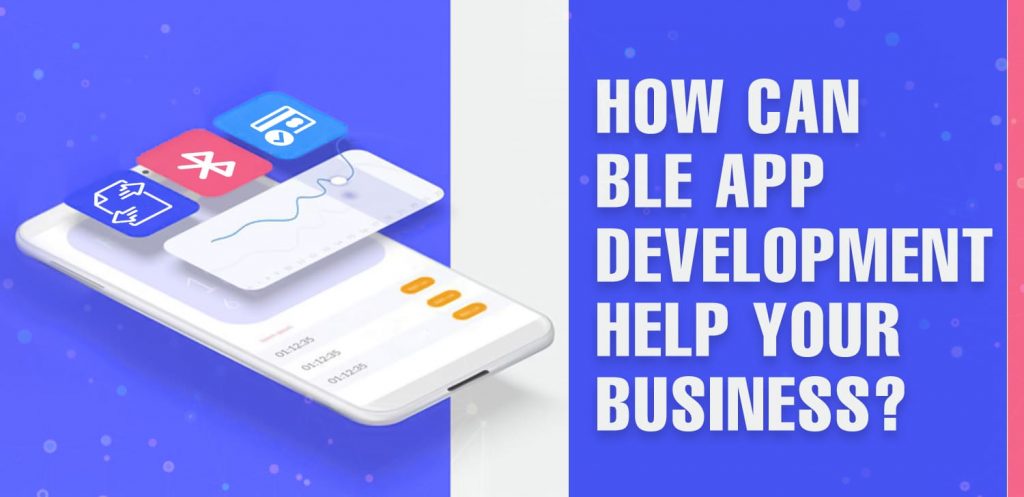 Short-range communications have been revolutionized by Bluetooth technology in the initial stages of its development. Few years down the lane, Bluetooth low energy applications came in to picture; since then, Bluetooth is being used in various sectors for multiple purposes apart from short-range communications. Bluetooth facilitates wireless data transmission in the most ergonomic way and is ideal for asset tracking and indoor navigation development. 
Although the data transfer between two BLE beacons or devices looks direct and straightforward, but there's a lot that happens in-between. BLE app development has been on the rise and has helped businesses to grow and increase their ROI. Industries are benefitting greatly from the implementation of this technology. Various sectors are using Bluetooth low energy applications to automate and enhance their production and efficiency. Healthcare is the only sector that has benefitted the most from the implementation of BLE technologies. Various companies have started their own Bluetooth software development to enhance their in-house efficiency. 
BLE app development has changed the industries for good in various ways. In the last decade, there is a massive surge in demand for Bluetooth app developers. You can transform your business and increase productivity and ROI at the same time with the help of Bluetooth low-energy applications. Here are some of the points that describe the growth of businesses due to the implementation of Bluetooth technologies. 

Seamless Payments
Who doesn't admire a faster checkout? Everyone loves an automated process, and when it comes to faster payments and ditching those long queues, Bluetooth low-energy applications have simplified it for once and for all. With the help of BLE beacons, stores are being automated where no one has to wait in line for payments. Users can just come in, pick what they want and just leave. The beacons come into action and help them choose and pay for the items in the cart. These automated stores don't even require a cashier. One such store is Amazon Go by Amazon.com. 
You can also offer automatic payments to the users with the assistance of these BLE beacons. First, you need to start your BLE app development and create a seamless app that users will install on their devices and attach their payment information to your business. Bluetooth comes by default in most of the smartphone or mobile devices. Whenever the users come near an item shelf, beacons will detect their location and present them with the latest offers and the details of the products available. The beacons will analyze their past shopping experiences and suggest the products the users will be most likely to buy. 
While exiting the store, the beacons placed at the door will detect their location and ask them if they want to check out. After the confirmation from the users, the app will notify them with a payment link and direct them to a payment gateway. You can also offer them an option of auto-debit. 
After the payment, these beacons will save the purchase data and use it to personalize the offers on their next purchase. These methods are proven to increase sales and customer satisfaction rates. 
Automated Fitness and Healthcare Alternative   
Healthcare and fitness industry have significantly benefitted from the implementation of this technology. People are more obsessed with their fitness as compared to earlier decades, and the demand for fitness wearable products is on the rise. As per a report of Statista, Wearable usage is expected to cross 190 million users by 2022 from 120 million users in the year 2016. Bluetooth app development has helped these wearables get in sync with the users' mobile devices and provide real-time information about various health parameters such as blood pressure, oxygen levels, heart rate, etc. These wearable products allow users to access the data from anywhere, anytime.  
The BLE technology consumes much less power and performs for a long time. A perfect app for a particular set of wearable products can ensure enhanced connectivity and cloud storage of the recorded data. The users can create a report based on that data and can access them anytime from the cloud storage of the application. Such data sets can be shared with anyone by the user with appropriate permissions. These health parameters can be sent to the fitness coach, doctors, etc., to receive appropriate online consultations. 
In terms of hospitals, these BLE wearable products can help in fast and precise fitness checks and treatment of a patient. The users can share their health stats with their doctors to help them prepare for their next visit. Such technology has multiple uses in healthcare and insurance and ensures effective treatment. If you are in the healthcare sector or planning to develop a business in the healthcare and fitness industry, Bluetooth software development is the key to success. 
Indoor Location Solution
Have you ever found yourself lost in a big shopping complex or any unfamiliar building such as hospitals, airports, etc.? If your answer is yes, then you no different than the others. Navigating through a shopping complex or an airport can be difficult sometimes as the GPS doesn't work inside a building. The conventional GPS works with the help of satellite signals, and network connections are weak indoors. The solution is an indoor navigation system. 
Bluetooth software development can help you create an indoor navigation system that will help the users to find their way to various stores in the building or carry out marketing campaigns. These systems require a mesh of BLE beacons. Each beacon will send signals to the app, installed in the user's device, and notify them about the directions to their desired shop or gate. These systems work exactly the same as GPS except it works inside the buildings. You can monetize such a system in various ways like display offers about your products whenever the users are near the beacon located beside your shops or offer them the asked directions with a discount coupon, etc. 
In case you own the building, you can charge other shops for directing the customers towards them. Further, you can increase your business by offering advertisement services on your apps for other shop owners based on your beacons network. 
Data Synchronization
Whether it is the healthcare, navigation, or marketing sector, Bluetooth low-energy applications are everywhere. The principal duty of these applications is data synchronization. Managing a vast pile of data is often a mind-numbing task that requires a lot of time. With the help of BLE technologies, you can sync your data from any wearable to your app efficiently. Not only wearables, but these BLE beacons can also sync the data of customer purchasing history and much more. These beacons transfer the data to the cloud storage from where it can be listed, formatted, and accessed anytime, anywhere.  
Mobile applications that are connected with wearable or any mobile device often face the problems of heavy battery consumptions. In the case of BLE beacons, they only operate while transferring signals or data; the rest of the time, they are dormant, making them superpower saver systems. You can implement BLE technologies in your business to enhance data synchronization with fewer power consumptions. These Beacons operate for few years with only a coin-size battery. 
Apart from wearables, various industrial sectors employ vast numbers of sensors to measure and monitor various parameters, such as temperature, pressures, etc. BLE software development helps in monitoring and transmitting data to the servers or the cloud storage without consuming much power. 
Asset Tracking
Apart from indoor navigation, you can also track various assets present in the building, whether it is mobile or non-mobile. Assets include appliances, machines, mobile devices, employees, etc. You can simplify the operation process of your industry with the help of BLE Beacons to track assets. There are numerous times when you require any specific person or machinery but struggle to find them. In this case, BLE beacons can track them for you by transmitting and receiving the signals from and to the mesh of beacons. 
In another case, it also enables the security of expensive equipment in an efficient manner. You can simply assign a Beacon to any expensive or essential equipment in the vicinity of the building of warehouses. Whenever it changes the position, these Beacons will send push notifications to the receivers in real-time. In another scenario, when a surgeon is required and is present at the far end of the hospital, then the user can search for the specific person through the assigned app, and the nearest beacon to the person to be found will detect their application or their wearable and transmit their location back to the user. These technologies are helping businesses optimizing their operations and managing assets efficiently. 
Utmost Customer Satisfaction  
Any customer wants an ergonomic process, whether it is a store or any service-based industry. Seamless checkout, efficient browsing, etc., should be included in your service. With the help of Beacon technology, any business or brand can deliver a pleasant and fulfilling experience to its users. Bluetooth software development can help you create systems that can streamline the business prospect. It has been seen in the recent trends that businesses that have implemented BLE systems are able to pull more consumers.   
BLE systems help you personalize the offer and products according to a user's likes or dislikes. Personalizing things leave a long-lasting positive impression on the consumer and makes them feel valued. With the help of beacons, you can facilitate various new ways of broadcasting various offers and marketing campaigns. Apart from this, you can use their data such as their previous shopping or browsing history to create more personalized connections. 
How can Matellio help you? 
In recent years, BLE software development has seen a tremendous rise in demand and has become a supreme standard of communication. Bluetooth will continue to affect the business in a positive way in the near future. With the advancement in IoT, these services and devices will continue to grow. You can implement Bluetooth technologies in your business in various ways to enhance productivity and ROI. Whether it is the medical sector or the manufacturing sector, Bluetooth is redefining everything. 
At Matellio, our proficient Bluetooth app developers have crafted several Bluetooth low energy applications with excellent ratings from the clients. Our Bluetooth app developers are highly trained and deliver state-of-the-art applications. If you are planning to initiate your Bluetooth software development process, contact us to get started. 
Get the Conversation Started!
Get the Conversation Started!
[contact-form-7 id="34486" title="Side Form"]