The impact of the Internet of things is immense in all sectors, whether in software, application development, or on people's lives. Businesses are using the Internet to communicate with a broad target audience and can reach any geographical area. IoT has gained a lot of importance and popularity in a few years.
As per the research, over 20billion IoT devices are connected to the Internet by the year 2020.
People, who have mobile phones, laptops, computers, and gadgets, already experienced IoT technology. And there are a lot of areas where IoT will make a change such as a web development and designing.
But How IoT Affects the Future of Web Development?
In this blog, we'll answer this question and also give you insights into how IoT will change the web development process. So without any further due, let's get started.
IoT and Web Development:
As we all know, web development includes two significant parts, namely front-end development, and back-end development. It requires an internet connection to transfer data from the server to the User's screen. There are a lot of IoT devices that display web content like UI on laptops, computers, wearable devices, and other electronic gadgets. This is the exact way where IoT is changing the overall future of web development and designing.
Let's take an example of Amazon's Echo device for better understanding. Amazon's virtual assistant Alexa is capable of searching the web through its back-end browser. IoT will change the way people use networks. With IoT proliferation, the front-end like cameras or sensors will communicate with User, and the back-end will store the information, to deliver information quickly without delay in transmission.
Whenever any user or prospect is looking for something, they can give voice commands on the IoT device to search it on the web. This method is far better than traditional manual searching on the Internet.
With the integration of IoT devices, the information will come not from screens the only User can get information from any device. Audio will be a faster means of communication. That's how IoT is transforming web development and designing to the next level, making customer/business interaction more immersive, seamless, and instant than before.
Well, as we discussed IoT in web development, but does IoT web development is different from regular web development? Let's move forward to discuss it.
How IoT Web Development is Different from Conventional Web Development?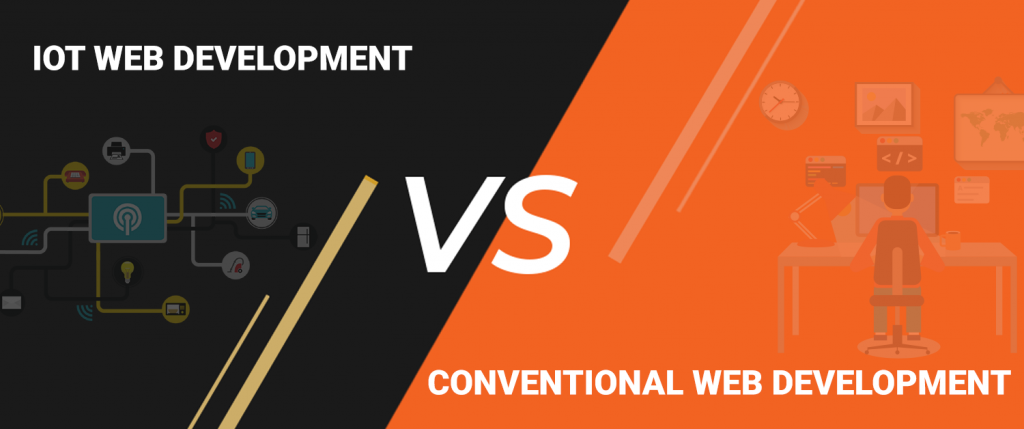 Yes, IoT web development is more complex and complicated as compared to conventional web-development because it deals with larger data size, interactive User Interfaces, better communication, and also ensures high-end security.
Below we've listed some aspects and critical points that IoT brings in web development. So let's have a close look at it.
1. Dynamic UI – As we all know, developing an application's UI is not an easy task. But with IoT integration, you can deliver dynamic UI to users. IoT devices collect a massive amount of data and also show infographics and analytics. Multitasking vibrant UIs suits IoT applications ideally because it generates portlets and pages dynamically. It also allows developers to do split testing during the development phase in-order to pick the right one.
2. Chatbots integration and creative user interaction – Over the past few years, chatbots are a widely used feature. They were integrated with Ml algorithms to respond to User's queries as soon as possible without any human intervention. Nowadays, every company combines voice searching on their websites. And you know what tech giant Google recently its algorithm "Florida", the benefits are: websites using this algorithm will rank higher as compared to other sites which are integrating this.
3. Live support and cybersecurity – As we know, connected devices are easy to hack or penetrate User's data. Using IoT, you can enhance your application's security. That's why in 2014 the OWASP (open web application security project) started to address the IoT ecosystem and to help IoT developers, IoT development firms. To enhance security IoT provides features, namely: user authentication and user access management, which ensures that data transmitted through the network is secured via advanced encryption. The global IoT security market is 7K million dollars in the year 2017, which is predicted to be increased by 34% by 2026.
4. Insightful support on mobile platforms – IoT gives you data that can be controlled through devices from remote locations. You can access information from tools like mobile phones, fitness bands, and from many devices. Mostly every IoT device is capable of displaying results the same as a result of browsers. Here is an example that makes human life more productive and manageable.
5. Assistants – Assistants are the most widely used and accessible technology in the digital world. You can do anything with these devices by giving them commands like: switch on the light, play the music or decrease the temperature by 50%. There are lots of tools available in the market, such as Amazon Alexa and Google home. With the help of such devices, anyone can access their electronics such as AC, fans, bulbs, and many more.
6. Collects and processes a high amount of data – IoT devices and systems deal with a large amount of data gathered from sensors and various other resources. IoT web development fixates high on the system's security and scalability. IoT collects real-time data from sensors, takes it to analyze and filtration process then conveys it to clouds. Sometimes high volume data create delays in transmission over the network with standard web development. That's why companies and businesses are switching towards IoT web development.
Conclusion:

Technology will continue to evolve and will make human lives better than before. IoT is a futuristic technology which is widely used by industries to switch from traditional to a smarter one. It will continue to transform and will take web development to the whole next level.
 We hope that with the help of this blog, you've gained detailed knowledge about IoT web development. If you still have any questions or want to start with IoT web development? Feel free to contact us. We will provide professionals with web and mobile application development. We assist you in finding unique aspects and outshines which will take your business or company far ahead from your competitors. We also provide lots of design and services with the latest technology integration. Connect with us to know more and to discuss your new project.