How To Create An AI-based Mental Health App Like Wysa?
Updated on May 11th, 2023
Self-care today has become a prominent aspect of the digital market. People began taking their health issues more seriously than ever, whether it be physical or mental health. Now, those who are in touch with the doctors need not worry, but there's a large section of society that's still incapable of discussing their mental health issues. That'sThat's where AI-based mental health apps come to play!
Yes, you heard it right. Today, AI therapy apps are quickly becoming a major platform for people looking for mental healthcare consultation. In fact, the mental health app market is predicted to reach $3.91 billion by the year 2027! And not just anxiety and depression, but people also leverage AI-based mental apps to treat conditions like Autism and AAC. 
Hence, it is certain that people today are actively using AI-based mental health apps to treat their mental illness while sitting at home. But, how exactly does AI help people to treat their mental health? Let's have a look!
How Can AI Aid Mental Health?
AI today has deeply penetrated the lives of the common people while transforming the global market's leading sectors. From the use of chatbots for efficient customer services to computer vision solutions for analyzing customer behavior in real-time, AI solutions are actively being used to automate and enhance the already existing human-tasks. In such a scenario, the mental healthcare app sector is no exception!
AI-based mental healthcare apps have become a prominent aspect and all thanks to their smart and user-friendly capabilities. With amazing virtual techniques and human-independent consultation, people today feel more comfortable discussing their mental health issues with a bot rather than humans. As per a trusted source, after implementing the AI in mental healthcare apps, the market already generated a revenue of $4.4 million in 2018. The numbers have further increased and are expected to reach $45.2 billion by 2026!
But, how does AI aid mental health? Well, the smart features of AI analyze the customer behavior and their mood patterns with smart algorithms. Once they have all the data, they offer the best suitable therapies to the users as per their problems and remind them constantly till the data reaches normal values. 
All in all, with AI-based mental healthcare apps, people began witnessing tremendous changes in their mental health. Hence, the profits and revenues of these AI therapy apps increased tremendously.  
Wysa is one such mental healthcare chatbot that is making huge popularity in today's digital market!
What is the Wysa App, and how does it work?

Wysa is an emotional, mental healthcare chatbot that has benefited people in a lot of different ways. This robot AI therapy app provides emotional support with mood tracking, anxiety, depression, and reframing thoughts (CBT) in easy-to-understand and friendly chats. Besides that, this amazing AI-based mental health care app even assists daily meditation and spiritual activities with its smart AI capabilities. 
You can get personalized suggestions for audios and toolkits so that you can cope up with your mental illness more easily. Wysa even offers a conversational chatbot facility to all its users for free. Anybody can use this functionality to chat with a secure and user-friendly virtual assistant for effective anxiety relief, depression, and stress management. Its AI-based therapy services make the stress-relieving exercises more calm, personalized, and result-oriented.  
Moreover, the Wysa app even helps patients with Autism and depression cope with their issues using researched and widely-used CBT, DBT, Yoga, and meditation techniques. Hence, all in all, whether you have a normal bad-hair day at work or you have severe anxiety issues, an AI-based mental healthcare app like Wysa is a perfect solution for your needs. That's why over 50,000 people trust Wysa today for treating all sorts of mental health issues. Plus, you even get a real human coach and advanced coaching sessions for any extra care.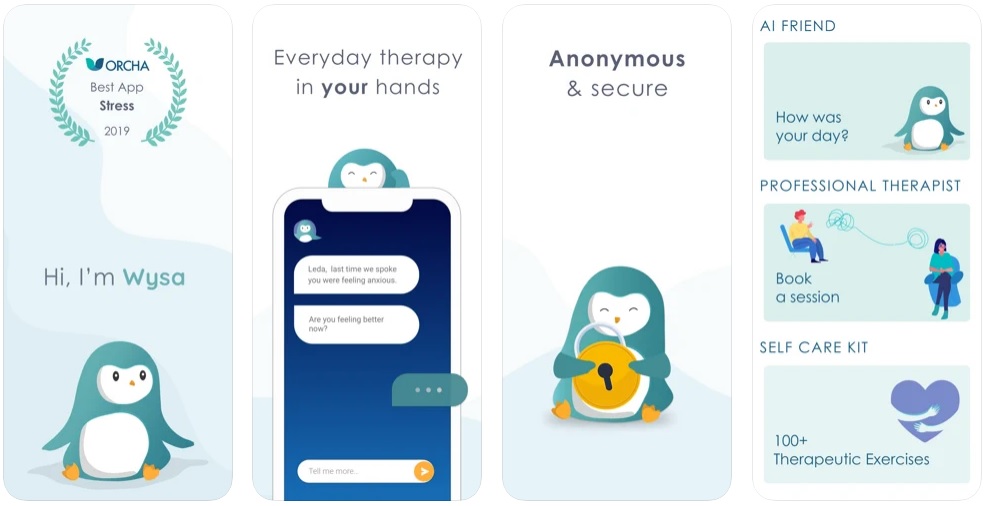 Image Source
Amazing Features of Wysa App
Now that you are aware of the Wysa app, let's quickly glance at some of the most amazing features that have attracted millions of people to it. You can also include these features in your custom AI-based mental healthcare app to make it successful like Wysa.
| | |
| --- | --- |
| Features | Description |
| Sign-up/Log-in | The user can register on the app using their basic details, or using their social accounts. |
| Cognitive Behavioral Therapy (CBT) | Several CBT and DBT techniques to help you treat your mental health in a fun way. |
| Conversational Tools | Smart conversational AI tools to help you fight stress, anxiety, and various other mental health issues in the most human-way. |
| Mindful Exercises | Mindful exercises to offer a peaceful, and relaxed sleep to the users, with unsupervised training. |
| Visualization Techniques | Advanced visualization techniques to help the users boost their morale and confidence while calming their thoughts.  |
| Customer Care | The users could get all their answers about the app using AI-driven customer care services. |
| Notifications and Reminders | An AI-driven functionality to remind users about their exercise, and medications.  |
| Support Groups | Support groups to facilitate social collaboration between the users of several kinds.  |
| Therapists Locator | Locates the therapists nearby your location to offer you the best healthcare services.  |
| Digital Payments | A digital platform that enables the users to pay for their services using suitable digital payment platforms. |
Apart from these features, there are many others that you can include in your AI-based mental healthcare app to make it successful, like Wysa. Hence, the best way to do that is through competitor analysis or consulting with our AI experts!
How can You Develop an AI-based Mental Healthcare App like Wysa?
Developing an AI app is not a piece of cake. It requires careful analyses of various factors and expert knowledge of the market. However, that process could easily be simplified with the help of an expert AI development firm. 
Here's how you can quickly develop your AI-based mental healthcare app with Matellio.
The very first step in developing an AI-based mental healthcare app is to analyze your app idea. It would be best to create this app and what all problems it will solve. Having a clear understanding of your business idea will make your development process efficient and help you make your AI therapy app a hit in the market.
Right from the basic concerns to legal matters, and the target locations, having a strong understanding of your AI app development idea would surely help you in the long run. For that, either you can use digital tools or a simple representation using pen and paper would also work best. Besides all these, you would also need to select the best features and a unique name for your app to make it popular amongst your target audience.  
Define Your Target Audience
The next step in AI therapy app development is to define your target audience. We all know that there are several target audiences out there in the market, and targeting all of them with the same features and app is impossible. For instance, the students or the elderly people may not need your app as much as the graduates or job-oriented people. 
Hence, defining your target audience would simplify your development process and ensure that your app satisfies those people's needs efficiently. Likewise, you also need to select your target locations initially to launch your app. For that, make sure you select those locations where the competition is quite low and your target audience is equally present in large numbers.
Knowing your competitors and analyzing their strengths and weaknesses is never wrong, especially during today's competitive era. You need to know what all brands are already prevailing in the market and what strategies they adopt to make their mental healthcare app successful and profitable. 
Having your competitor's data would help you frame a better marketing and development strategy and help you choose the most advanced features. It is no surprise that great features and a perfect marketing strategy are all you need to make great profits and enhance your brand value! 
Now, that's something crucial! It is not doubted that you would have many ideas about your AI-based mental healthcare app till now. However, there are some critical aspects that only an expert could let you know. For instance, validating your app idea, offering the latest trends of the AI market, or even helping you select the most reliable development team, expert consultation is always needed to make your app successful. That'sThat's where Matellio comes to play!
With our expert consultation services, you could seamlessly choose the most reliable features for your app. Not just that, but our AI experts could even let you know which tech-trends could help you play in the long run or which design p[arameteres you should consider while developing an AI therapy app.
In short, you could easily create your custom AI mental healthcare app at the best prices with our expert consultation service. So, what are you waiting for? Book your free consultation slot right away!  
Once you consult with our experts, the next step would be to create a mockup of your AI-based mental healthcare app. Our certified and experienced designers would create a mockup of your app with a project manager's help in this phase. 
The mockup will be created based on your project needs and the designs or features you selected during the consultation phase. With a mockup of your AI therapy app, you could know how your actual app will look and what all features it will have. 
Also, we follow agile methodology, and any customizations during the development could be easily made without any compromise in the quality of the app. Hence, stay assured and discuss your requirements openly with our experts.   
Hire Professional AI Developers
Once your side has finalized the mockup, the next and most crucial step is to hire your professional team of experts. For efficient app development, you need to have all the resources readily available to you. That'sThat's why we offer flexible hiring models, which you can use to hire our certified and experienced developers for your AI app development project.
Besides that, you can even leverage our staff augmentation services if you want dedicated resources that would completely work on your project till it is completed.  
Finally, we have tested as our last and most important service of AI app development. Testing has always remained the core aspect of our digital transformation services, as our aim is always to deliver the best to our customers. With testing, whether manual or automated, you can detect even the bug samples left unidentified during the development process. 
Hence, with an error-free AI-based mental healthcare app, you would have a high user-experience and eventually better sales and brand value. So, you can opt for any suitable testing service as per your project needs and could experience an enhanced user experience for your app. 
Are you still in confusion? Read our expert blog on mobile app development to clear all your queries!
How Much Does An App Like Wysa Cost?
So, we are at the most awaited section of our blog – the cost of developing an AI-based mental healthcare app. Now, some people have thought that developing AI-based mental health like Wysa will put a burden on their business budget and expenditures. 
They might have to invest a lot of resources to make it successful in the market. However, that's not the case! By following an agile development process and partnering with the right AI development firm, you could save huge costs and time to develop an efficient AI therapy app. An experienced and reliable firm can access the best tech tools and platforms that could make your app user-friendly and trendy at the best competitive prices. 
Here's how the cost structures are decided at Matellio for AI software development.
The cost of designing your AI therapy app as per the latest UI/UX standards is covered under this category.
Customization and Complexity Cost
The customizations and complexity of developing your AI-based mental healthcare app will also impact the overall costs.
The cost of hiring the tech-savvy team of engineers will be covered under this category as per your project requirements. The more developers, the more will be the cost, and less will be the time taken for AI app development. 
For efficient performance and customer experience, you will need to test your app through manual or automated testing. So, the cost will vary accordingly. For instance, with automated testing services, you could get instant and accurate results in less time and without human-dependency. However, the cost of that will be somewhat higher than manual testing.   
Besides all these, many other factors impact the overall cost of developing an app like Wysa. So, the best suggestion would be to opt for our free consultation services, to discuss your idea, and know the exact cost of development.
Conclusion
At last, we can say that, the world is going mobile today, and if you want to become a pioneer in your field, then launching a dedicated mobile app is the only possible and successful way. The customers would use a mobile app more than ever if their needs are being satisfied efficiently. So, the best way is to consult an expert, because, who knows, your app might be the next big innovation in the global market! Hence, keep discussing and keep growing.
Till then, Happy Reading! 
Disclaimer: Please note that the content of this blog including links, texts, images, and graphics is only meant for informational purposes. We do not intend to infringe any copyright policy or do not possess any third-party material. If you have issues related to any of our content or images, kindly drop your message at 

info@matellio.com

 
Get the Conversation Started!
Get the Conversation Started!
[contact-form-7 id="34486" title="Side Form"]