The IoT (Internet of things) is a futuristic technology that is becoming a reality day by day. IoT solutions simplify our everyday life and data with the help of specialized types of equipment such as sensors, cameras, chips and many more. Now, most of the device runs on IoT. That's the only reason many IT companies increase their development of IoT based applications. 
If you want to learn more about How IoT applications are developed? Through this blog, we'll provide you with an answer to this question. In this blog, we have compiled valuable information regarding IoT application development like tools, platforms to be used, components, and many more. So don't miss any of the points. 
 Firstly, let's see what the number says:
In the US, The number of total spending on IoT services has exceeded 230+ billion dollars in the year 2017.
As per the report by

www.statista.com

, in the year 2018, there are 22 billion IoT connected devices, and it's predicted that numbers will surpass 50 billion by the year 2030.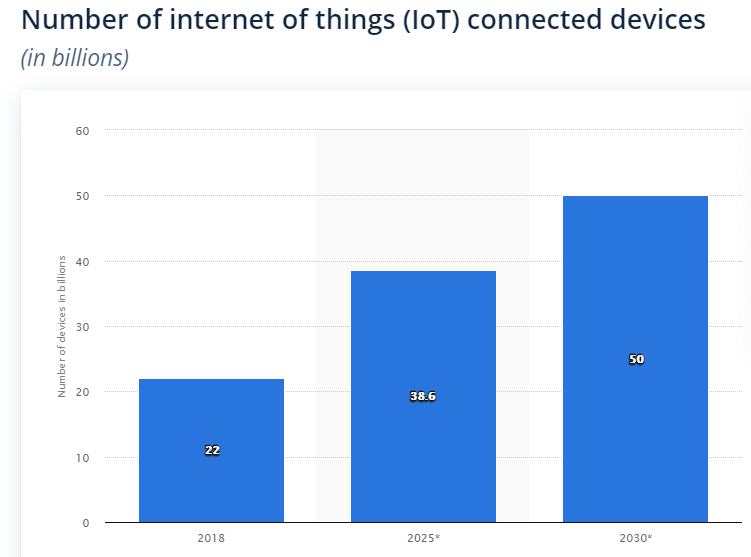 And similarly, HPE Aruba found that over 85% of companies already adopted IoT technology.
Also Read: Top IoT trends in 2020
As we briefly discussed IoT and its market, it's clear that growth potential is enormous. Developing an application is not an easy task. It requires lots of research, money, time, tools, and tech stack to develop a successful high-end application. We've listed a detailed guide which helps you to start with IoT application development. So take a look:- 
Step-by-Step Guide on How to Develop an IoT application:
Here are some critical steps which help you to get started with your IoT project.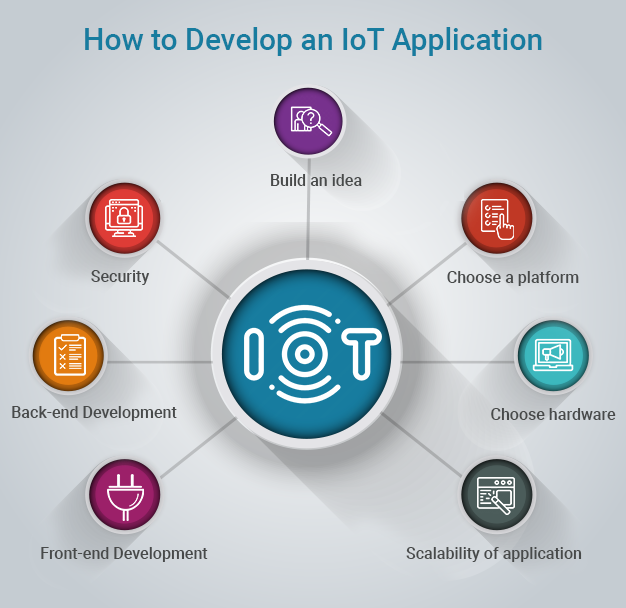 1. Build an Idea – Before jumping directly into the developing phase, it's essential to understand what you want from the final output. Decide your niche and industry in which you wish to enter. Discuss the design and functionality of the application with your development team. You can also do some mockups for better results.
2. Choose a Platform – The very first step in the development phase to select the right platform for the application. Always remember that it must support IoT applications and components. There are many platforms such as Thingworx and Ubidots, which make it possible to design high-end applications. 
Below we have mentioned some top solutions developed by big companies. Or if you are still stuck in choosing the right platform? Don't worry; we'll help you with this reach us for more information.
3. Choose Hardware – You need hardware for your IoT project. While choosing a device -consider these two aspects: first, the hardware equipment fulfills your project's needs. Second, the hardware equipment must be reliable and must be essential for your project's success. You have to choose the right development boards such as MCB (microcontroller boards), SOC (system on chips), SBC (single-board computer) and many more. You can also go on boards like:
Arduino Uno.

Intel Edison.

Tessel.

Mediatek Linkit one. 
4. Thinking of Scalability of Application – Businesses have to collaborate with IoT application designers or a development company to find the best scalability options for use. This is the most important aspect while designing an application. IoT is a new technology with high potential. In arriving time, it will impact a more extensive consumer base. Thinking about scalability in advance helps your application to remain insights for an extended period.
5. Front-end Development – Frontend is the part that the user interacts with. No matter how much-overpowered service you are offering, if the application's user-interface is not attractive, then the app will fail to gain popularity or fail to increase engagement.  You can use various frontend technologies and framework to build high-end UI such as:
Backbone.js

React.js

HTML 5

CSS3

D3.js, bootstrap and many more
6. Back-end Development – What makes the application's frontend possible or where your application's gathered data is stored? Here the back-end comes in. In the back-end, developers do server-side programming and also develop databases. Here are some popular and widely used technologies and frameworks to build the application's back-end part:
Ruby

Python

SQL

MongoDB

Node.js, asp.net and many more
If you don't have a development team, don't worry, our professionals will help you to design and develop a secure back-end structure of your application. 

7. Security – Security is a priority. Keep this in mind while developing an app. The fact is that the devices connected over the internet and share and store data online are easy to penetrate. So how to secure your IoT application? Well, Machine learning is the most effective solution so far and also helps in digital forgetting, communication, privacy sensing, trusted sensing, and many more. Machine learning also enhances the security of followings:
Data security.

Cloud security.

Physical security.
To develop IoT applications from scratch, various platforms have been developed over the past time. In this section, we've listed some popular and widely used platforms, which help you to build your own IoT application. So have a look.
Top Tools to Build IoT Applications:
1. KAA – An open-source platform which offers a high-end toolkit for building IoT applications. With KAA, it's flexible to manage several sensors used for information gathering through SDK servers. KAA comes with features like real-time sensor monitoring, automated personal device setting, and cloud services. KAA development kit also use to set cross-device interoperability and also analyze user's behavior to send notifications
2. Oracle IoT – One of the most leading software for developing IoT applications. Applications built with Oracle IoT have full capabilities like endpoint management, device virtualization, data enrichment, API support, stream processing and many more. These are just a few of Oracle IoT features.
3. IBM Watson – One of the excellent tools for IoT application development. It allows secure data transmission, real-time data assessment, remote device control and many more. In this, the data received from connected devices is handled, organized, and coordinated at many points using data services. IBM Watson allows developers in data handling, data analysis, and connectivity.
4. Microsoft Azure –  This platform has a collection of all Microsoft cloud services with which you can connect and handle all your IoT applications and assets. Azure and control any tool, device, and security feature to meet IoT objects. Azure also helps to reduce the waste from ML and AI and also boosts productivity.
5. AWS – Stands for Amazon Web Services. One of the popular tools offers uniqueness and versatility, that's why many companies use this platform globally. Cost-effective and adaptability make this platform a preference for a developer from all other options. Azure also monitors, investigates, and refreshes the device's utility.
How IoT Applications Benefit Startups, Businesses, and Entrepreneurs?
Developing an application can take your business far ahead from your competitors and existing business position. Here are some values IoT offers to your business. 
Improves Customer Experience

–

IoT not only gives new opportunities but also enhances user experience. Let's understand this with an example: logistics firms can use tracking chips on their vehicle to check whether their staff is doing their job seriously or not. Smart Refrigerators alert you when you are low on supplies.
Cost Reduction

–

When your business has productive employees, increased CRR (Customer Retention Rate), and types of equipment, then you can save bucks, credit goes to IoT. IoT provides you real-time analytics and full utilization of resources which makes it easy to achieve targets in minimal costs.
Collects New Data

–

Now businesses can collect and analyze essential data to improve their service. Let's understand this with the restaurant perspective: restaurants can use sensors to monitor customer behaviour and temperature of refrigerated items. Restaurants can also identify what customer likes most, which kind of food is consumed in a particular area, then they can initiate their marketing techniques.
Monitors Business Process

–

Using IoT applications in your business, startups ensures faster and smoother workflow because it gives real-time analytics which improves accuracy and speed. It also helps to keep track of where things are, how they are used. For example, Rolls Royce machinery relies on IoT. Their jets and aircraft contain sensors that send real-time data back to ground staff to reduce risks and massive stress environments.
Improves Efficiency

–

IoT not only connects devices but also connects peoples using IoT devices to the internet. It helps organizations and businesses to be more productive and efficient. Now employees can work remotely with smart devices with internet connectivity. Files stored in the server can now access outside the company/organization via a local network, and meetings now can be done through video conferencing, which helps to reduce the cost incurred on meeting halls.
Future Analysis

–

Through IoT and big data you can collect your company's previous data which helps you to predict the future, and based on that you can develop a predictive model to increase operations and to achieve higher customer satisfaction.
Fastest Growing Areas for IoT Applications: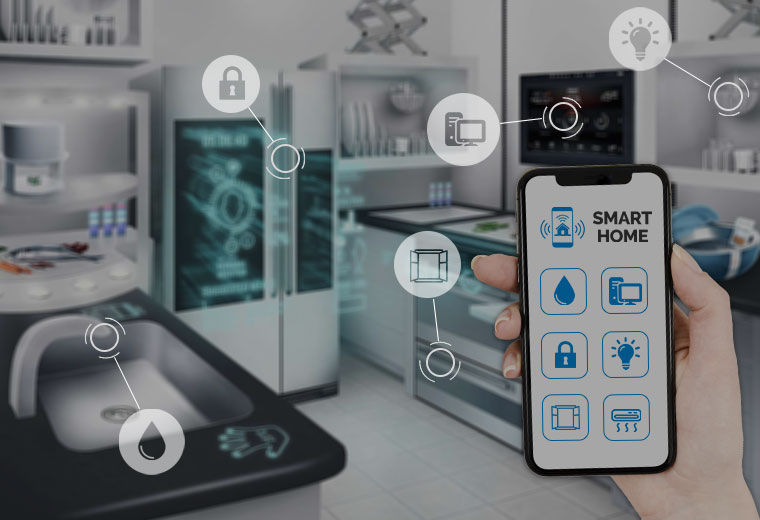 1. Smart homes – In developed countries, automated houses are promoted. Imagine where appliances, ACs, TVs and many more are capable of communicating with one another or through remotely, doesn't matter whether a human is around or not. With phones, you can remotely control devices at home. All remote control devices are based on IoT, and it will soon reduce the human need.
2. Gaming – IoT bridges the gap between players and platforms by giving them an environment of virtual reality, augmented reality, and mixed reality. According to the reports by Statista, the market size of the gaming industry is predicted to be worth 2 trillion dollars by the year 2021. In online gaming through databases and cloud activity developers can put their content online.
3. EHC – Stands for Electronic Health care. Every year new technologies are introduced in healthcare industries. In the healthcare sector, IoT is helpful to monitor patients' health, diagnosing, temperature monitoring and many more.
4. Retail – The retail sector open-ups various options for developers to develop IoT applications. In the retail sector, IoT application is helpful by offering features like:
Supply chain control –

Here, you can check the storage condition of goods on each stage of delivery.

Smart shopping –

Through this, you can check at which location demand for a good is high, and based on that you can set your price range.
5. Transportation – One of the areas where IoT can be implemented. By using RFID cards, antennas, and GPS tracker helps to track the location of transported goods. To evaluate data gathered from sensors, transportation firms hire professional developers to develop a high-end application which is compatible with mobile phones. We help such firms to build their own IoT software to make their work easy.
Conclusion:
The Internet of things is a futuristic technology which will continue to transform industries and sectors in ways you can't predict. We hope that with the help of this blog, you will get an excellent knowledge of how to build an IoT application and what are the core aspects which you need to consider while developing an app.
If you have any questions regarding IoT application development, feel free to ask. We have completed so many IoT projects and have all the needed expertise to match the client's vision.