How To Develop On-Demand Physiotherapists App?
Updated on Apr 20th, 2021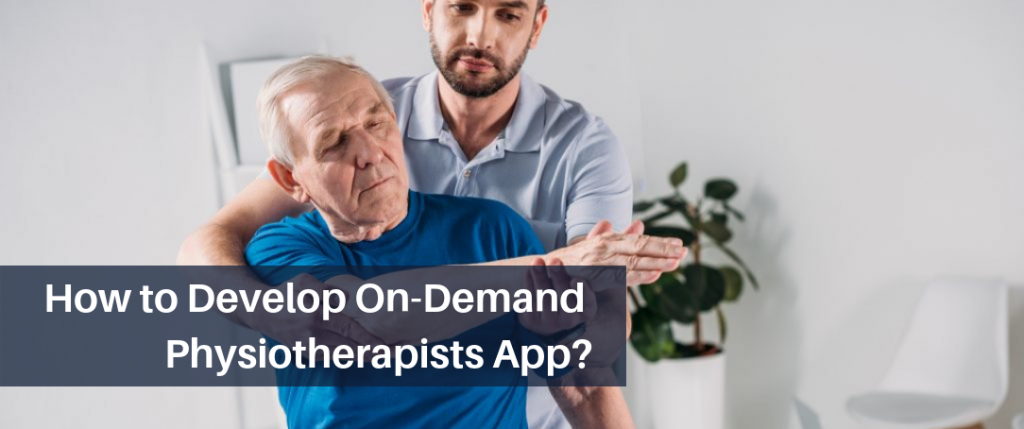 In the last two decades, the proliferation of smartphones and mobile apps extrapolates the transfiguration of every part of people's lives. Today, the routine lives are morphed into a digitized routine that also encompasses the extensive use of on-demand services like home cleaning service, food delivery, beauty, etc. Similarly, due to tedious working hours and health the on-demand physiotherapist app development has swayed the augmenting demand for physiotherapy services at home. Statista expects that the digital health market would swell to $206 billion by 2020. So, let's proceed further and have a look at what is a Physiotherapy app?
What Is  A Physiotherapy App?  
The fundamental ideation behind developing an app is to make people able to search and book physiotherapists online and get the treatment they require. The uber model of physiotherapy service associates with professional physiotherapists offering services like heat treatments, exercises and massage for treatments of incontinence, posture problems, sprains, arthritis, back pain, bursitis, etc. So, in between strenuous days now people have bestowed with an app that enables them to get a physiotherapist or a customized treatment at home. Though the model stays the same for all uber model such as ticket booking app development, the inside story varies up to a great extent.
Image Source
Some Benefits Of Physio App
We can contact a physiotherapist anytime we want.
These physio apps save a lot of time and cost.
Physiotherapy apps speed up the overall contact process and enhance the efficiency of the professionals.
It also offers some robust therapeutic and diagnostic tools to the physiotherapists to make their services more effective.
Adds Value to the brand and helps in providing instant healthcare solutions to the users.
With that, you might have got a short idea of what a physiotherapy app does. Let's now look at the top 5 physio app for people to try.
Who Are All Playing Big In The Market?
1. Pain Therapy 
Pain therapy is a perfect physiotherapy app for patients seeking guidance for their home exercises. Developed by Winzing, this physio app includes a vast library of stretching videos and exercises for the users to help them reduce their pain. The videos can be streamed online or can be stored in mobile phones for future convenience. The pain therapy app is available in multiple languages, including Spanish, Chinese, Korean, and so on.
2. Physioadviser 
Physioadvisor is another great physiotherapy app for the users looking for ways to reduce their physical pain. An exciting feature that sets this robust app apart is that all of its exercises are listed with the benefits that they provide, including the detailed instruction of correctly performing them. This robust app has around 500 exercises for patients with over 800 images to show the correct way of doing them. The reminder feature is an add-on that reminds patients to do the task at the proper time.
3. myRehab
myRehab, a fantastic physio app, is designed by Whitelake and has ample of pictures and videos on home exercises. While it is advertised as a DIY rehabilitation app, it serves as an excellent physio app for the patients. In addition to the high-quality pictures and videos, it also aids in providing detailed information on symptoms, diagnosis, first-aid, and proper follow-up.
4. Wellpepper
Wellpepper provides it, users a detailed list of all the home exercises useful in reducing their physical pain. Along with the high-quality pictures and helpful videos, this amazing physio app also provides feedback options and result options in its mobile app. Apart from that, the client management feature aids in increasing compliance with home exercises via motivating reminders results tracking, detailed instruction, chat features, and so on.
5. PT Timer
PT timer is a physio app that takes home rehabilitation tasks to an entirely new level. Developed by Qi Analytics LLC, this physio app enables a physiotherapist to share his exercises, notes, or even videos with customers via social media platforms. You can seamlessly add new exercises along with the images and notes using its robust features. Not only that, but this physio app also makes the patients aware of the exercises yet to be finished via red batch and progress tracking.
Getting Started On Developing An On-Demand Physiotherapy App
1. Analyze The Market Scenarios 
The very first step of initiating the development process of your on0-demand physiotherapy app is to analyze the ongoing market trends carefully. That involves accurately understanding your target users to provide what they want exactly. You can start by putting some simple questions before them like-
Which healthcare app do they use?
What makes them use that app?
What are the features that fascinate them?
Which device do they use, viz Android or iOS?
2.  Select A Suitable Platform
After carefully analyzing the market scenarios, you need to select a development platform for your physio app, viz. Android, or iOS. That is a critical task and may even take some of your precious time. So, go for user demographics. Find out which device do your target users use the most and then plan accordingly. You may even take the help of a market analytics result to select a suitable platform. You can also choose the cross-platform app to target both iOS and Android users.
3. Identify Relevant Features
Admin Panel Features 
1. Create Sub Admin
Admin can create a sub-admin to render the rights and permission to a reliable person. The sub-admin contains rights similar like Admin, but with some limitation. The admin has all rights to give and retrieves the number of rights and permission for lowering the overload of tasks. 
 2. Approve Physiotherapist Profile 
The admin panel allows the administrator to either approve or reject the physiotherapist's application from their platform. It's imperative to have their respective information and its usability for patients, so here admin can instantaneously keep their profile for further progress.
3. Manage Profiles
Undoubtedly, it's suggestive to con the details of the physiotherapists comprising name, education, qualification, specialization, etc, so that you wouldn't be fussed. The admin gets able to scan through profiles with their stipulated standards for adding profiles, and if they find misleading information and irrelevant information, they can block or remove their profile. Similarly, in the case of patients profile, they use nonidentical standards for going over their information to eliminate probabilities of fake profiles.
4. Treatment History
 Since it's important that both physiotherapists and patients must possess a record of last treatments, therefore, the admin panel must integrate treatment history. The physiotherapist utilizes the treatment history for further examination of the same patient while the patient gets able to view or share the information either with the same physiotherapist or new booked physiotherapist.
5. Content Management
Admin panel also offers accessibility to the management of the components. The admin can change the view according to his requirement and can edit and delete the old unused components causing the inconvenience. The admin is required to see the reports and analytics,  where content management feature is necessary. 
6. Real-time  Analytics
 The report showcases the information or real-time data of the app through charts, tables, and graphs. It's efficacious for admin to extract abundant facts and numbers so that they would be concluded with a pristine picture. Additionally, the visual and graphical charts offer an ideal way to contribute to determining significant health information for future decisions. So, inherently it's ideal for you during on-demand physiotherapist app development to use Hadoop, Apache Flink, Spark, Cisco, BigData, IBM for real-time analytics.
Patient Application Features 
 
1. Login and Registration
 It is the fundamental feature of that every on-demand app development must integrate. In other words, the patient has to register or login before heading up for the further process and that need extensive and unfeigned information about them. During the profile creation, apart from basic information like name, age, blood group, etc,  they must be required to enter their current medical condition, any diseases, physiotherapist's consultation in the past and current.
 2. Search and book a physiotherapist
Once the patient gets registered or login, the on-demand physiotherapy app offers them to search and book the physiotherapist for their services. In a broader sense, the patient should be empowered to search physiotherapist through specialization, location, popularity, ratings, etc. They choose the physiotherapist from search results based on their customization, time slot and book an appointment of physiotherapists. It extends the patient's convenience and trust to the optimum state which ionizes the usability of on-demand physiotherapist app.
 3. Book Later
Sometimes, the patients need not book physiotherapist for instantaneous service, rather for future dates. Basically, the patient panel must be laden with a feature where they can book an appointment for a specific date and time.
4. Payment Modes
 With different payment alternatives, today it becomes so imperative to integrate similar features with your app so that the patient would not rattle between limited payment modes. So evidently, it encompasses a vital role in providing expeditious, secure and simple payment model. The various modes comprise e-wallets, credit cards, debit cards, etc. There are prominent service providers like Stripe, Braintree  PayPal offer integration of multiple payment modes that every mobile app development company may use for uninterrupted process.
5. Confirmation and Job progress
 Once the patients book an appointment for the physiotherapist on the on-demand physiotherapist app, he should be notified with an alert about the accepted request. Furthermore, when the job progresses, the patient would be able to track the physiotherapist with the location tracking feature to know about the time he/she will take to reach the destination. Once the physiotherapist reaches the location, they will mark the status "Arrived " and slide button to start his job. Furthermore, the confirmation and push notifications on both sides would easily be consummated through services like Twilio and Push.io that seamlessly fortifies the enriching experience.
6. Internal Chat
Although, the patients are registered with relevant information about their problem, sometimes they need to till the job starts. The patient should be dedicatedly offered internal chat feature to either consult about sprains back pains, postures, etc or any other thing that they feel to inquire about.
7. Rate and Review
Apart from just a tendency, it's an unequivocal truth that you really bother about the selection of the physiotherapist so that you might not get into a more vulnerable or deteriorated situation. So it's in the best interest of the patient to provide them with a feature offering an opportunity to rate and review them to ensure their reliability
Physiotherapist  Application Features
1. Profile Setup
Here, the physiotherapists can set up their profile by adding information like name, profile picture, location, qualifications, achievements, available appointment hours, etc. Additionally, they can also mention the hospital so that the patient can them among others. The physiotherapist should be required to present crucial information such as the area of expertise, years of experience, memberships, etc. It augments the creditworthiness of the physiotherapist's profile and yields professional services.
2. Availability
It's not necessary that the time slot selected by the patients would match the idle time slots of the physiotherapist. So it's suggestive to equip them with an opportunity to use a feature where they can manage and schedule appointments as per the availability of their time slot. With this feature, they would be able to handle all appointments without encountering time-slots clashes.
3. Manage Services
The physiotherapists update their profile with the information comprising service they offer and charge for their services. You should allow them to add the services they are experts at and want to offer, although the verification would still be done by admin.
4. Accept or reject Job Request
Sometimes, the physiotherapists come up with instantaneous appointments or emergency and that makes them unable to accept the requested time slot for the patient. So, it's quintessential for them to have a feature to accept or cancel the job request and reschedule it for future dates.
5. Job Details
The physiotherapists are required to view the details about the last and upcoming appointment so that they schedule their services. In other words, it enables them to handle the job history and details that make the entire process hassle-free and organized.
6. Invoice Summary
It shows the invoice summary that comprises the last offered and billed services by the physiotherapist to the patients. The summary interprets their income accumulation upto the date they sort it. It racks up the information about the patient, nature of service, charges of the service and location of the patient. So, you should offer them to view the invoice after completing and billing of the job done.
7. Database
The physiotherapist should be entitled to view data related to the patient's progress, medical reports at one place, prescription chart including necessary file and documentation. It empowers them to offer the required consultation and physiotherapy for the patients. Today most of the mobile app development company prefer to use MongoDB, Jesse, Cassandra, Postgres, Jesse and MailChimp Integration for the database.
4. Look For A Perfect Development Company
Now that's again a tedious task to choose perfect mobile app development company for your physiotherapy app development. You can either go for a freelancer mobile app developer or can look for an experienced app development company like Matellio. And if you have made your mind go for a mobile app development company, but is still confused over how to choose the perfect one, then maybe this article can help you out. All in all, a web development company helps you to achieve your goals more quickly and efficiently. Also, remember to always stay in touch with your strategic partner during the complete product development cycle to remain updated about all the details of your mobile app.
5. Deployment
After you have your product in your hand, it's time for launching the product in the global market. However, before releasing the product, there are some things to be kept in mind, like
Get your products checked by the QA team. Again, you can either go for an in-house QA team or can contact the development company that you hired for your physio app development.
Check the functionality of your mobile app, whether it is performing up to the mark or not.
Market your product before actually releasing it in the market.
How Much Does It Cost To Develop A Physiotherapy App?
The cost of developing an on-demand mobile app usually depends on many factors such as
UI/UX Cost
Development cost
Designing Cost
Customization Cost(if any), and much more
If you want to get an accurate estimation of the total cost involved in developing your mobile app, then feel free to contact us at www.matellio.com
How Matellio Can Assist You In On-demand Physiotherapy App Development?
In between today's mind-boggling routine hours and tiresome lifestyle, people don't wish to ignorant at least about their health issues. It's not an astonishing fact that they don't find enough time to make a visit to a physiotherapist for treatment. So the significance of on-demand app lionizes wondrously and needs a specific and organized plan to develop on-demand physiotherapy app. Matellio is a leading app development company providing effectual and formative assistance in developing mobile applications.
Get the Conversation Started!
Get the Conversation Started!
[contact-form-7 id="34486" title="Side Form"]