How to Make an Online Booking App Like Tripadvisor?
Updated on Apr 20th, 2021
Now a trillion-dollar industry, online booking solutions are a preferred mode for customers to make travel bookings. Undoubtedly, travel and hospitality businesses need to upgrade their services to match pace with customer behavior and requirements to thrive. Something that Tripadvisor has been doing for ages now. Inspiring many brands to venture into the realm of online booking solutions with their unique range of features to entice the customers and make it big in the industry. If you are one such brand, here's little help from industry experts at Matellio on how to make an online booking app like Tripadvisor.
Why Should You Invest in building a Travel Booking App?
In case you still have second thoughts if you should build an online booking app like Tripadvisor, here're some significant statistics for you to consider:
The travel industry alone is worth $1.2 trillion.

The online travel market, with a projection of $756, is expected to grow by $817 billion by the end of 2020.

Global digital travel sales have already hit $694 billion in the year 2018, of which $190.4 billion was from the US location alone.

There is a 15.4% growth in global digital travel sales and 10.3% growth in hotel digital sales.

By 2022 the global market volume for online hotel bookings is likely to surpass $174 million.
Apparently, the era of online booking is here knocking the doors and opening new avenues of success for travel and hospitality businesses. This makes it a perfect time for companies to invest in digital transformation.
What is Tripadvisor?
As of today, Tripadvisor influences $546 Billion of global tourism spending, driven by over 6.6 million accommodations, restaurants, and attractions registered. It features over 385 million reviews and consists of almost two dozen websites that make it the largest travel community in the world that reaches 350 million unique monthly visitors. Right stated. Tripadvisor is your ultimate travel companion that offers travel planning tools to plan the perfect vacation. It helps you discover nearby hidden gem travel ideas, with hotels, restaurants, tours, and attractions. The best is each one of them located on maps to help you reach them. Find and book must-see things, reserve tables at great restaurants, and find accessible places to visit.
With Tripadvisor, you can compare prices for hotels, resorts, flights, and cruises for your next trip and make informed decisions based on reviews.
In a nutshell, Tripadvisor gives you access to:
A portal that lets you discover and book amazing locations right in a few taps

Trips feature to save and organize all the favorite travel ideas and locate them on maps, making it easier for you to plan and book them

700 million candid traveler reviews and opinions of accommodations, airlines, things-to-do, restaurants, and cruises

Great deals on hotels by comparing the lowest prices from more than 200 booking sites worldwide

Book engine for the world's most extensive collection of tours, attractions, and experiences

Modify or cancel the trip, attractions, and experience bookings free of cost

Great deals on airfares

Mobile tickets for booked tours and activities

Best cruise for you with latest deals and extensive ship-itinerary

Reviews and pictures posted by millions of users

QA portal to seek answers to any questions that you may have
How Does Tripadvisor Work?
Tripadvisor app uses your location (even when the app runs in the background) to share helpful recommendations on nearby stays, restaurants, things to do, and much more. This information is also accessible to third-party partners to provide relevant content and a better experience.
Which are other Apps Like Tripadvisor?
1. Foursquare
Foursquare City Guide boasts of leading you to the perfect sport from anywhere in the world. It gets you helpful, positive tips from the trusted global community that continually tracks where you've been and where you want to go, under a single screen.
Foursquare City Guide lets you:
Join the travelers' community that loves to explore unexplored parts of the world

Read short trips for ideas and discoveries from people across the world

Make lists for occasional to-dos keep a running to-do of neighborhood spots

Add testes, rate places, and lifelong places you visit for hyper-personalized recommendations

Follow friends, brands, and influencers to uncover the best travel experience with millions of tips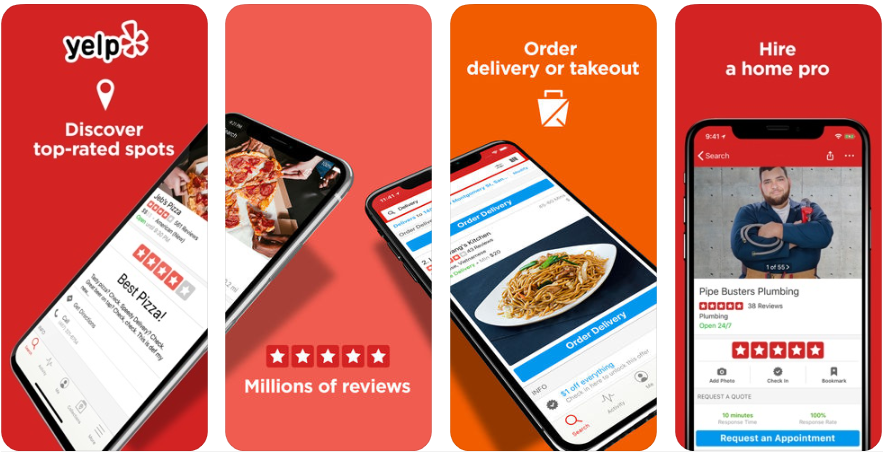 With over 199 million business and restaurant reviews worldwide, Yelp is your answer for new eatery opening nearby or maybe a great coffee shop, or probably a shopping destination closest to you. Accurately called a local city guide, it lets you browse through reviews, photos, and menus, order takeouts, reservations, and other relevant information.
Read online reviews, browse photos and menus, order takeout from favorite spots, make reservations, see hours, locations, and other relevant information for any business you're looking for. Yelp puts great local businesses right at your fingertips. Discover new foods, hot spots, places for shopping, and local businesses near me! While traveling or at home. Plus, order delivery or pickup.
As Airbnb claims, exceptional travel experiences start with Airbnb. One can find travel adventures, new places to discover far or around you, discover holiday rentals, new skills, and places to visit all around the world. Businesses can register themselves to start earning money as a host, and guests can book nearly every required for a great holiday.
Book travel experiences led by native experts or multiple days or just an afternoon. You can even search by price, neighborhood, amenities, and more.
4. Booking.com
With over 855000 hotels and apartments along with 77 million verified guest reviews on it, Booking.com features the broadest range of options to the one seeking them. One can simply register to the app to search for various cities, landmarks, and properties. You can easily browse the app for instant confirmation, offline maps, and paperless check-ins. And that's not it, the app (which is available in more than 40 languages) also brings you features like offline maps, calendars for multiple trips, and natural changes in bookings.
Tour of Things is a trip planner that enables vacation planning at the tip of fingers. It acts as a comprehensive tool for planning user's holidays and includes functionalities such as holiday planning, hotel reservations, events, workshop and festival bookings, etc. With Trips of Things, users can get curated local suggestions for their day plans, things to do, food, and beverages. Users can also benefit from the map integration that makes navigating in an unknown place easier. It truly revolutionizes the idea of traveling while making vacation planning simpler and more enjoyable.
How to Build an App Like Tripadvisor?
TextIf you are someone who is planning to build an app like Tripadvisor, here's a little help from experts at Matellio.
Step 1: Understand Your Market
The first step to build a popular app is to understand the market and brainstorm on building the one that would make you likable among one and all. Reach out to various stakeholders of your app and analyze data. Find answers to the following questions in order to understand your target audience:
What is the central pain point of your target audience?

Which mobile operating system is preferred by your target audience?

Which type of online content does your audience engage with?

What tone, voice, and content style resonates with your target audience?

Which platforms are best to leverage for paid marketing?

Are these users known to pay for using the apps or for making in-app purchases?

Which apps do your audience prefer using?

Existing competition and how they solve user's problems

The positive aspects of these solutions

The least popular aspects of these apps
Step 2: Brainstorm on your features
Once you have a clear idea of the market scenario, figure out the features to include in the online booking solution you want to have in your app.
User Panel Features
User Login:

Users can login via email or social media.

Get a Deal

:

Once the user verification is successful, one can access the app to provide trip details upon which the app displays an extensive range of deals available in the app. Users can easily browse through them to avail the preferred ones.
Holiday Package:

App gets the user all the details about the holiday package available on the app that combines deals on travel and hotel bookings. 

Navigation:

App shall make it easier for the users to navigate in the new locations with the inbuilt maps and navigation feature. It shall also deliver information about nearby landmarks and directions. 

Find and Book Cabs:

Users can access the app to find cabs nearby and book the same. 

Book a Guide:

Guides can also register to the app as individuals or as a part of organizations. These details can be accessed by the travellers who can book the guide right from the app. 

Payment:

A user can pay through the Payment Gateways provided in the app.
Agency Panel Features
Package Management:

Agencies can manage various travel packages in the app and make changes to them easily. 

Listed Destination:

Travel agencies can enlist the locations for which they offer the services, and even access the traveler details to leverage targeted marketing. 

Manage Payments:

Travel agencies can manage payments made by users from the app.

Bookings Management:

 

Agencies can browse through the listings made with them through the app and manage them easily. 
Analytics:

Agencies can access the reports generated within the system and analyse their performance over a period of time.
Admin Panel Features
Managing Requests:

The Admin stores the request made by the user or any searches the users do.

Manage Advertising and Promotions

:

The admin manages advertisement and promotional content running on the application. The admin can update the content or remove it accordingly.
Manage Users:

The users manage users who are signing in with their account credentials.

Managing Travel Agents:

 

The Admin manages the travel agents, and service providers that are registered with the application, and also admin manages the promotional solutions provided by the agencies.
Step 3: Identify the Monetization Models
Once you have figured out how you are going to approach your users, it's time to know which monetization model will suit your business goals better. You can go for:
In-app advertising

Paid ads

Freemium version

Subscription model

Paywalls

Sponsorships
Step 4: Consolidate your findings into requirements and find a software development company
It's finally time to put your findings into action. Hire a reliable travel and hospitality software development company. One can shortlist the most promising choices and make a decision based on available data such as:
Core area of expertise

Experience as a travel and hospitality software development company

Projects on their portfolio

Reviews and ratings provided by other clients

Project development methodology

Cost matrix offered by them

Engagement models that you can choose from

Post-launch support and maintenance

Team structure provided by them
Step 5: Fix the Price
Communicate your budget requirements to the software development company and make sure you request quotes from multiple brands along with everything they have to offer you.
Make an informed decision considering what each one has to offer and how it can complement your requirements in the future.
Step 6: Finalize the Team
Analyze what team structure is being offered by the software development company. Generally, an ideal team comprises of:
Business consultants

Design experts

UI/ UX engineers

Software development engineers skilled in the tech stack that's preferred for your business

QA and testing engineers
Step 7: Develop and Deploy
Build and deploy the software to finally interact with your target customers.
Are You Ready to Begin? 
If the answer is yes, you have landed at the right place. Matellio is a reliable software engineering partner for 100s of the successful startups and Fortune 500 brands who are looking to venture in the online realm or wish to automate their processes with cutting-edge software solutions. Our team of skilled developers are certified in their domains and offer their time-tested industry experience to deliver online travel solutions that meet your requirements and organizational goals. We have been associating with global brands on various engagement models, helping them leverage our expertise for growth and popularity. You can simply reach out to us now and get started on a smooth digital transformation journey. 
Get the Conversation Started!
Get the Conversation Started!
[contact-form-7 id="34486" title="Side Form"]