How Mobile Apps are transforming Real Estate Business?
Updated on May 15th, 2021
According to an article published on FitSmallBusiness, approximately three to five percent is the amount of contribution made to the nation's Gross Domestic Product through real estate investments. The use of real estate app like MagicBricks also has affected these numbers.
Also, housing rates have jumped from an approximate of 180,000 US dollars in the last four months of 2008 to an approximate 200,700 US dollars in August 2017. The Demand Index Value with regard to real estate ran down the slope to approximately eighty-three in 2014 and ran up the slope to reach an approximate of a hundred and twenty-seven in August 2017. One of the theories read that a factor like real estate app development may have affected these numbers.
Increase in levels of customer engagement and conversion

Hassle-free co-ordination among the software developer and the estate manager

Empowering clients with geo-tagging or the geolocation feature

Client support throughout twenty-four hours of seven days in the week

Improved real estate or property insights

Crystal-clear view of the real estate or property
According to research, real estate app development has inspired approximately fifty-one percent of people to purchase their dream home.
A real estate app development company should take care of the following factors in order to develop a robust application for the real estate sector:
The user interface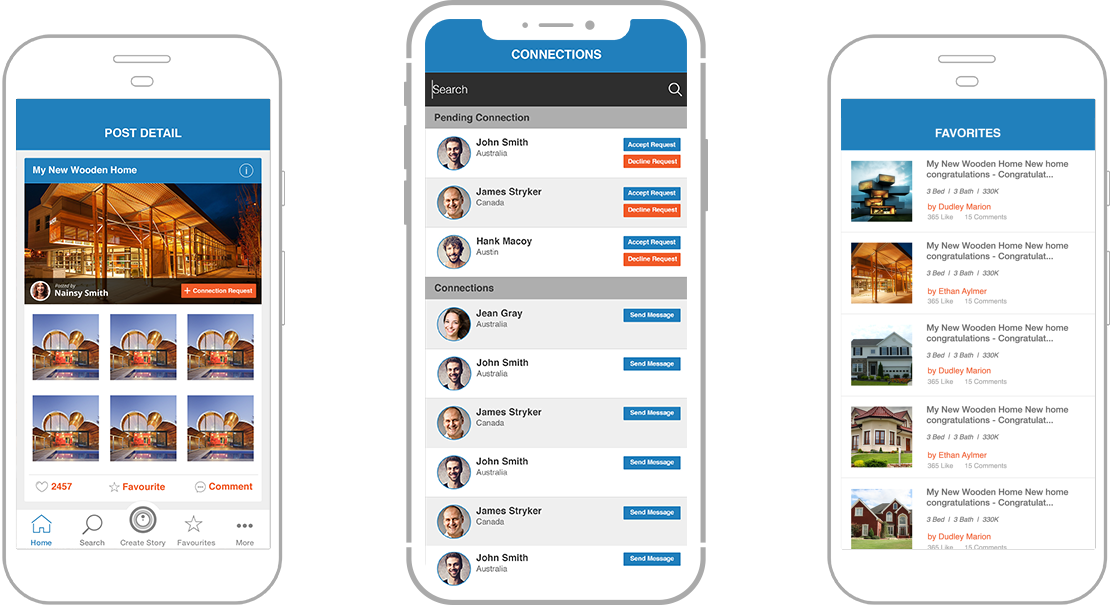 A three-dimensional view enables prospect clients, brokers, and agents can view the property listing clearly.
The creation of the favorite list for the client or the user on the basis of their views shall enable filtering their preferences.
The schedule and calendar features
This feature shall enable reminders and alerts for related real estate listings.
Area Navigation or heat mapping
This shall help in viewing the real estate or property listings related to the areas or location specified.
Registration or logging in
This shall enable the use of the real estate app.
Verification and approval
Approving the particular user profile whether a broker, estate manager or a prospective client.
Uploading a particular property
This shall help the users to view the lease or sales of a prospective site.
Calculators for a mortgage
This shall enable the appropriate mortgage rates that can be achieved.
Calculators for the rate of interest
This shall help in getting the correct rate of interest.
All these features attract users to download the particular real estate application for either purchasing or leasing their property. And this is applicable for users on both interfaces namely Android and IOS.
The Admin Interface
Structured mailing facility
This ensures that all requests can be monitored in a systematic way.
Organized back-end facility
This ensures that the number of total users can be monitored seamlessly through the metrics, CRM, and ERP facilities.
Listing of real estate options available to the users shall benefit them. This shall also include deleting, entering, or modifying a particular listing.
Payment platforms for hassle-free purchases
This option should include the mode of payments, facility for conversion of currency, and management of finances.
Marketing through subscriptions and offers for perspective users including brokers and estate managers are part of social media campaigning. Also, publish client reviews and other related information through this source.
All of these factors are managed through a dashboard provided to the admin on a particular desktop or laptop. This is to enable the monitoring of the user metrics such that the user experience can be improved or developed to become flawless.
According to statistics published on Understanding e-commerce, it has been observed that approximately eighty percent of individuals prefer buying homes or real estate properties through their mobile phones. This factor encourages real estate app development for all mobile phone users.
Also, the percentage of users who have purchased new homes or properties through mobile applications is close to seventy-five percent approximately. These numbers have been found to grow every year by a certain percentage.
These statistics state that people have eventually began to trust their phones instead of agents or broker for finalizing a particular property for purchase. And the credit of this habit of the users goes to the real estate app development company which have helped in eliminating physical middle-men involved in the real estate business.
However, the role of the real estate application is not limited to show property listings upon relative searches. It can also provide other services like that of an electrician, home development, carpenter, home cleaning, plumbing, and other such services for its various users.
Also, a unique facility has been launched in many mobile applications. This features the notifications of property or home auctions occurring in the city or town such that users can afford their piece of land.
The idea of the auction came from the housing finance companies where they experienced defaulters in loan repayment. These properties were put up for auction eventually such that the finance company or the builder does not suffer from financial crisis.
There are some challenges or limitations the mobile application might face.
The physical view and existence of a certain property

Fraudulent agent or brokers

Communication with the landlord directly
But for overcoming these shortfalls or limitations, there are real estate mobile applications which have been developed which provide the contact details of either the landlords or the estate brokers such that the client remains happy and satisfied with the service provided through the mobile application.
Summary
For any real estate application to function smoothly in the market among its users, the above factors need to be taken care of. Hence, it can be comprehended that for having a seamless and blockbuster real estate development app performing on Android and IOS, the above factors need to be considered. And Matellio can help in achieving a real estate app in a similar way.
Get the Conversation Started!
Get the Conversation Started!
[contact-form-7 id="34486" title="Side Form"]