Businesses from different industries are adopting cloud technologies to match the pace of today's digital age. Cloud technologies have emerged as one of the best ways to streamline your operations, enhance scalability, and improve overall efficiency. One such cloud-based solution that you must leverage is SaaS cloud migration services.
SaaS, or Software-as-a-Service, can offer you the best transformative approach to your business and let you leverage the power of the cloud for your different operations. The cloud can provide unlimited virtual resources and allow your business to easily scale up or down its applications based on customer demand.
Well, the market stats of the SaaS cloud migration market indicate the growing adoption rate of these services globally.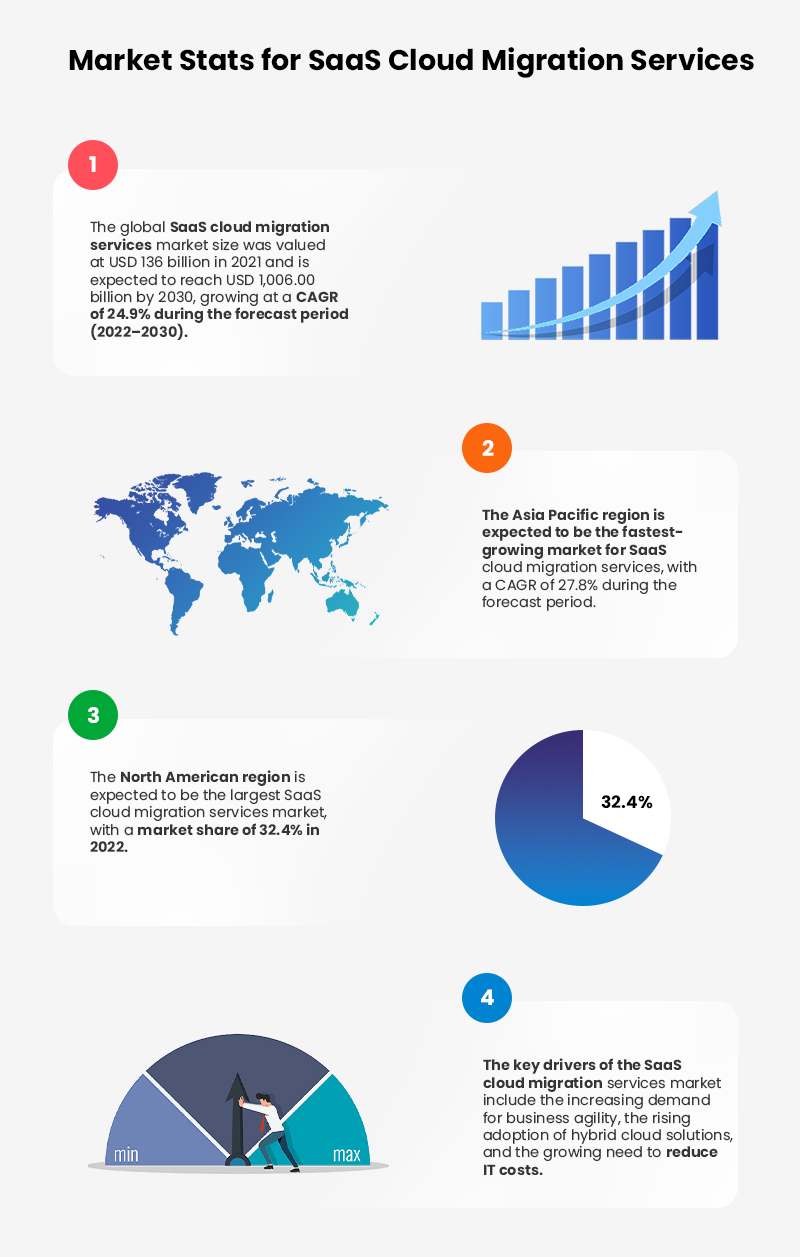 Now here, through this blog, we will be talking about some of the crucial aspects related to the SaaS cloud services that can add value to your business growth.  
Almost every business in different industries is evolving in this digital era, and you can, too, by choosing to invest in SaaS cloud migration services.

 

It would be best if you considered adopting cloud migration for your business for different reasons. Some are cost savings, scalability and elasticity, enhanced data security, and others.

 

Edge computing, AI and ML, multi-cloud, and hybrid cloud strategies are some of the crucial future trends of SaaS cloud migration.

 

You must follow different vital steps, including assessing your current infrastructure, choosing the right cloud service provider, defining the cloud strategy, and others.
What is SaaS Cloud Migration?
SaaS Cloud Migration refers to the process of transitioning software applications from on-premises infrastructure to a cloud-based Software-as-a-Service (SaaS) model. It involves moving applications, data, and related services from local servers to a cloud platform, where they are hosted, managed, and accessed remotely over the internet.
In a SaaS model, software applications are delivered over the internet as a service, eliminating the need for businesses to install and maintain software locally. The applications are hosted and managed by a cloud service provider, who takes care of infrastructure maintenance, security, updates, and support.
Read More: The Cloud Migration Process: Essentials A Business Should Know
Why Should You Invest in SaaS Cloud Migration?
There are multiple perks of investing in a SaaS cloud migration service, and here we have mentioned some of the major reasons that can support your decision to invest in this service. They are:
Scalability and Elasticity
The first perk of investing in SaaS cloud service is that it allows you to scale your resources up or down as per your requirement. The cloud service provider that you choose should offer you flexible plans that can allow you to adjust your resources based on your business needs. We do offer this perk to clients leveraging cloud service from Matellio.
It is because this kind of scalability ensures that you have the necessary resources to handle your increased workload during peak times and can easily optimize the costs during the period when demand is low.
Cost Savings
Talking of optimizing the costs, well, it is another reason why you should invest in SaaS cloud migration services. It will eliminate the need for upfront hardware and infrastructure investments.  
Additionally, you can avoid the costs related to the maintenance and upgrade of the infrastructure. All these responsibilities will be handled by the cloud integration services provider that you choose.
Enhanced Collaboration and Accessibility
Another benefit that you can gain by investing in SaaS cloud migration is that it enables seamless collaboration among different teams regardless of their physical location. When you invest in cloud-based applications and data storage, your employees will be able to access and work on documents and projects in real-time collaboration sitting anywhere. It will ensure that your team members are working together efficiently and will increase your overall productivity.
Enhanced Security and Data Protection
SaaS in cloud migration can enhance your security and data protection, and it is another perk of investing in this service. You will be offered robust security measures to protect your data. When you choose the best cloud migration service provider like Matellio, you get advanced encryption techniques. We provide access controls, regular security updates and take multiple other steps to ensure the confidentiality and integrity of your information.
Access to Cutting-Edge Technologies
You can gain the perk of working with the latest technologies and enhance your business operations by investing in cloud migration services. By migrating to the cloud, you will be able to use cutting-edge technologies such as AI, ML, and IoT to innovate and improve your operational efficiency.
Future Trends in SaaS Cloud Migration
You would agree that SaaS development services have high demand in the market, and so there are different future trends waiting to sustain your business growth in the long run. Here we have mentioned some of the major future trends that have the power to impact your business in the coming time positively.
Multi-Cloud and Hybrid Cloud Strategies
With the help of this trend, you will be allowed to distribute your applications and data across different cloud platforms. This distribution can be based on your specific requirements, such as performance, cost, and geographic location. It will optimize your workflow and will enhance your business efficiency.
Serverless Computing
Another future trend of SaaS cloud migration services is serverless computing which is also known as FaaS(function as a service). It is gaining popularity as it enables your developers to focus on writing and deploying code without worrying about infrastructure management. By leveraging these future trends, your business will enjoy multiple perks, such as a pay-per-use pricing model, auto-scaling, and reduced operational overhead.
Edge Computing
Moving forward, you can always seek assistance from your SaaS cloud providers and get hold of the cloud migration future trends known as edge computing. The proliferation of IoT devices and the increasing demand for real-time data processing is driving the future trend of edge computing. It brings computing power closer to the data source, reduces latency, and makes the response time faster.
Artificial Intelligence (AI) and Machine Learning (ML)
Next-gen technologies such as AI and ML have emerged as transforming power for multiple industries. These technologies can be integrated with the SaaS cloud migration and bring revolutionary change. These future trends can be used by you to enhance automation, optimize resource allocation and derive valuable insights from large volumes of data. Using AI development services can help you in making data-driven and intelligent decisions that will sustain your business growth.

Steps for Successful SaaS Cloud Migration Services
Let us begin with the most awaited part of the blog, and here we have mentioned some of the major steps that you must follow to ensure a successful SaaS cloud migration.
Assess Current Infrastructure
The first step is one of the most significant parts, where you need to evaluate your existing infrastructure. Now the evaluation part will require an expert eye so that nothing is missing. You can always choose Matellio. 
The expert will assess the hardware, software, and networking components. With this help, you will be able to identify the strengths, weaknesses, and limitations of your current setup. It will give you a clear picture of what you need to improve within your system.
Choose the Right Cloud Provider
In your second step, choose the best custom enterprise software development company, willing to offer you services with cloud migration. You need to select the right provider that meets your specific requirements.
You need a reliable partner offering you the best data security, infrastructure reliability, compliance certifications, pricing, and scalability options. All these and many more perks can be yours if you leverage the services of the experts at Matellio.
Define Cloud Strategy
Once you have the best service provider for the cloud migration process by your side, it's time to move forward with cloud strategy. It is a high-level plan that will be carved by your service to achieve your business objectives.
You need to define your requirements to the experts, and they will help you in choosing the right cloud model. Based on your requirement, you can choose from multiple cloud strategies such as public, private, hybrid, and multi-cloud strategies.
Plan Migration Approach
The next step that your SaaS cloud providers must follow is to plan the migration approach. It is one of the steps for successfully migrating to the cloud. Your SaaS cloud migration service provider will be involved in defining the scope, timeline, and activities required for the particular cloud migration strategies.
This step also consists of choosing the right migration method. Once everything is planned, it is vital to select the appropriate migration methods. It will be based on the characteristics of the application and the data that is required to be migrated. Some of the common migration methods include rehosting, re-platforming, refactoring, or rebuilding applications.
Data Migration and Integration
Another step to ensure a successful SaaS cloud migration for you is transferring and consolidating the data from various sources that you have into the cloud environment. You must ensure that the cloud migration service provider that you choose should make sure that your data is transferred with integrity, security, and accessibility.
Matellio Can Be Your SaaS Cloud Migration Service Provider
Scrolling down till here, you will be sure that you need a reliable SaaS cloud migration service provider. It is their expertise, experience, and efficiency with the migration process that will help you in a successful transformation. So, who should you consider? We have a solution for this confusion also, and that is Matellio!
We are leading in offering digital transformation services to all our clients, and our experts have extensive experience in providing cloud migration services. These experts will make sure that you enjoy a seamless and efficient migration process for your applications and data to the cloud.
We understand that every business has its unique requirements, and their cloud migration needs might vary. But at Matellio, we choose a tailored approach and work with our clients very closely to understand what they exactly need. We ensure a smooth transition to the cloud, allowing you to leverage the benefits of SaaS and scale your business to new heights.
Get the Conversation Started!
Get the Conversation Started!
[contact-form-7 id="34486" title="Side Form"]