Top 5 Benefits of using Salesforce for the Finance Industry?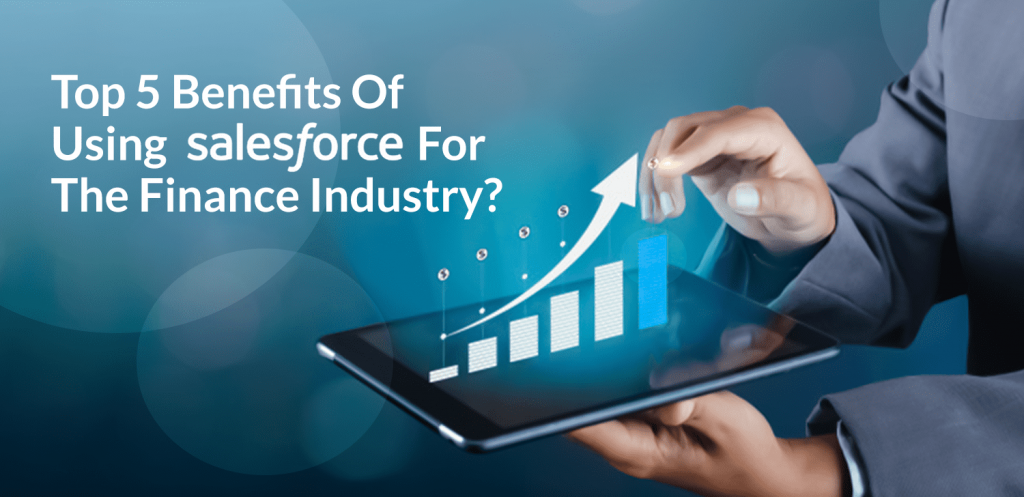 Salesforce has made its name as the top CRM to use for the majority of industries of all types. The finance industry cannot shy away from the advantages Salesforce has on offer, especially with the Salesforce Financial Cloud. There are various advantages of including Salesforce into your solutions as a finance company, it can help in many ways for managing operations and business requirements with ease.
The finance industry is different from the others, there is a lot of information flowing in it, and the decisions made based on that information are very important. The Salesforce CRM will let you have all the information you need in one place, accessible in a simple dashboard. We can customize your software solution for you to take the maximum advantage of both Salesforce and software which fulfills your other business needs.
What is Salesforce CRM and the Salesforce Financial Services Cloud?

The Salesforce CRM lets businesses ease their processes and operations by providing a complete customer relationship management solution that can help them to do so. The Salesforce Financial Services Cloud is a complete wealth management system, which would allow you to take care of the wealth of your clients with the utmost ease. We combine the best of both to create what you get as a complete solution for managing your finance business, all while keeping your employees and customers happy.
Let us now begin with the top benefits of using Salesforce for Finance.
1. Wealth Management
Managing the wealth of the clients is one of the most important functions of a finance company, and Salesforce makes it much easier compared to the legacy systems. The Salesforce Financial Services Cloud enables you to manage the wealth of the clients with ease, while the Salesforce CRM lets you manage the communication and the process management part.
If you are looking forward to taking your business to the next level, if you especially deal in wealth management, Salesforce can be the top choice for you. We have created various custom solutions and added the functionalities fit for our clients, we took from the best of those available in Salesforce. Salesforce provides many more services that will help you manage the wealth and communication better.
2. Information Gathering 
Information is important in the financial sector, as it is what the companies base their decisions on. Salesforce has many services on offer which directly fetches information about your customers, and the Salesforce CRM puts it all together for you. The information can be seen and managed, along with complete workability right in the custom software solution, we make for you.
A finance software needs both fetching and proper displaying of information, along with automation to make processes smoother. The dashboard we build for you will feature everything your team needs in one place, it is effective and efficient at the same time. We make sure we pick the best of both the Salesforce CRM and the Salesforce Financial Services Cloud to give you the best possible solution.

3. Marketing
Salesforce equips you with great marketing tools with its service called the Salesforce Marketing Cloud, it works to improve the quality of your leads. Like every other industry, the finance industry needs leads too, and the Salesforce service on offer can help you build the best marketing strategy with ease. We integrate the Salesforce Marketing Cloud right in your custom software, along with other Salesforce services.
We can help you with the configuration and setup of the Salesforce automation tool, and if you want we can have our expert AI development team work on your project. Finance is a big and wide industry with a lot of factors playing their part, our services can help you mitigate risks and improve the overall profits in the long term.
4. Customer Service 
Salesforce is known for its customer service and has a separate cloud service for managing the support called the Salesforce Service Cloud. The Salesforce Financial Cloud Services can be directly used with the Service Cloud, we will create the best solution for you which takes care of all the aspects.
If you are planning to retain customers, Salesforce is a very good option to go with, it is one of the most customer-centric companies in the world. Your solution will be aimed at providing the customers with the best, you get to choose from the best and get it implemented in your custom solution. We take care of all your requirements while integrating Salesforce into your business solution.
5. Automation
Automation is a necessity in today's times, as no one has the time to go through the entirety of the massive data available. Salesforce provides its own Salesforce Automation service, we add on to it with our expertise in artificial intelligence and machine learning. We can create a powerful solution for you to take care of all your business needs from one single software.
We excel in using AI and ML to help companies ease their workload, we can help you be more efficient and earn a massive RoI over time. Salesforce will provide you with all that you need to manage your business processes and more, and we set up and configure perfectly according to your business needs and requirements to make them more efficient.

Conclusion 
Salesforce in finance has evolved a lot over the years, and the services on offer right now are some of the finest in the industry. We make sure we help you with all your business needs at once, in your own custom software based on your business needs. We as a software development company are serving as the creators of bespoke software solutions for businesses of all industries and niches. If you want a software solution that can remediate all your inefficient business processes, you can contact us and we would be happy to help you make the most of your investment into Salesforce.
Need Help With Development?