Top 8 Ways In Which Salesforce CPQ Enhances The Customer Experience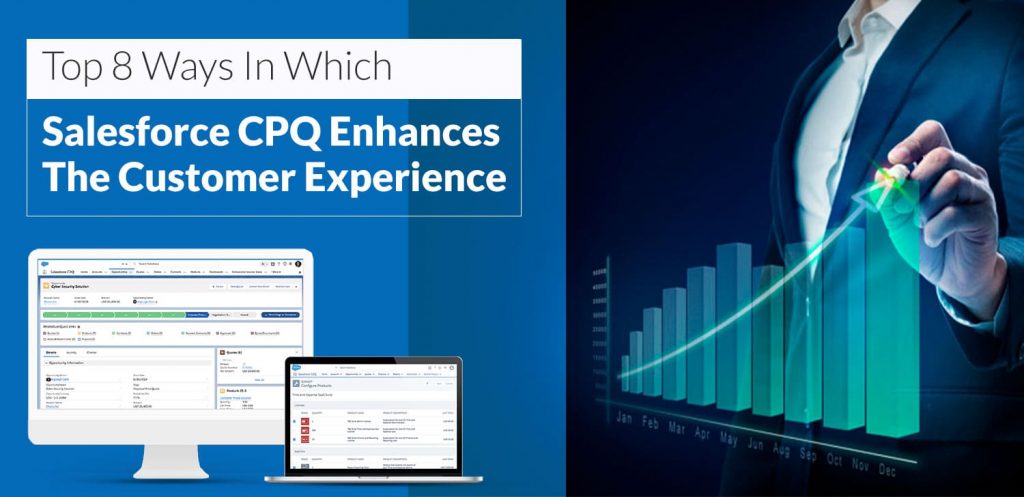 A fundamental objective of companies is to remain competitive and to achieve higher profits from business activities. Many companies fail to deliver precise, accurate, and optimized pricing, though in the modern age. Their obsolete pricing and ordering methods rely on traditional entry, leading to waste and inefficiency in quoting and pricing and off-putting customer interactions. Rather than focusing entirely on closing contracts, salespeople devote around 66 percent of their time producing quotations, drafting plans, and receiving permits. It often takes days or even weeks for a quote, so if that late quote is entirely mistaken, the consumer will certainly not be satisfied. It's usually assumed that poor customer service takes clients the way of your rivals.
That's the reason nowadays, many companies and businesses are moving towards Salesforce CPQ to standardize their sales activities, generate quotes instantly, and speed up their deals. Thanks to the high flexibility and compatibility with CRM and ERP solutions, Salesforce CPQ is prominent across numerous sectors, including its potential to configure robustly tailored and appropriately priced customer offers. Businesses can turn their capacity to expedite sales processes and quote performance using CPQ salesforce software.
But how does Salesforce CPQ hopefully maintain your customers satisfied and have an excellent consumer experience? By the end of this blog, we assured you that you'd get the answer.
In this blog, we have listed in-depth details about salesforce CPQ like overview, benefits, why you need it, top ways in which salesforce CPQ enhances the customer experience. So without any further ado, let's get started.

What is CPQ?
CPQ refers to quote, price, and configuration. Simply stated, it's a solution focused on consumer choices for arranging the products, outlining costs, and providing actual quotes.
What is Salesforce CPQ?
With Salesforce CPQ, companies can easily customize goods and services, price orders and save precious time through rapid and robust quotations. The Salesforce CPQ not only offers a company the opportunity to quote rapidly, reduce the complexity and improve productivity at a furious speed, but it also helps staff to make personalized sales journeys for each specific customer. Salesforce CPQ enables you to leverage the ultimate support of Salesforce Sales Cloud's features to quote fairly efficiently, close transactions more quickly, and speed up your shipment cycle.
Salesforce CPQ provides advanced sales that are ten to thirty percent easier and more efficient to execute than conventional CPQ apps. Nowadays, CPQ salesforce is used in small to large companies, high tech firms, manufacturing, development firms, and plenty more, but many are still probably not even aware when to use and need it. So, let's move forward and discuss,
Why invest in Salesforce CPQ? When is salesforce CPQ right for your business?
Here are among the most significant reasons that demonstrate that CPQ salesforce is the best suit for all your business requirements.
1. Using traditional systems 
If you are using paper or applications such as Excel or PowerPoint, it is essential to admit Salesforce CPQ to help customers with quotations or contracts personally. It also can save many resources, time, energy, decrease errors in the quote, and improve efficiency.
2. Missing chances and opportunities
Salesforce CPQ-powered suggestions and relevant advice will help ensure that such chances are not overlooked. Also, it tends to ensure that the right product is presented to the consumer.
3. Releasing incorrect sales quotations 
Imprecise sales quotes for consumers reflect unprofessionalism and understanding of product offerings. Salesforce CPQ eliminates the discrepancy between the operations of CRM and Quotation An incorrect sales quotation can spoil many marketing results and leads to frustration in the sales department. Take that opportunity provided by Salesforce CPQ to reduce the selling process's errors and concentrate on improving client relationships and prospects.
4. Inconsistency in data 
As we know, salesforce CPQ can be easily integrated with CRM and ERP systems. It helps streamline the information so that all the appropriate teams have access to the relevant information, enhancing decision-making, authorization, quoting, contracting, and analysis. As the sales department all have links to the same details, this would also minimize mistakes and misinterpretations.
5. Salespeople are spending too much time on pricing
Sales officials spend lots of time producing quotations instead of selling. Whenever prices are demanding, sales reps are often more likely to stay longer creating quotes instead of selling. By insisting on a specific deal counter for customizing the goods, some companies try to mitigate this consequence.
6. Salespeople are unable to keep up with the variability of services and costs.
A comprehensive but easy-to-use collection that offers versatility requires expanding and customizing product range and variable pricing strategies. It can lead to poor results, frustration, and disappointed clients if salespeople would not keep records of these dynamics. In contrast, competitive pricing mechanisms also depend on calculus equations, like complicated discount offers, packages, and renewals.
Few other reasons are:
Multiple errors through various deals in quote setup.
Fall in performance and productivity of sales teams.
Fall in closures for purchases.
Manual mistakes that occur in quotation mistakes.
Depletion of brand equity.

A gradual decrease in rates of conversion.
Slows in the quote set-up.
Fall in rates of closing.
Long decision-making cycles.
No automated renewals were resulting in a decline in retention.
Disruptions in quotation preparation and sending.
As of now, we have discussed what salesforce CPQ is all about, when you need it, and why to invest in Salesforce CPQ. Now, read on to find,

Benefits of using Salesforce CPQ
The benefits of using salesforce CPQ to streamline business operations and customer experience are huge. Below we've mentioned a few of them. Take a look!
Ensure a comprehensive view of the sales funnel.
Increases sales team productivity to generate better quotes.
Decreases pricing errors.

Enhances sales and productivity with smarter quoting.
Enhances customer satisfaction.
Reduces operational costs.
Provide tools and templates for automated quoting.
As mentioned above, one thing is precise that salesforce CPQ comes with loads of benefits. Moving on, let's move forward and discuss,
How Salesforce CPQ enhances the Customer Experience? Top Ways and Reasons to use
Well, Salesforce CPQ enhances the customer experience in many ways; below, we've mentioned a few of them, so take a look!
1. Reduces Failures and Mistakes 
With Salesforce CPQ, through one application, new goods, setups, and prices are all modified in actual environments, ensuring that all quotes match exact pricing. Salesforce CPQ will produce error-free quotes depending on different form factors and absolute values, with correct product configuration procedures in place. You will reduce the sales cycle to less by providing specific quotes and removing a need for modifications.
2. Reduces Downtime 
The CPQ Salesforce helps you and your client to get the most out of their resources. The Salesforce CPQ decreases the latency involved in creating proposals automatically once you optimize the quote procedure. So this helps a company's salespeople to aid with more opportunities in far less time. Companies using Salesforce CPQ software are seeing a decline in their sales process duration and a continuous rise in the number of proposals per official.
3. Transparency 
To see what is efficient with your sales department and what requires updating, you can use analytics offered by Salesforce CPQ. A critical viewpoint on your sales operation is provided by the salesforce CPQ, which offers more meaningful insight through each quote produced and for products and services proposals. Salesforce CPQ can also view personalized sales reports and visualizations so you can differentiate your superior edge customers, the most profitable customers, and the optimal pricing strategies.
4. Better sales with minimal input
Salesforce CPQ produces much more accurate alternatives which are purely appropriate for your business after carefully monitoring the situations. Both the production and sales procedures are efficiently influenced by the Salesforce CPQ system's changes crafted, and you'll have esteem in its carefully planned ideologies. Your company's profitability can be anticipated and then further also used to make final proposals that guarantee the success of your desired outcome. The automated method will certainly save a significant amount of time and enable you to split your focus wisely.

5. Consistency and Accuracy 
Is indeed Salesforce CPQ rapid in service; it's also precise. Negligence will be a nonissue as optimized; error-free pricing is generated automatically by the salesforce CPQ technology. To facilitate all your product offerings, the system further acts as a single, centralized monitoring system. Just think of having every price quote, every query already sent to a client over one location to endorse a quotation is unique. Isn't it?
This data is not only centralized, but the CPQ system ensures accuracy. And you will still profit from handling all these pricing records from a singular, standard system, even if you deliberately use a dispersed pricing policy all over your sales channels.
6. Offers customize offerings 
If salespeople depend on diverse systems, including such Spreadsheets, there is a possibility of using obsolete pricing systems to collect price quotes. Current pricing data exists in one location with the salesforce CPQ system, and sales managers are more aware of pricing changes and offers, minimizing the risk of mistakes and unauthorized undervaluing. To generate customization, custom salesforce CPQ can use client account details through using salesforce account management.
7. Analyzing productivity
By assisting you to evaluate sales processes and carry out contract demand forecasting and more, Salesforce CPQ involves ensuring that your sales offers are efficient, so you can only produce economically successful and competitive quotes through automated processes.
8. Quote from anywhere 
The efficient sales factor ensures that both the sales representatives and customers will go from any device across the sales process in the fields or on-the-go. Being accessible from any computer wherever and whenever, Salesforce CPQ will offer more influential perceptibility over the selling process.
Why choose us?
Matellio, as your Salesforce CPQ partner, will improve your productivity, highest level profits, and lower part profitability. We develop a salesforce CPQ system on a budget that is CFO-friendly and approved.
Professional Team – All deployments are carried out by teammates who are experienced in this salesforce development and have carried out numerous custom salesforce developments in different sectors. Our team is full of salesforce development experts.
Consistency – We never raise prices suddenly and never avoid threats. We expect your trust to be won and sustained.
Collaboration – We match our expectations with yours and, faithfully, commit ourselves to fulfill them.
Outcomes – We understand we're largely going to be defined by what we develop, therefore we consider quality a ritual.

Wrapping Up
Salesforce CPQ has the potential to change your business operations and can be adapted and implemented into your particular business use scenario. Salesforce CPQ allows you to analyze the information and create the most efficient and time-saving quotes with a clearer understanding of the market environment. Upkeep, quoting, or mistakes should not be as much of a challenge with Salesforce CPQ implementation. With that progress, your company or business can grow, broaden offers, and have a salesforce CRM that expands. Having the right mix between customization and maintenance may be the secret to longevity.
Many leading businesses and organizations have benefited from the introduction of Salesforce CPQ, and you must embrace it to begin on a journey to build a successful business.
If you are looking for a Salesforce CPQ consultant firm, contact us. Our salesforce experts can help identify the business requirements, develop a plan, and execute the salesforce solution. Please speak to our salesforce specialist on how to be a partner in salesforce CPQ integration with Matellio.
To know more, visit – www.matellio.com.
Thanks for reading.
Know App Development Cost