Top Ways Businesses Can Benefit from Salesforce Implementation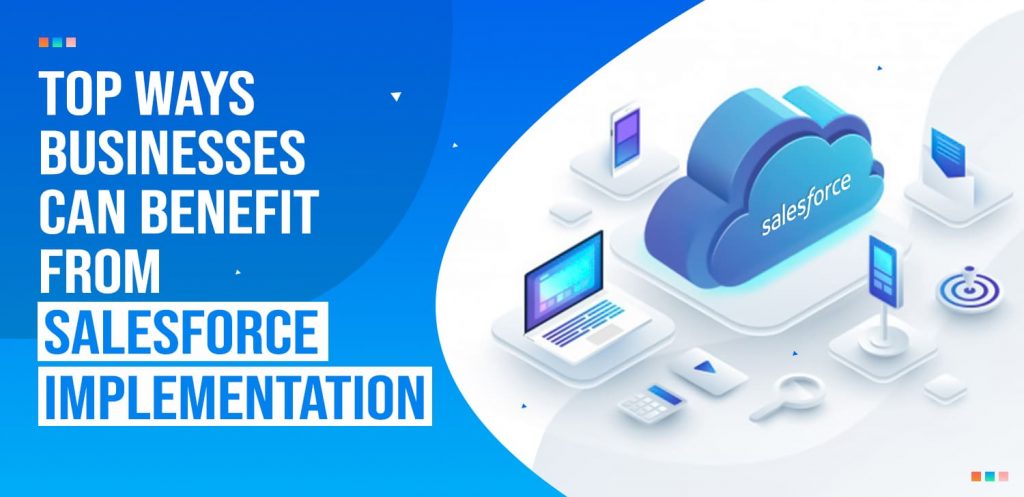 Have you ever heard of Salesforce? Indeed, you have; it is revolutionizing the businesses with its capabilities to manage the processes efficiently. It's not like it has been developed recently; instead, it has been available since the late 90s. Since then, it has been continuously evolving and today has become the most preferred and result-oriented CRM solution which can easily manage each requirement of your business.
In current times, businesses are looking for a solution that can manage or optimize their business with the help of advanced technologies. Along with optimizing the business process, creating unique experiences for each customer is mandatory to keep the business going. Since the year 1999, Salesforce has been delivering excellent quality in managing business processes through its elegant and flawless CRM solutions. Salesforce implementation in your business can be highly beneficial due to many reasons. In this blog, we will discuss some of those reasons. Let's start with a brief intro about Salesforce and why you need the same?
What is Salesforce, and Why is it Important?  
Salesforce offers a robust cloud platform that easily manages all the business processes with ease. It has changed the way organizations are working these days; only it has made the processes more flexible and customized for each individual. The company was founded by Marc Benioff, currently serving as the chairman and the CEO of the organization. The headquarter of the company is in San Francisco, USA. It can be described as cloud computing software as a service (SaaS) that keeps all the business processes running smoothly and ultimately increase the revenue figure and the customer satisfaction rate.
When you talk about the capabilities of Salesforce, it has been immensely successful in bringing the consumer and the businesses together. It is a multi-solution platform that is designed aesthetically to help businesses with almost anything. Whether you are promoting a service, selling a product, and more, Salesforce assists you with keeping track of all the customer and client information which ultimately delivers security make this fall in place.
There are a number of things it can do for your business, such as managing contracts, generating insightful reports, managing leads, managing eCommerce, integrating third-party software, and much more. When working with Salesforce, every peer of the business handles their own responsibility; for instance, a developer creates new features and products in a complex environment, an administrator deploys and manages the platform, which includes delivering support to the team members, cleaning up old data, and user maintenance among all the other things.
Salesforce handles a market share of 19.5 percent customer relationship management applications. Considering the current growth rate, it has been projected to cross the valuation of 40 billion USD by the year 2023. The reason behind its tremendous success is its ability to ensure an extraordinary customer experience.

How Long Does It Take to Implement Salesforce?  
The Salesforce implementation process is not quite complicated as people may think. It has been designed to deliver a soothing business experience and enhance the capabilities of any concerned organization. Every business is unique, and the duration of Salesforce implementation depends on the specific requirement of the business. The generic time frame of implementation is two weeks, but it can be elongated as per your requirements. The time frame entirely depends on the user adoption and retention of various aspects; if you are curious to know the exact time frame, you should consult a software company that delivers excellent Salesforce implementation services.
The implementation process is not much complex, but it has a number of things involved but here is a generic approach to make the most out of Salesforce. You can follow these generic steps to successfully implement the cloud-based CRM platform.
Find a Reliable Salesforce Implementation Consultant  
Before revamping any process of a business, it is mandatory to analyze the previous working procedure and elements to get an idea of the work needed. You will need a reliable Salesforce implementation methodology and a trusted partner to do the work for you. These companies understand your business's needs from a ground level and suggest the process needed to be done. It is very important for these consultants to enhance your business performance without compromising your company values and vision.
On the other hand, you can simply find a Salesforce development company and ask them to create a solution that fits like a glove with your business needs.
Assign a Project Lead  
After you have found a consultant or a Salesforce development company, there is a need to assign someone capable to oversee the process of implementation. Remember, the assigned person should be able to fully understand your business process to ensure a successful implementation. The responsibilities of the assigned person would not end after the successful deployment of Salesforce; he/she would be responsible for overseeing the process after the implementation and making sure that the staff of the company is utilizing the capabilities to the fullest.
Set Time Frame  
When a Salesforce development company analyzes your requirements and other necessities related to the process, they will craft a plan which will include an estimated timeline. However, the timeline can be adjusted in various cases. You can divide the complete task into various pieces and set a timeline on the same, which will make things extremely easier. For an exact timeline, consult a reliable Salesforce implementation consultant.
Consult the End-users  
Salesforce implementation in your business will ultimately target the end-users of your services and products. Their daily process will be affected by this successful implementation. The terms end user here refers to the employees associated with the process and the customer and the clients of your business. It will be a new experience for your staff; hence it is mandatory to ask your development partner or the consultant to answer their question and assist them with various issues. On the other hand, you may connect with the customers to review their feedback and, depending on the response, adjust the workflow to streamline the process.
Retain the Data  
When you are revamping your business process, it is mandatory to keep track of data. Every company has essential data sets that are extremely important for the business. You can assign a person to look after the data transfers. This step is important as without essential maintenance, the data can become inconsistent or can be compromised. Proper maintenance and monitoring of the process will ensure no duplicity of the data that can affect the overall customer experience.
The Launch  
Whether you are launching a product or a service, it is recommended to launch in phases. The reason behind launching in phases is the sudden adjustment of the employees and the customers. You can't expect your employees or customers to grasp the complete system in just one night. You have to make customers and your employees comfortable with the process.
Top Benefits of Salesforce Implementation  
Salesforce has become the most preferred cloud-based platform for a majority of businesses as it delivers a number of benefits that make the overall process extremely easy. It streamlines the sales and marketing of businesses which can be considered the backbone of any organization. Here are some of the benefits that come along with Salesforce implementation.
Established Reporting  
Any business in the market can't survive without organized data. Businesses have multiple sources to gather data, but if the data is not consumable, it is considered useless. An ideal data set should be properly sorted, analyzed, and cleaned to make the most of it for business purposes. Salesforce offers you the capabilities to perform an in-depth analysis of data and helps in maintaining clean data. It also helps in monitoring the ways in which anyone interacts with the company and maintains a record for the same.
Sales Forecasting  
Salesforce has been widely used to understand the sales trends of the market and predict future sales opportunities based on the data of the past. It will help your sales team in forecasting the lead prospects precisely, which will ultimately increase your overall revenue. Salespersons of your business can use it to effectively plan their next sales campaign as compared to earlier; planning a sales campaign requires hours of brainstorming.
Effective Business Strategy  
If you think that Salesforce only helps the sales department of your business, then you are not well informed about its capabilities. The CRM delivered by Salesforce helps in developing result-oriented business strategies and tracks the number of business-related tasks. When businesses follow Salesforce implementation methodologies, processes like task scheduling, inventory management, marketing, business forecasting, accounting, and more become more result-oriented and organized.
AppExchange  
You must have heard about the creative and dynamic business app store launched by Salesforce. When you implement Salesforce into your business, you get access to more than 2800 apps that can be utilized to enhance the customer experience and engagement. The AppExchange of Salesforce has both free and paid apps.
Efficient Tracking of Consumer Lifecycle  
Consider this point from a salesperson's viewpoint; if they can track the consumer lifecycle, it would mean the world to them. Salesforce delivers you this level of freedom; it tracks every possible touchpoint and records the same to view later. These recorded insights can be later used to enhance the overall consumer experience. Salesforce offers features like Sales Cloud, Service Cloud, Marketing Cloud, and more to assist businesses in understanding consumer behavior. Along with these features, it also tracks the journey of consumers and delivers better service, which ultimately boosts the sales figure of the business.

The Bottomline  
Salesforce is a cloud-based platform that solves business problems with its astonishing capabilities. If you are thinking of developing your business in terms of revenue and an enhanced user base, the Salesforce implementation can be extremely beneficial. Along with a ton of benefits, it helps you in optimizing the overall business to drive up the sales figures, ultimately giving you an edge over the competition. The sales market is considered to be constantly changing, and to cope up with the trends, you need an effective and result-oriented solution like Salesforce.
Matellio has developed several Salesforce solutions for business with excellent ratings and reviews. We develop custom solutions for your business that fit perfectly with your future and present needs. Our team of experts and engineers is highly experienced and is ready to develop a perfect Salesforce solution for your business and implement them in the way you want. Along with highly qualified experts, we also offer a range of feasible hiring models that perfectly fits your financials. Book a 30-min consultation with our experts to know more about our processes and discuss your ideas. We are just a click away!
Get the Conversation Started!
Get the Conversation Started!
[contact-form-7 id="34486" title="Side Form"]