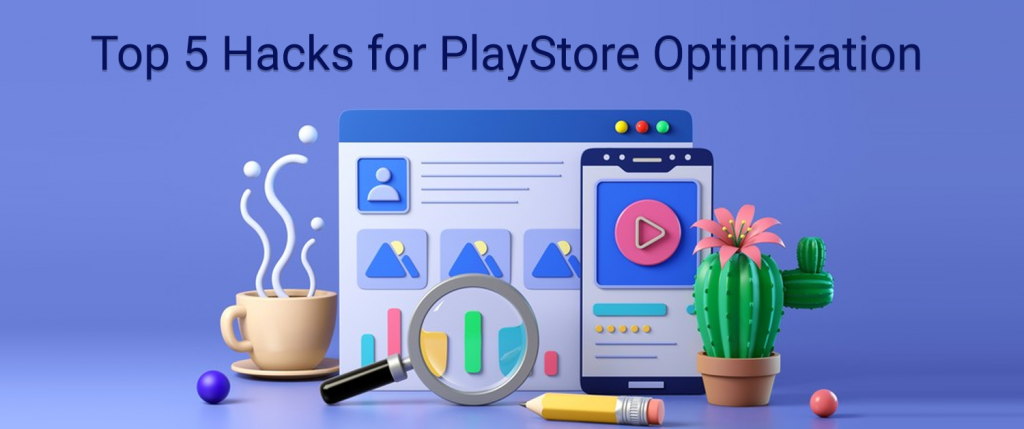 Today we are living in a digital era where smartphones and computers have become an integral part of our lives, and it leads to an increase in the development of mobile and web app development solutions. But building an app is not the only process; the foremost step that makes an app successful is its "live performance" on app stores. Yes, an app can only be accessible to your users when it is live on Google play store or Apple app store. But publishing and ranking of an app is not a cakewalk. It requires a lot of effort and time to make it worthy. It is challenging to get your app noticed in thousands of other applications. So, what is the solution to this problem?
Well ASO (App Store Optimization) is the only solution for these problems. In this blog, we have discussed on a few top questions like:
What is ASO?

Benefits and importance of ASO?

Hacks to make your ASO better.
So, let's get started.
What is ASO?
ASO is a concept in digital marketing that is primarily known for increasing the visibility of an app on app stores. It is also known as play store optimization. It is quite similar to SEO. If we make a comparison between ASO and SEO, then, web developers use SEO to rank their web page higher in the search result. In contrast, the app developer uses ASO to rank their application on play stores. 
ASO helps to increase the application's visibility and also enhance application conversion rates. It also keeps sight on CTR (Click-Through-Rate). Once the user finds an application on stores, companies make sure that the user downloads it as well. Here, CRO (Conversion rate optimization) plays a vital role.
Why is ASO important?
There are millions of applications available on the play store to download, which simply means that your application has to face fierce competition. The main goal of ASO is to increase the number of users and application downloads.
As per the research, 60% of application downloads occur just after the result. Applications with high ranking have a chance of more downloads because users don't have much time to scroll the entire application lists. Mostly they choose from the first 5-10 applications. Hence, to make your app successful, it is essential to take your app on the top ranking, and without proper ASO, it is hard to achieve that target.
Let's see- what the benefits App Store optimization offers to businesses.
Top Advantages of ASO
Improves visibility –

If your application is not visible on a prominent platform, then it is hard for the users to find it, download, and use it. It doesn't matter- how much you invest in your app development process, or how beautiful is your app? If it is not available on a preferred platform, then all your efforts and money are in vain. The integration of ASO will help you to achieve desirable results for your application.

Discover app in front of relevant users –

Here, the keywords play a vital role. There is zero probability of your app to be visible in front of the users if you are not using relevant keywords. Implementing exact keywords that users are searching on the internet is essential for increasing their reach. Hence, ASO helps to make an app reachable to the potential users by integrating the keywords which users are looking for.

Cuts the cost –

ASO helps companies to lower down the user acquisition cost by focusing mainly on organic growth without spending a single penny on ads or other things. It helps to save money and also provides consistent growth.

Globalize your application –

ASO helps the app to stand in the global market by making it available in other languages. This process leads you to gain more users across the world.
How can You Improve ASO for Your App?
We've listed some top hacks to master the ASO plan. So, keep reading-
Title –

The title is leading an essential part of the application, it is the very first thing that people witness along with the application logo. It gives a summary idea to the visitor about your application, like what the app is all about? So, make sure your title is relevant to the app and catchy as well. Some pro tips for setting the most competent title:
Use CamelCase.

It should be readable.

It must be unique.

It must be 50 characters long.

Never use special characters.
Description –

Description is the core part of the application's page. Make sure that it contains detailed information about your offerings like what products or services your app offers? It just has to reflect all qualities of application. Here we suggest a few tips while writing a compelling description:
Must be informative.

Understandable.

Must be structured.

It should include all-important keywords.

Cannot exceed the limit of 4000 characters.
Multimedia content –

Visuals speak more than words; it plays a vital role in attracting anybody's attention towards the platform. Screenshots, videos, and other multimedia content give an example of how an application works. You can use visuals to display your application features uniquely because as per the research, more than 50% of the user decides to download an app based on the visual impressions like how beautiful the design of an app or how they implement content with multimedia. Tips to make your application more appealing:
Demonstrate how your application looks.

Highlights all the main features of your application.

Make sure that your visuals tell a storyline.

Consider size and layout requirements.

Include a short promo video.
Number of Installs –

The purpose of ASO is to increase the application installs. Play store collects the report of the number of installs, uninstalls, and retention rates consistently then according to that, it adjusts the ranking of an app. It considers the data of the past 30 days, so make sure to fix these points prior. If you want to increase the number of installs, then you can use "Backlink". The backlink campaign helps to redirect the user to the application's page.

Use Keywords Wisely: Keywords of an application play an important role in evaluating its performance. With relevant keywords, it is easy for companies to publish their app on stores smoothly. The play store indexing is quite similar to Google search. Here's where you can add value  –
Application title.
Application Description (Short/long both).
Publisher.
Reviews.
Updates.
Crash rate.
Backlinks.
Ratings
Other useful tips and tricks
Leverage rating and reviews.

Focus on your niches.

Track app performance.

Do best keyword research that emphasizes:

The main feature of the application

What are other similar applications called

Categories

 

Use tools like Appsflyer and split metrics.
Conclusion
We hope that you are clear with the information, and hacks mentioned above. ASO sounds easy, but in reality, it takes time, patience, and money. Consider all points while doing ASO. It takes time, but it will be worth it.
Get the Conversation Started!
Get the Conversation Started!
[contact-form-7 id="34486" title="Side Form"]