What is AI-Powered CRM and How They Can Help Transform Your Business Process?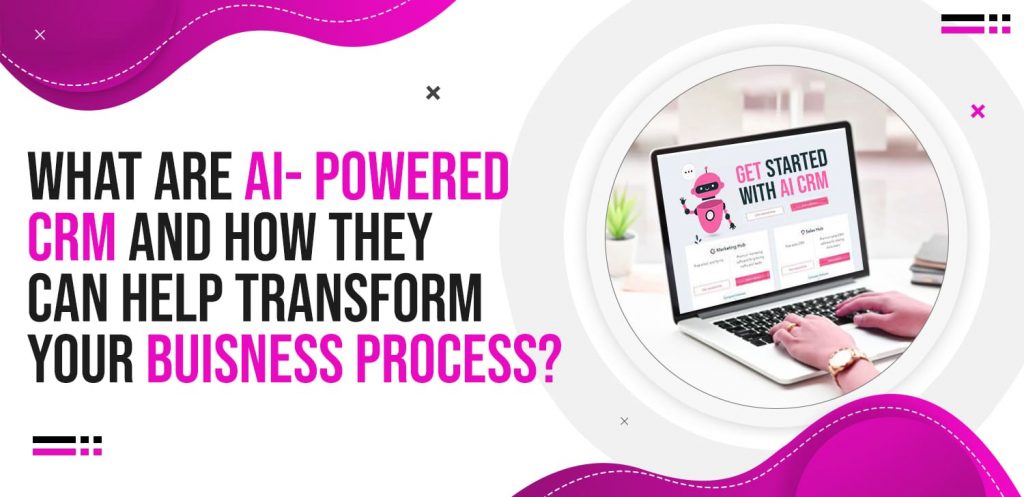 The concept of artificial intelligence has not emerged today; it has been affecting our daily life for a long time. Still, its strikes as some new concept. From using voice assistants to order our groceries to control our interior lightening with voice commands, we have been using it all the way. Now it is assisting businesses to make better decisions with AI-powered CRM systems and drive them towards success. The advancement in AI has been affecting the working pattern and the decision-making process, making the CRM toll more intelligent, ultimately enhancing its capabilities.
According to a survey, CRMs are one of the most bought software in the world. Judging by the current statistics, it has been projected that it will cross the mark of eighty million US dollars in revenue. Despite these astonishing figures, companies are attracted to CRM tools with AI capabilities. The demand for AI-enabled CRM software development has increased exponentially over the past few years. Apart from an extensive range of features and functionalities, AI-powered CRM is expected to produce a significant number of jobs and, ultimately, revenues.
AI-Powered CRM: What is it?  
Which department of any company is the most important one in terms of revenue generation and maintaining an impressive client retention rate? Some of you may find the development or production department the most vital one, some of you will find the delivery department the important one. The fact is, sales and marketing are the most vital department for a company especially in the case of an IT firm. Sales and marketing deal with customers on a daily basis and CRM helps them maintain a number of records and help maintain a healthy relationship with the customer.
In simple terms, CRM is the abbreviation for Customer Relationship Management; it includes all the strategies, techniques, and technologies used by numerous companies to enhance their conversion rate. CRM is an important tool for companies, more than ninety percent of the companies with less than 15 employees have implemented CRM in their business process. On the other hand, more than eighty-five percent of large enterprises use CRM software.
CRM ensures the delivery of a soothing experience to the customers by monitoring each step of interaction with them. It accumulates all the data points from various channels and stores various parameters of the crucial data such as overall purchase history, personal info, and consumer behaviour patterns. These data points help businesses to better understand the customer's needs and enhance the chances of converting a potential prospect into a loyal customer. Hence, we can say that CRM is a tool that helps enterprises with sales, marketing, and service management.
The implementation of AI in CRM multiplies its capabilities and delivers ultimate results that take the company's relationships with customers, colleagues, suppliers, etc., to the next level. With AI-enabled CRM, a business can easily predict the customer's requirements and pitch some additional services or products that are relevant to them. There are no fixed criteria for integrating CRM in any business; it can be implemented in any company regardless of its size. In current times, various enterprises are favouring CRM software development, and they can get it customized as per their business needs. The increase in demand is because of the increased productivity the CRM with AI delivers. It stores all customer information in one place, such as a record of service issues, identify sales opportunities, manage marketing campaigns, and much more.

AI-Powered CRM Software Development: How it is Transforming Business processes?  
CRM with AI has immense capabilities in transforming business processes. What takes you hours or even days to complete, the AI-driven CRM software can get it done in less than an hour, depending on the exact requirements of the task. Whether you're running hundreds or thousands of accounts, sniffing sales leads, looking for a customer, etc., CRM software does everything for you.
You can definitely think of it as your virtual personal assistant. After you have kept track of the customers who purchased various products or services from your enterprise, you can immediately let them know that new stock has arrived. Your customers can repeat this message to others who may also need the product. Or, if you have information about people who asked about your products or services, you can follow them. With AI, you can immediately find about the availability of spare parts, new accessories, etc., from various suppliers. Being on top of the situation helps you provide the answers you need. AI-enabled CRM software development helps you in being ahead in the competition with exact answers to the customer's queries which keeps the customers happy. Here are some ways AI-powered CRMs are transforming the business processes for good.
Ultimate Level of Customer Satisfaction  
Customer satisfaction scores of your enterprise will definitely improve with CRM implementation. At the touch of a button, all customer data can be viewed throughout the sales cycle and after the sale, when competitive differentiating issues, such as service levels, come into play. This is where the customer perceives the real advantage of the business because when calls are addressed professionally, and problems are resolved in a timely manner, CRM systems with AI simply turn software into powerful ways to generate revenue, customer satisfaction, and exponential business expansion. The future of AI-driven CRM is important because it also holds the key to growth and expansion, effective management, and automation of sales staff.
Result-Oriented Marketing Activities  
When you implement AI with CRM, it propels the software towards success with increased sales and enhanced strategies. You can now strategize your marketing campaigns more efficiently as all customer information is stored centrally in a CRM database, it becomes easy for documents and sales staff to obtain information. With this information, future marketing and advertising messages can be sent smoothly to customers, thus ensuring better brand recognition for the company. Even when it comes to integrating mobile solutions or diverse applications, such CRMs with AI plays a vital role in achieving all this and much more. Hence, with such state-of-the-art solutions for small businesses, even a start-up can dream big and expand its business, ensure more brand recall and improve its user base.
A Dedicated Intelligent Assistant  
The work that any AI-driven CRM does can simply be described as a virtual assistant that helps you never forgetting a thing. CRM with AI has been proven to enhance productivity and efficiency within the business process of a company. It performs all the tasks that keep your sales or marketing department ahead and ready to create an unforgettable impression. You can automate various manual tasks that consume time, such as schedule meetings, optimize calendars, automate phone calls, follow up with clients and others, and much more. If implemented correctly, you can get rid of all the menial tasks that draw away your attention from focusing on the more important tasks. You can have an automated, flexible, and result-oriented workflow with the correct AI-driven CRM software crafted as per your needs.

Effective Lead Generation  
When your sales and marketing department plays their cards right, they will be able to bring a flood of qualified leads. How can they play their cards right? An effective CRM software keeps track of everything and generates effective insights that help convince potential prospects. AI-based CRM can examine a number of scenarios such as most sales rejection, most sales accepted, and much more. It trains itself with these data sets and comes up with brilliant insights to overcome these situations. It can come up with a plan that Favors the customer's requirements and simultaneously saves you from loss. Various enterprises conduct continuous surveys that help in figuring out their potential buyers and plan their strategies accordingly.
Happy Workforce  
Nothing can profit your business more than a happy and satisfied team of employees. What AI-driven CRM does in keeping employees happy? It takes away all the menial tasks that take a significant amount of time and slow the business process. However, these processes do not amount to anything important; they are simply attached to the process by default. When your employees are free from such tasks, they will have time to enhance the workflow and plan strategies that can affect the sales of the enterprise in a positive way. These menial tasks include keeping records, doing regular follow-ups, taking notes, etc. When your AI-powered CRM handles these manual tasks, your employees will divert their focus to more meaningful tasks that will help the enterprise. Apart from employee satisfaction, your enterprise will stand out in the market as a role model for other enterprises.
Most Popular AI-powered CRM Solutions  
With a huge market potential, CRM with AI is the most popular solution in the market to optimize workflow and enhance sales and marketing strategies. Various giants of the industry have been delivering these services, each with a set of added benefits. Let's have a look at the top AI-powered CRM platforms.
Salesforce Einstein: It is one of the leading AI CRM software. It offers ad hoc analysis of big data along with an emphasis on sales and service. It is easy to learn and offers training resources.
Microsoft Cognitive Services: It offers various functionality with a set of tools that enables the customers to enhance their business processes and workflow. It offers NLP, Power BI, Power Query, and Power BI Data Flow for the purpose of enterprise analytics.
IBM Watson: It is one of the most popular platforms in terms of CRMs. IBM has made certain improvements in the platform, making it the most preferred one right after Salesforce. It offers natural language querying, enhanced visualizations, straightforward setup, deep learning capability, strong social media integration, and much more.
Oracle Artificial Intelligence: It is one of the oldest players in the market when it comes to AI and its services. It offers robust predictive analytics, AI-driven customer engagement functionality, AI-powered chatbots, and much more.
Adobe Sensei: Despite its extraordinary list of offerings, it is one of the less famous platforms. The list of services includes anomaly detection, contribution analysis, and virtual analyst, etc. It delivers real-time CRM decision support.

Final Thoughts  
Artificial intelligence is not something out of science fiction movies; it is now changing the course of human lives and the ways industries operate. You can yield more positive results and take your business to the next level with AI and its capabilities. AI-enabled CRM is the new trend, and it is here to stay. An effective CRM software development crafted to suit your business needs can take your business to new heights.
At Matellio, we deliver flawlessly engineered AI-driven CRM software solutions to enterprises. Our team of experienced and highly-skilled engineers has developed result-oriented CRM systems with excellent functionalities and great ratings. Still, have a doubt about starting your CRM software development? Request a free quote and discuss your thoughts with our experts!
Get the Conversation Started!
Get the Conversation Started!
[contact-form-7 id="34486" title="Side Form"]