Which are the best apps for Food Delivery?
Updated on May 5th, 2021
The days of calling into a restaurant to satisfy food cravings by speaking with a not so polite host are finally over. Whether it's having to scream your favoured dish through the ear-splitting background noise or continuously being put on hold, the act of placing a food order food has always been tiring and a bit annoying.
Well, thankfully, this digital era has brought some hope in the name of food delivery applications. With just a few taps on the screen, one has access to hundreds of restaurants covering all sorts of cuisines one can imagine. 
Top 10 Food Delivery Apps Present in the Market
1. Seamless App
2. GrubHub
3. Uber Eats
4. Postmates
5. DoorDash
6. goPuff Delivery
7. Eat24
8. Munchery
9. Yelp
10. BiteSquad
1. Seamless App
Bought by GrubHub in 2013, Seamless brings you delivery from a few of the hottest chains and local eateries. Available in some larger U.S cities, Seamless is mainly focussed on the NewYork city. Dine with this exclusive food app and enjoy local food services, whenever and wherever you desire. The app has a vast collection of restaurants that can bring delicious meals to the comfort of your home, be it in, Queens, the Bronx, Brooklyn, Staten Island or somewhere else. Seamless offers multiple options of payments such as Amex Express Checkout, Apple Pay, Paypal or some old fashioned working credit card.
Features
Search Item/ Restaurant wise

Exclusive Promos

Real-time Order tracking

Reorder with "Express Reorder"

Pre-order your favourite meals( up to 4 days in advance)

Multiple Payment Options

Seamless Gifts
Check out the link of apps for iOS and Android. 
GrubHub food delivery app serves more than 50 cuisines from local restaurants. For using GrubHub, simply enter a delivery address and the software will present a list of restaurants that are linked up with this application. This way, one can sneak-peek into it before actually using it. One can simply search for the item of choice, pick the restaurant and place an order. Exclusive rewards and coupons make this application much more attractive. It is built with the latest UX design trends, making it more appealing to customers. GrubHub accepts multiple payment options – PayPal, Amex Express Checkout, Venmo and Apple Pay. Also, the last payment used is automatically saved for the next time.
Features
Try before Registering

Explore new Restaurants

Searching Options

Excellent Filters

Restaurants Information

Ratings and Reviews

Easy Order Process

Real-time Delivery Updates
Check out the link of apps for iOS and Android. 
With the help of an Uber account, avail this food ordering service for exploring nearby eateries- both chain and local. Available in the major cities around the globe, the app satisfies your food cravings from a variety of food stores. Register with your Uber account, turn on GPS and check out the nearby restaurants. Search for a specific cuisine type, or some eatery item in the search bar, if you are sure about your choice. Choose from 70 plus cuisine categories divided by food type, dietary restrictions, and ethnicity. UberEats offer multiple payment options and live order tracking for the users. Also, one can quickly contact the delivery agent using this application. 
Features
Easy-to-navigate Homepage

Browse Menu

70-plus Cuisine Categories

Add an item to your Cart

Confirm the Delivery Address

Place an Order

Make Payments

Track the Order
Check out the link of apps for iOS and Android.
Postmates is a bit different from other food delivery applications. Postmates is a delivery solution that can pick up anything from anywhere and bring it to your doorstep, even if it is alcohol. The software is available in Mexico City and most of the U.S. cities, and the package will be delivered at your place for some fee. Postmates can deliver varied items, ranging from fast food, major chains and local eateries to groceries, gifts, alcohol and much more. One can sign-up into this application using Facebook or Email ID and password. Search items with different filters like new restaurants, quick availability, employees' pickups or some keyword. Just tap the item, confirm your address and place the final order. 
Features
Sign up with Facebook/Email ID

Range of eateries

Delivers Groceries/Food/Liquors

Searching filters

24/7 Services

Postmate Unlimited Program
Check out the link of apps for Android and iOS. 
5. DoorDash 
DoorDash offers the broadest range of both national chains and local eateries. The food app is available in more than 1200 cities in Canada and the U.S. Register in it by inputting basic details like email address, first and last name, address, phone number, password etc. Upon installing the app, users will be welcomed with an excellent UI which is very appealing to look at and easy to traverse. DoorDash is full of photos featuring partnered restaurants, mouthwatering dishes, Try me Free banners and much more. Also, one can even order drinks by tapping on the Drinks button present on the bottom rail showcasing wines, beers, etc. 
Features
1200 cities across Canada and the U.S.

110,000 plus restaurant menus 

More than 30 cuisines

Great UI

Deliver food/liquor and even drinks

Multiple payment modes
Check out the link of apps for Android and iOS.
6. goPuff Delivery
While a number of food solutions act as a middleman between customers and restaurants, goPuff acts more as a digital convenience delivery store. Founded in 2013 by two students of Drexel University, the application operates in 90 U.S locations, as of presently. goPuff offers everything right from bathroom tissues and phone charges to adult beverages, and even vaporizers for whosoever is inclined. The delivery app is available in the U.S. and has a very stronghold in the Midwest and Southern cities. And it's still spreading roots in new locations. goPuff was initially a hookah delivery solution, but it gradually expanded in delivering food, snacks and much more. 
Features
Digital Convenience store

Quick Delivery

Round the clock service

Filtered Searches

Cart Integration

Payment Gateways
Check out the link of apps for iOS and Android.
7. Eat24
Eat24, purchased by Grubhub in August 2017, is one of the finest options in the food delivery market. One can explore its wide menu and satisfy midnight cravings right from the comfort of their sofas. Eat24 offers a lot many discount coupons, promo offers and much more for attracting customers. Using this solution, consumers can track the location of the package right from the app installed on their handsets. Also, it offers a choice to pre-order and reschedule some meals. Although, all of the above-said features come under GrubHub because of the occupied ownership. 
Features
Login/Sign Up 

Search Menu

Select Categories

Cart Integration

Ratings and Reviews

Customer Support

Payment Method
Available for iOS and Android.
8. Munchery 
With Munchery, a food delivery app operating in major cities of the U.S. including Seattle, Los Angeles, San Francisco and New York City. Availing this solution, users can order chilled, chef-crafted dishes right at their doorstep, whenever they want. The speciality of this application, with every order placed and delivered, Munchery makes food donation to a person in need. Also, the dishes listed in-app are of a much lower price when compared with restaurants. The main motive of this food delivery app is to make healthy and delicious food available to users. All the meals are prepared by culinary specialists on demand. As of April 2016, Munchery serves around 7000 suppers every day.
Features
Meals by Chefs

Contracted Workforce

Ever-changing Menu

Gluten-free dinners

Menu designed by Culinary Experts
Check out the link for Android.
9. Yelp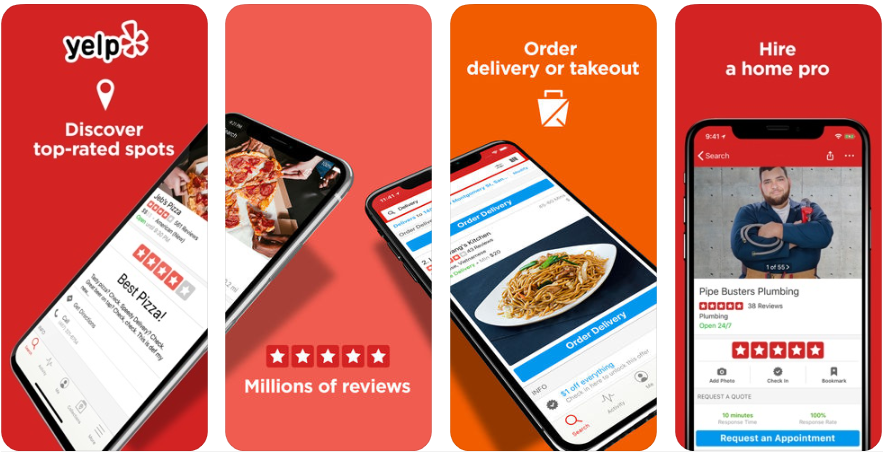 The list of best apps for food delivery would remain incomplete without mentioning Yelp. While the app has a lot of hype and buzz, its growth has been mostly owing to the fact that it's a fantastic application. It offers more than 50 million reviews for companies around the world. One can easily search for nearby eateries, check out local deals plus photos of the place, and even read plenty of reviews. Yelp comes with plenty of filters so as to ensure that one can narrow things down as per the distance, rating, and price to keep the users aware. The food delivery application works pretty well for many other establishments as well.
Features
User Portal

Location-based Search

Social login

Push Notifications

Photo/Video Uploading

Rate & Review

Analytics
Check out the link for Android and iOS.
10. BiteSquad
Founded in 2012, BiteSquad goes against the trend most food delivery application follows by emphasizing the focus on smaller markets. The company has explored the neighbourhood areas of Washington, D.C. Some of its popular delivery locations include Minnesota, Minneapolis, and almost every major city of Florida. The core idea is to pay attention to places where there is little or no competition. BiteSquad's exposure to the small markets is what makes this app unique in the market. 
Features
Wide Range of Restaurants

Handy filtering Tools

Speedy Delivery

Low booking fees

Order preferences

Speedier Checkout
Check out the link for Android and iOS.
Winding Up
So this was the list of our favourite food delivery apps that can make even a dietician go hungry. Hopefully, you find the best food delivery service, which is capable of satisfying your food cravings.
Got some suggestions or want to own a food delivery app under your brand name, Contact Matellio. Happy Reading!
Get the Conversation Started!
Get the Conversation Started!
[contact-form-7 id="34486" title="Side Form"]