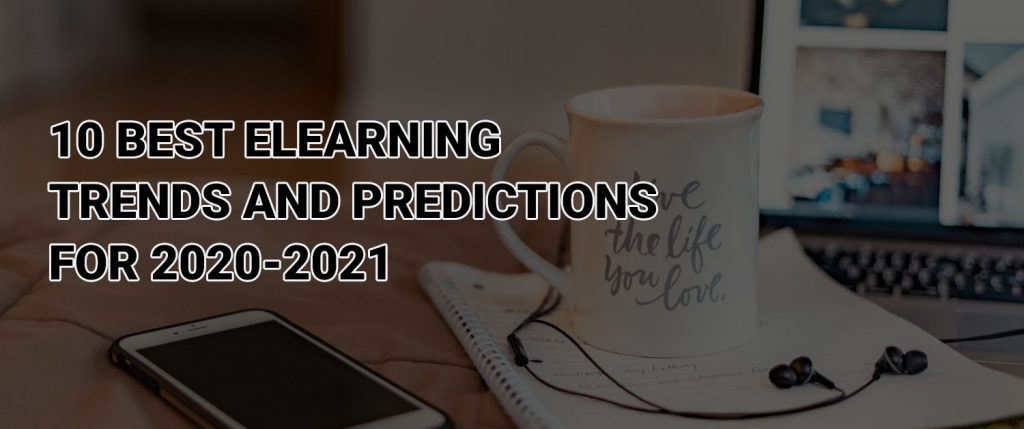 The eLearning industry has been gaining massive momentum in recent times. Since its inception, eLearning has significantly outdated the face-to-face training, and as per experts, the e-learning industry is expected to reach $300-million by the year 2025. Now, there is no denying that things change drastically in today's digital world, and e-learning is no exception.
With time, the eLearning industry witnessed many changes, which led to more advanced and instructor-less learning. Today, many e-learning trends are providing benefits to the people involved in the educational and e-learning sector. Cost-savings, resource optimization, flexibility in training and teachings, and time-saving are some of the benefits provided by eLearning trends of 2020. Additionally, experts have even predicted many benefits that tech-savvy millennials and Gen Z can reap with more advancements in eLearning solutions.
However, without proper knowledge of the latest learning trends, it could be somewhat challenging to realize all those benefits. That's why today, we are here to give you all the information about the latest learning trends of 2020 and predictions for 2021. So, without wasting much of your time, let's dive in to explore more about eLearning trends!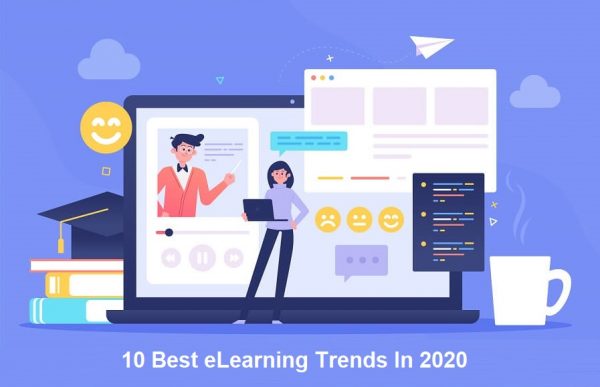 1. Mobile Learning
Mobility has slowly become an indispensable part of our daily lives. Smartphones have provided us with almost all the facilities to make our lives much more comfortable and simplified from online video and calling facilities to the best healthcare and education facilities. According to trusted sources, there were almost 6.8 billion mobile users in 2019, and the number is predicted to reach 7 billion by the year 2021. It is enormous as the total population of the world in 2019 was almost 7.7 billion!
In such a scenario, mobile learning has gained tremendous momentum and is predicted to make much more popularity in the coming years. With the growth in mobile users and more advancement in mobility solutions, mobile learners are growing at a much faster rate. Today, more and more people are readily adopting mobile learning platforms. In fact, in 2019, the number of mobile learners crossed that of desktop learners. Benefits like flexibility, anytime learning, performance tracking, and seamless accessibility have made mobile learning more powerful and popular among global audiences.
2. Gamification
Gamification, or introducing games in the learning environment, also makes e-learning a popular trend in 2020. And it is not that gamification or game-based learning is a new concept in the e-learning and education industry. It all started in 2018, and since then, game-based learning has been boosting the e-learning industry in a lot of useful ways.
Gamification in e-learning refers to the addition of game and fun factors in learning modules to make the process useful and enjoyable for the learner. Although there are no specific facts for game-based learning, going with its growth and popularity, it can be said that the robust gamification approach will not fall off its zenith anytime soon. The game-based learning has provided many enterprises with successful training results with a lot more advancement.
Additionally, the introduction of reward systems incorporated with game-based learning has made a lot more impact on the e-learning development industry. Now, many employees, for achieving higher rewards and rankings, are readily accepting the e-learning platforms. In all, gamification has made the learning process much simpler and more efficient while benefiting the e-learning industry. Hence, this particular e-learning trend is expected to remain popular in the coming years also.
3. Social Learning
Social learning is also a crucial aspect of the e-learning industry. Learning on social media is yet another e-learning trend that has gained momentum in the past few years. In the social learning approach, people share their learning experiences and critical values over social media so that others could leverage those learnings effectively to improve their skills and business operations.
Now, this particular e-learning trend also gained much popularity with the emergence of COVID 19. With things getting closed and people forced to stay indoors, social learning became a vital source for the learned and passionate employees to upgrade their skills. People knowing certain aspects share their learnings over social media so that others could be benefitted.
Social learning is facilitating the concept of anywhere learning, which will soon become a growing trend in the e-learning industry. With social learning, the colleagues learn from one another, thus learning does not get confined to a room. The eLearning trend also supports lifelong learning and promotes instructor less learning.
4. Rise of Disruptive Technologies
We live in a techno-driven age, and thanks to the emerging technologies, we have a much simpler life today than a few years back. Many disruptive technologies like AI, ML, Big Data, AR, and VR have made it much easier for almost all the core industries of the global market. Elearning industry is also one of them that has gained a lot from those disruptive technologies.
Although all the immersive technologies are in their initial stages, it is a lot easier for the learners to progress their tracking and learn efficiently. Additionally, with further advancements in technologies like AR and artificial intelligence, the eLearning sector is predicted to witness some significant benefits.
For instance, further advancements in AI will lead to more personalized learnings so that users can learn the perfect tricks and skills that would be needed to upgrade his/her knowledge. Moreover, Voice user interfaces(VUIs) will also allow the user to learn with voice commands instead of written materials. That's impressive progress in the eLearning industry!

5. More User-Generated Content
One thing that changed significantly over the advancements of eLearning trends is people began to generate content to offer a more personalized touch to the learning process. According to a report, 2017 saw a 38% rise in user-generated content. People today are actively offering more customized content to enhance the learning process.
Content curation is decreasing day by day, and today's people are relying on personalized, user-generated content today. That's so because user-generated content is more about sharing knowledge than publishing content for learners. People nowadays prefer more customized content created by people like them than those produced by a subject expert from an institute. Hence, this particular trend is expected to gain more popularity in the coming years.
6. Virtual Conferences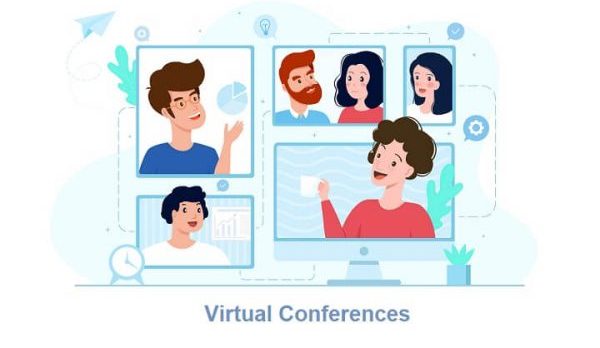 Another popular eLearning trend for 2020 is virtual conferencing. What it means is that several people connect in a group and share their learnings. In other ways, all the people having similar learning interests form a group and connect through a video conference. Then a particular person or a team of people shares their learnings over that subject.
Video conferencing is an entirely online process and does not include any physical interactions. That is a fantastic concept considering the present-day conditions of the world. Virtual conferencing has gained enough momentum in the past few years. That's complete because of the several amazing benefits it provides to the learners and the e-learning industry. For instance, the face-to-face learning process gave rise to the attendance concept of attendance and also facilitated the publishing of content time and again. However, with virtual conferencing, the problem of attendance eliminated, enabling the organization to achieve maximum efficiency.
The eLearning trend also solved the problem of publishing the content over time by offering online content that could be leveraged by as many students for a long time. Hosting the virtual conferencing also provides many more benefits like a massive email list, more brand visibility, partnership with influencers, and so on. This particular e-learning trend is a game-changer and a perfect example of a great business model.
7. Data-driven Learning
Data-driven learning or Big data has wholly revolutionized the e-learning industry. With a data-driven learning process, you can get all the vital engagement metrics like views on your video, students' engagement, their assignment progress, and much more. Not only that, but learning analytics also gives vital metrics over how a particular student performs.
Now, that is amazing and can help the tutors pay heed to a student that needs more attention. Also, the tutors could seamlessly measure the progress of their students, and can also get an idea of what type of learning methodology is most acceptable by the student. All that eventually assists you in your course development process. That makes data analytics the next big eLearning trend for 2021.
8. MR or Immersive Learning
2020 also witnessed some considerable changes in the user experience. Now, it is no surprise that we live in a highly competitive era. Things change rapidly in such a digital world, be it business processes, or even customer's expectations. Hence, in the eLearning industry also, the needs and wants of the learners shifted very rapidly from instructor-led training to a more advanced self-learning platform.
As per some experts, 2020 will further see many changes in the customer experience because of the rise in advanced digital technologies like Augmented Reality (AR), Virtual Reality (VR), and mix of two which is Mixed Reality (MR). The voice-based searches are already in use by almost all mobile learners today. With further advancements, the need to type a particular keyword will slowly eliminate, leaving only the voice-search as an option.
Additionally, given the higher cost of implementation of the present-day e-learning platforms, the use of AR/VR based learning platforms will inevitably increase in the coming years. Why? That's complete because of lower implementation cost, and higher adaptability by the user. The year 2021 will undoubtedly see some more advancements in this particular eLearning trend.
9 Video-based Learning
We know that you might have heard about this, but video-content is a particular e-learning trend that is playing big in the market for many years now. It is estimated that almost every 30-days, a new e-learning video content is uploaded by a user, which is more than the episodes made by the US television industry.
After witnessing such massive popularity for the video-content, it can be said that video-based learning will remain a hot trend in the upcoming year, i.e., 2021. The pattern shifted the whole e-learning industry from written material to a more improved graphical learning process. This particular e-learning trend has gained more attention than any e-learning trend ever.
For instance, it solved the significant gap between the theory and the practical application of the concept. Meaning, you can seamlessly access a video on any theoretical topic that you read and can witness its exact functional form. Likewise, live streaming, online video assignments, expert sessions, and much more can be seamlessly achieved with video-based learning. Now, because of such an extensive set of benefits, video-based learning is probably an e-learning trend that will continue to gain momentum in the upcoming years.
10. Microlearning
Last but not least, we have microlearning, another e-learning trend that has gained popularity in the past few years. Although microlearning is a rising trend in 2020, the chances are high that it will surely become much more advanced and useful in the coming year starting from 2021. Now, microlearning is nothing but a small chunk of adequate information over a particular subject matter, that aims to introduce a new skill in ourselves.
What it means is that, with microlearning, you can seamlessly learn any new skill with a few images, or videos, or a small piece of text. That further makes e-learning a much-simplified process, as people who consider learning sessions boring can leverage the concept of microlearning to enhance their skill set. You can learn while playing games, solving quizzes, or watching a video as an example.
Microlearning is somewhat easier to understand, less expensive, and probably the best method for corporate training, and assessments. The personalized and bit-sized courses are not so difficult to complete, and that eventually enhances your skills. Due to such great benefits, microlearning is predicted to gain popularity in the coming years.

Final Words!
So, that ends our list of 10 top trends in the e-learning industry. To conclude, we can say that with the introduction of digitization, things evolved to be better versions of themselves. Whether we talk about manufacturing or retail, all the industries were revolutionized with the advancements of disruptive technologies; the education sector is no exception in that!.
The learning industry is one such aspect that gained massive popularity in recent years. The ease in learning new things from experts while staying indoors led many users over the e-learning platform. Additionally, with technological advancements, things are expected to become more simplified for users. In short, the learning industry is expected to touch the sky in the coming years.
Hence, if you are someone from the education industry, and want to improve your brand value and profits, then investing in e-learning solutions is the best way. Go for a custom e-learning solution and experience the magic of increased effectiveness and ease of teaching in raising your institute's revenues.
Have more questions? Reach us today to get answers to all your queries.
Need Help With Development?