Best eLearning Trends and Predictions for 2023
Updated on Jul 14th, 2023
The eLearning industry has gained a massive momentum in recent times. Since its inception, eLearning has significantly outdated the face-to-face training. Now, there is no denying that things change drastically in today's digital world, and e-learning is no exception. 
With time, the eLearning industry witnessed many changes, which led to a more advanced and instructor-less learning. Today, many e-learning trends are providing benefits to the people involved in the educational and e-learning sector. Cost-savings, resource optimization, flexibility in training and teachings, and time-saving are some of the benefits provided by eLearning trends of 2023. Additionally, experts have even predicted many benefits that tech-savvy millennials and Gen Z can reap with more advancements in eLearning solutions.  
However, without proper knowledge of the latest learning trends, it could be somewhat challenging to realize all those benefits. That's why today, we are here to give you all the information about the latest learning trends of 2023. So, without wasting much of your time, let's dive in to explore more about eLearning trends! 
Artificial Intelligence

 
One of the trendiest eLearning developments in both the corporate and business sphere, as well as in higher education, is artificial intelligence (AI). Additionally, this new technology has begun to alter contemporary learning and development (L&D).  AI development services can completely transform the e-learning industry. The most intriguing new and impending developments in e-learning are those resulting from AI. 
AI has already made impressive strides in continuous learning and contextual support. The potential of AI to personalize learning, for instance adaptive learning, assistive learning, data analytics, gamification, immersive technologies and many more are merits for e-learning. AI-powered models use algorithms to gather information about a learner's skills, interests, and weaknesses. 
Mobile Learning
Mobility has slowly become an indispensable part of our daily lives. Smartphones have provided us with almost all the facilities to make our lives much more comfortable and simplified from online video and calling facilities to the best healthcare and education facilities.  
In such a scenario, mobile learning has gained tremendous momentum and is predicted to  make much more popularity in the coming years. With the growth in mobile users and more advancement in mobility solutions, mobile learners are growing at a much faster rate.  
Today, more and more people are readily adopting mobile learning platforms. In fact, in 2022, the number of mobile learners crossed that of desktop learners. Benefits like flexibility, anytime learning, performance tracking, and seamless accessibility have made mobile learning more powerful and popular among global audiences. 
Today a startup or business, with the help of an eLearning app development company, is more interested in bringing something unique to the educational field, which later can prove to be productive and can change traditional learning mediums. Mobile learning apps like brain pop, hellosauras, Photomath, Sololearn, etc., are some of the startups that have successfully transformed learning through mobile. 
Also Read: A Complete Guide on eLearning Software Development
Gamification
Gamification, or introducing games in the learning environment, also makes e-learning a popular trend in 2023. And it is not that gamification or game-based learning is a new concept in the e-learning and education industry. It all started in 2022, and since then, game-based learning has been boosting the e-learning industry in a lot of useful ways.  
Gamification in e-learning refers to the addition of game and fun factors in learning modules to make the process useful and enjoyable for the learner. Although there are no specific facts for game-based learning, going with its growth and popularity, it can be said that the robust gamification approach will not fall off its zenith anytime soon. The game-based learning has provided many enterprises with successful training results with a lot more advancement.  
Additionally, the introduction of reward systems incorporated with game-based learning has made a lot more impact on the e-learning industry. Now, many employees, for achieving higher rewards and rankings, are readily accepting the e-learning platforms. In all, gamification has made the learning process much simpler and more efficient while benefiting the e-learning industry. Hence, this particular e-learning trend is expected to remain popular in the coming years also.    
Also Read: Gamification in eLearning 
Social Learning
Social learning is also a crucial aspect of the e-learning industry. Learning on social media is yet another e-learning trend that has gained momentum in the past few years. In the social learning approach, people share their learning experiences and critical values over social media so that others can leverage those learnings effectively to improve their skills and business operations. 
Now, this particular e-learning trend also gained much popularity with the emergence of COVID 19. With things getting closed and people forced to stay indoors, social learning became a vital source for the learned and passionate employees to upgrade their skills. People knowing certain aspects share their learnings over social media so that others could be benefitted.  
Social learning is facilitating the concept of anywhere learning, which will soon become a growing trend in the e-learning industry. With social learning, the colleagues learn from one another, thus learning does not get confined to a room. The eLearning trend also supports lifelong learning and promotes instructor less learning.  
Rise of 

AR/VR

 

Technologies
It is innovative and cutting-edge how Augmented Reality (AR) and Virtual Reality (VR) can immerse students in various realities and change how they study. In low-risk simulated environments, learners can participate in interactive eLearning courses where they interact with virtual objects and learn ideas. These cutting-edge technologies have the potential to enhance technical and scientific work performance, provide virtual surgery simulations, and have an impact on various other industries.  
Virtual reality (VR) enables users to create avatars and create virtual meeting spaces where students may communicate with teachers in real-time from anywhere. This immersive learning method improves learners' adaptability, information access, and communication abilities. By improving access to crucial information and facilitating real-time contact with other students and instructors, augmented reality in corporate training gives learners freedom. 
Chatbots
Voice-enabled bots are being used by large enterprises with extensive knowledge warehouses to streamline information searches. Knowledge searchers can quickly investigate important content with the aid of the bots' AI. Not only that, but L&D teams are using intelligent robots to assist children and students with specific needs in getting the most out of their education. 
Along with providing answers, they can point staff members toward resources and even make topic recommendations based on where a learner's development is weak. This enables pupils in need of extra assistance.  
Virtual Trainings
Employees, as well as the organization, gain from investments in employee training. Giving employees a chance to upgrade their skills through virtual training can boost both productivity and the organization's bottom line. Virtual co-working spaces, webcasts, audio and video conferencing, file sharing, and co-creation of content are all tools that organizations can use.  
VR has substantially advanced and entered the business sphere. Passive training becomes an immersive experience thanks to VR. Other virtual training methods fall short of what VR can do, which is to engage the senses while teaching vital job skills. 
The market for virtual training isn't novel. Employees that opt to work remotely due to the pandemic have created a hybrid working paradigm, which will continue to expand or become a staple of training in 2022. 
For employees who work from home, virtual training is the preferred way of gaining access to instruction from gifted and experienced professors. Virtual training is expected to be an essential education component through 2022 and beyond. It offers the following benefits:  
It can facilitate global communication.

 

It provides measurable outcomes through snappy polls and entertaining quizzes.

 

It can be applied to effectively connect and engage audiences.

 
Also Read: Virtual Classroom App Development Guide
More User-Generated Content
One thing that changed significantly over the advancements of eLearning trends is people began to generate content to offer a more personalized touch to the learning process. People today are actively offering more customized content to enhance the learning process. 
Content curation is decreasing day by day, and today's people are relying on personalized, user-generated content today. That's so because user-generated content is more about sharing knowledge than publishing content for learners. People nowadays prefer more customized content like image and video content, live streaming, blog posts, podcasts, etc created by expert admirers than those produced by a subject expert from an institute. Hence, this particular trend is expected to gain more popularity in the coming years.  
Virtual Conferences
Another popular eLearning trend for 2023 is virtual conferencing. What it means is that several people connect in a group and share their learnings. In other ways, all the people having similar learning interests form a group and connect through a video conference. Then a particular person or a team of people shares their learnings over that subject. 
Video conferencing is an entirely online process and does not include any physical interactions. That is a fantastic concept considering the present-day conditions of the world. Virtual conferencing has gained enough momentum in the past few years. That's complete because of the several amazing benefits it provides to the learners and the e-learning industry. For instance, the face-to-face learning process gave rise to the attendance concept of attendance and also facilitated the publishing of content time and again. However, with virtual conferencing, the problem of attendance is eliminated, enabling the organization to achieve maximum efficiency.  
The eLearning trend also solved the problem of publishing the content over time by offering online content that could be leveraged by as many students for a long time. Hosting the virtual conferencing also provides many more benefits like a massive email list, more brand visibility, partnership with influencers, and so on. This particular e-learning trend is a game-changer and a perfect example of a great business model.  
Data-driven Learning
Data-driven learning or Big data has wholly revolutionized the e-learning industry. With a data-driven learning process, you can get all the vital engagement metrics like views on your video, students' engagement, their assignment progress, and much more. Not only that, but learning analytics also gives vital metrics over how a particular student performs.  
Now, that is amazing and can help the tutors pay heed to a student that needs more attention. Also, the tutors could seamlessly measure the progress of their students, and can also get an idea of what type of learning methodology is most acceptable by the student. All that eventually assists you in your course development process. That makes data analytics the next big eLearning trend for 2023.   
MR or Immersive Learning
2022 also witnessed some considerable changes in the user experience. Now, it is no surprise that we live in a highly competitive era. Things change rapidly in such a digital world, be it business processes, or even customer's expectations. Hence, in the eLearning industry also, the needs and wants of the learners shifted very rapidly from instructor-led training to a more advanced self-learning platform.  
As per some experts, 2023 will further see many changes in the customer experience because of the rise in advanced digital technologies like Augmented Reality (AR), Virtual Reality (VR), and mix of two which is Mixed Reality (MR). The voice-based searches are already in use by almost all mobile learners today. With further advancements, the need to type a particular keyword will slowly eliminate, leaving only the voice-search as an option.  
Additionally, given the higher cost of implementation of the present-day e-learning platforms, the use of AR/VR based learning platforms will inevitably increase in the coming years. Why? That's complete because of lower implementation cost, and higher adaptability by the user. The year 2023 will undoubtedly see some more advancements in this particular eLearning trend.   
Video-based Learning
We know that you might have heard about this, but video content is a particular e-learning trend that is playing big in the market for many years now. It is estimated that almost every 30-days, a new e-learning video content is uploaded by a user, which is more than the episodes made by the US television industry.  
After witnessing such massive popularity for the video-content, it can be said that video-based learning will remain a hot trend in the upcoming year, i.e., 2023. The pattern shifted the whole e-learning industry from written material to a more improved graphical learning process. This particular e-learning trend has gained more attention than any e-learning trend ever. 
For instance, it solved the significant gap between the theory and the practical application of the concept. Meaning, you can seamlessly access a video on any theoretical topic that you read and can witness its exact functional form. Likewise, live streaming, online video assignments, expert sessions, and much more can be seamlessly achieved with video-based learning. Now, because of such an extensive set of benefits, video-based learning is probably an e-learning trend that will continue to gain momentum in the upcoming years.    
Microlearning
Last but not least, we have microlearning, another e-learning trend that has gained popularity in the past few years. Although microlearning is a rising trend in 2023, the chances are high that it will surely become much more advanced and useful in the coming year starting from 2023. Now, microlearning is nothing but a small chunk of adequate information over a particular subject matter, that aims to introduce a new skill in ourselves.  
What it means is that, with microlearning, you can seamlessly learn any new skill with a few images, or videos, or a small piece of text. That further makes e-learning a much-simplified process, as people who consider learning sessions boring can leverage the concept of microlearning to enhance their skill set. You can learn while playing games, solving quizzes, or watching a video as an example.   
Microlearning is somewhat easier to understand, less expensive, and probably the best method for corporate training, and assessments. The personalized and bit-sized courses are not so difficult to complete, and that eventually enhances your skills. Due to such great benefits, microlearning is predicted to gain popularity in the coming years.  
Learning Experience Platforms
LXPs, or learning experience platforms, will update your LMS.  Although learning management systems (LMS) are excellent for tracking and managing e-learning, utilizing them as a learner can occasionally be a letdown. Learning experience platforms (LXPs) have several user-friendly features that improve the learner experience and are made to integrate with your LMS.  
In an interface that is simple to browse, LXPs can present fully developed e-learning courses besides any format of e-learning content (podcasts, videos, essays, etc.). By skills, career trajectories, or a number of other criteria, content can be labeled and filtered. Additionally, students have the choice to design their own tags and organizing systems. 
Based on the learning materials they have previously consumed or what has received high ratings from users, AI can suggest the best e-learning content to learners.  
Adaptive Technologies
Students with impairments have improved learning possibilities thanks to assistive technologies. This promotes the objectives of inclusivity. And supports keeping children in the established system. E-Learning can assist users with disabilities by this mode. They can therefore learn better and use the appropriate help in accordance with their specific requirements. 
Localization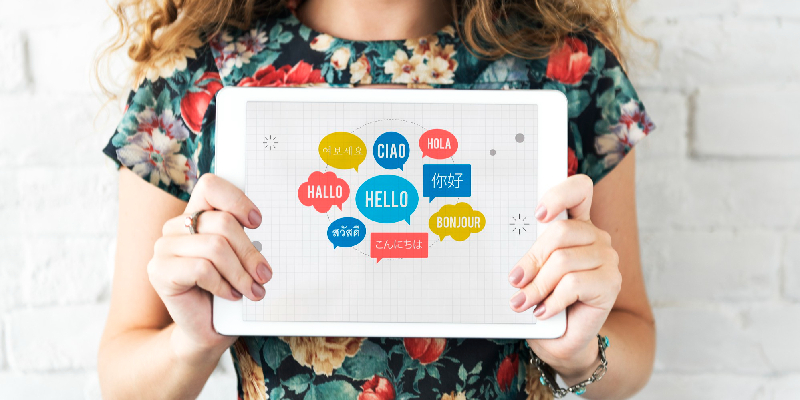 Companies aspire to grow their operations worldwide to utilize technology fully. However, this goal is challenging to achieve because every nation has hurdles related to culture, language, and customs. 
Employees whose talents you'd like to upgrade may be stationed in various locations across the world. This is where localization and translation for eLearning is functional. The translation is the process of changing one language into another in order to define training most clearly.  Localization and translation are popular eLearning services that make learning easier for students around the world.  
Data Analytics
Companies are discovering data collecting and analytics to be a great resource when analyzing their corporate learning programs to determine the future of their learning programs. Data collection is increasingly simpler, given that we live in a digital age. 
Data can be gathered and analyzed to identify the abilities that individuals in specific departments or job categories would require to perform better. Businesses can use the data they gather from employees to design the optimum training flow for a specific person or group of people. The data gathered helps assess how well employees are doing and can also be used to give them advice.  
Companies may now get employee feedback in real-time for the first time ever. Employee surveys can be used in educational programs where learners are urged to offer helpful critiques regarding how well a particular tool or piece of software helped them learn. 
Additionally, data can be used to identify what is not working, as many businesses are realizing. Using the data gathered, businesses may assess the effectiveness of their learning program and decide whether to improve it, leave it as-is, or remove any failing learning components.  


Final Words!

 
So, that ends our list of top trends in the e-learning industry for 2023. To conclude, we can say that with the introduction of digitization, things evolved to be better versions of themselves. Whether we talk about manufacturing or retail, all the industries were revolutionized with the advancements of disruptive technologies; the education sector is no exception in that!  
The learning industry is one such aspect that gained massive popularity in recent years. The ease in learning new things from experts while staying indoors led many users to the e-learning platform. Additionally, with technological advancements, things are expected to become more simplified for users. In short, the learning industry is expected to touch the sky in the coming years. 
Hence, if you are someone from the education industry, and want to improve your brand value and profits, then investing in e-learning solutions is the best way. Go for a custom e-learning solution and experience the magic of increased effectiveness and ease of teaching in raising your institute's revenues. Have more questions? Connect with top eLearning development company like Matellio today to get answers to all your queries. 
Get the Conversation Started!
Get the Conversation Started!
[contact-form-7 id="34486" title="Side Form"]