10 Travel Apps Every Traveler Should Download
Updated on Apr 20th, 2021
The travel and tourism industry went through a complete overhaul after the introduction of mobile applications in the past few years. And not only this, but the travel and tourism firms worldwide are confronting the widespread effect of mobile technology. The era has gone when traveling the world was a step into the unknown. However, advancement in mobile application technology has made it easier for travelers to know everything about the world instantly, like the place they want to travel, hotels they wish to stay in, and more. It has completely changed the traditional order and revolutionized the way people travel today. In simple words, we can say the travel industry is facing a boom with mobile travel applications. 
Check Out the

10 Travel Apps

Every Traveler Should Download
Hopper
TripIt
Roadtrippers
HotelTonight
Waze
Kayak
Airbnb
Timeshifter
Meetup
Skyscanner
1: Hopper 
The app is basically meant for flight and hotel bookings, that help you find the cheapest flights and hotels at the right time and saves some cash for you if your dates are not set in stone yet. Although there are tons of different websites and apps available to help you book your trips. But how do you know you are getting the best deal? Hopper is a bit different as it gives you the prediction to help you find the best time to book. The app predicts the flight with 95% accuracy, up to one year in advance.  
"Its watch this trip" feature notifies you about the price fluctuations and also tells you if the price is still the same to fly nonstop or with layovers, and you can even choose to exclude basic fares from the results. So you don't need to worry anymore, with Hopper travel application booking travel just got easier. 
2. TripIt
TripIt is a travel app that organizes all your travel plans into an itinerary and puts all your trip details at a single place. Unlike other travel apps, TripIt organizes your travel plans irrespective of the location of booking. tripIt is straightforward in its execution, so what all you need to do here is simply forward your confirmation emails to the tripIt website, and in a matter of seconds, it will create a master itinerary for your every trip. The app also sends you alerts and reminders to update you automatically about the flight changes so that you never miss a beat. Additionally, the app provides both free and paid services for frequent travelers. So we can say, TripIt is where the magic happens. 
3. Roadtrippers
Roadtrippers, as the name suggests, helps to plan and design road trip adventures. In simple words, the app is meant for those who want to experience and make the most of the road trip of a lifetime without missing something they didn't know exists. The road trip planning at times becomes a tedious task, and what do we get from it? And most of what we find online funnels us into the same places, filled with other travelers. Roadtrippers simply help us escape the tourist bubble and find the coolest "off the beaten path" places along the way. It basically allows us to filter and layer multiple categories, as per our ideas, to create a trip utterly unique to our tastes. We can save itineraries, share the same with friends and relatives as well as ask them to give suggestions for the journey. 
4. HotelTonight
HotelTonight, the online travel app helps us to find amazing discounted hotel accommodations, particularly in countries like America, Europe, and Australia. Additionally, because of the last-minute nature of the bookings, the app offers deep discounts and smart deals off the listed hotel rates. Getting a great deal for the hotel rooms is basically the trip hack that every traveler wants to get in. One way to do this is to leverage services that let us take advantage of hotels' unsold inventory of rooms and book at deeply discounted rates. However, Last-minute hotel deal app HotelTonight is set to be the latest company bought by Airbnb that provides unique, memorable hospitality on every trip, schedule, and time. 
5. Waze 
Waze is the GPS navigation software travel application owned by Google. The app works on smartphones, tablets, computers that have GPS support. The community-driven GPS navigation app is straightforward and free to download. The app is more than driving directions and a traffic map. What it actually does is collects map data, travel times, and traffic information from users and transmits it to the Waze server. Users can report accidents, traffic jams, speed, and police traps, and update roads, landmarks, house addresses, and more. Based on the information and details collected, Waze is then in a position to provide routing and real-time traffic updates, even if users know the way. That means the users will always know what's happening on the road. Report to the community on traffic jams, accidents, police traps, blocked roads, weather conditions, all this and much more actively with Waze. 
6. Kayak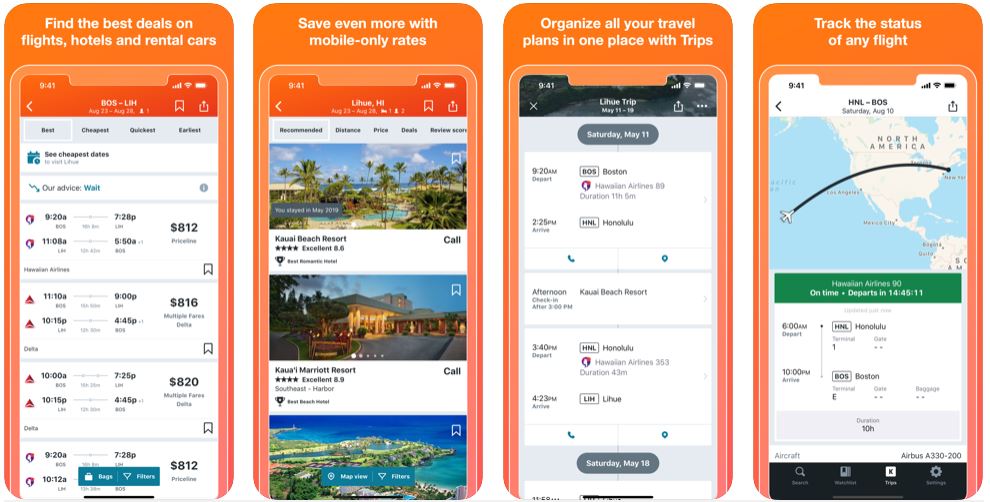 Kayak searches the flights and hotels for you, so that you don't have to. The app allows you to book flights, hotels or cabs, and save some money with mobile-only and exclusive discounts. The app will enable you to plan all your trips in one place and provide free flight status updates, airport terminal maps, including the security wait times. The app unlocks the world of travel possibilities. Beyond pretty colors and catchy designs, the app also offers features like Watchlist, to create price alerts, save exclusive travel deals to track the prices. The app also sends you push notifications when the cost of the flights fluctuates. It offers hotel accommodations on mobile-only rates, to save you money. Its trip tool can also easily organize and manage the trip itinerary. 
7. Airbnb 
The app is an online marketplace that connects people who want to rent out their homes, especially for the people who are looking for accommodations in the locale. It is basically meant for the hosts, who are the participants of Airbnb and want to earn the income from their property. Also, creating an account in Airbnb is free and relatively straightforward. And also provide you an option to sign in through your social credentials.  However, the app provides various benefits like, it allows the travelers to book an Airbnb for less than the price of a particular hotel room. Apart from this, it also offers a wide selection, free listings including the size of the space, and its amenities, check-in and pricing information, a detailed description of an area, safety features, as well as customizable searches. 
8. Timeshifter 
The Timeshifter is an app that helps to resynchronize your circadian clock with a new time zone, with a unique sleep, light, and caffeine schedule. Timeshifter presents an up-to-date timeline and generates highly personalized jet lag plans based on the traveler's sleep schedules, chronotype, flight plan, optional preferences such as pre-travel adjustment, or the use of melatonin for even faster adaptation and sends you alerts and notifications so you can stay on track without continually checking your schedule. 
9. Meetup
The meetup is a service that is used to organize online groups that host in-person events for people having similar interests, from booking clubs to free yoga. Or we can say it's a platform for finding and building local communities. Through the meetup app, people meet and greet new people, learn new things, find support, and get out of their comfort zones as well as pursue their passion. The app allows you to create your own meetup group, and with this you can draw a community of millions. For instance, people run marathons, with the help of running meetup apps, they write, and all thanks to writing Meetups. So basically, at Meetups, people welcome each other, talk, help, and mentor as well – all in the pursuit of achieving their dreams.
Examples of some popular Meetups are Tech Meetup groups, Moms Meetup groups, Dads Meetup groups, Fitness Meetup groups, Hiking Meetup groups, Career and Networking Meetup groups, and many more. 
10. Skyscanner 
The Skyscanner has made it easier and really very convenient for people to compare flight prices, find great hotel deals, or even hire a car, by combining all the three into one platform. So whether you wish to book a work trip, or plan a family vacation, find out how the app has transformed the way you plan a trip on the move. The app offers the latest "recent searches" feature with which once you are logged in and search for a flight, car hire, or a hotel on any platform, be it your phone, tablet, or desktop; the results would be saved to your 'Recent Searches.' 
The app also offers you an option like you can log in from a different device and pick up where you left off, Your recent travel searches will be right there on your home screen whenever you open the app – smart huh?! 
Conclusion 
The app world is continually changing, and many travel apps are coming out in the market, and some have already taken the pain out of travel. They help you travel better, cheaper. The above travel apps are some of the best in 2020 and are worth downloading for your next trip. 
Matellio is a renowned travel app development company known for its interactive websites and performance-driven mobile applications. We are happy to solve any of your queries or doubts regarding how to develop the travel app. Connect with us today for your next travel app development project. 
Get the Conversation Started!
Get the Conversation Started!
[contact-form-7 id="34486" title="Side Form"]