6 Amazing AI Software Development Tools for 2021
Updated on Apr 20th, 2021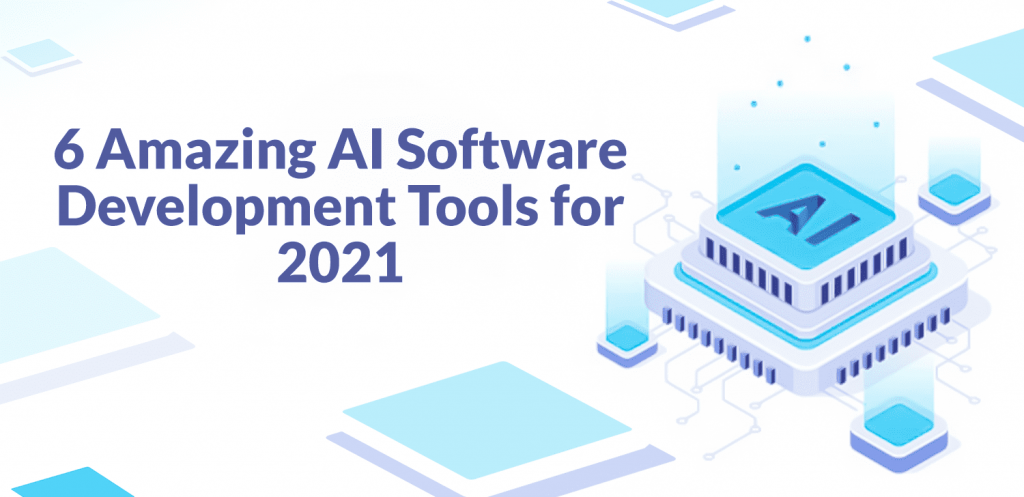 AI development has not remained a luxury concept for the industries. Instead, it has become the much-needed aspect of their digital transformation strategy. Companies, irrespective of their size and niche, are adopting AI-based solutions to enhance their operations and bring innovation and profitability to their organization. That's why knowing top AI software development tools become important. Don't you believe us? Worry not; we have got this one covered!
As per reports, almost 47% of the enterprises claim that they have a well-defined and actionable artificial intelligence strategy. Furthermore, around 63% of the businesses have agreed that AI-based software development has reduced operational costs and brought efficiency to their business. Hence, it is certain that AI-driven development is quickly gaining high momentum in today's digital world. 
That's why, today, we have listed down six amazing AI software development tools that could help you quickly built and deploy your AI-based application in the market. Read our blog till last to know more!
Which are the best AI Software Development Tools?
Here is a complete list of the top six best AI software development tools to have in 2021 if you are planning to implement AI in business. 

1. Google ML Kit

The first and foremost AI software development tool that is all set to revolutionize the AI development sector is Google ML Kit. This amazing AI development tool is an SDK of Google Beta machine learning that enables app developers to create customized and advanced mobile applications. Once built, the app developers can easily add smart machine learning capabilities by using various APIs suitable for specific mobile applications.
Besides all that, Google ML Kit can also work in an offline mode and could process images and text that needs to be on the device. The package is suitable for both Android and iOS applications.
Key Features
Offers advanced features like face recognition, image processing, and barcode scanning
Easy integration with machine learning algorithms
Custom features for Android and iOS mobile phones
Offers offline functionality and powerful APIs
2. Microsoft Azure AI Platform
Another excellent AI software development tool that has been trending in the development market is the Microsoft Azure AI platform. This robust cloud platform does not need any formal introduction, as many businesses have already leveraged the Microsoft Azure AI platform. With excellent capabilities like object recognition, unsupervised machine learning, speech recognition, and much more, this robust platform has made AI development simpler for many organizations to date.
Besides all those excellent features, the Microsft Azure AI platform even offers customization options, including domain-specific pre-trained AI models for face, text, and speech recognition.
Key Features
Python-based automated ML service

Machine translation capabilities

Azure Search with built-in AI

Object, speech, and text recognition capabilities

Form Recognizer to transform the documents into usable data structures

AI templates for creating bots
 3. IBM Watson

When it comes to AI software development tools, then IBM also tops the list, and the popularity of IBM Watson is proof of that. Equipped with advanced AI capabilities like conversation interfaces, mobile app APIs, and NLP services, these robust AI software development tools have transformed many industries. To name a few, we have healthcare, oil & gas, financial services, media and entertainment, Internet of Things (IoT), and so on.
Additionally, IBM Watson even offers AI app development services that developers can leverage to build apps with pre-trained AI capabilities.
Key Features
Quick development and deployment of AI applications

Easy integration of Watson assistance for implementing conversation AI capabilities

The platform offers speech to text capabilities for AI applications

Supports distributed computing 

Offers powerful mobile app APIs
4. TensorFlow
When discussing an open-source and powerful AI software development tool, TensorFlow always tops the list. TensorFlow is an exceptional and efficient AI development tool that is primarily used for AI development and research purposes. This amazing AI software development tool, is flexible and offers comprehensive tools and libraries that foster rapid AI development.
With TensorFlow, the businesses can seamlessly develop and train the smart ML and AI-powered applications to handle complex operations like forecasting, customer services, contract management, legal operations, and much more.
Key Features
Seamless deployment of AI-based solutions on desktop, mobiles, edge devices, etc.

Offers extensive tools, libraries, and community resources

Capabilities include deep analytics, service automation, unsupervised training, etc.

Easy onboarding and training of bots are possible.
5. H2O

H2O is yet again an open-source, machine learning platform that has gained huge mone tum in the past few years. This powerful and reliable AI software development tool offers many great features like smart ML algorithms, deep learning models, statistical and generalized linear models, and so on. Besides that, this amazing AI software development tool even supports big data, Hadoop, and Spark/Kubernetes clusters.
The main use-cases of H2O include data analysis, risk management, fraud detection, digital healthcare, and customer intelligence.
Key Features
Extract data directly from Spark, Azure Data Lake, and S3

It can be used to develop mobile apps using R, Java, and Python

Offers accurate insights that can be used to make better business decisions

Provides two versions: One standard H2O and the other one Sparkling Water
 6. MxNet

Last but surely not least, we have MxNet, a leading and popular AI software development tool. This amazing AI development tool is a deep learning framework that is extensively used in research and production. Besides enhancing the AI development with advanced NLP, the platform even offers distributed training model to help scale the AI applications.
MxNet is widely used in Multi-GPU and multi-machine training and in writing custom layers in a high-level language.
Key Features
Open-source deep learning framework

Enhances AI-based applications using NLP

TVM support that further helps in the quick deployment of applications

In the End!
Those were some of the amazing AI software development tools that have gained huge momentum and are also ready to transform the global market in 2021. As evident from the facts mentioned above, one thing can be clearly said that AI is the future of businesses. If you seek innovation and profitability, then implementing AI-based solutions is the first and foremost step to achieve that. Hence, discuss your ideas with AI experts and let them become the next big thing for your business.
That's where Matellio comes to play!
Get the Conversation Started!