Searching for Dedicated TensorFlow Developers?
We specialize in a wide range of TensorFlow development services including artificial neural networks, advanced business analytics, inner process automation, etc. to transform your business. Hire TensorFlow developers with wide expertise now!
Request a Free Quote!
Fuel Your Business Growth with the Custom TensorFlow Development Services
Explore the best custom TensorFlow development services offered by our experts to give you an edge over the competition.
A Reliable TensorFlow Development Company You Can Trust
We build intuitive and innovative systems for Data Flow graphs, complex computations, OCR, ICR, TensorFlow chatbots, leveraging Google's Open-source Software library- TensorFlow. Select the best-suited engagement models from our wide range of options and hire dedicated TensorFlow developers with years of experience and a wide array of skills. Get TensorFlow development services at the most affordable cost along with optimum quality.
Hire dedicated TensorFlow developers to develop extreme solutions like AI-based chatbots to neural networks and take your business to new heights. Our teams deliver TensorFlow development services, to innovative enterprises and businesses with definitive goals. Along with extreme quality services, we deliver our free expert consultation services along with the best development tools that earned us the reputation of a reliable TensorFlow development company.
Expert TensorFlow Developers are Just a Click Away
Contact Us to Hire Dedicated Experts to Fill Gaps in Your Enterprise Requirements.
Book a Free Expert Consultation!
Why Choose Matellio to Hire TensorFlow Developers for Your Brand?
Explore all the amazing perks that you get by hiring TensorFlow developers from Matellio for your business.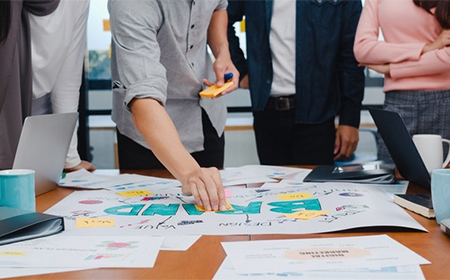 Conceptualization
Our team of TensorFlow developers develops any project based on solid market research and facts that fuel our ideation to guide the process.
Skilled Workforce
Our dedicated TensorFlow developers and experts make your digital transformation easy with their wide array of skills and diversified experience.
Quality Development
Our result-oriented development process involves the use of agile methodology which ensures that our solutions have the optimum quality.
Competitive
Our team of TensorFlow developers remains updated with all the recent market trends in the digital solutions arena to keep you one step ahead.
Free No-Obligation Quote
With our free expert consulting service, you get an accurate and commitment-free quote for developing all your custom TensorFlow solutions.
Secure Development
Our dedicated TensorFlow developers follow the best development methodologies and secure coding practices to deliver extreme security.
Core Technologies We Work Upon
We design, build and support websites and apps for clients worldwide. We make your business stand out. Interested? Let's chat.
Hire TensorFlow Developers in No Time. See How We Work!
Access the most dedicated TensorFlow developers to get top-notch TensorFlow development services. Here's how we work.
Request For Quotation

Expert Consultation
Market Analysis
Idea Feasibility
Cost Estimation

Requirement Planning

Non-Disclosure Agreement
Initial Designs
Estimated Work Hours
Diving Projects into Sprints

Development & QA

Hiring Dedicated Team
Documentation
Development
Testing

Deployment & Support

Software Updation
Adding Custom Features
Post-launch Support
Backups
Our Portfolio
For every real-world problem, we have delivered software solutions which reflect our expertise in diverse verticals.
Frequently Asked Questions
Answering the most common queries by our clients, at one place.
Is TensorFlow a C++ or Python?
In TensorFlow, you can say almost everything is written in C++, however, Python is used as an interface between the humans and the framework is written in C++. Hence, our skilled developers use Python when working with TensorFlow and use C++ to develop any new techniques.
What is TensorFlow?
TensorFlow simplifies numerical computing as it is an open-source software library and helps you develop a powerful application with powerful testing and modeling. It allows developers to create large-scale, multi-layered neural networks. TensorFlow is mainly used for: classification, perception, understanding, discovery, prediction and creation.
Is TensorFlow a programming language?
The underlying TensorFlow software built by Google is written with the C++ programming language. However, our skilled developers know what's best for your project development such as applications for AI engine. Python and C++ are the most popular language among developers when it comes to TensorFlow.
What are the tools you use for TensorFlow Development?
We use the following tools to develop TensorFlow-based applications: 
CoLab

What-If Tool

XLA

TensorBoard
Is there any difference between TensorFlow and Keras?
Yes, there is a significant difference between the two. Keras can be best explained as a neural network library, on the other hand, TensorFlow is an open-source library for a variety of machine learning tasks. TensorFlow offers both high-level and low-level APIs, while Keras only offers high-level APIs. If you need more information on the subject for your project development, book a 30-min free consultation call with our experts!
Talk to Our Experts
Let us know. Our experts shall help you discover answers and uncover hidden opportunities.
Contact Us
About Us
As a leading TensorFlow development company, our main focus remains to enable you with the best TensorFlow development services that can help you succeed in the highly competitive global market.
Learn More
What Our Clients Says About Us
See what our customers think about our reliable and advanced development services in transforming their business operations.