How to Build a Healthcare CRM Software?
Updated on May 7th, 2021
With a significant emphasis on quality care services to the patients, healthcare service providers are bringing in the 360-degree shift to their processes. And technology has been serving as an amazing aid in the same. From AI-enabled solutions that drive predictive analysis and helps people diagnose and treat diseases on time to highly advanced telemedicine apps that allow you to reach your doctors when and where you need, healthcare has indeed come a long way. A CRM dedicated to healthcare offerings is just another example.
Paving ways for better patient-doctor interaction, CRMs are acting as a catalyst in the process of communication and care delivery. Service providers are now able to reach patients via "customer outreach programs" and ready to proactively address patients with multiple plans varying on benefits and costs.
According to the report, the global healthcare CRM market was valued at approximately USD 8,400 million in 2017 and is expected to generate revenue of around USD 16,500 million by the end of 2024, growing at a CAGR of about 10.2% between 2018 and 2024 (Source).
Well, undoubtedly, this is the right time for your healthcare service business to invest in CRM software development. Not sure how? Don't worry, we have got all your queries addressed.
Dive right in.
First of All, What is Healthcare CRM Software?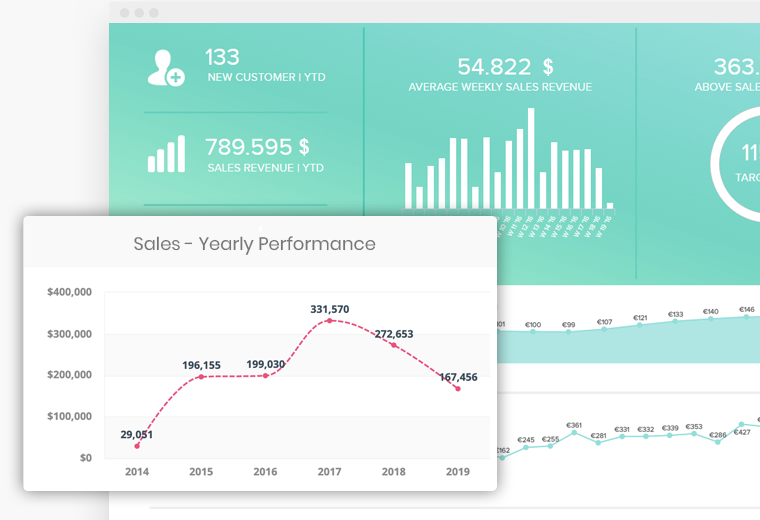 Healthcare customer relationship management (CRM) software enables professionals in hospitals and private clinics to cater to the customers better and enhance their communication paradigms with existing patients. This category of software applications allows a caring environment where patients are more closely involved in their own healthcare, particularly in deciding on choosing the healthcare service provider.
With healthcare CRMs, physicians can support patients in receiving constant, optimal care. With so many benefits to offer, a growing number of medical professionals are turning towards CRM software to improve care and provide the highest patient satisfaction. Healthcare CRMs also enable physicians to better manage their referral communications between physicians, specialists, departments, and facilities.
Why Should Service Providers Invest in Custom Healthcare CRM Development?
If you are still on the fence of deciding why you should in custom healthcare CRM, here are some reasons to convince you.
1. CRMs make it easier for you to Deliver Better Care Experience
CRMs not just help you maintain relationships with your patients, but also enable you to enhance the quality of care facilities you deliver. While that may come as part and parcel of your healthcare offerings, an added benefit can be seen with improved loyalty and personalized patient experience.
That's pretty much because CRMs integrate with your existing systems and enable a 360-degree view of each patient while extracting data from EHRs, appointment management systems, medication management portals, and more. This data (kept securely following HIPAA Compliance measures) can help you know your patients in and out and deliver the right patient experience.
Not just that, CRMs also open newer ways for you to reach out to the patients and engage them. For instance, if someone visits your website, you can drop an email introducing your expert physicians. They might end up getting intrigued and choosing your services, you never know.
2. CRMs Make it Easier for Your to Discover Patients
Today, it is rare for someone to walk into the doctor's clinic and decide to opt for him/her. It's the digital era, and tech-savvy patients any day prefer hopping to their search consoles to find the best hospitals in the town, check for other patient's experiences and explore reviews to make an informed decision. And while offering the best care experience is a fantastic way to do it, the potential of a powerful marketing channel can't be ignored.
Arguably, CRMs are the most effective marketing channels you can wish for. Their strength lies in how they can help businesses find new customers via advertisements, direct mail marketing, and data collection pages.
For example, you can configure a CRM to notify parents about the time for flu shots and provide a quick link to get their appointment booked. You can also analyze what's the best medium to which specific category of users responds, that is, messages, emails, physical mails, etc.
What else? Who doesn't love a brand that goes above and beyond to take care of them? We all do. So you can always send them a notification reminding them of their upcoming appointments or scheduled checkups 24 hours before the time.
Options are endless, and so are the results- more referrals, loyalty, and hence the revenue are just some of them.
3. CRMs Help You Keep Your Healthcare Company Competitive and Relevant
No wonder offering high customer satisfaction is an amazing way to stay on top of your patient's mind. Healthcare CRM does the same for you. It lets you offer personalized patient care and garners relevant information from multiple sources for the same. Moreover, it enables you to automate menial tasks to make the processes more efficient, enabling companies to focus on just offering the best of the services while it takes care of the rest.
With the world offering an endless range of options, keeping your strategies patient-focussed is a great way to attract new customers. CRM gets you all the opportunities that you need- you just need to tap into them.
4. CRMs are Cost-effective in the Long Run
Marketing is a must for successful businesses. However, only launching a plan without effectively tracking its aspects is no less than an example of poor strategy. If you don't analyze your data carefully and work with the finance department to evaluate your ROI, you need to reconsider your approach from scratch.
CRMs don't just offer you a great tool to market your services, but also enable you to track your efforts in terms of results. It gets you all the valuable reports at the tip of your fingers and lets you figure out the strategy that works best for you so that you can direct your finances and efforts in the right direction.
5. CRMs Get You a Holistic View of the Healthcare Company
Well-integrated with your other systems, CRMs get you a bird's eye view of your healthcare offering. With some of the fantastic features like robust data analysis, machine learning tools, and customizable reports, you can quickly identify the weak as well as string areas in your processes and take actions timely. It also collects your customer data to make smart predictions and helps you deliver the services that define quality for you.
Features to Keep in Mind During Custom Healthcare CRM Development
1. Centralized Patient Database
All the required info on patients can be gathered in one place with the help of a CRM. In such a manner, doctors get an ability to view the clinical record and match it with the newly-received analyses results. The more precise information about a patient a doctor has, the more precisely they can diagnose them and prescribe the most proper medication.
2. Database of Template Documents for Registration & Further Patient Servicing
Such a database will help a doctor or nurse give a reception protocol to patients faster, as well as put the info in the medical treatment record. This feature is useful, basically, both to the staff of a clinic and administration because it allows reducing the time of reception without downgrading the quality of service. This will help you ultimately increase the total income of a clinic.
3. Appointments Scheduling
A doctor can view their appointment hours at once and, if need be, correct them, having approved this previously with patients (some CRMs also imply the automated interaction with patients for customizing the appointment time).
4. Doctors' Performance Statistics
This feature helps the administration to get relevant data on the productiveness of each doctor and to assess who is more profitable in their work. The schedule will also help optimize the stress load and identify which medical directions exactly bring profits and which are better shut down or modified.
5. Feedback
By integrating a CRM with a website of your healthcare organization, the administration will get access to feedback, which allows fixing many flaws and increasing the overall service quality. Expense & income statistics. The dedicated graph will help you analyze the dynamics of profiting as well as monitor the efficiency of certain customer attracting offers.  
6. Calendar & Notifications
Automatic notifications will minimize the forgetfulness of the staff, registering patients, and providing additional services for them.
7. Patient Information Management
Automated information management improves the patient experience by eliminating the need for frequent form filling, thereby improving speed and easing the administrative workload.
8. Patient Segmentation
Users can segment patients based on demographic, psychographic, and high-risk issues for targeted marketing campaigns.
9. Event Triggering
Easily set up the system to send out appointment reminders, birthday screening reminders, and educational event alerts, thereby helping you serve patients better.
10. Referrals Management
Referrals management features can help medical practitioners coordinate care delivery to patients across specialities, departments, and locations.
11. Direct Mail Campaigns
Send direct mail messages like standard service communications, screening reminders, new mover programs, and more to the patients and physicians, easily.
12. Recruiting Management
This feature, in combination with outreach campaigns, makes it simpler for hospitals and speciality practices to manage recruitment communications and analysis.
13. Back-office System Integration
Eliminate duplicate record-keeping, ensure consistency across patient records, and allow timely claim filing and payments with back-office system integration of CRM.
14. Regulatory Compliance
Healthcare CRMs that are compliant to the latest industry standards to ensure that sensitive patient records are saved properly and do not cause you huge fines.
What next in How to Build a Healthcare CRM? 
Now that you have figured out the basics, it's time to begin with, healthcare CRM development. Here's how to do it.
1. Find a Custom Healthcare Software Development Company
Well, now that you have got a clear idea of the features and such requirements of your healthcare CRM software, it's time to get the plan into action finally. While you always have the option to hire freelance healthcare software developers, choosing an experienced software development company is always a better choice.
Here's what you need to look in the software development company while making a decision:
The expertise in the type of software development services are that you are looking for. Generally, software development companies offer:

Healthcare website development

Desktop application development

Mobile app development
You can also look for added expertise in the latest technologies like AI, ML, Blockchain, Cloud Integration, and more to make sure that the company you hire can upgrade your application to meet the changing market demands.
Their experience in developing healthcare solutions.

Overall experience in the technology domain

Glace Through their Portfolio to Get a Glimpse of their Projects and their Quality

Go Through the Reviews and Ratings to Understand the Experience they Offer

Understand the software development process well.

Understand Various Engagement Models to Make Sure You Choose the Best

Find out their post-deployment support services and how it aligns with your requirements

Their ability to help you expand your website's features in the future

Last but not least, have them clearly stated the cost to develop the healthcare CRM software you need. Generally, that depends on the number of features, deployment type, number of users, and more.
2. Choose the Team
Make sure you hire a top software development company that has a team that doesn't compromise with your project, regardless of the existing projects they have.  A typical software development team is comprised of:
Requirement analyst

Project manager

UI/UX designer

QA tester and engineer
But that's not just it. Have your requirements stated clearly and make sure the web development company can do justice with your project?

And here, We Sign Off…

Have you already made up your mind to develop healthcare CRM software? Well, Matellio has everything you have been looking for. Experience it yourself by reaching out to our team and stating your requirements. Our business development executives invest time in understanding your essential business requirements and suggest a solution that fulfils your business goals.
Get the Conversation Started!
Get the Conversation Started!
[contact-form-7 id="34486" title="Side Form"]