Legal Case Management Software: Features, Benefits, and Development Cost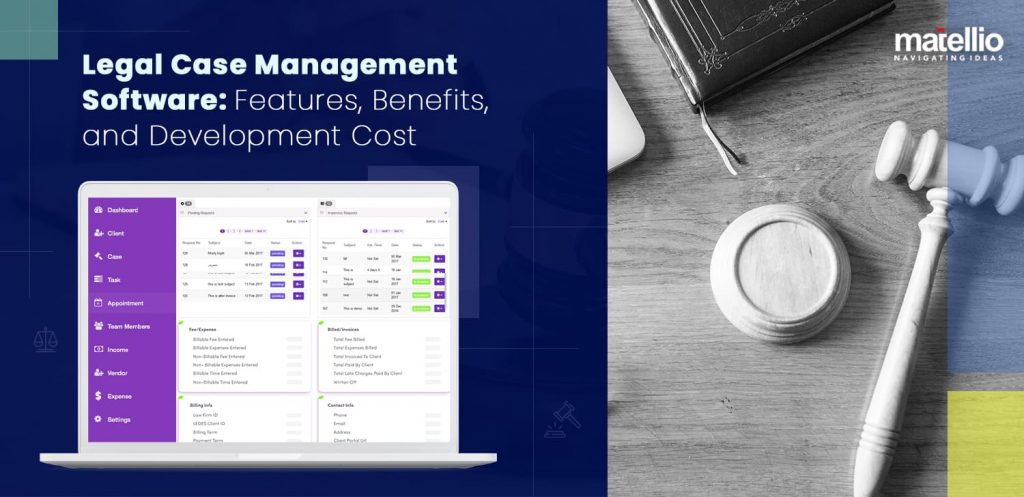 In the past decade, every sector has witnessed major digitalization reforms. From robots automating manufacturing processes to legal case management software simplifying law firms' workflow, IT is truly transforming the world as we know it. In the legal sector, especially, the growth has remained rather slow for the longest time. But with the advent of technologies like AI and the Cloud, even this industry is picking its pace.
Today, the legal case management software market stands at over 800 million USD, and by 2028, it is expected to grow up to 1911.24 million USD. The skyrocketing growth of the case management software solution accounted for the various benefits it is bringing to legal firms of all scales. We'll uncover all those and more in this post, but let's start with the basics. 
Legal case management software is a huge market with a potential to grow up to 1911.24 million USD by 2028. 
A case management software is one of the most crucial tools that enables schedule, communication, and case files management. 
To automate legal workflows, a case management software needs to have task management modules. 
Legal case management tools can be of two types, on-premise and cloud-based. 
A case management software is crucial to improve team collaboration and client experience. 
What is Legal Case Management Software? 
Case management is one of the most crucial tasks. It is all about recording, monitoring, and analyzing data and all the related content of a case. A legal case management system software is simply a tool that facilitates this with improved effectiveness. Case management software provides legal firms with one central solution to track case updates, their latest status, case notes, schedule appointments, and store client information, billing information, and history of client communications. With all the data related to a case stored in one place, the retrieval and sharing of information become inevitably easy. This simplifies many processes for a legal firm, enabling them to scale its operations without any worries. 
Legal Case Management Software Features 
To offer all the above-mentioned functionalities, there have to be various different legal case management software features that facilitate the individual tasks- 

1. Calendar and Schedule Management 
The calendar feature is one of the most important features of legal case management software that enables law professionals to schedule and manage appointments with their respective clients. The calendar can also be used to set a clear schedule for them comprising of all the notes for court dates, critical dates for a case, date of the incident, deadlines for presenting proof, the statute of limitations, etc. 
2. Document Templates and Assembly 
Legal documents are among the most tedious ones to create, even for experienced law professionals. The case management software simplifies this by presenting various document templates and automation features to use them more efficiently. The document automation tool has an array of frequently-used documents. It also has the facility to customize these templates automatically with relevant details like case numbers, party names, and necessary dates. The rest of the content also remains customizable, which lawyers can change as per their specific requirements.  
3. Files Management and Storage 
The legal case management software allows lawyers to not just create but also store a variety of documents related to a case. These documents can be in any extension; the lawyers just simply need to store them with the notes to simplify their retrieval and indexing. They can also store other file formats, like audio and video streams, to further facilitate the primary objective of case management software – keeping all the data related to one case together. This function is added with another feature of easy sharing, meaning all the members of a legal firm with authorized access can upload and share these stored case files with each other to improve team collaboration. 
4. Task Management 
Legal case management software is not a simple file storage system. It is a full-fledged solution that also facilitates task delegation and management across the organization. The software can create tasks based on the calendar details of a case. They can also highlight the documents and other files associated with that specific task. These tasks can then easily be assigned to a different member of a legal firm with specific due dates from within the software. This role-based and schedule-oriented task management feature also provides better visibility of the individual-level tasks, their progress, key hurdles, and the performance of the law professional assigned to them. 
5. Communication Management 
Clear communication is essential for a legal firm. A minuscule change in a statement can lead to a magnanimous effect on a case. This is why case management software solutions are readily used to manage and store all communications. The system is foremost integrated with different communication methods, including email and mobile phone communications like SMS. Law professionals can use the software to send emails and texts to clients and other parties, store the same with remarks, assign them to the case in question, share them with authorized professionals, and all of this without leaving the interface of the software. 
6. Settlement Calculator 
Often settlements can take a huge course in time to come to a reasonable amount and then to track their payment. But since there is a centralized location for all the details associated with a settlement, lawyers can use it to execute a more data-driven calculation. In fact, this is one of the many benefits of case management software; it simplifies and efficiates even the most atomic parts of a case. With the software, a legal firm can easily come up with reasonable settlement payments for one or more plaintiffs based on their personal injuries. Later, it can also be used to log each offer and track payment requests and expenses for each settlement payment. 
7. Legal Workflow Automation 
A custom-developed legal case management software can even automate various workflows in a legal firm. The firm can establish which of the tasks are repetitive in nature and yet important to follow the standard of procedure. These tasks can be implemented in the software, which then, as soon as a new case is entered into the system, can trigger the automation process for those individual tasks.  
8. Law Firm Reports and Dashboards 
Another benefit of case management software is that it brings about analytical prowess in the firm. For a managing partner, there has traditionally remained only one way to know about the problems, issues, and opportunities standing at the base levels of the organization. Oftentimes, they get this information either too late or too little to make any significant changes to solve them at the root level. However, with case management software solutions, they can easily get a birds-eye view of all the activities in a firm through customizable reports. They can then see the firm's key performance indicators, like new case openings, closings, and referrals, to make important decisions.  
9. Tracking Cases  
Since all the information about a case can be stored in legal case management software, it becomes the go-to source to track all their proceedings. Lawyers can set the status of their respective cases as open, pending, or closed. They can update the relevant document for each status and use notes for even more clarification. Tracking every little detail made to a legal case, including the information on by whom and when those changes were made, makes it easy for anyone to track and get all the relevant information about a case. 
10. Billing & Invoicing 
Most legal firms consider billing and invoice management as an overhead task. Since legal cases are intricate, tracking payments for refunds, invoices, etc., can become difficult. Therefore, most case management software providers embed their solutions with modules to manage payments. They can easily schedule payments, generate and send invoices, create and store credit notes, facilitate refunds, apply discounts, and solve bad debts with ease. The software can also be used to send invoice reminders to clients and create an automatic resolution logic when the payment is finally made. 
11. Data Security & Backup 
While there are multiple types of case management software available in the market, one thing for most of them remains true. They are among the most secure tools for managing case files and data. Manual and paper-based data recording for legal cases is always susceptible to lose due to fire, theft, and even simple error in document management. With cloud-based legal case management software, the security gets even more enhanced with automatic backup facilities and 256-bit encryption to further offer authorization-based protection. 

Types of Legal Case Management Software 
Today, the market is choke-full of various case management software providers. Some of them offer on-premise solutions, some subscription-based, and the rest cloud-based legal case management software. You can have a software development company build these solutions for you as well, so long as you are clear about your requirements and the solution you want for them. 
a. Server-based Software for Legal Case Management 
A server-based legal case management software is an on-premise solution that is installed and hosted in office locations. Since these solutions are installed in-house, legal firms have the sole responsibility to maintain the servers and manage data security, user authorization, and availability of the platform. This solution is ideal for such legal organizations that have only one establishment. They can thus store all their files on the same server and efficiently retrieve data from it as and when required. 
One major limitation of such on-premise legal case management software is that they are extremely expensive. From asset setup to maintenance and networking resources, the entire system can cost organizations huge fortunes. Such systems are equally, if not more, difficult and costly to scale. With limited remote access, such software often limits the workings of lawyers who cannot access important information on the go. 
b. Cloud-based Legal Case Management Software 
To make your system more accessible and scalable, cloud-based legal case management software is a more practical option. You can easily hire an experienced enterprise software development company to build such software solutions. While doing so, ensure that the company has ample expertise in creating cloud software and has some experience in the legal sector. Since such systems are based on cloud computing, law firms can easily scale up and down their resource spending based on their requirements.
They can also deploy the software in numerous locations with centralized processing and storage facilities. They can hire cloud professionals to manage the security and other configurations as per their requirements. Else they can simply invest in a PaaS solution and have the software developed tailored to their requirements. Alternatively, they can also hire a company to develop SaaS legal case management software. They can then take assistance from the same company whenever they want to change configurations of their software. 
Major Benefits of Case Management Software 
The legal industry, though slow in adopting technologies, is among the ones that rely on digital solutions the most. Most legal organizations, especially the ones with smaller budgets and scale of operations, use microservices from various sources to schedule their meetings, manage communications, store documents, etc. But shuffling between different software often creates a lag in their services. A custom-built case management software benefits such organizations by streamlining all the processes with improved efficacy. 

1. Centralization 
With all the data available at a centralized location, case management software becomes enormously beneficial for legal firms' daily operations. In fact, centralization is among those primary legal case management software benefits that facilitate all the rest others. With the software, lawyers can access all the relevant information, important dates, and contact information from the same interface. They can also always refer to previous proceedings, and since all the data remains stored in the centralized location, knowledge transfer and reusability become extremely easy for the firm. 
2. Enhanced Productivity 
In a way, legal case management software is one of the best-known investments for a law firm. From managing schedules for lawyers to organizing all the relevant information and files in one place with notes and status per proceeding make the entire workflow of the firm far easier. This gives them a competitive edge, allowing them to cover more cases in less time and yet with improved efficacy. The system also helps streamline various repetitive tasks, eliminating any possibility of error due to human negligence. This helps lawyers focus on their specialty instead and work on improving their productivity. 
3. Improved Client Experience 
Case management solutions bring about transparency in the entire workflow of a legal firm. This, in addition to the efficiency of operational automation, quickly enhances the entire experience for clients, who no longer have to wait for their queries to get answered. The easy retrieval of information simplifies for the legal firm professionals to respond to the clients in a timelier manner. The calendar management feature also helps lawyers keep track of all the important dates and achieve their milestones before the deadline. All this results in an excellent experience for customers, who then improve business for the firm through word-of-mouth marketing. 
4. Safer Data Storage 
Legal documents, though numerous in the count, are all very important. This is why losing any legal document or file can lead to severe consequences for a legal firm. Case management software resolves this problem by eliminating paperwork and digitalizing all the information. Most legal case management software has facilities to store data on the cloud, which further strengthens the protection and recovery of important data, safeguarding the organization from any potential loss of data. 
5. Time and Invoice Tracking 
The legal industry is among the busiest ones. Lawyers often have a jam-packed schedule. As such, overhead tasks like invoice tracking, etc., can create distractions for them. The legal case management system software simplifies the entire task by automatically tracking and generating invoices for the same. This way, lawyers would never have to worry about losing track of billable hours or payment status. They can always check on the system and send a reminder to their clients. Such a transparent system is beneficial for not only lawyers but clients as well, who can always find relevant information backing up the invoices. 
6. Better Team Collaboration 
One of the most transforming benefits of case management software is better team collaboration. Since you will have all the case information in one place, it will be much easier to search and retrieve the required information whenever needed. You can also access the contact details of all the parties involved to facilitate seamless communication with the ability to share relevant data. This will not only help you generate a more collaborative approach but will save your firm crucial time by contacting clients, plaintiffs, and important witnesses quickly. The ability to share all kinds of files also simplifies it for different team members working on the same case to share a recording of pleadings and briefs directly, further simplifying team collaboration. 
What is the Cost of Case Management Software? 
As mentioned above, the market is full of full-fledged case management software solutions. Depending on your requirements and budget, you can easily subscribe to one of these solutions easily. Some of the more popular legal case management software, like Clio, MyCase, and LegalFiles, can cost anywhere between 35 to 50 USD per month. The problem with such solutions, however, is that they are not ideal for the long run. You want your case management system to be cloud-based so you can scale your operations with minimal additions to your expenses. Scaling with these solutions can become very expensive. Besides, there is always a risk of vendor lock-out.  
Also Read: How to Develop Lawyer Consultation App like Clio?
Instead, you should invest in the custom development of case management software. Such a solution would be more tailored to your business requirements and team's capabilities. Developing such software is also easier on your pocket in the long run. You can easily get a quote for your custom legal case management software from a software engineering studio and then keep on extending its features with time.  

Wrapping Up 
Legal cases are never going to become easier to handle. They will still require scrutiny and efforts to maintain accuracy. One thing that can at least simplify their management is legal case management software. With this technological revamp, law firms can easily expedite various of their processes through automation. From billing and invoices to storage and retrieval of relevant case files, the software has the capability to turn hours-long tasks into mere minutes. This is why many legal firms are actively looking to invest in the custom development of such legal software solutions. If you, too, are looking to build a custom legal case software solution, Matellio is your perfect partner.  
Matellio is referred to as the most reliable and reputed legal software development company in the market, with a proficient team of software developers with vast professional experience. All you need to do is book a 30-min free consultation call with our experts.
Get the Conversation Started!
Get the Conversation Started!
[contact-form-7 id="34486" title="Side Form"]