Tips and Tricks to Consider while Developing a Meditation App Like Calm
Updated on May 29th, 2021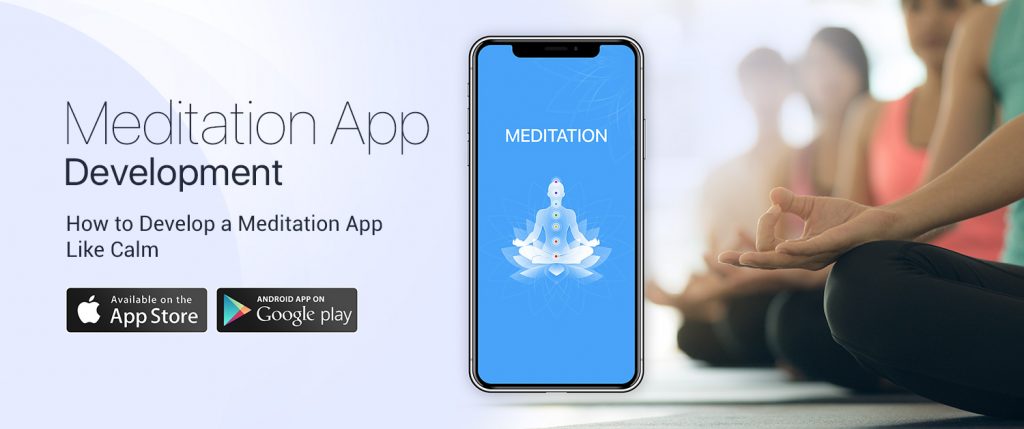 Given today's fast-paced fashion of life, meditation has become somewhat of a necessity and so has meditation app development. Due to the enormous workload, the working-class and students suffer from or are at a high risk of developing depression and anxiety. Thus, meditation applications such as Calm and Headspace have never been more in demand than they are in these times.
Meditation applications have helped millions over the world and have quickly become one of the most popular applications on both Android and iOS app stores. Last year, editors at Apple named meditation and mindfulness category as one of four breakout trends in app culture in 2017 and Calm was titled iOS app of the year as well. Furthermore, according to VentureBeat, Calm was able to reel in revenue of $22 million in 2017 and is estimated to earn a whomping figure of $26 million in 2018 as well.
Thus, given the increasing demand for meditation and mindfulness apps, it might be a good idea to get in on the action and create your very own meditation app. So today, we will be discussing the key factors you need to keep in mind in order to create a meditation app like Calm.
Tips and Tricks to Consider while Developing a Meditation App Like Calm
1: Guided Meditation
2: Aim Everyone with Your Meditation App Development
3: Don't Stress Those Who are Already Stressed
4: Everywhere
5: Mindfulness Exercises
6: Sessions on Everything
7: Daily Progress and Reminders
8: Push Notifications
9: Stories
10: Chat Support
11: Sonic Soothing
1: Guided Meditation
Your first and foremost aim while developing a meditation application should be coming up with a guide which will help your users, even the most novice ones, to get the hang of the process. It is always a good idea to develop a walkthrough module which will help beginners in understanding how meditation works and what are the fundamentals. Be there for your users and provide the most you can.
2: Aim Everyone with Your Meditation App Development
Anxiety doesn't care if you are a salesman, a corporate executive or an engineering student. It doesn't discriminate on the basis of your profession, education, caste, creed, gender, and sexual orientation. So add guides for all groups. From kids to retired folks, make your application an essential for everyone. Also, don't think that every user is at the same level. Develop guides for beginners, for intermediates and expert meditators as well.
3: 

Don't Stress Those Who are Already Stressed
Do not employ a training module which is confusing. Keep in mind that this is a meditation app, your users are here to get away from the stress. If your application and meditation guide is complex and nerve straining, then what good is it anyway? Furthermore, use cool and calming colors in your theme, be gentle, you don't need edge here. Don't use unnecessary in-app sounds or graphics which might trigger anxiety in your users.
4: Everywhere
Develop a meditation program which will allow your users to meditate anywhere. At the office, on the bus, or the train, or while stuck in traffic. Develop small exercise programs which will maintain anger levels in tricky situations and prevent a user from pitching a fit and throwing that cup of latte in the face of that Starbucks girl who got her order wrong.
5: Mindfulness Exercises
One of the unique features which Calm app has is the breathing exercise feature. This feature teaches app users, breathing exercises to calm their nerves and fight panic attacks. Controlled breathing can do wonders; it is often said that when in panic, take deep breaths. This feature teaches users how to do that regularly and adequately. It has various ranges, from 3 minutes to 25 minutes and it also has a 1-minute session which users can do at the starting and at the ending of their workday. Other such mindfulness and meditation exercises help users bypass many depression symptoms and help them in becoming a calmer and more focused version of themselves.                               
6: Sessions on Everything
Sessions are a powerful tool. People like to relate; this gives them the feeling that they are not alone in fact, that there are others out there in the crazy messed up world who feel like they do. So always try to have a session depository in your application which users can listen to whenever they feel down. And cover everything. There are countless reasons why a user might have felt the need to download your application in the first place. He might be depressed due to office workload, or academic pressure or heartbreak or loss. Possibilities are infinite, and it is your job that you provide sessions for as many situations as you can.
7: Daily Progress and Reminders
Daily progress reports are an essential tool to keep people motivated. Show them various metrics- hours spent on some exercise, their level, their scores, anything which will let them track their progress. Furthermore, branch out. Track other things as well. How much time they spend reading, working, listening to music, watching T. V., and track other such things as well. What this will do is help them balance their lives and understand which activity needs to happen a little less and which one requires to occur for a longer period of time.
Reminders are a feature you cannot afford to miss. It is very easy for users to forget all about meditation when let's say, they are facing a deadline on a report which is only half done. So these reminders help them in being constant.
8: Push Notifications
Push notifications are an effective method of communication. You can share various new features which you might have added in your application. Or, in the case of a meditation app, you can track when the user is most prone to depression, and you can send a motivational message to them. This will instantly land you in his list of favorites because it makes it certain in his mind that you care about your users and their well-being.
9: Stories
Maintain a database of success stories. Share stories of others who overcame their depression by meditation. As I've mentioned earlier, we hate to feel alone. There is a reason why humans are called social animals. So when a user reads a story in which the person went through the same situations which he or she is going through and then learns how they overcame them, this will do wonders for his or her mental health and reinforce his will to keep fighting.  
10: Chat Support
A lot of applications are doing this these days, 24*7 chat support. Now there are two faces which you can explore. One can be strictly for customer service- app crash, payment issues, etc. But the second face of this chat support module can be very helpful for people who are on the brink of hurting themselves. So what you can do, is allow the user to chat with a psychiatrist whenever he or she is feeling low. Your application might just save many lives
11: Sonic Soothing
Ambient sounds can play a significant role in shaping our mood. So add a music depository in your application which provides soothing tracks. Nature sounds like the chirping of birds, the stillness of an alpine forest, rushing of streams and ravines or sounds of the ocean. These sounds will calm your user instantly and will help him focus more.
It will also be a good idea if you added some carefully selected instrumental pieces like cello, piano or violin. Classical music has a way of sending people into a trance and can work magic to suppress a probable anxiety attack.

Conclusion
Right now is the perfect time for you to release your meditation app. Earlier this year, Calm was able to raise $27 million to further expand the app's reach and utility and was valued at $250 million. These figures speak for themselves; with the amount of money investors are putting in these businesses, it is clear that they believe that the Meditation and mindfulness app trend has just begun. There is a lot of scope for new ventures to come in the market and carry on the fight against depression and earn money at the same time.
Disclaimer: Please note that the content of this blog including links, texts, images, and graphics is only meant for informational purposes. We do not intend to infringe any copyright policy or do not possess any third-party material. If you have issues related to any of our content or images, kindly drop your message at 

info@matellio.com

 
Get the Conversation Started!