How to Develop School Management System Software?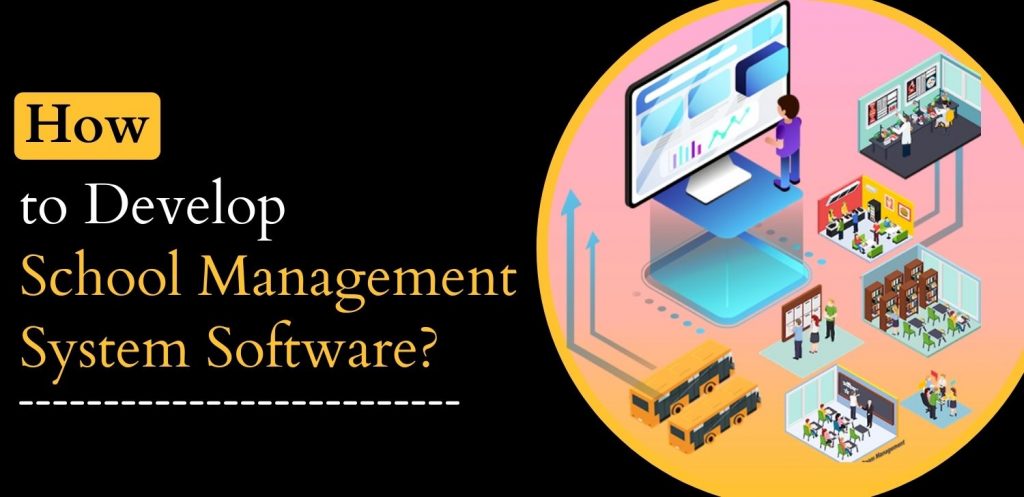 With the penetration of the Internet in every aspect of our life, digitization is the need of the hour. Schools and education institutions are no exception.
COVID-19 posed serious technological challenges to schools, forcing them to switch to online platforms in order to ensure educational continuity. While e-Learning portals stood up to help schools overcome this challenge, an efficient school management portal is a must for them to manage their operations. Integration of a reliable School ERP software makes it easier for the remote administrative staff to manage day-to-day tasks, make process streamlines, and ensure hassle-free working.
Additionally, it gives you a competitive edge. Schools that stay behind on the road to digitalization fall short in the parent's expectations and lose their grip on the market. No wonder custom school management software development is emerging as a favorable choice among education institutions for reasons such as:
It gives you software that is tailor-made to your requirements.
It allows various stakeholders to participate, and therefore, create a system that benefits each of them.
The cost of legacy system modernization is high, and so, building software with modules that you need is cost-effective.
It can integrate well with other software in your organization.
You can update the software without facing business downtimes.
However, many school admins are still wondering how to develop a school management system software. To help out, here we are covering various aspects of the same.
Let's get started with the basics first.
What is School Management Software?  
School management software is a platform that automates academic and administrative operations for education institutions. It is vital for school data management and allows manual resources to manage volumes of data flawlessly.

Why Do Institutions Need School Management Software?  
The School Management System makes schoolwork easy and eliminates the chances of error. Below mentioned are a few points that will help you to determine why a school needs a school Management System software:
Easy view of Records:  
Capturing various records from students and teachers is essential for smooth operations in the school. With school management software, you can generate various records and access them as and when you need them.
Better Exam Management:  
Students can easily take exams and share them with the schools. Once evaluated, it is easier to publish the results. You can even manage exams for various classes and students in a few clicks. Even if you carry out the exams outside, you can easily upload results on the system or connect with parents and students to discuss the same.
Accept Fee Securely:  
It is really daunting to stand in long queues and wait in order to pay the school fee. Not with the school management systems. While parents can make payments online, school admins can receive the same without compromising security, no matter where they are.
Homework Management:  
While students can easily upload their assignments to the systems, teachers can download and grade them.
Seamless Communication:  
Parents, Teachers, Students, and School Admins can easily connect with each other to ask/ reply to queries. They can furnish any information they need to, and receivers can check the same in a few clicks.
Track Resources:  
School administration can track their resources from a single screen and will not have to rely on multiple sources for this information.
Make Admissions Seamless:  
Parents and students can quickly fill the registration form from the system. Not only does it make the process quicker, but it also helps reduce paper wastage. The records can also be easily maintained this way.
Parents can Access it too:  
An Online School management system connects schools and parents and keeps the parent informed about their child's progress. The information about this is available to the parents at all times, and they can check it anytime they want.
Managing Staff Efficiently:  
The system can record the attendance, generate salaries, and check for the availability of the staff to make staffing decisions.
Workable Inventory Management:  
Schools can maintain the records of products like supplies, uniforms, books, etc. You can check for school availability and use automation to create purchase orders when needed.

How to Develop School Management System Software?- The Process We Follow at Matellio 
Step 1: Discovery Phase with Expert Consultation  
The first step for school management software development is the discovery phase, where our expert business consultants will help you unleash the full potential of your investment. Our experts would help you analyze your requirements, study the requirements and outline the expected deliverables.
Once this is covered, we'll work on the technical aspects of school management software development, such as:
i. Choosing the right technology stack  
While there are multiple options for the same, our experts recommend the following technology stack to build a school management system software:
Front end: HTML, Angular, and React
Back End: Java, Laravel, Node.JS
Database: SQL Server, MongoDB, Postgre SQL
Payment Gateway: PayPal, Braintree
DevOps: Jenkins, Android Studio, Amazon Cloud Watch
Cloud: AWS and Google Cloud
ii. Setup Team for School Management Software Development  
The next step is to help you choose the team that will work on the school management software development based on the technology stack. The development team for school management software must include:  
Technology experts (Custom software developers)
Project manager
UI/UX engineers
QA and testing experts
At Matellio, we offer some of the finest minds in the industry who are certified in their respective fields while having decades of experience. Our USP also lies in delivering exceptional client experience with agile methodology.
Step 2: Architecture for School Management Software  
The architecture of school management software looks something like shows in the image that follows:

Step 3: UI/ UX Development  
School management software aims at delivering cutting-edge management to the school administration, teachers, parents, and students. To ensure that your school management software offers a seamless experience to each of these user categories, we, at Matellio, considering the following factors:
Transparency: We help you deliver transparent software that keeps everything necessary at your fingertips.
Minimalism: With limited time, the minimalistic approach helps us deliver vital information under a single screen to help them stay updated no matter what they are doing simultaneously.
Easy Navigations: This prevents the software from becoming rocket science for the users to crack. Our UI/ UX experts ensure that:

Results are easily visible to the users under a single screen when they search.
The vital features are visible, fast, and easier to access
Personalized results based on user categories
Data is pleasingly displayed and not cluttered
Step 4: School Management Software Development  
School management software development is done according to an easy process, where the requirements of each user category are taken into account. The entire development process is broken into three phases, followed by the modules development.
Features Based on Each School Operation
| Management Portal Development  | Teachers and Staff Panel Development  |  Parents and Students Panel Development  |
| --- | --- | --- |
| Dashboard  | Communication portal  | Communication portal  |
| Reporting and analytics  | Data analysis and reports  | Access attendance records  |
| Inquiries and admission tracking  | Attendance and leave management  | Exam schedule and performance records  |
| Manage student records  | Students' details  | Access to assignments  |
| Class-wise performance tracking  | Class activity records  | Lesson plan progress tracking  |
| Staff analysis  | Manage lesson progress  | Take tests  |
| Lesson progress tracking  | Grade assignments  | Learning resource access  |
| Financial analytics and fee tracking  | Upload and share assignments  | Fee records and online payments  |
| | Student performance tracking  | Remote parents' meet  |
| | Upload and share lecture notes  | |
| | Remote teaching  | |
| | Manage student records  | |
Features Based on Each School Operation 
| Inquiry and Admissions | Student Management  | Attendance Management  |
| --- | --- | --- |
| Apply for admission  | Manage student's profile  | Manage subject/ class wise attendance  |
| Inquiry CRM  | Manage parents/guardian details  | Manage lab attendance  |
| SMS/ Email for inquiry solution  | Manage ID cards and certificates  | Attendance reports  |
| Follow-ups  | Profile and progress tracking  | SMS alerts for attendance  |
| Inquiry monitoring  | | |
| Merit list  | | |
| Reporting and analytics  | | |
| Fees & Finance Management  | Learning Management  | Academic Management  |
| --- | --- | --- |
| Setup fee and categories  | Upload and share educational content  | Manage timetable  |
| Online fee payments  | Live classes  | Manage lesson plans  |
| Student wallet  | Online tests  | Lesson progress tracking  |
| Reporting and analytics  | Assignments  | Assignment tracking  |
| Send alerts for dues  | Analytics and reporting    | Manage exams  |
| Manage expenses   | | Analytics and reporting   |
| Resource Management  | Communication  | Certificate & Report Card  |
| --- | --- | --- |
| Manage library   | Notes and assignments sharing  | Dynamic certificate designing  |
| Manage hostel details  | Manage events and activities  | Certificate printing  |
| Manage inventory  | Manage schedules  | Manage mark sheets  |
| Manage complaints and grievance  | Manage achievements  | Import grades  |
| Manage transportation   | Manage academic calendar    | Generate progress reports   |
| HR & Staff Management  | Reports & Analysis  |
| --- | --- |
| Manage staff records  | Manage exam reports  |
| Manage attendance  | Manage attendance reports  |
| Manage leaves  | Manage user data reports  |
| Manage payroll and salary  | Manage fee reports  |
| Manage reimbursement  | Manage inquiry reports  |
| Manage promotions and transfer  | Manage staff and HR reports  |
|    | Manage library reports   |
Step 5: Quality Assurance and Launch  
Quality Analysis follows the development of school management software as the app needs to accommodate the requirements of a diverse user base. A minor glitch in the performance impacts the education delivery experience and adversely affects the school administration.
Types of Testing for School Management Software Followed at Matellio  
Connectivity Testing: More and more users are now using school management systems to connect with the schools smoothly. At the same time, teachers and administration require these systems to stay online 24/7 to deliver up-to-the-minute information as well as manage their remote operations. Connectivity testing ensures that your application is available to the users on the go, regardless of the network conditions.
Accessibility Testing: Accessibility is essential for the school management software. Accessibility testing ensures that your software is usable and functional across diverse access points.
Once the Quality Assurance is complete, the school management software is due for the business owner's approval. Once you approve, the app is made life for the users to enjoy.

The Bottom-line  
Digitalization in the education industry will see significant changes in universities and schools' operations in the years to come. This rapid shift to the adoption of digital solutions will impact education delivery and school operations. This will not be a mere trend but will be a method to operate with long-term consequences that will shape the future in the new normal era.
The time to start harnessing the boom of digitalization for your education institution is now. At Matellio, we help businesses find the right digital solutions that closely align with their organizational requirements. Having helped brands across geographies as one of the top-notch school management software development companies in the US with global presence, we have enabled digital transformation for 1000s of clients, including universities and schools.  Our experts help you harness the full potential of your investment in the school management software development with value-added deliverables like:
Cost-effective services
Comprehensive process
Expertise in new-gen technologies
Round-the-clock support
Flexible engagement models
And much more.
To start, book a free 30-minute consultation with our experts and experience the best development.
Need Help With Development?