How to develop an eLearning platform like Storyboard That?
Updated on Jul 17th, 2023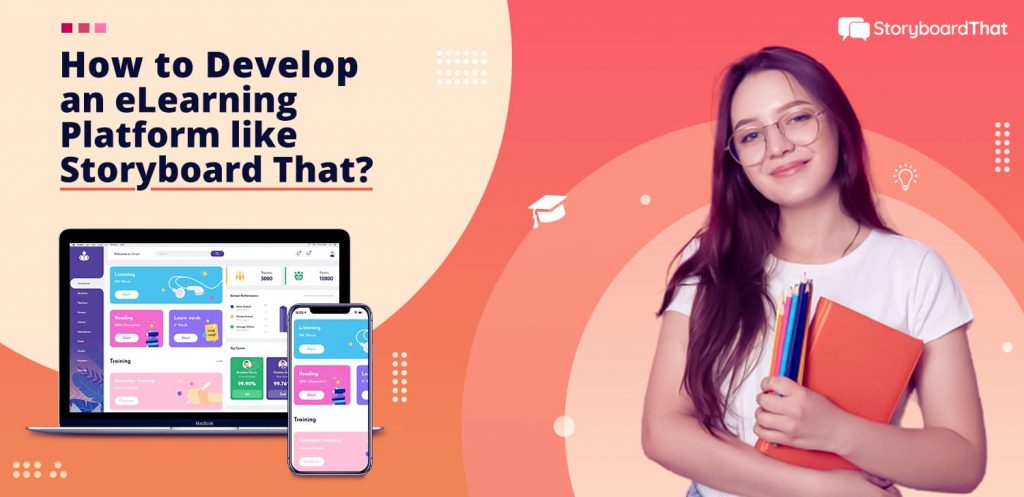 Storyboarding is the process of creating visuals to explain scenes, concepts, processes, or any other complex ideas. Whenever the information is too complicated, storyboarding is the way to go. Furthermore, storyboards are a great tool to hold the attention of kids and enhance their learning.
Teachers can use visual aids such as videos, slide decks, posters, graphic novels, etc., to create assignments and lessons for their students. Storyboards make otherwise dry lessons much more engaging for the students. They also heighten their attentiveness and create a more dynamic classroom where students actively participate instead of simply filling their desks.
Storyboarding is also an excellent tool for students to use to complete their assignments and projects. Storyboards allow students to use their creativity and channel what they have learned in the most ingenious ways possible.
There are plenty of storyboarding platforms in the market that benefit both teachers and students. One of the most popular and feature-rich among them is Storyboard That. And today, we will see how you can create an eLearning platform like Storyboard That too.
But before that, let's learn…
What Makes Storyboard That So Special?   
First established in 2012 as a desktop application, Storyboard That is a platform where teachers can create engaging learning material, students can take ownership of their learning, and businesses can improve their inhouse and client communications.
Storyboard That is one of the most famous storyboarding apps on the market. It is an easy-to-use, drag-and-drop storyboard creator with a slew of features that help teachers, students, and businesses alike.
Storyboard That is a browser-based tool that can be used to tell a story, explain a process, create an assignment, or show relationships between different entities. Users have a lot of layouts, textables, characters, background, etc., to choose from, along with a deep set of editing tools that allows them to bring their most creative side forth.
What makes Storyboard That so good is the fact that on top of being so feature-rich, it is also extremely user-friendly for both students and teachers. It was built to create content that engages students of all age groups and facilitates communication, collaboration, and critical thinking.
Storyboard That provides three options to choose from: Education, personal, and business. Today we will be focusing only on Storyboard That's offering for educators and students and see how you can create an eLearning app like Storyboard That.
Also Read: A Complete Guide on eLearning Software Development

How to Develop an eLearning Platform Like Storyboard That?   
The road to app development is a long and hard one. It is full of peril and unexpected complications that can set you back months and cost you a ton. But it is not impossible either. Every year, countless successful apps launch, and you can do that too by partnering up with the right app development company.
But before you find yourself the right development partner, you must understand how the development process works and the steps you need to take before you are even remotely ready to hire an app development company.
So given below is a step-by-step guide to developing an eLearning platform like Storyboard That which you can apply to your app development process.
1. Research and Analysis   
Research is a crucial part of any app development process. Before you can draft the first plans for your app, you need to know all about the market that you are about to enter. This means you need to figure out who your competitors will be, your target demographic, and most importantly, what your potential customers expect from an app like yours.
Trend analysis is also vital for your platform's success. You need to conduct in-depth research about which technology trends are hot in the market and try to predict where the trend will go next. Jumping on a trend while it is going strong is not a good idea because that trend will already be over by the time you get your platform out. So, you need to use all the analytics data that you can find and try to predict future trends.
Taking a good look at your competitors and seeing what they are doing will also give you many ideas about things you should do and things you should stay away from. Adopt their home runs and stay away from their misses. Customers are always looking for a better product. So if you have everything that your competitors do and you are not repeating the same mistakes as them, you already have the edge over them.
Lastly, study your target users. Conduct face-to-face interviews and surveys to get an idea of what they look for in an app like Storyboard That.
2. Creating a Plan   
Once you have your research, it is time to put that research to use and make a development plan. An app like Storyboard That needs two key things above all: simplicity and great features.
To develop an eLearning app, you need a pair of deft hands to find the right balance between cutting-edge features and a user-friendly interface that loads quickly on browsers and can be used with the poorest of internet connections.
Keep in mind that your target users are students and teachers. Not all of them might have the high-speed internet that most businesses do.
Furthermore, your design choices should be learning-centric. Since it is very likely that while creating learning plans or assignments, your users will spend a lot of time staring at your app, your design choices should be such that your app doesn't strain your users' eyes.
3. Features to consider   
The first thing you need to make a plan is a list of features for your eLearning platform. Given below is a list of some must-have features for an eLearning platform like Storyboard That.
a. Features for teachers    
Teacher Dashboard: A well-designed teacher dashboard is a must-have for a platform like Storyboard That. From creating teacher rosters and inviting students to classes to creating new assignments and storyboards, a teacher dashboard must provide all the most crucial features to the user in a neatly designed UI. Furthermore, it must provide a snapshot of the account so that the user can have a bird's eye view of his account.
Storyboards Creator: A properly designed and user-friendly drag-and-drop storyboard creator will give you that extra edge over your competitors. When it comes to creators, the key is to provide as many features as you can but in a user-friendly way. The drag-and-drop approach really works for kids because they can select scenes/characters/props and set-ups and simply put them in boxes. They can further edit a particular scene up to some extent. This approach is effective for teachers as well. Your storyboard creator must have enough depth to fit a users' creative drive, but it shouldn't be overwhelming either. So, try to find the right balance between feature-rich and complexity.
Assignment Creator: Teachers should be allowed to create and assign assignments to their students from inside the platform. You should provide a few-step process in which users provide details about their assignments and then assign them to their students with a due date.
Add Students: Teachers should also be allowed to set up classes and add students to them.
Classroom Management: In order to conduct virtual training, you need integrations with tools like Google Classroom and Clever that make learning and sharing easier for teachers and students alike.
Lesson Plans and Activities: Pre-baked lesson plans like history and geography lessons will save the teachers the trouble of creating one themselves. You can make some level of editing possible for these pre-made lesson plans as well.
b. Features for Students    
An eye-friendly UI: Before you think of anything else, you must try to find the perfect UI that doesn't strain the students' eyes. The colors shouldn't be too bright, the screens should be too cluttered with features.
Student Dashboard: The student dashboard will be the first thing your students see when they log in. It needs to be well-organized and appropriately designed to serve the students in various grades. A well-organized and appropriately designed for students in various grades. It must have a list of all the assignments assigned by their teachers, their upcoming lessons, and all the storyboards they have created.
Storyboard Creator: The student users should have enough tools at their disposal that they can do their most creative work with the assignments. They should also have the ability to download it on their local systems and edit it anytime they want.
c. Admin Features    
Manage Users: As an admin, you must be able to manage all your user accounts from your admin panel.
AI-Powered Analytics: With the help of AI, you would be able to study user behavior and improve your eLearning platform.
Manage Finances: With the help of an in-built invoice maker and finance management system, you can keep track of your earnings and expenses from your admin features.
4. Technology Stack to Consider   
Now that you have a list of all the essential features to add to your eLearning Storyboarding platform, it is time to pick the right technology stack.
The best laid out plans aren't going to get you anywhere if you don't use the right tools to accomplish them. So, given below is a list of the top tools you should use to develop an eLearning platform like Storyboard That.

5. Design and Develop   
Above all else, your platform should be properly designed with a suitable color scheme. As we have mentioned multiple times in this blog, it can be the make-or-break point of your platform. Nobody likes to deal with overly complicated UIs, especially not kids. So, make sure you find that sweet spot between feature-rich and complex and bulky.
You will need to hire web-app development company with a stellar market reputation to develop your app. You should look for a company that has consistently developed platforms with great reviews online. The development company must also respect your vision for the platform.
Furthermore, the web-app development company you decide to partner with must also provide post-development support and bug fixes.
App development is a continuous process, and it doesn't end with the launch. Frequent updates are required once the base version of the app is released and your developer should provide good support.
How can Matellio Help you in eLearning Storyboarding Platform Development?   
Matellio has decades of experience in developing high-end web and mobile applications. Using cutting-edge technologies like AI/ML, Blockchain, and IoT, we have helped middle and large-scale companies with their digitization journeys. Our highly trained scrum masters ensure that our teams follow the proper agile methodology and deliver the best possible product to our clients. With a team of highly trained developers and the latest tools in the market, Matellio caters to the IT needs of its global clientele cost-effectively.
We believe in building business relationships. So, we are not done just because we have delivered you the product. No, we excel at post-launch updates and upgrades on the base application.
If you are looking for a web-app developer to create your eLearning platform like Storyboard That, then get in touch with us for a free 30-min consultation call.
Get the Conversation Started!
Get the Conversation Started!
[contact-form-7 id="34486" title="Side Form"]